In September 2020, MindMed announced their application to list on the Nasdaq. Speaking to Psilocybin Alpha, CEO and Co-founder JR Rahn explained his hopes that the move would give the company further access to U.S. capital markets, hot on the heels of COMPASS Pathways' $146.6m IPO.
Today, the company fulfills that ambition, listing on the Nasdaq under ticker symbol MNMD.
As such, MindMed becomes the second psychedelic drug development company to go public on the Nasdaq, after COMPASS Pathways' aforementioned IPO in September 2020.
MindMed's stock price reacted strongly to the news, closing at $4.69 USD yesterday on the US markets (MMEDF). This is in contrast to its market open on the 23rd April, prior to the uplisting announcement, when MMEDF traded at $2.895. As such, the stock is already up around 47%.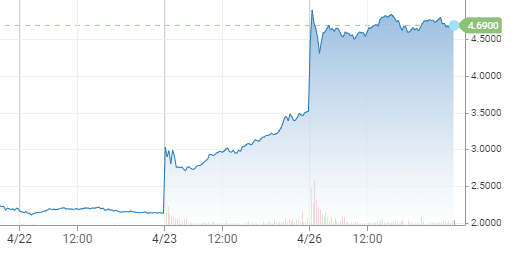 Commenting on the news in Axios, Dan Primack characterized the present wave of investment in psychedelics companies as such:
Wall Street is eagerly volunteering for a high-risk trip, tempted by a massive addressable market for mental health treatments.
Unsurprisingly, then, the Nasdaq news doesn't stop there. Last week Atai Life Sciences' preliminary prospectus was filed, outlining a $100m IPO set to take place on the Nasdaq. The company has raised over $360m to date in private rounds. A date for the IPO is yet to be set.