MYCO-001 Smoking Cessation Clinical Trial Moves Forward Following Conditional IRB Approval
Company Advances IP Portfolio With New Patent Applications Covering Novel Molecule Families
DENVER, March 31, 2022 (GLOBE NEWSWIRE) — Mydecine Innovations Group (NEO: MYCO) (OTC: MYCOF) (FSE: 0NFA) ("Mydecine" or the "Company"), a biotechnology company aiming to transform the treatment of mental health and addiction disorders, today reported financial results and provided a business update for the fiscal year ended December 31, 2021.
"Last year, Mydecine made significant strides toward creating and commercializing new treatments for mental health and addiction disorders," said CEO Josh Bartch. "The conditional IRB approval we received is yet another positive signal that we will continue to advance our Phase 2b smoking cessation study, and we will hopefully receive full FDA IND approval in the second quarter of this year. We have been working hard to reduce our expenses and increase our efficiencies to continue progressing our clinical trials and expand our IP portfolio. I'd like to personally thank our shareholders, board members and highly dedicated team for enabling Mydecine to reach these significant milestones, and we look forward to another successful year."
"In addition to our clinical trials, our research and development team has been making significant progress in our drug development program," said Chief Scientific Officer Rob Roscow. "Over the last year, our new chemical entity (NCE) program has produced multiple patents covering several second-generation novel molecules that we believe will offer significant improvements over classic psilocybin and MDMA. We're using a modular development approach to our patent strategy, which gives us the flexibility to license, partner or develop our lead drug candidates from our multiple families of NCEs, all wholly owned by Mydecine."

Highlights of the Business for the Full Year 2021
Clinical Research
Progressed Phase 2b smoking cessation study following a positive meeting with the Food and Drug Administration (FDA) to review Mydecine's Investigational New Drug (IND) application. In Q2 2022, the company plans to file an IND and breakthrough status application and will begin patient recruitment upon receipt of FDA approval. The multi-site study's lead investigator will be Johns Hopkins University.
Agreed to supply MYCO-001 for Dr. Matthew Johnson's multi-site NIDA grant-funded smoking cessation study. Johns Hopkins University, New York University, and the University of Alabama in Birmingham are the investigative sites conducting the research. The results from this study will support the safety profile of MYCO-001.
Signed a five-year Master Collaboration Research Agreement with Johns Hopkins University School of Medicine, demonstrating the Company's commitment to advancing psychedelic medicine by exploring multiple molecules and drugs for various indications.
Drug Development
Filed several provisional and full patent applications for novel molecules that outperform first-generation compounds in safety, efficacy, stability, dosing and side effects. This year, the Company intends to file a number of new composition of matter patents supporting its NCE program.

Patent applications include: novel MDMA analogs, improved psilocybin and other tryptamines (including a shorter duration with patch delivery), potentially heart-safe microdosing drugs, nanoemulsion technology, and technology patents covering the digital healthcare platform Mindleap.

Unveiled an Artificial Intelligence (AI) drug discovery program that enables rapid screening of billions of compounds and will encourage near-term patent filings for novel molecules. Completed a 5-HT2A serotonin receptor model for Mydecine's AI program with the intention to build the entire family of serotonin receptors to test its novel molecules against.
Screened over 25 mushroom species, including various varieties of p. cubensis, and discovered and analyzed more than 40 unique compounds, with the majority appearing to be previously unreported.
Corporate
Welcomed several new independent board members, including Gordon Neal, Josephine Wu, Dr. Saeid Babaei and Dr. Victoria Hale, who bring a wealth of experience in drug development, clinical trials and technology. The additions assist Mydecine in meeting anticipated capital markets initiatives for 2022.
Listed on the NEO exchange and submitted an application to list on the NASDAQ.
Completed the first international export of psilocybin mushrooms.
Announced that Mydecine's exclusive dealer was identified as a licensed psilocybin and MDMA supplier in Canada, allowing them to supply active pharmaceutical ingredients through Health Canada's Special Access Program, which enables healthcare providers to request specific drugs for patients who have not responded well to other treatments.
Successfully spun out the Company's legacy cannabis assets to help satisfy certain requirements for a potential future uplisting.

Financial Results for the Fiscal Year 2021
Net Loss: The net loss attributable to common stockholders was $28.9 million, which consisted of $5.3 million loss from discontinued operations, for the fiscal year ended December 31, 2021, or a basic and diluted loss per share attributable to common stockholders of ($0.12). This is compared to a net loss attributable to common stockholders of $26.9 million, which consisted of $0.1 million loss from discontinued operations, for the fiscal year ended December 31, 2020, or a basic and diluted loss per share attributable to common stockholders of ($0.24).
Cash Position: The Company had $1.5 million in cash and cash equivalents as of December 31, 2021. Subsequent to the year end, the Company secured additional funding and is moving forward with clinical trials and projects to expand its IP portfolio.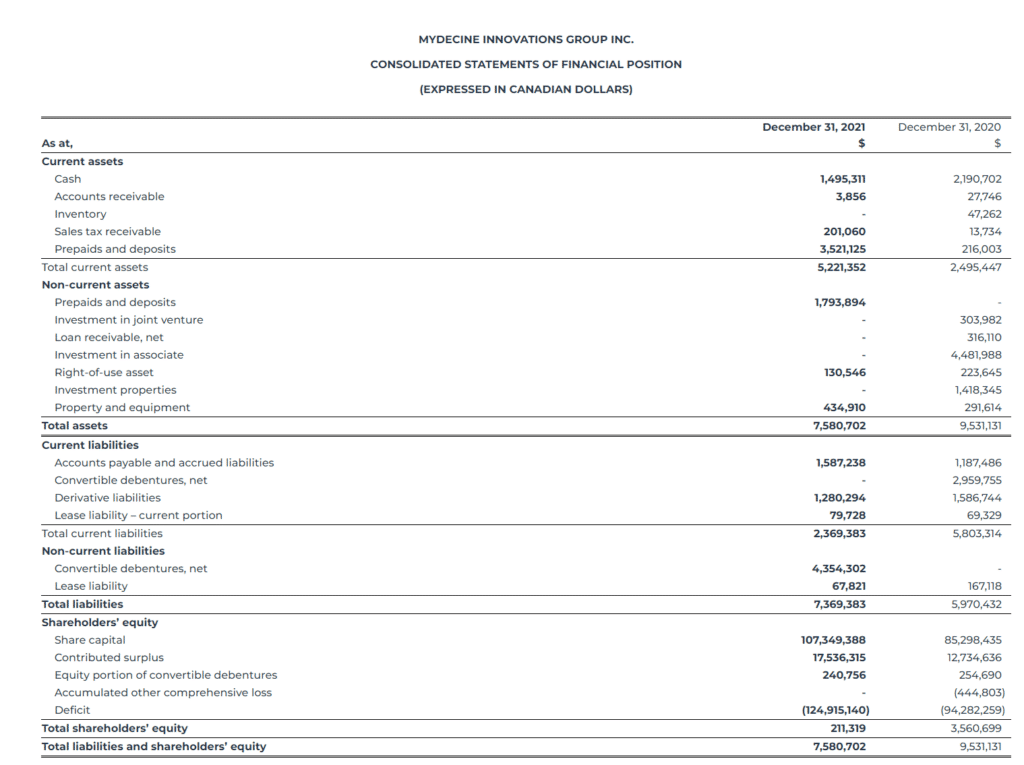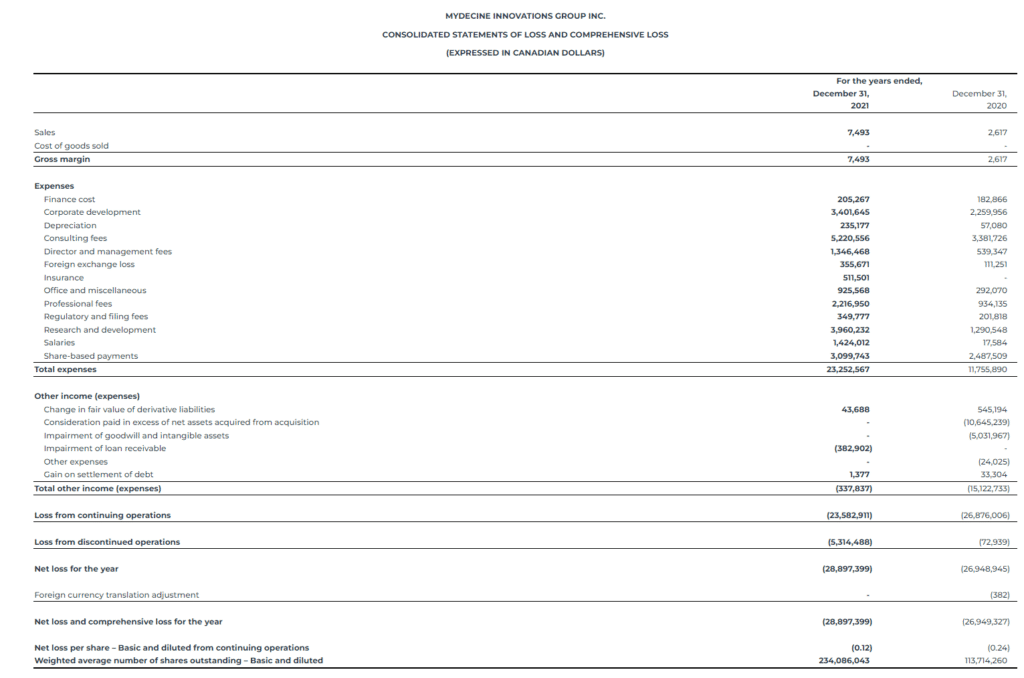 About Mydecine Innovations Group
Mydecine Innovations Group™ (NEO:MYCO) (OTC:MYCOF) (FSE:0NFA) is a biotechnology company developing innovative first- and-second-generation novel therapeutics for the treatment of mental health and addiction using world-class technology and drug development infrastructure. Mydecine was founded in 2020 to address a significant unmet need and lack of innovation in the mental health and therapeutic treatment environments. Our global team is dedicated to efficiently developing new therapeutics to treat PTSD, depression, anxiety, addiction and other mental health disorders. The Mydecine business model combines clinical trials and data outcome, technology, and scientific and regulatory expertise with a focus on psychedelic therapy, as well as other novel, non-psychedelic molecules with therapeutic potential. By collaborating with some of the world's foremost authorities, Mydecine aims to responsibly fast-track the development of new medicines to provide patients suffering from mental health disorders with safe and more effective treatment options. Mydecine Innovations Group is headquartered in Denver, Colorado, USA, with international offices in Leiden, Netherlands.