It's been a quieter week in terms of Company news, but significant mainstream media coverage has continued to mount. On the research side, the first psilocybin for depression clinical trial has been approved in Sweden: full story below.
We also received a tip-off that an Emmy Award-Winning daytime talkshow is producing a segment on psilocybin-assisted therapy, which is an exciting development.
Here's your roundup…
Featured Story
First Psilocybin for Depression Clinical Trial Launched in Sweden
The Swedish Medical Products Agency and Ethical Review Authority have approved the first clinical trial investigating psilocybin-assisted psychotherapy for depression in the European nation, which will be conducted at the Karolinska Institute and funded by the Osmond Foundation and Norrsken Foundation. Read the full story here.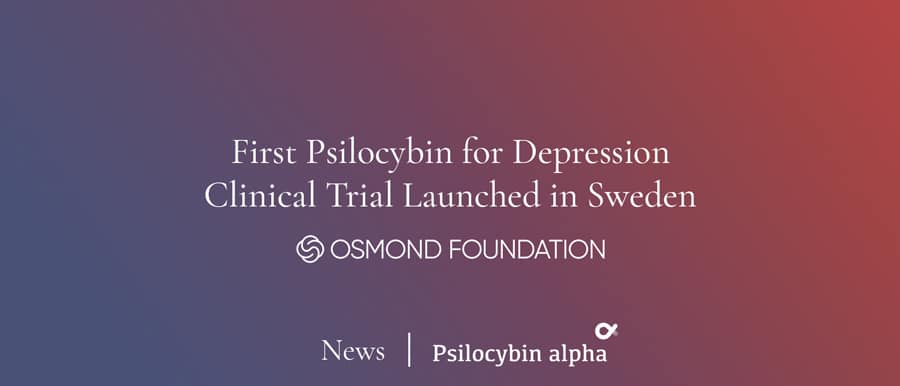 Psychedelic Sector News
---
Mydecine: Plans to List on the London Stock Exchange
Today, Mydecine Innovations announced their intent to list on the London Stock Exchange. This would be in addition to their Canadian, US and German listings.
Field Trip: Partners with Heroic Hearts Project
Field Trip Health has entered into a strategic relationship with Heroic Hearts Project to increase legal psychedelic therapy access for military veterans. The therapy would take place at Field Trip's Basecamp facilities.
Exclusive Comment: We spoke to Adam Wright, Director of Field Trip Basecamp about this latest development. You can read the brief interview, plus the full news release, here.
Numinus: Appoints Members to General Advisory Council
Numinus has appointed a number of individuals to their General Advisory Council.
Jamie Wheal: Founder, Flow Genome Project (Pulitzer nominee; bestselling author)
Ben Nemtin: Co-founder, The Buried Life (NYT bestseller)
Dennis McKenna: Co-founder, Heffter Research Institute; Founder, the McKenna Academy
Pamela Hadfield: Co-founder, HelloMD
Nichol Bradford: Co-founder, Transformative Technology Lab; CEO, Willow Group
Mind Cure: Announces New Appointments
Mind Cure announced two additions to their team this year: Neuroscientist Dr. Wolfram Tetzlaff joins the Scientific Advisory Board, and Geoff Belair joins as Chief Technology Officer.
---
Weekend Reads / In the News
---
Event: Can Psychedelics Help Save America? hosted byHarvard Law School
The Petrie-Flom Center at Harvard Law School. The Petrie-Flom Center is hosting a virtual panel discussion, which will explore key questions surrounding the potential of psychedelics in the US. Pre-register to join this online event on the 28th Oct.
MDMA-Assisted Psychotherapy More Cost-Effective Than Other PTSD Treatments
MAPS. A peer-reviewed study published two days ago demonstrates that MDMA-assisted psychotherapy is cost-effective compared to currently-available PTSD treatments. This is an enormously important development, which – when coupled with efficacy – is sure to capture the attention of the practitioner community.
Are Psychedelic Drugs the Next (Legal) Wellness Trend?
The Kit. This is an interesting piece, in part due to its provenance: The Kit is a by women, for women publication, with a primary focus on fashion and beauty. As such, this piece on psychedelics demonstrates the diversity of publications that are now covering the (re-)emergence of psychedelics in the health and wellness sphere.
What if a Pill Can Change Your Politics or Religious Beliefs?
Scientific American. This piece caused quite a stir, in part due to its sensationalist headline. Nonetheless, it's an interesting article and has a broad reach.
---
Join our Newsletter
---
Be the first to read our weekly recap by joining our newsletter…