Note: This week's bulletin begins with a short discussion of a recent study that outlines trends in psychedelic research. Psychedelic Sector News and Weekend Reads follow, as usual.
An interesting study emerged this week, which aimed to reveal trends in the most salient academic articles on classic psychedelics. To do this, a group of researchers including Roland Griffiths and Robin Carhart-Harris pooled the top publications on classic psychedelics across two cohorts: the "older cohort" contained all studies published prior to 2010, while the "recent cohort" represented all papers published since.
The recent cohort of publications had a far greater annual citation rate, with a median 76.5 citations, versus 8.8 in the older cohort. The research also revealed a number of other trends that allude to the changing contours of psychedelic research in this present 'renaissance.' Below are some of those trends…
Geography
Pre-2010, the vast majority (78%) of top-cited research into classic psychedelics originated from the United States. Since 2010, however, nearly a third of research is published from the UK, with individuals like Robin Carhart-Harris—and Centres like Imperial's—leading the pack.
Other notable research hubs include Brazil and Switzerland, which contributed 12.5% and 10% of top-cited outputs, respectively. The United States still leads, but its share of research is considerably reduced, contributing 37.5% of top-cited research into classic psychedelics.
Study Design
The 'older' cohort of studies were predominantly preclinical, animal, histological, and/or in vitro in nature. 27% of the pre-2010 research pool focused on clinical studies. Since 2010, however, over two-thirds of such research is characterised by clinical study
This demonstrates a significant progression in psychedelic research. Pre-2010 work was characterised by a focus on "more basic science and preclinical studies", while the recent cohort of work has been far more clinical in nature.
The Psychedelic Under Investigation
Unsurprisingly, the most common psychedelic studied in the older cohort of research was LSD, present in 57% of publications. While LSD remains popular among the research community (present in 30% of studies), many have shifted toward psilocybin, which is investigated in 41% of the studies reviewed.
Outcomes Studied
In terms of the outcomes evaluated by researchers, pre-2010 studies were largely focused on understanding the pharmacology and pharmacokinetics of classic psychedelics, with 70% of the reviewed studies representing these topics. Since 2010, research has been distributed more broadly in terms of outcomes under investigation, with a clear emphasis on the therapeutic uses of classic psychedelics. 39% of research reviewed investigates such therapeutic uses, most notably for affective disorders, anxiety, depression (26%, collectively); and substance use disorder (10%). Just over 5% of pre-2010 top-cited research into classic psychedelics sought to evaluate their potential therapeutic uses.
Neuroimaging has also become an important outcome studied (present in 16% of publications), which Imperial College London's Centre for Psychedelic Research has pioneered. One of the most well-known depictions of the brain 'on' psilocybin, which adorns the inside of the front and back covers of Michael Pollan's How to Change Your Mind, was generated from an fMRI dataset comprising subjects injected with a placebo versus those injected with psilocybin: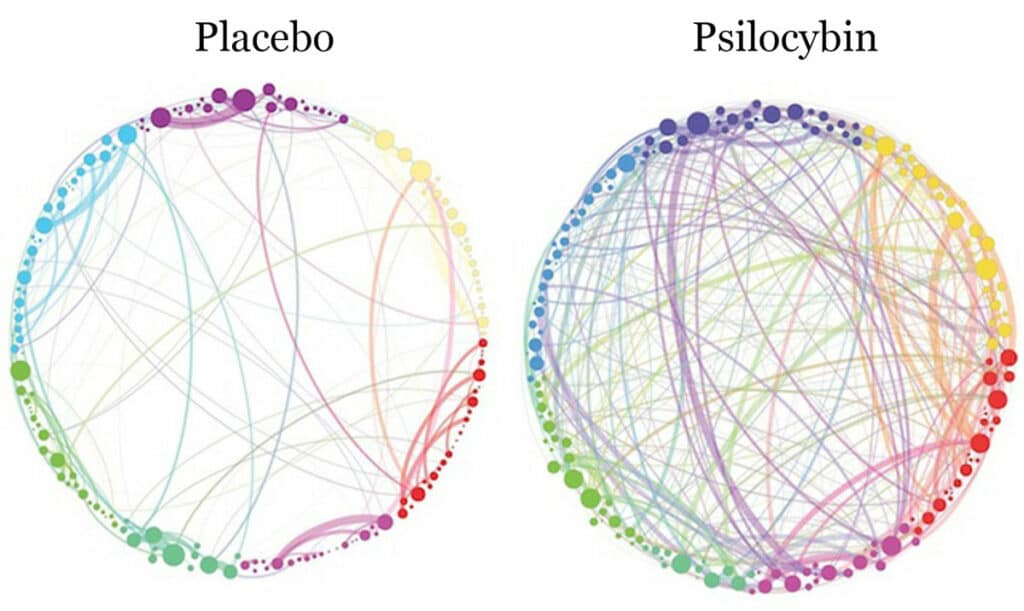 The Changing Psychedelic Research Landscape
Taken together, the trends delineated above suggest a changing psychedelic research landscape: both geographically and methodologically. The present psychedelic renaissance is characterised by a greater focus on clinical studies and potential therapeutic uses, and is conducted beyond the United States at an increasing number of institutions across the world.
Note that this study reviewed top-cited academic articles on classic psychedelics only, i.e., serotonergic psychedelics such as psilocybin, LSD, DMT, and mescaline. Recently, we have seen a growing interest in different classes of psychoactive drugs (e.g., empathogens such as MDMA) and novel chemical entities. These are beyond the scope of the study under discussion, which can be reviewed here:
Lawrence, D. W., Sharma, B., Griffiths, R. R., & Carhart-Harris, R. (2021). Trends in the Top-Cited Articles on Classic Psychedelics. Journal of Psychoactive Drugs, 1–16.
As we review this week's developments in the psychedelic sector, it's worth keeping in mind the changing trends in psychedelic research outlined above.
MindMed 'Streamlines' Leadership, Suggests Focus on Tech via Hiring and M&A
MindMed has 'streamlined' its leadership, making J.R. Rahn the sole CEO of the company. The company describes the changes as its "2.0 leadership team".
MindMed also announced that it is seeking to focus on its digital medicine division, for which it is hiring new technologists potentially undertaking tech platform acquisitions:
Under the MindMed 2.0 leadership team, the company is also actively growing its digital medicine division for psychedelic medicines through the hiring of new technologists and undertaking potential technology platform acquisitions.
Compass Pathways Publishes Psilocybin Therapist Training Programme
On Wednesday, Compass announced the publication of a paper outlining their therapist training programme for psilocybin therapy (Tai et al., 2021). The training program is broadly structured as such:
Self-paced online learning
Interactive, 5-day, in-person training
Clinical training
Continuing professional development (mentoring, webinars)
Compass has pending patent applications on this subject, which seek to cover elements of the psilocybin-assisted therapy process, and beyond. 
PharmaTher Licences Microneedle Delivery Tech for Ketamine
PharmaTher has entered into an exclusive, worldwide patent and know-how licence agreement with Queen's University of Belfast. The technology is a hydrogel-forming microneedle delivery system, with which PharmaTher seeks to deliver a patented formulation of betaine and ketamine – KETABET – that it has also licensed.
PharmaTher hopes that KETABET, delivered via a microneedle patch, will present a "game-changing therapeutic solution to treat mental health disorders, neurological and pain disorders."
Dr. Robin Carhart-Harris Joins Tryp's Scientific Advisory Board
Tryp Therapeutics has appointed Dr Robin Carhart-Harris, a world-renowned researcher who heads up the Centre for Psychedelic Research at Imperial College London, to its Scientific Advisory Board.
In late December, Carhart-Harris celebrated his 100th academic publication, demonstrating his prolific contribution to the field thus far. Commenting on his appointment, Carhart-Harris stated:
Amidst the rapid growth that is occurring in the psychedelic pharmaceutical space, Tryp stands out as one of the most well operated companies I have come across.
The Company also announced that, following his appointment to the Board in January, Greg McKee has assumed the role of Executive Chairman.
Financials, Financings and IPOs
Cybin led the financial news this week, closing a $34m bought deal offering, having raised close to $90m to date. Mydecine looks set to migrate from the CSE to the NEO, Tryp Therapeutics received a $2m strategic investment, Silo Wellness raised $4.9m, and Red Light Holland increased their bought deal to $10m. Bright Minds Biosciences will become the latest public psychedelics company when they list on the CSE on Monday.
Cybin Closes $34m Bought Deal Offering
Yesterday, Cybin closed an upsized bought deal offering for gross proceeds of $34.3m, priced at $2.25 per unit. The Toronto company has raised nearly $90m to date.
Mydecine Set to List on NEO Exchange
Mydecine, which is currently listed on the CSE, has received conditional approval to migrate to the NEO Exchange. The NEO is one of Canada's senior exchanges.
Red Light Holland Increases Bought Deal to $10m
Eight Capital has agreed to buy 23m units at a price of $0.44 each.
Tryp Receives Strategic Investment
Tryp Therapeutics has announced a strategic investment from Marc Lustig, for gross proceeds of around $2m. Lustig founded, and served as Chairman of, Origin House: a cannabis brands and distribution company that was acquired by Cresco Labs in an all-stock deal worth $1.1 billion.
Silo Wellness Raises $4.9m
Today, Silo Wellness closed its brokered private placement financing for gross proceeds of approximately $2.5m. The company is also conducting a non-brokered private placement, for gross proceeds up to $2.5m.
New Listing: Bright Minds Biosciences (CSE:DRUG)
Vancouver-based Bright Minds Biosciences will commence trading on the CSE under ticker symbol DRUG, from Monday 8th February.
Scientific American: Psychedelics as Antidepressants
Neuroscience professor Austin Lim, PhD, explains how "the treatments of the future may arise from a long-stigmatized class of drugs" in this piece for Scientific American. Lim recounts the extant safety and efficacy data, and writes:
To a neuroscientist whose focus is the striatum, a brain area involved in complex conditions ranging from depression to addiction, it's evident that these drugs have tremendous promise for a safe, happier future.
DC Moves Forward with Decriminalisation of Entheogenic Plants and Fungus
After delays caused by the "disharmonious transfer of power" between the Trump and Biden administrations, Initiative 81  has now been formally transmitted to Congress. There will now be a mandatory 30-day (legislative days) review period, with the Initiative set to take effect on March 19, 2021.
Reminder: Initiative 81 effectively decriminalises the use of plant and fungi medicines by assigning the lowest law enforcement priority to their use. The entheogenic substances covered by the Initiative include psilocybin mushrooms, ayahuasca, iboga, and mescaline-containing cacti.
Stroke Victims to be Given DMT in Groundbreaking Study
The Metro, a popular British newspaper, covered this story. Vancouver-based Algernon Pharmaceuticals has launched a stroke treatment clinical research program, making it the world's first company to try using DMT for strokes. A sub-hallucinogenic dose will be administered, in the hopes that it improves neuroplasticity.
We can only expect the rate of change and development in the psychedelic space to continue accelerating in 2021. Stay informed via our various platforms and channels…
Join our newsletter to have our Weekly Bulletin delivered to your inbox every Friday evening. We summarise the week's most important developments and share our Weekend Reading suggestions.