Today, atai Life Sciences published a heavily anticipated press release discussing the high-level outcomes of its Phase 2a study of PCN-101 (R-ketamine). The proof-of-concept trial, which officially wrapped up on November 10th, 2022, is a significant step in atai's effort to develop a new, effective, and accessible treatment option for treatment-resistant depression (TRD).
The Results
In a press release published today, atai announced that PCN-101 "demonstrated signals of efficacy across all timepoints out to two weeks".
However, the candidate "did not meet its primary endpoint of a statistically significant change from baseline in participants' MADRS (Montgomery-Åsberg Depression Rating Scale) score at 24 hours compared to placebo."
The company explained:
On the primary endpoint of MADRS at 24 hours, the mean change from baseline was -15.3 for PCN-101 60mg compared to -13.7 for placebo (-1.6 pbo-adj; p-value 0.5). However, the single 60mg dose of PCN-101 showed an efficacy signal at each timepoint over the 2-week timeframe of the study.

Key secondary endpoints included a proportion of patients defined as responders, meaning patients who experienced 50% improvement from baseline in MADRS, and a proportion of patients in remission, defined as a total MADRS score of less than 10. Despite seeing greater response and remission rates in the 60mg arm, the trial did not meet statistical significance at any timepoint on these secondary measures.
In more positive news, the company announced that PCN-101 was generally well-tolerated, with "rates of sedation and dissociation comparable to placebo."
The path ahead for the candidate is unclear, with the company ending its press release with the following:
atai will further evaluate the PCN-101 data in more detail over the next weeks and will work with its subsidiary Perception Neuroscience to explore next steps, including but not limited to seeking strategic partnership options.
Earlier in November, in anticipation of this data readout, we published a standalone piece that looked at the history of ketamine and its enantiomers, and provided a detailed background on atai's PCN-101 (R-ketamine) development program. While a brief refresher will be provided below, for those interested in a more exhaustive discussion of R-ketamine, you can find that article here.
Below, we share more contextual analysis of today's results, including the Phase 2a's trial design and aims.
A Recap: R-Ketamine
Before taking a more detailed look at what these early results seem to suggest, it may be valuable to provide a brief refresher on PCN-101 and the trial itself. 
Racemic ketamine has long been used in medical practice as an anaesthetic due to its prominent sedative and dissociative effects. However, following the publication of a 2000 study of IV ketamine in patients with major depressive disorder (MDD), the drug began to garner attention for its antidepressant effects. 
As the body of evidence supporting these early findings grew, medical professionals began to prescribe racemic ketamine as an off-label treatment for psychiatric indications such as MDD, TRD, PTSD, and more. 
The off-label use of racemic ketamine as a psychiatric treatment has, over recent years, burgeoned, paving the way for an out-of-pocket cottage industry  occupied by the likes of Field Trip Health, Nue Life, and many (hundreds) more. Unfortunately, patients who seek treatment from the aforementioned companies are, more often than not, required to pay out of pocket. 
However, ketamine–in its racemic form–is composed of an equal combination of two enantiomers ("molecules that are mirror images of one another") known as S-ketamine and R-ketamine. For decades the safety and effects of these enantiomers have been investigated in their various forms.
Accordingly, in 2019, the pharmaceutical company Janssen (a wholly-owned subsidiary of Johnson & Johnson) received FDA approval for Spravato (its "breakthrough" S-ketamine nasal spray treatment) for use alongside an oral antidepressant in the treatment of TRD. 
Similar to its racemic counterpart, S-ketamine elicits notable dissociative and sedative effects. From a safety perspective, these effects were found to be concerning enough to require Janssen to establish a rather stringent Risk Evaluation & Mitigation Strategy (REMS) for Spravato. 
As a result, Spravato must be administered in a certified healthcare setting and individuals who receive the treatment must be supervised for at least two hours following the drug's administration. These requirements, coupled with Spravato's notably high drug costs, have seemingly kept the drug off of both public and private formularies (see Josh Hardman's Twitter thread for more). 
Side effects and costs have, albeit to differing degrees, limited the therapeutic reach of both racemic ketamine and S-ketamine. However, as discussed in our previous analysis, atai's PCN-101 R-ketamine candidate appears to be well-positioned to overcome some of the challenges that have limited the therapeutic reach, and consequently, health impact of currently available racemic and S-ketamine (Spravato) treatment options. 
The isomer, which has been studied for its potential in psychiatry for over a decade, has previously been shown in animal models (see Zhang et al., 2014 for example) to have "rapid and long-lasting antidepressant effects" without the acute dissociative side effects that have, as previously discussed, limited the reach of racemic and S-ketamine. However, up until today the body of in-human evidence was limited to a single, n=7, open-label pilot study of IV R-ketamine, that began in 2019 (UMIN000038347).  
Early evidence of R-ketamine's therapeutic potential, coupled with its ostensibly more favourable safety profile, appears to have made the compound an attractive candidate to atai Life Sciences. In 2018 atai moved to acquire Perception Neuroscience, a company, who for several years, had been working to develop its PCN-101 (R-ketamine) candidate. The company appears to envision PCN-101 as an at-home, unsupervised treatment that could one day be offered as an alternative to Janssen's Spravato (S-ketamine). 
R-ketamine's potential also attracted interest from another, much larger pharmaceutical company. In March of 2021, Perception Neuroscience entered into a licensing and collaboration agreement with the Japanese pharmaceutical giant Otsuka. Through the agreement, Ostuka gained the right to develop and commercialise PCN-101 in Japan. In exchange, Otsuka paid Perception $20m upfront and agreed to roughly $100m in subsequent milestone payments to the company.
The Trial Design
In September of 2021, atai announced that it had launched a Phase 2a placebo-controlled clinical trial of PCN-101 as a treatment for TRD. This proof-of-concept study (NCT05414422) enrolled 102 participants across three trial arms in order to assess both the efficacy and safety of a single 30mg or 60mg IV dose of PCN-101 (R-ketamine). 
Change in Montgomery Asberg Depression Rating Scale (MADRS) from baseline to 24-hours post-dose was chosen for the trial's primary endpoint. However, as disclosed in the trial registry, the study will also consist of follow-up measurement at day 8 and 15 in order to provide some data on the durability of a single dose of PCN-101 compared to placebo. 
In addition to its primary efficacy endpoint, as the company described in its late-October R&D day, the trial was also "designed to test the therapeutic index of R-ketamine against dissociation and sedation." This research focus appears to have been part of the motivation for this study's comparative two-dose design, which should help elucidate how different dose levels impact the drug's efficacy and safety. Ultimately, atai is hoping for R-ketamine to demonstrate a more favourable tolerability profile compared to that of alternatives like Spravato. 
In fact, as atai co-founder and CSO Srinivas Rao stated during the R&D day, the company is looking for R-ketamine to have a risk ratio comparable to placebo. Accordingly, if the company is to realise its vision for an at-home, unsupervised alternative to Spravato, this trial, and others that may or may not follow it, will need to consistently demonstrate that R-ketamine lacks the level dissociative and sedative effects that are characteristic of its predecessors.  
In order to evaluate the safety and tolerability of PCN-101 in this trial, the company chose to measure sedation using the Modified Observer's Alertness/Sedation Scale (MOAA/S) and dissociation using the Clinician-Administered Dissociative States Scale (CADSS).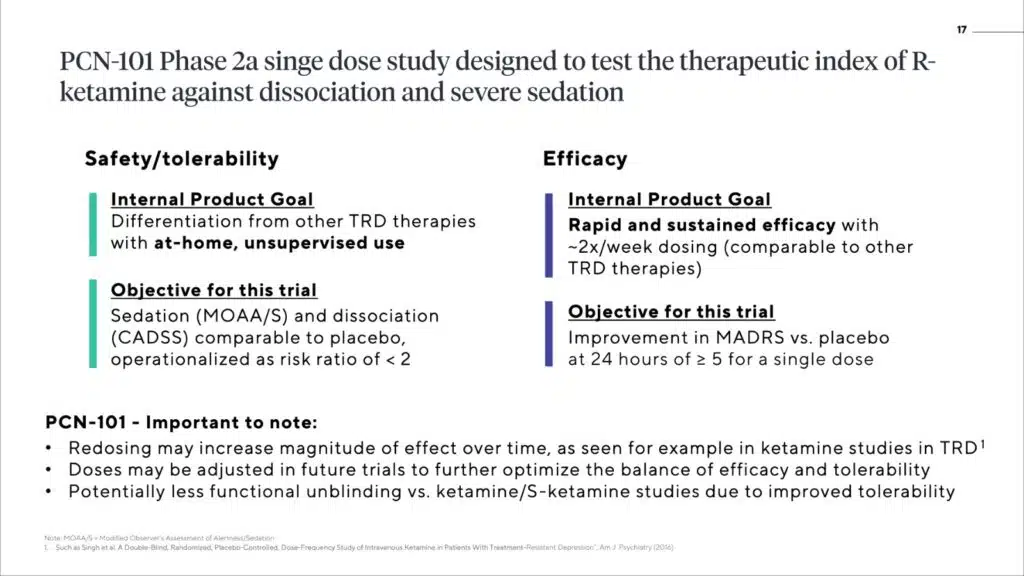 Moving Forward
Based on these findings, it is unclear how atai, and its subsidiary Perception Neuroscience, will  proceed its PCN-101 development efforts. 
However, as discussed in our previous article on PCN-101, this most recent proof-of-concept study was conducted using an IV formulation of R-ketamine. This route of administration would not be suitable for an at-home, self-administered treatment. As a result, atai has announced that it will be investigating a more accessible, subcutaneous formulation of PCN-101. Accordingly, the company plans to initiate a Phase 1 relative bioavailability IV-to-Subcutaneous bridging study in the first half 2023, with topline results mid-year
While the company is yet to announce any official plans for upcoming pivotal trials, it is likely that any future studies will assess the impact of repeat dosing on PCN-101's efficacy, tolerability, and durability. 
Another interesting aspect of PCN-101's development that may be worth paying attention to is the role Otsuka might play moving forward. As atai has disclosed, the terms of the collaboration and licensing agreement are such that Perception Neuroscience, its wholly owned subsidiary, is entitled to receive payments from Otsuka upon completion of certain development and regulatory milestones. Given the significance of this proof-of-concept milestone, might one now expect a portion of the agreed upon $35m in milestone payments to now be released?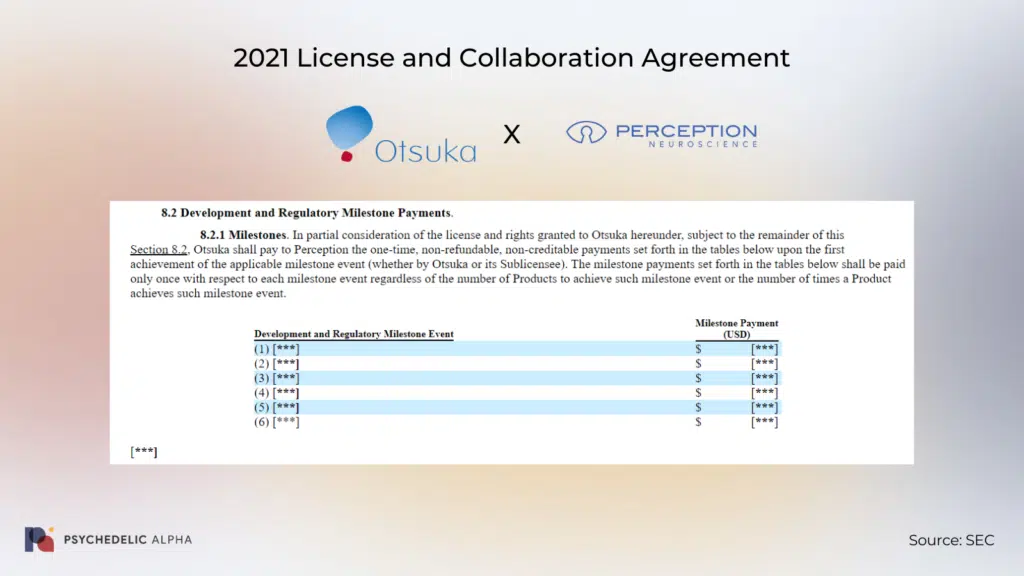 Furthermore, pursuant to the agreement, Otsuka itself possesses the right to develop PCN-101 in Japan "for the treatment of any depression". Based on the agreement between Perception and Otsuka, following the completion of any clinical trial (such as this Phase 2a trial), the party responsible for conducting the study "shall promptly provide the other party with topline results." Might these early in-human results encourage the pharmaceutical giant to begin studies in Japan ("Otsuka Territory", in the parlance of the 2021 licensing and collaboration agreement). It's tricky to know, as atai's Press Release doesn't confer the most bullish tone.
It will be interesting to see how these developments unfold as we move forward into the new year.
Shares in the company are down heavily pre-market.
Join our newsletter to have our Weekly Bulletin delivered to your inbox every Friday evening. We summarise the week's most important developments and share our Weekend Reading suggestions.