The end of June saw Beckley Psytech close a £3m Series A funding round led by prominent investors.
With its close ties to the Beckley Foundation, one of the most central and historic organisations in the psychedelic medicine space, we will be covering the developments of this new company closely.
As such, we were keen to speak with Cosmo Feilding Mellen, CEO of the new entity…
Can you tell us a little about your personal interest in psychedelics?  Your mother's work, your filmography, etc.
Psychedelics are a shared passion in my family and our main topic of conversation! In 1998 my mother, Amanda Feilding, set up the Beckley Foundation, a non-profit NGO which has been responsible for initiating some of the most ground-breaking research into psychedelics in the last two decades. As a result, I am lucky enough to have grown up surrounded by several of the most respected figures in the field, such as Sasha Shulgin, Rick Doblin, David Nutt and Robin Carhart-Harris. I even participated as a test subject in the first ever brain imaging studies on both psilocybin and LSD, which were conducted by the Beckley Foundation and Imperial College London.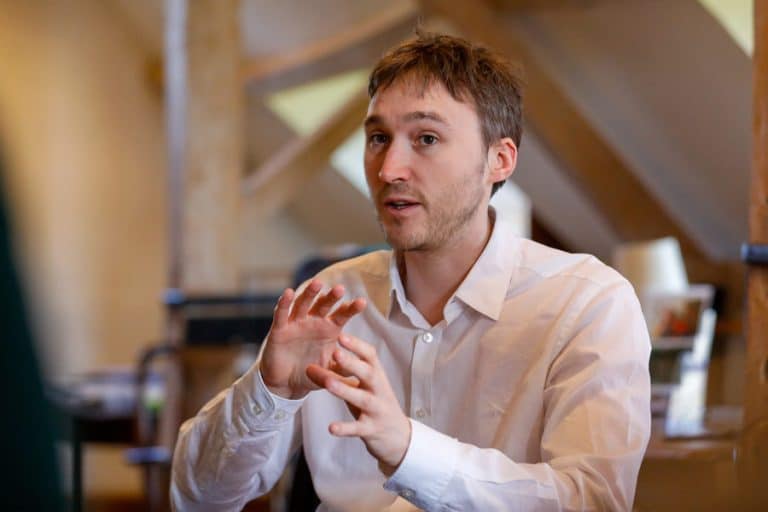 Initially it felt like the most useful contribution I could make was to increase public awareness around these issues, so I made a couple of feature documentaries which ended up on Netflix. 'Breaking the Taboo' was narrated by Morgan Freeman and featured interviews with Bill Clinton, Jimmy Carter, and other presidents from around the world talking about the failures of existing drug policies and searching for more effective and humane solutions. 'The Sunshine Makers' told the story of the 1960s "psychedelic revolution" through the lens of two idealistic chemists who thought they could save the world by turning it onto LSD, and produced Orange Sunshine, the most famous LSD ever made.
About 5 years ago I left filmmaking to work with Amanda on setting up ethical business models that would be aligned with the mission of the Beckley Foundation and which could have a truly positive impact on the world and support the non-profit work of the foundation. We first founded a company focused on conducting pharmaceutical drug development of cannabis-based medicines, which was later acquired by Canopy Growth Corporation. And subsequently we launched Beckley Psytech, which is focused on our core passion of unlocking the therapeutic potential of psychedelic medicines in order to help patients in need.
What's the relationship between the Beckley Foundation and Beckley Psytech?
While the Beckley Foundation and Beckley Psytech are completely independent entities, their missions are closely aligned and there is a strategic partnership between the two groups to collaborate on psychedelic research, when it makes sense for both sides. We are actively working on this at the moment and hopefully Beckley Psytech will be supporting a lot of the foundation's research moving forwards.
Beckley Psytech has also committed a share of any future revenues to support the Beckley Foundation's non-profit work in drug policy and scientific research.
The Beckley Foundation was founded in 1998, and as such Beckley has a clear, long-term interest in psychedelics. How will this experience benefit the newly formed Company?
Our strategic partnership with the Beckley Foundation is very important to Beckley Psytech as a company. We are lucky enough to be able to learn from more than 20 years of experience in psychedelic research. It's not just the foundation's scientific understanding about these compounds, it's also their experience of navigating regulations to conduct research on controlled drugs, and the global network of academic collaborators that they have built up over the decades.
On a similar note, are you sceptical of the crop of Companies that have recently emerged in the space?
We try to stay focused on what we are doing as a company – developing differentiated psychedelic treatments that can help patients suffering from debilitating neuropsychiatric diseases. In general, I think it's great that there is so much interest and so much investment going into this area after so many years in the dark. As long as companies are honest, responsible, and committed to the highest standard of scientific rigour, then I wish them every success.
What prompted the Beckley Foundation's founders to advance from NGO work to also operating as a commercial entity?
Amanda has spent decades fighting against social stigma and regulatory hurdles to shine the light of science onto the medical potential of psychedelic compounds. This work has been hard and slow. But the amazing achievement of Beckley and a handful of other pioneers is that they have managed to generate enough compelling, high-quality research to show the world that these medicines cannot be ignored any longer.
We feel that we've now entered a new chapter where the focus has shifted away from small-scale proof-of-concept research, and towards large-scale clinical trials aimed at developing psychedelic compounds into licensed pharmaceutical medicines so that patients will finally have legal access to these treatments. The price of conducting large scale regulatory-standard clinical research is very significant and we decided that we can best achieve this mission by creating Beckley Psytech, a commercial entity that marries profit and purpose.
Many companies in the psychedelic space are based in Canada. Why have you chosen to incorporate in the UK?
For a number of reasons. Firstly, we're based in the UK and it makes sense for us to build the business here. Secondly the UK is a global centre for biotech, with amazing talent available. And thirdly the UK is a pioneer in psychedelic science with world-renowned researchers and academic institutions working in this field, like the Beckley Foundation's work with Imperial College, Prof David Nutt & Dr Robin Carhart-Harris.
Do you believe the regulatory landscape in the UK is more conducive to psychedelic medicine research and studies than elsewhere (Canada, for example)?
Most psychedelics are controlled drugs and their use is prohibited in most parts of the world unless you are in possession of a controlled drugs license granted by national regulators. Beckley Psytech's pharmaceutical drug development approach means we (and/or our partners) will possess all the necessary licenses to produce, formulate, and research psychedelics legally. Developing controlled drugs is a complicated process regardless of the country you are working in, but our team has a lot of expertise in this area, having previously conducted licensed research on a range of controlled drugs such as cannabis, psilocybin, and LSD, and having done this in a range of countries. Provided the drug works and can be safely prescribed the transition to legality and appropriate restrictions are addressed during the drug licensing process.
Why is your Company focusing on 5-MeO-DMT?
5-MeO-DMT is a short-acting psychedelic found in the secretions of the Sonoran Desert Toad and a variety of plant species, which has been used as a shamanic medicine by indigenous peoples of South America for centuries. Its effects are reported to last under an hour and induce profound altered states of consciousness with significant therapeutic, but robust clinical evidence is currently lacking. Beckley Psytech is working on a synthetic, pharmaceutical-quality formulation of 5-MeO-DMT and plans to conduct the first ever regulatory-standard clinical study with this drug in humans, with the aim of developing it into a licensed pharmaceutical medicine for patients suffering from debilitating neuropsychiatric diseases.
One of the reasons we have chosen to develop 5-MeO-DMT is that it is a shorter acting psychedelic and could provide considerable patient access and resource efficiency advantages over other longer acting psychedelics, like psilocybin.
What's the benefit of producing it synthetically?
Along with safety and efficacy we need to develop standardised, pharmaceutical-quality products with clearly defined and reproducible content. The naturally occurring substances have not been developed into a pharmaceutically consistent treatment. Our work will seek to innovate throughout the entire drug development process, and working with synthetic 5-MeO-DMT will give us greater control over the purity, consistency, and formulation of the product… plus I would personally prefer we left the toads in peace!
Why have you chosen to side-line psilocybin, for now at least?
Our primary aim is to help patients in need by developing psychedelic medicines that offer significant improvements over currently available neuropsychiatric treatments. While 5-MeO-DMT is our lead program, we are building a pipeline of psychedelic compounds with distinct clinical attributes. Our development programs will focus on offering innovation and clear differentiation in the marketplace over existing treatment options, and we'll be able to tell you a lot more about our plans in the coming months.
Do you see companies like Compass Pathways as peers or competitors?
We know Compass well. In fact, our co-founder Amanda Feilding was involved in the first ever clinical research into psilocybin as treatment for resistant depression back in 2016, before Compass had got started.
We are focused on differentiated research programs and we don't see Compass as a competitor.  We're a very mission driven company and we want to see these potentially transformative medicines become available to patients in need so we wish Compass (and anyone else conducting high-quality research in this area) every success… indeed their success should be a benefit to our own project.
Your website exclaims that Beckley's "primary aim is to help patients in need." Do you have any plans to ensure that access to psychedelic medicines will be equitable?
Patient access is absolutely front and centre of everything we are working on. Our number one aim is to develop medicines that are available to all patients in need and are paid for by health insurance and/or state healthcare systems.
Does Beckley Psytech have any plans to go public?
At the moment, we are focused on executing our core mission which is conducting high-quality research and taking our lead compounds through clinical development towards a pharmaceutical license.
Join our Newsletter
Get our interviews delivered to your inbox by signing up to our newsletter.