Beyond Business as Usual in the Psychedelics Space
To round out our State of the Industry section, we're looking at individuals and organisations that are challenging the status quo and encouraging us to look beyond 'Business as Usual'.
Here, we present two guest contributions, followed by two examples of fundraising mechanisms that might prove to be more inclusive and community-oriented for companies and researchers alike.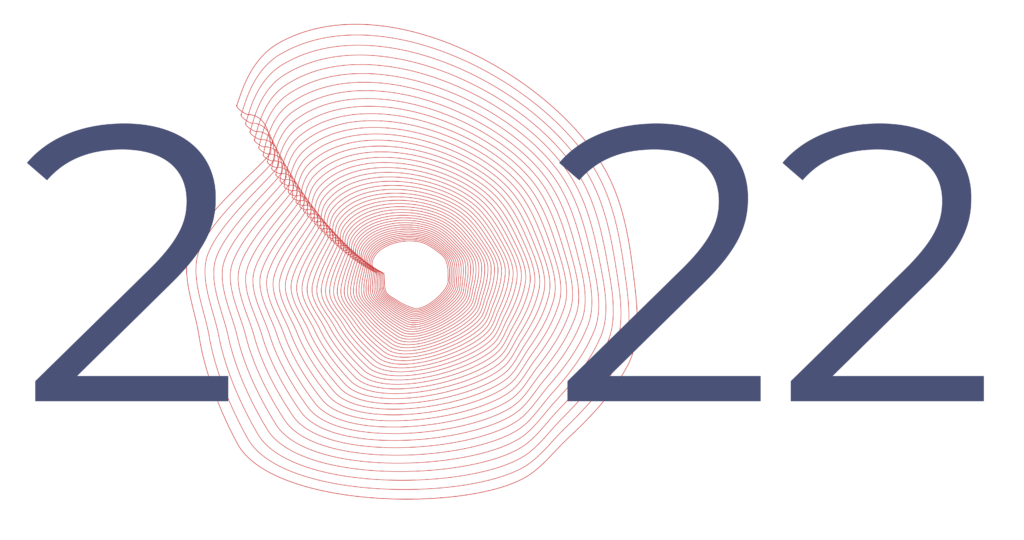 Part of our Year in Review series
Two Guest Contributions
We invited two individuals that are stoking imaginative, creative and intentional thinking about how we might responsibly cultivate a more equitable, accessible and successful psychedelic industry to pen short pieces…
Tactogen's Community Stakeholder Initiative
In November, psychedelic drug developer Tactogen launched its Community Stakeholder Initiative, a crowdfunding campaign which allows members of the public to purchase an equity stake in the company – something that's usually the remit of accredited investors and VCs.
Tactogen, a Public Benefit Corporation (PBC) which is focused on the discovery and development of entactogens, has raised $6.2 million since early 2020 by more conventional means like VC investment. Now, it's opened a fundraising opportunity with a much lower barrier to entry: $100.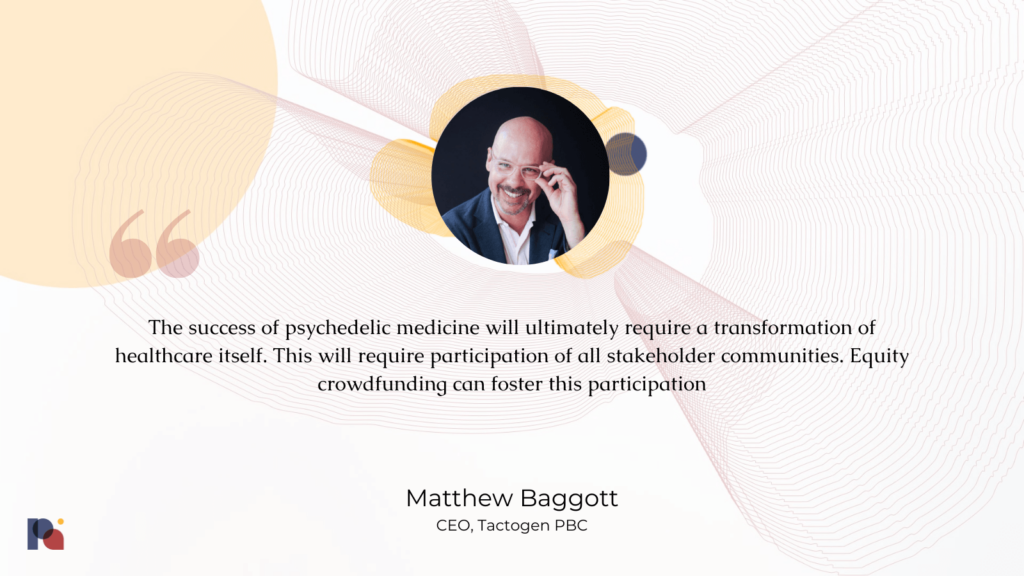 Speaking to Psychedelic Alpha, CEO Matthew Baggott explained that his company, "did this because it is the right thing to do: stakeholders should have the opportunity to become shareholders and participate in and benefit from value creation occurring in the psychedelic industry." The psychedelic ecosystem would benefit from stakeholder inclusion, too, Baggott noted: "Stakeholder inclusion in financing helps ensure companies will act with communities to solve real problems and contribute to real solutions."
At the time of writing, over 150 individuals have committed to investing via the initiative, with around $94,000 raised. Given the capital-intensive nature of this segment (Tactogen anticipates raising over $200 million in the next decade), CEO Matthew Baggott is clear that this initiative is not primarily motivated by raising funds. "This is less about raising money, and more about being open to and inclusive of everyone in the psychedelic ecosystem", he told us.
Investors in this vehicle will be represented by lead investor Victoria Hale, a name that will be well-known to many of you. Hale has founded two non-profit pharmaceutical companies and was formerly Chair of the Board for MAPS, among many other posts. "Tactogen has a deep appreciation for the role of community and connection in healing and wellness", she commented in a company announcement.
To our knowledge, this crowdfund makes Tactogen the first psychedelic drug developer to allow non-accredited investors to participate in a private round. Usually, investors must be accredited, with minimum ticket sizes well into five figures.
Tactogen told Psychedelic Alpha that its team would be happy to discuss their experience with other companies. Indeed, Baggott explained that Tactogen benefited from conversations with Wavepaths, which raised nearly £400,000 ($490,000) in 2020 via a similar campaign.
"The success of psychedelic medicine will ultimately require a transformation of healthcare itself", Baggott said. "This will require participation of all stakeholder communities. Equity crowdfunding can foster this participation."
Web3 and Decentralised Science Meet Psychedelics
Web3 and decentralised science made notable inroads into the psychedelics ecosystem over the past year. As decentralised autonomous organisations (DAOs) proliferated across the web3 world, several psychedelic-focused DAOs emerged with the intentions of bringing decentralised science to psychedelic research and web3 tooling to the broader psychedelic community.
Decentralised science, or DeSci, refers to blockchain-enabled collaboration among researchers, funders, and patients. Entities like PsyDAO have organised around efforts to democratise access to psychedelics, seeking to make psychedelics "unmonopolisable" through open science and decentralised governance of intellectual property. IP-NFTs – a key technology developed by Molecule, a decentralised biotech protocol – are being adopted by PsyDAO to enable these pursuits.
"The psychedelics community has made calls for open science, collaboration, and ethical IP for years. IP-NFTs unlock a new way to turn these calls into action, providing a platform for us to build new types of IP commons, complete with community-governed and contractually binding ethical conditions that can be attached to psychedelic IP," says Chris Byrnes, IP Legal Advisor at Molecule, a founding member of PsyDAO, and a patent attorney at Calyx Law.
Marketplaces for psychedelic services are also being built in web3. Mindlumen aims to facilitate trusted, private, and transparent networks of seekers, practitioners, and journey-space providers. "Web3 allows for building the infrastructure to create transparency while maintaining privacy. New mental health marketplaces will be enabled. These new decentralised systems promote inclusion, equitable distribution, and community governance. We can think about this as a distributed global co-op with decision-making at speed and scale," says Neil Gehani, Co-Shepherd at Mindlumen.
Decentralize Psychedelics also made its debut in 2022, focusing on education, community building, and enabling access to web3 tools to support the co-creation and collective governance of a global fund. "We've yet to see the true potential of blockchain-enabled organising especially when we consider how far we are from mass adoption. Nonetheless the technology will improve and become more accessible, making room for unprecedented capacity for democratically driven impact as the globally dispersed psychedelic community can make use of these tools to move as one," says Kwasi Adusei, co-founder of Decentralize Psychedelics.
Much in web3 remains to be proven, especially as the FTX scandal continues to ripple across the crypto market and regulators find new ways to exercise jurisdiction over digital assets. However, the appetite for new approaches to managing intellectual property and to fostering greater community ownership over the psychedelic ecosystem seems to be finding a home in web3. This coming year seems to be well poised to show whether these efforts will come to fruition.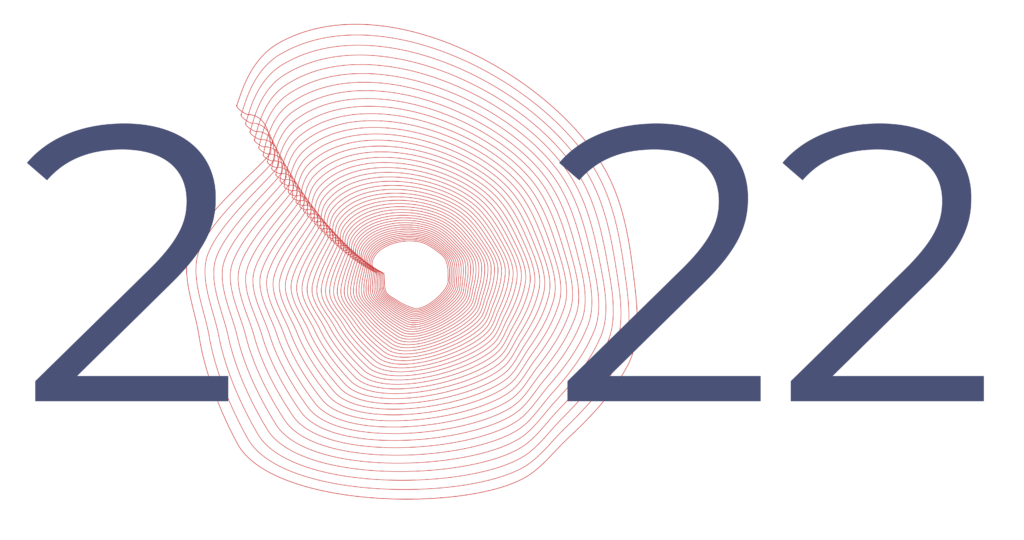 Part of our Year in Review series
This content is part of our 2022 Year in Review, which looks back at the past year through commentary and analysis, interviews and guest contributions.
Receive New Sections in Your Inbox
To receive future sections of the Review in your inbox, join our newsletter…
Browse Other Sections of the Review