Today, we learned of a significant milestone for psychedelic therapy: the first non-palliative Canadian has received psilocybin-assisted therapy legally, under a Section 56 exemption.
TheraPsil, the non-profit that advocates for access to psilocybin therapy, supported the applicant as an aside to its primary focus on securing exemptions for palliative Canadians.
Psilocybin Alpha understands that the first non-palliative Canadian, Mona Streleaff, was granted legal exemption from the Controlled Drugs and Substances Act on October 4th 2020. Just over a month later, on November 5th, 2020, the individual was successfully treated by psychotherapist Dr. Bruce Tobin, founder of TheraPsil.
The ground-breaking decision by Canadian Minister of Health, Patty Hajdu, should serve as precedent for the use of psilocybin in treating patients who suffer from psychological conditions such as depression and anxiety – including that caused by deep-rooted trauma as in the successful applicant's case – but have never suffered from a terminal illness.
Put simply, it is hoped that this decision will broaden the criteria for those able to seek, and be granted, Section 56 exemptions.
In August, Hajdu granted legal access to psilocybin therapy to four Canadians battling incurable cancer. This marked the first legal medical exemption for psilocybin in Canada since the 1970s. Since then, TheraPsil has successfully supported nine further Section 56 exemption requests for palliative Canadians, demonstrating the precedent at work.
---
The Experience of Receiving Psilocybin-Assisted Therapy
The recipient of the exemption and treatment, British Columbia resident Mona Streleaff, explained that she has struggled with "the traumas of [her] past," and with anxiety, depression and addiction for years. In terms of the therapy itself, Streleaff said the psilocybin therapy took her "way back to when I was a little girl and all those things that happened to me," referencing these past traumas.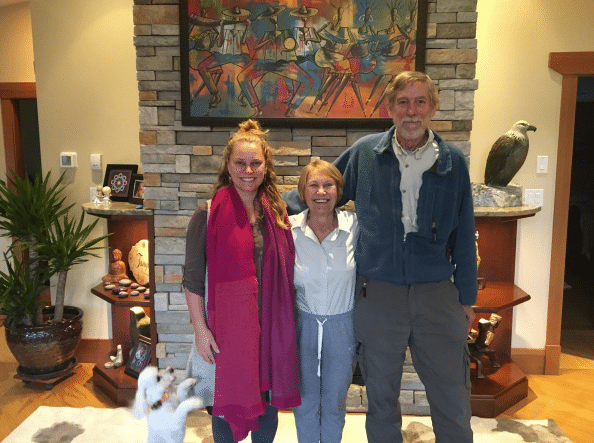 It was certainly a challenging experience for Mona, who went on to explain: "all the unresolved trauma, it came back and I was beyond terrified, shaking uncontrollably and crying." This emphasises the importance of trained therapists in the provision of psilocybin therapy. Therapists ensure the safety of the participant, but also provide guidance on working through past traumas and current anxieties, increasing the chances of a meaningful experience and managing what is colloquially known as a 'bad trip'.
Streleaff said that, with Dr. Tobin's help, she "conquered those tough memories," and "for the first time" she felt like she had "won the battle" in her head. She went on to note that her anxiety and depression "seems to be gone," explaining that "the memories are not, but now I know they can't hurt me."
---
An Important Milestone for Legal Access to Psychedelic Therapy
Mona's psilocybin therapy session is clearly a milestone for her personally, but also in the advancement of the provision of psychedelics for mental health treatment in North America. Health Canada's progressive decision has greatly widened the selection of patients who may be able to access life-changing therapy via a Section 56 exemption.
TheraPsil has now successfully supported palliative and non-palliative Canadians in achieving Section 56 exemptions to access psilocybin-assisted therapy, and is reaching the crescendo of a campaign to permit similar exemptions to healthcare professionals. This campaign is supported by notable individuals including founder of MAPS Rick Doblin and renowned psychiatrist Stanislav Grof.
Charles Grob, Professor of Psychiatry at UCLA, has joined other leading academics and practitioners in penning a letter to Health Minister Hajdu. Grob's letter strongly recommends that psychotherapists be allowed to experience firsthand the psychedelics they administer. Grob has spent thirty years researching the efficacy of psychedelics in treating patients who suffer from treatment-resistant psychological conditions. He believes that experiential training "allows the psychotherapist to more effectively guide their patient and thus optimize safety and likelihood of a therapeutic outcome."
Psilocybin Alpha understands that a decision from Patty Hajdu with regard to healthcare professionals is expected to be made by the end of this month.
---
Supporting the Work of TheraPsil
Supporting this broader pool of applications – work that has thus far fallen on TheraPsil – is costly. In order to broaden patient inclusion criteria TheraPsil is launching a fundraising campaign, with details to follow. The organization has a target goal of $250,000, to be matched by a donor for an additional $250,000 to reach their target by December 31, 2020. With this funding, TheraPsil plans to improve and expand their human resources to maintain the high standards of support they provide.
If you would like to support TheraPsil in advance of their fundraising campaign, you may donate directly via their website. If you're not in a position to donate, please do join their newsletter and follow them on Twitter.

Please note that TheraPsil is unable to support further non-palliative applications at this time, but welcomes those suffering from end-of-life distress to confidentially contact them through the TheraPsil website.