The Project on Psychedelics Law and Regulation (POPLAR), aims to promote evidence-based law and policy with regard to psychedelics.
Today, the Petrie-Flom Center for Health Law Policy, Biotechnology, and Bioethics at Harvard Law School announced a new research initiative that will promote safety, innovation, equity and access in psychedelics research, commerce, and therapeutics.
The Project on Psychedelics Law and Regulation, or POPLAR, is the first academic initiative offering a clear focus on psychedelics law, regulation and ethics.
To learn more about the initiative we spoke to Mason Marks, Senior Fellow at the Petrie-Flom Center and Project Lead of POPLAR.
Last year, Marks—as a fellow-in-residence—organized a panel hosted by the Center titled Can Psychedelics Save America? and a digital symposium dubbed Psychedelics and America. Due to their warm reception, Marks decided to carve out a more permanent research initiative at Harvard Law School, and ultimately POPLAR was launched. Marks leads the project alongside I. Glenn Cohen, faculty director of the Petrie-Flom Center,
The Project is launching at an opportune time for engaging with the legal and ethical matters emerging in the psychedelics space. The pace of change is staggering, with both for-profit and non-profit actors bringing psychedelics into the mainstream once more.
Just yesterday, for example, State Senator Scott Wiener's SB 519, which would decriminalize psychedelics in California, cleared another hurdle in passing the California State Assembly's Committee on Public Safety. This is the latest development in the decriminalization and legalization landscape, which POPLAR will surely take a keen interest in analyzing and shaping.
On the subject, Marks explained that, "Scott Wiener's SB 519 is important because it acknowledges that the punitive drug enforcement methods that characterize the US war on drugs are counterproductive."
Marks noted that SB 519 is by no means final, and has undergone revisions. One such amendment was accepted by Sen. Wiener yesterday afternoon in the Committee on Public Safety, which recommended the removal of ketamine from the decriminalization Bill. Earlier, a clause that would see those with existing convictions pertaining to possession of psychedelics have their records expunged was removed.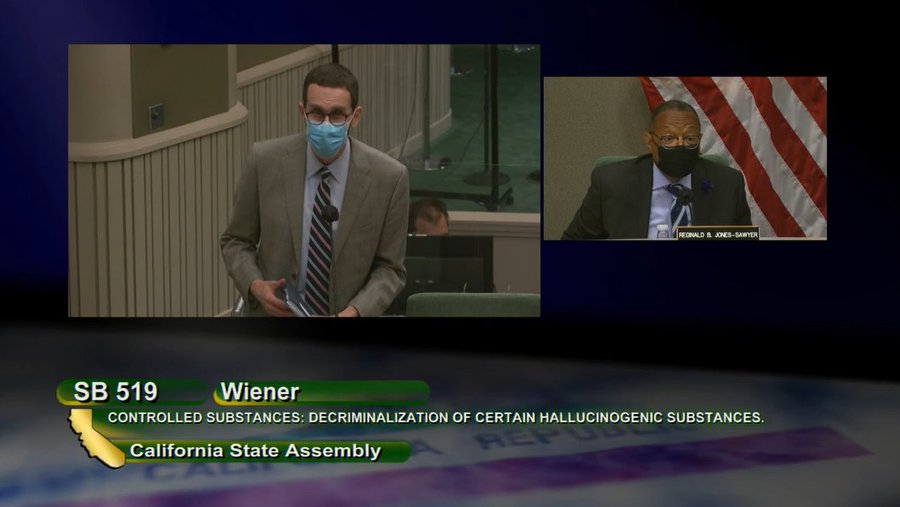 "Really, Oregon has been the leader in drug policy reform, having passed Measure 109 and 110 last November," Marks added. Marks is a Member of the Oregon Psilocybin Advisory Board and Chair of its Licensing Subcommittee.
Comparing the two initiatives, he provided some interesting nuance:
SB 519 builds on what Oregon achieved with Measure 110 by adding cultivation, processing, and social sharing of psychedelic plants to the list of decriminalized activities. That's a current gap in Oregon legislation that a group called the Plant Medicine Healing Alliance is attempting to address.
Such legislative action is not limited to democratic, liberal states, though. Texas recently passed a bill mandating state research into psychedelics for the treatment of PTSD, reminding us that there is a level of bipartisan support for such work.
"Improving our approaches to treating mental health conditions is so important, that it cannot be ignored," Marks commented. He went on to add that legislators in Maine, Vermont, Florida, Iowa, California, Massachusetts, Connecticut, and Hawaii have all sponsored bills that call for the decriminalization, legalization, or other legislative changes to the status of psychedelics.
Beyond legislative measures, the debate around intellectual property in the psychedelics space is set to be a "major focus" of POPLAR, which will "analyze the role of biopiracy in psychedelics commercialization and the ethics, validity, and social utility of patents on psychedelics related inventions," Marks explained.
In fact, the Project will have 5 focus areas:
Ethics in Psychedelics Research and Therapeutics
Challenges at the Intersection of Psychedelics and Intellectual Property Law
Opportunities for Federal Support of Psychedelics Research
Access to Psychedelic Therapies and Equity in Emerging Psychedelics Industries
The Role of Psychedelics in Healing Trauma
The 3-year initiative is funded by grants from Tim Ferriss and Matt Mullenweg via Ferriss' charitable organization, the Saisei Foundation. This is the latest in a string of psychedelics philanthropy by Ferriss and friends, who have provided funding to the likes of MAPS and the Johns Hopkins' Center for Psychedelic & Consciousness Research.
This news follows the launch of Mass General's Center for Neuroscience of Psychedelics earlier this year, representing a strong interdisciplinary interest in the field from one of the most prestigious institutions in the world.