I'm excited to share our latest free feature: The Psychedelic News Feed. This webpage aims to serve as a one-stop destination for the latest media coverage of psychedelics business, policy, research and beyond.
No aggregators, no AI bots: we manually accumulate these clippings and sprinkle in some quick-take analysis here and there. We will also send a weekly digest of the Psychedelic News Feed to your inbox.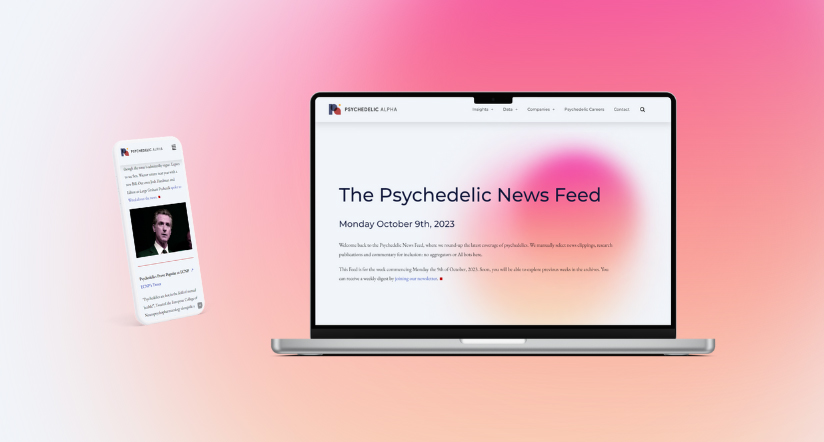 Many of you that follow us on Twitter will know that we post a great number of articles, updates and commentary on the platform every day (often including weekends). But as the popularity (and, palatability) of social media platforms varies, we decided it's best to share these news clippings in a more platform-agnostic manner.
And so, The Psychedelic News Feed is born.
The Feed is quite simple, really: head to the webpage (you could bookmark it, or make it your homepage, even) and you will find recent articles on all things psychedelics (it's a little quiet for now, given it's only Tuesday). You might also find event listings and the odd dash of analysis and commentary (though, more in-depth analysis is not provided here). Inclusion does not amount to an endorsement.
I will do my best to update this daily and will archive content into their own posts periodically.
We're drinking from the fire hose of information, reading almost everything published on the broad topic of 'psychedelics' each day, but I hope that this Feed will provide a more manageable fountain of content for you to enjoy in your own time.
We will also be opening up a limited number of sponsorship opportunities for the Feed. Sponsors will benefit from placement on the Feed webpage and email digest as well as evergreen placement on the archived post. Get in touch if you would like to discuss further.
– Josh Hardman