This Opinions piece comes from Dennis Walker, a content producer and founder of Mycopreneur. Walker has recently transitioned from interviewing the CEOs of publicly-traded psychedelics companies to becoming one of the most popular satirists of the 'psychedelic renaissance'.
Since he started the Mycopreneur podcast back in January 2021, Walker's outlook on the space—and the type of content he produces—has morphed quite substantially. Earlier this year his content began leaning more heavily on satirical skits that sought to highlight contentious topics within the psychedelics 'space' such as cultural appropriation, tokenism, and whether the psychedelics industry is a genuine departure from 'business as usual'.
Walker sees humour as a tool to help us broach these uncomfortable conversations and imbue a level of nuance into controversy: "satire weds wit with moral concern", he writes.
We agree with his belief that some elements of the psychedelic community, especially the psychedelics sector which we cover so extensively here at Psychedelic Alpha, takes itself too seriously.
In an attempt to lead by example, we asked Walker to satirise Psychedelic Alpha…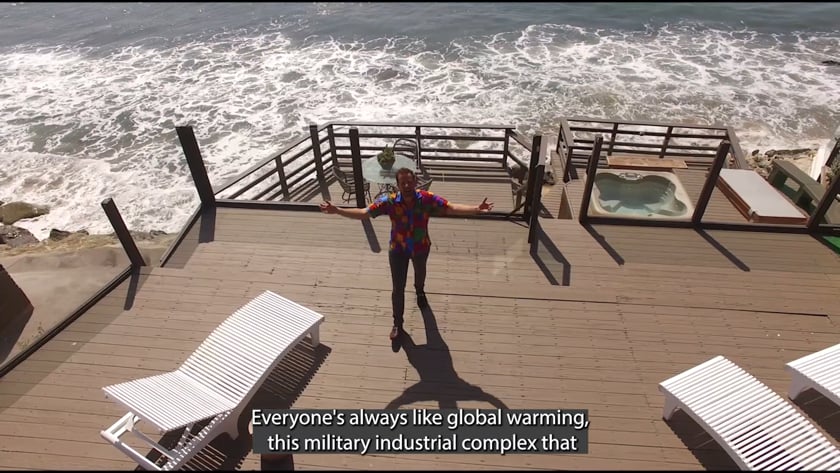 Without further ado, here's Dennis with his Opinions piece…
The psychedelic community takes itself too seriously.
As the world warms up to the long dormant potential of psychedelics as medicine, an almost religious fanaticism has swept through legions of spiritually awakened psychonauts preaching the gospel of their favorite shaman or mind-altering molecule.
When I started the Mycopreneur podcast in January of 2021, I was eager to prove my merit as a serious interviewer and ardent disciple of psychedelic culture. My first handful of interviews were with notable journalists, therapists, combat veterans, and entrepreneurs all sharing emotionally captivating stories about the intimate connection between psilocybin mushrooms and their own personal hero's journey. 
Over the course of the next year, I became connected to the emergent psychedelics industry in a way that I never imagined possible at the start of my own psychedelic media venture. 
I interviewed CEOs and Founders of publicly traded companies, scored press passes to major industry conferences, and even hosted my own week-long incubator for fungi entrepreneurs.
I sat through numerous interviews, panel audiences, and integration circles, fidgeting uncomfortably as another self-appointed visionary described the medicine download they received and the impact that their company is going to make on the world.
Over time, a driving question began to percolate in my bemushroomed mind:
Where is everybody's sense of humor?
In January of 2022, I took decisive action and made a short satirical skit lampooning the white-owned foreign psychedelic retreat center model that's sprouted up everywhere from Tulum to Iquitos to Ubud.
The response was overwhelming – the 'Woke Capitalist Retreat Center' video racked up 160,000 organic views and hundreds of organic shares overnight, with people as far afield as Cairo, Bali, Dubai, and Mexico City reaching out to tell me how 'on point' and necessary this satirizing of the psychedelic community is. Everybody knew somebody like the character in the video, and everybody had a story about a friend or an ex-partner who got sucked into the 'Woke Capitalist Retreat Center' in real life. 
Over the course of the next week, I responded to the demand for more punchy satire of the psychedelic community by identifying and impersonating more archetypal figures and scenarios of the 'psychedelic renaissance'. 
Interest in these satire videos quickly surpassed my very serious and business-oriented podcast episodes, and felt like a natural counterpoint to the entrepreneurial vernacular and intimate psychedelic insights contained therein. The satire videos have collectively raked in over 2,000,000 organic views and tens of thousands of shares in the seven months since I started posting them, and have earned me a cult following that includes Netflix showrunners, established comedians, and many of the exact types of characters that I satirize. 
In the seven months since I posted that first satire video, I've come to understand that the psychedelic community and the emerging psychedelic industry are in dire need of a good ridiculing. But more so than simply trolling for laughs, satire weds wit with moral concern. 
Satire has proven to be a trojan horse for identifying and dissecting sensitive cultural issues that increasingly beseech the psychedelic community on its journey from counterculture to mainstream. 
Whereas the emergent psychedelic media landscape increasingly fumbles their navigation of  controversy and polarity of perspective, satire turns the most sensitive and touchy issues into fodder for belly laughs and common ground. 
There's something much more human, and truly psychedelic, about approaching hot-button issues with a self-deprecating and disarming lens of humor. Satire is an admission that we don't know everything and that there may not be a 'correct answer' or a one-size-fits-all solution to complex scenarios. 
But just like trying to integrate a psychedelic experience, allowing space for laughter is often itself a better outcome than trying to reduce everything to a sense of rational understanding and agreement. 
"For a community built around experiences that often result in ego death, the self-aggrandizement of the emerging psychedelic industry is the gift that keeps on giving to a satirist in need of plot lines."
Since embarking on my unexpected detour into the realms of psychedelic satire, I've repeatedly found that levity and wit are two of the most necessary and underappreciated qualities in the emergent psychedelic community. For a community built around experiences that often result in ego death, the self-aggrandizement of the emerging psychedelic industry is the gift that keeps on giving to a satirist in need of plot lines.
I find it deeply amusing that videos of characters with names like "Kyle Boner" and "Richard Johnson Jr. III" humorously analyzing the psychedelic industry have organically outperformed the content of buttoned-up professional analysts soberly covering the same topics. 
In the same regard, the 'white shaman' character I repeatedly satirize has been extraordinarily adept at provoking civil discourse around such controversial themes as cultural appropriation, systemic racism, and tokenism in the psychedelic space. 
Humor disarms people. It says 'I'm not trying to be better than you'. It creates an approachable framework for tackling sensitive issues that often require a level of discernment and nuance not as readily available to a serious tone. 
In the process of unpacking sensitive and controversial issues through satire, a level of civil discourse largely unfamiliar to our current era unfolds.
While creating absurd skits such as the "Boofing Bogan Healing Center" , "Don Chad's Quantum Cacao", and "The Psychedelic Equity Hedge Fund", something unexpected has resulted from the juvenile humor masking serious issues.
People in the psychedelics industry started paying attention. While skewering The Medical Psychedelics House of Davos crowd this year, a psychedelic community delegate present at Davos reached out to tell me they were a huge fan of my work. The same types of highly visible founders and executives I started out interviewing on the Mycopreneur Podcast started buying into the satire videos more than the podcast. 
"We're spokespeople for an experience that often confers ephemeral and ineffable feelings of immeasurable depth and meaning. So why are we trying to reduce these experiences into 'business as usual'?"
On one occasion, a high profile psychedelic industry figure started off our podcast interview session by asking if I had arranged the interview solely to make fun of them; one of my satire videos had been forwarded to them by a friend that very week – yet they did the interview anyway, and their PR agent continues to send me other psychedelic industry guests for the podcast. 
As the psychedelic community and industry continue to evolve and penetrate the mainstream, I would urge that all of us stop taking ourselves so seriously. 
We're spokespeople for an experience that often confers ephemeral and inarticulable feelings of immeasurable depth and meaning. So why are we trying to reduce these experiences into 'business as usual'?
And since we're on the subject: If anybody can help me make a realistic-looking Rick Doblin puppet, please reach out to me and let me know what kind of energy exchange you need from me to finesse a deal for it.