This Week:
📜 Journey's Patent Pledge Marks First for Psychedelics Space
🧭 Predicting Response to Psilocybin Therapy: Therapeutic Alliance Not Relevant, Says COMPASS
🏛️ Macro Trend: The Inflation Reduction Act's Impact on Drug Development
🩺 Psychedelic CPT Codes to Be Considered in February
and lots more…
Journey's Patent Pledge Marks First for Psychedelics Space
Psychedelic drug developer Journey Colab has put reciprocity at the centre of its branding and business model from the get-go, carving out 10% of its founding equity for a Reciprocity Trust. Presumably conscious of tensions surrounding psychedelic patents, the company revealed a Patent Pledge and published a White Paper covering the company's approach to reciprocity right as its first patent application covering the use of mescaline in the treatment of substance use disorders published. Here, we focus briefly on the Patent Pledge.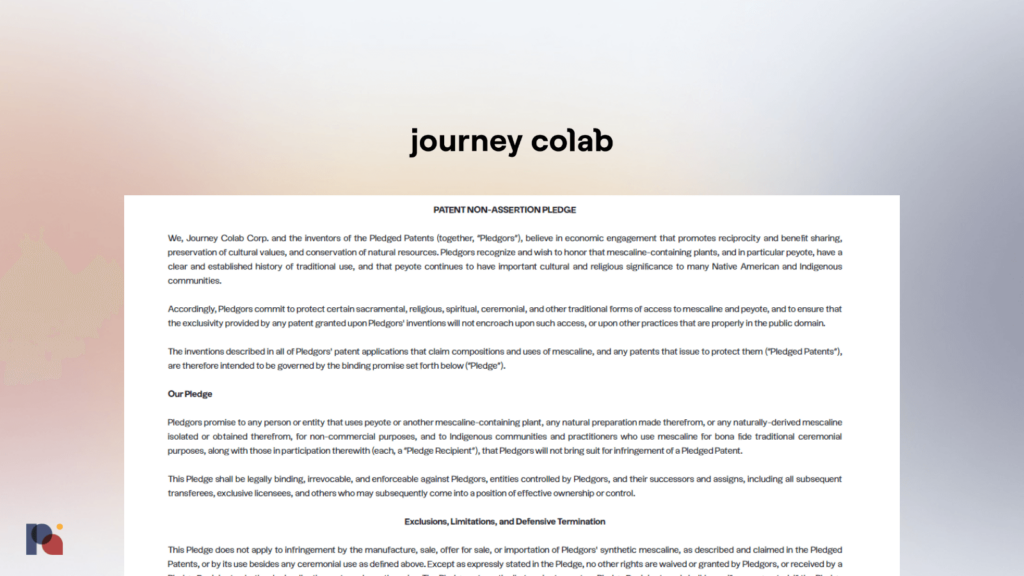 The term 'patent pledge' does not yet benefit from a universally-accepted definition. Generally, however, a patent pledge will make one or more of a few commitments, such as committing to the granting of licences on terms that are fair, reasonable, and non-discriminatory (FRAND), or promising not to assert patents against certain uses of the technology (such as in the context of open-source or non-commercial projects). (See Ehrnsperger and Tietze, 2019, for more.)
Journey's Patent Pledge is of the non-assertion breed, codifying the company's commitment to not enforcing any of its mescaline-related patents (if and when they issue) against those engaging in non-commercial uses, "and to Indigenous communities and practitioners who use mescaline for bona fide traditional ceremonial purposes" and their participants (tracking the legal standard for the traditional religious use of peyote, such as in 42 U.S.C. § 1996a). The Pledge is legally binding and irrevocable.
Jeeshan Chowdhury, Founder and CEO of Journey, told us that the pledge is an attempt to meet the need to recoup the steep costs of drug development with a commitment to preserving the rights of traditional communities. Indeed, one might argue that patent applications seeking to cover mescaline might be particularly delicate, given its rich history of traditional use and continued importance to many indigenous communities.
To our knowledge, this makes Journey the first psychedelic drug developer or manufacturer to publish a Patent Pledge, despite discussion from other parties on the matter.
Over 18 months ago, Psychedelic Alpha Editor-at-Large Graham Pechenik pondered aloud whether a comment made by COMPASS Pathways' former COO and Co-Founder Lars Wilde at a virtual event might approximate a patent pledge. After being asked about his company's patent application covering common elements of psychedelic therapy protocols (as reported by journalist Shayla Love), Wilde said:
"I want to make that public on the record here: we're not going to enforce anything related to set and setting. […] This is in the public domain. It will never be enforced."
While it's not appropriate to construe every off-hand comment by a company exec as a patent pledge, or grounds for claiming estoppel, it's nonetheless interesting that Wilde explicitly chose to place the non-assertion of its set and setting claims "on the record".
Later, in April 2022, Shayla Love revealed that Freedom to Operate (FTO)—a non-profit led by Carey Turnbull that seeks to fight "bad patents" in the psychedelics realm—had sent a letter to COMPASS' former CEO and Co-Founder George Goldsmith, "asking him to either willingly disclaim one of Compass' psilocybin patents or sign a document that would promise Compass would not enforce that patent." We can only assume COMPASS refused to sign such a letter.
In a VICE documentary that aired earlier in the year, the former CEO was asked about whether his company would be willing to sign a patent pledge or equivalent document. "We don't need to reassure people right now", he replied, insisting that the task at hand was to produce evidence on whether psilocybin is safe and effective.
Shortly after the sending of FTO's letter became public, lawyer Matt Zorn emailed Turnbull to ask whether he himself would sign something similar regarding 'the Schindler Application', formally titled "Psychedelic treatment for headache disorders". The provisional applications pertaining to the Schindler Application(s) were filed by various entities that Turnbull headed up, including FTO and non-profit drug developer B.More. (Interested readers must visit On Drugs for more.) Zorn was effectively asking Turnbull to "neutralize" 'the Schindler Application' by signing "something like a defensive patent pledge". In response, Turnbull pointed to his being a signatory of the Statement on Open Science. So, no explicit patent pledges just yet. Do as I say, not as I do?
According to April 2022 reporting in Lucid News, the co-founders of late psychedelic manufacturer Mimosa Therapeutics PBC wrote a patent pledge that would have granted "a royalty-free license to individuals commercially producing psilocybin mycelium until they start earning over $500,000 or $1 million in certain cases." But, the pledge was not posted publicly.
This brief and incomplete sketch of the short history of patent pledge discussions in the contemporary psychedelics space might highlight the significance, or at least uniqueness, of Journey's published patent non-assertion pledge. Might others follow?
(Disclosure: Psychedelic Alpha Editor-at-Large Graham Pechenik supported the development of the Patent Pledge with Journey's General Counsel, Rebecca Lee Whiting. Pechenik did not contribute to the writing of this commentary.)
Predicting Response to Psilocybin Therapy: Therapeutic Alliance Not Relevant, Says COMPASS
The American College of Neuropsychopharmacology's (ACNP) 61st Annual Meeting played host to plenty of psychedelics-related discussions and poster presentations. Of the companies to make at least a portion of these posters public (and thus, eligible for discussion here), COMPASS Pathways shared further findings on the subject of predicting response to COMP360 psilocybin therapy.
The poster in question was titled Predicting depression outcomes through the influence of therapeutic alliance and the psychedelic experience using path modeling in a phase IIb randomized controlled trial of COMP360 psilocybin therapy. 
Essentially, the poster claims subjective psychedelic effects "were significant predictors of depressive symptom severity", with certain subjective effects related to a reduction in depressive symptoms at week 3. (Note: as Finnish psychology researcher Samuli Kangaslampi shared on Twitter, the outcome measured was, curiously, the "level of, not change in, depression".) Therapeutic alliance, however, "was not significant" in any of the path analyses.
In short, the poster claims, "key elements of the acute subjective psychedelic experience but not therapeutic alliance predicted improvement in depressive symptom severity".
Psychedelic Neuroscientist Drummond McCulloch wrote on Twitter that he was, "[s]urprised to see no relation between therapeutic alliance and clinical outcome". Indeed, it doesn't appear to be consistent with other studies like that of Murphy et al. (2022). McCulloch went on to say that subscale analysis of the 5D-ASC (which measures altered states of consciousness), "supports our hypothesis that positive-mood experiences on the drug are what drive the lasting benefits." Other researchers such as Max Wolff and Leor Roseman also chimed in with methodological critiques, calling the conclusions about therapeutic alliance into question.
While the poster's authors point out that COMPASS Phase IIb study represents a "larger, more robust TRD sample" than that of Murphy et al.'s, it's also worth remembering that COMPASS describes its therapy model as "psychological support", presumably aiming to differentiate this from more conventional therapy. It's indirectly referred to in the poster as a "safety measure", even, with an apparent focus on physiological and physical safety and maintaining a non-directive approach.
This differs significantly from the therapy protocols of other clinical trials, such as Murphy et al.'s modified version of Acceptance and Commitment Therapy or MAPS' manualized supportive therapy (as used in their Phase 3 trials); both of which are far more 'involved'.
So, some might argue that we shouldn't be surprised that data pertaining to this protocol appears to show that therapeutic alliance does not predict improvement in depressive symptom severity. Perhaps the term "therapeutic alliance" is even a misnomer, given the therapists' actual role in this particular protocol?
The jury's out. As always, it's difficult to adequately analyse such findings on the basis of high-level data, as shared in posters and press releases. Such analysis will likely have to wait for a full publication of the findings.
Anyhow, COMPASS will likely see this lack of association between therapeutic alliance and depressive symptom severity improvement as a positive signal, for it allows them to pull focus on the drug's efficacy and downplay the costly container within which it's administered. COMPASS doesn't intend to make money from selling therapy or training therapists, after all. It's also, presumably, much easier to standardise the provision of safety-focused 'psychological support' than the more rich form of therapy seen in MAPS et al.'s trials.
But, in terms of predictive validity, COMPASS only appears to be able to predict responders during or after the first psilocybin session. Whether using subjective experience measures such as 5D-ASC or EBI, or natural language processing as seen in the company's Chanterelle tool, it's only predictive after the first dose of COMP360 has been administered… for now. Given this poster's findings, the predictive utility of pre-psilocybin session therapeutic rapport is, apparently, out of the window.
I (Josh) touched upon this theme in a recent article for Lucid News:
Theoretically, one of the most propitious ways to boost efficacy and slim down costs is to develop a method of weeding out responders from non-responders as early as possible. In this vein, COMPASS was keen to showcase "Chanterelle", its program that seeks to apply natural language processing (NLP) in pursuit of this hefty endeavor. The program slurps up qualitative and quantitative data and spits out a prediction of how likely a participant is to be a responder.

According to data shown during the Capital Markets Day (and in a preprint publication), Chanterelle is able to identify responders with a great degree of accuracy, but—and this is crucial—only after the first dose of COMP360 has been administered. Given that the vast majority of costs associated with the single-dose version of this therapy have been spent by that point, it's akin to Booking.com predicting that you will enjoy your vacation only after you've picked up your complimentary coconut water at checkin-in, tested out the firmness of the mattress, and dipped your toes in the pool.

Of course, COMPASS will look to bring forward the predictive window of Chanterelle, which might be expected to only improve as the sample size increases. Might the AI-based tool also be able to predict treatment-emergent serious adverse events, too?
We look forward to seeing further data on these topics.
(Note: another poster presentation and press release from COMPASS shared positive early data from a trial of COMP360 psilocybin therapy for Bipolar II Disorder. More on this next week.)
Psychedelic CPT Codes to Be Considered in February
As psychedelics move closer to potential FDA approval and beyond, the focus on adoption by incumbents (payers, practitioners, etc.) is ramping up. In the latest instalment of 'trying to fit a psychedelic peg in a square hole', we take a brief look at CPT codes…
One of the more administrative hurdles to the adoption of a new medical technology, procedure or service is obtaining a Current Procedural Terminology (CPT) code. The CPT code set is a standardised way of referring to such interventions (as opposed to ICD-10 codes, which classify diagnoses), and is used by virtually all health insurance companies and their systems in the U.S. and a number of other countries.
As readers know, psychedelic-assisted therapy protocols call for both the prescribing of a drug and the delivery of some therapy-esque element before, during and after the drug sessions. It's this latter element that is pretty unique, in that the therapy-esque element is co-administered with a drug and entails an especially long session. While the pre- and post-drug sessions could be coded using existing psychotherapy CPT codes, it will be tricky to stretch those to cover the drug sessions, given they can last upwards of six hours and often involve two practitioners.
Given this fact, drug developers like MAPS PBC and COMPASS Pathways will seek to encourage the American Medical Association's CPT Editorial Panel to establish new codes for this element of the treatment protocol. This is especially important given that it represents a significant portion of the costs associated with such protocols. The next round of discussions on this matter will take place at the February 2023 meeting, with three potential Psychedelic Drug Monitoring Services on the proposed agenda. These would be Category III codes: temporary codes assigned to emerging technologies like psychedelic therapy.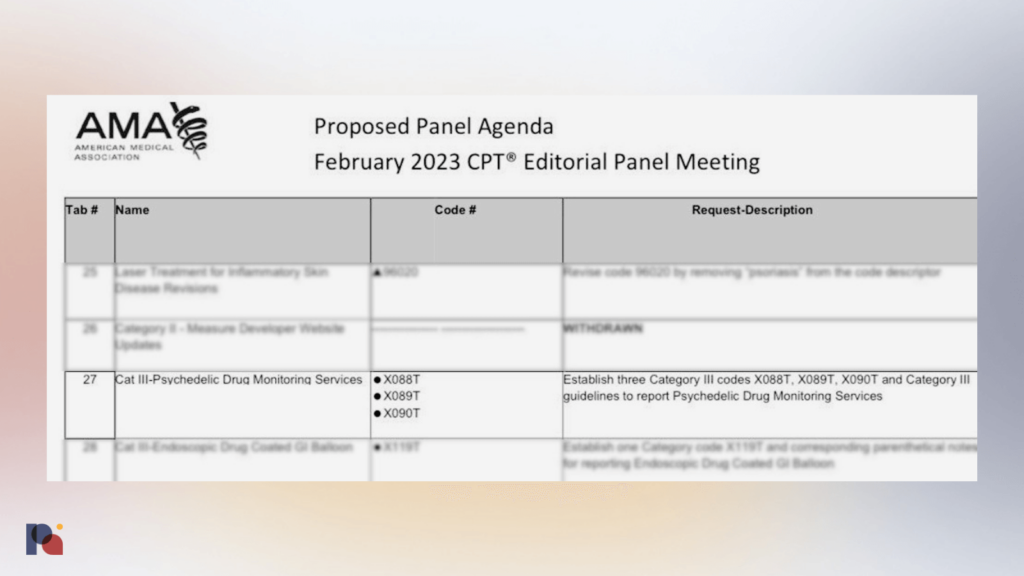 It will be interesting to see what types of services and procedures these three codes describe. Keep in mind that the types of 'monitoring' that each drug developer employs in its psychedelic-assisted therapy protocol are by no means homogenous. Rather, they can range from the somewhat open-ended therapeutic toolbox that MAPS PBC affords its practitioners, right through to the deliberately non-directive and safety-focused "psychological support" that COMPASS Pathways prefers. The term 'monitoring', then, might be a canny attempt at allowing for such latitude.
Sources familiar with the process told us that it's rather opaque by design, as the CPT Editorial Panel does not wish to invite lobbying efforts.
Side note: there is already a CPT code for narcosynthesis, which describes a procedure in which a provider "administers a narcotic drug to induce a hypnotic state that helps in psychiatric diagnosis and treatment". The technique was developed by psychiatrists in the post-WWII era in an effort to treat PTSD. It employed barbiturates like sodium amytal and pentothal, which have sedative-hypnotic effects. The use of this procedure is incredibly rare today. A 1944 video that shows these "ultra-short-acting barbiturates" being administered intravenously at an Omaha hospital is available via the National Library of Medicine.
(Editor's note: BrainFutures covered psychedelic CPT codes at length in its Expediting Psychedelic-Assisted Therapy Adoption in Clinical Settings report, which even covered narcosynthesis. Recommended reading!)
Featured Psychedelic Jobs
Macro Trend: The Inflation Reduction Act's Impact on Drug Development
As its name suggests, the U.S. Inflation Reduction Act—signed into law on August 16th—seeks to tackle inflation through a number of avenues. Alongside investing in domestic (predominantly) clean energy production, one major target is lowering prescription drug prices. This will be achieved through various policy levers, including by allowing Medicare to directly negotiate prices for a limited number of the most expensive drugs on a limited set of plans from 2026, and placing a cap on out-of-pocket prescription drug costs. These changes, along with a bevy of others, will be phased in over a number of years.
Few would disagree that prescription drug prices in the U.S. are extraordinary, with a 2021 international comparison finding U.S. prices to be 256% of those in 32 comparison countries (even after adjusting for rebates and other discounts, prices were 190% of those in the comparison countries). The pharmaceutical industry has often defended these apparently exorbitant prices by arguing that they incentivise the immensely costly and risky endeavour of bringing a drug to market.
Industry had hoped that a last-minute lobbying push coupled with a strong Republican showing at the Midterms might provide good footing from which to chip away at the Act. No dice. Consulting firm L.E.K. expects "immediate, long-lasting consequences for biopharma R&D investment levels", resulting in "lower overall levels of innovation."
The public will have little sympathy for an industry with such a bad public image: beneficiaries of an opioid crisis, buoyed by patent system trickery, and represented in the media by caricatures like Martin Shkreli. Much of the criticism is fair. But, public opinion aside, it's clear that lowering prescription drug prices while maintaining adequate incentives for investment in new and innovative drugs is a delicate balance, which might be (albeit simplistically) represented as a tradeoff between innovation and patient access.
One thing's certain: drug development startups (which includes psychedelics companies, of course) and "big pharma" incumbents alike will be re-evaluating their commercial strategies and pipelines in response to these forthcoming changes.
Portland's 'Shroom House' Psychedelics Shop Raided
Last week, Portland police raided Shroom House, a shop that was allegedly operating as a psychedelic mushroom dispensary. Court documents reveal that undercover officers successfully purchased over 30 grams of psilocybe mushrooms from the Shroom House shop in Portland, Oregon, and observed "over a dozen customers" buying products.
The alleged owner and manager are each facing over 20 felony charges, and will next appear in court on December 19th.
Other Headlines
FDA's Center for Drug Evaluation and Research Clarifies Post-NDA Rescheduling Decision Process
Given their placement on Schedule I in 1970, Psychedelics' abuse potential "has not been systematically assessed using modern methodology", according to the Center for Drug Evaluation and Research, a division of the FDA. In an article published in Neuropharmacology, members of the Controlled Substance Staff of the division explains the scientific and medical evaluation that will take place should a new drug application for a classic psychedelic be received by the FDA. This evaluation would inform any rescheduling decision.
Psychedelic Insurance Provider Enthea Raises $2m Seed
Enthea, a benefit plan administrator that allows employers to offer ketamine therapy to their employees, has raised $2m in seed funding led by Tabula Rasa Ventures. See coverage in MedCity News, Forbes, STAT and Axios.
Psychedelics at the EU
A conference focusing on the use of psychedelics in the treatment of brain disorders was the first event of its kind to take place at the European Parliament in Brussels. The conference was co-convened by Polish MEP Agius Saliba, PAREA and the European Brain Council. See coverage in the Malta Independent and on PAREA's website (which includes links to presentation slides). Our friends at Blossom even shared a transcript.
5-HT2A and Cannabinoid Receptors are Most Popular Preclinical Targets
Global Data shows that 5-HT2A and Cannabinoid Receptor 1 are the joint most popular targets in preclinical CNS trials.
Miscellany
Psychedelics: expanding the therapeutic toolkit

–

Prospect

. (BCSP's Imran Khan urges the UK to establish a commission to investigate psychedelics' potential.)
The therapeutic potential of psychedelics

–

Science

. (A look at some of the unanswered questions remaining re: psychedelics as medicines.)
We're rushing the use of psychedelics as medicine, researchers say

–

New Scientist

. 
The 'recalibration phase' of AI in drug discovery

–

Biocene Thoughts

. (A look at whether AI in drug discovery has lived up to the hype.)
Johns Hopkins Researchers Explore the Concept of Belief Changes Related to Psychedelic Experiences

–

Johns Hopkins Medicine

.
Inside the battle to save the sacred peyote ceremony: 'We're in dire straits'

–

The Guardian

.
Join our newsletter to have our Weekly Bulletin delivered to your inbox every Friday evening. We summarise the week's most important developments and share our Weekend Reading suggestions.