Companies focused on psychedelic drug development are applying rigorous clinical trial design and methodology to validate what many cultures and societies have known to be true for hundreds, if not thousands, of years.
As in the broader biotech field, many psychedelics researchers are looking to forward a more pragmatic approach to drug discovery and development, which may involve innovative, iterative, and integrated methods (see, for example, Carhart-Harris et al., 2021).
To go beyond buzzwords, one (at least somewhat) concrete example of this innovation is the employment of real-world data in the design and implementation of clinical trials. This theme arose this week in two company announcements, discussed briefly below.
Elsewhere, Michael Pollan's latest psychedelics-tinged book was published, and researchers at Yale showed that psilocybin increases neuronal connections in the mouse brain.
Compass Pathways Announces Collaboration with NHS & King's College London
Earlier this week, Compass Pathways announced its signing of an MoU with South London and Maudsley NHS Foundation Trust (SLaM) and the Institute of Psychiatry, Psychology and Neuroscience (IoPPN) at King's College London.
The company outlined, albeit in broad strokes, a "multi-year partnership" between the three parties that will include research into the company's COMP360 psilocybin therapy. Elsewhere, the company hopes to explore "other novel therapies" via this collaboration, investigating additional indications such as PTSD and anorexia.
Professor Allan Young, Head of Academic Psychiatry at King's IoPPN, said, "We have been in partnership with SLaM at the Maudsley Biomedical Research Centre since 2007, and with COMPASS on COMP360 psilocybin therapy research since 2018. By combining our strengths in biomedical research, clinical trials, clinical care, translational science, training, and digital innovation, we can create a world-class centre of excellence in mental health."
The group will also aim to generate real-world evidence, which is increasingly used to supplement clinical trials to provide a dataset which more accurately "reflects the true divert of people with the same condition," according to Elsevier's Timothy Hoctor. More from our pharmaceutical advisor, Michael Haichin, below…
A Note on Real-World Data & Evidence
"Randomized controlled trials (RCTs) are still the gold standard for assessing a drug's safety and efficacy. However, the generalizability of the results to patients beyond trial participants are often limited by strict protocols and exclusion criteria.
Real-world evidence may better reflect clinical practice and can provide additional evidence of a drug's safety, effectiveness, and cost-effectiveness. It may also give insights into off-label use and for scenarios where it may not be feasible or ethical to conduct an RCT.
Real-world evidence is based on the analysis of real-world data (RWD) from a variety of sources including electronic health records, health applications, wearable technologies, and medical insurance claims. The FDA and other drug regulators are increasingly accepting real-world evidence to supplement (but not replace!) RCT evidence. Historically this has occurred most often with drugs for oncology and rare diseases, where patient populations may be too small to perform adequate RCTs. Given the ubiquity and diversity of RWD, expect an increase in the relative importance of real-world evidence for drug approvals and more prominently reimbursement decisions."
– Michael Haichin, Psilocybin Alpha's Pharmaceutical Advisor.
MindMed Partners with Health Data Connectivity Company
Speaking of real-world data and evidence, MindMed announced a somewhat related partnership with healthcare data platform Datavant this week.
One of the primary issues with real-world data is its heterogeneity, as well as the fact that it is frequently produced and collated in an idiosyncratic manner. Whether it's the peculiarities of how a family doctor takes notes or the specificities of the database structure used by a national healthcare provider; the issue of interoperability is a clear barrier to harnessing such data.
Companies like Datavant seek to offer a solution to this maelstrom of disparate data, while maintaining patient privacy. According to Datavant, they can connect partners to "the nation's largest ecosystem of real-world data," which includes obvious sources like electronic health records (EHRs), but also more unorthodox ones like wearable devices and medical claims.
MindMed will hope to leverage this data to better understand the patient journey and thus augment their drug development efforts. Commenting on the announcement, MindMed CEO Robert Barrow explained:
"Truly understanding the patient journey by knowing about all relevant encounters and events that lie outside of the limited window of clinical trials will enable us to better develop and deploy therapeutics that offer new hope for people who are suffering."
Yale Study Shows Psilocybin Generates 10% Increase in Neuronal Connections in Mice
This week, researchers at Yale University published a study that evaluated structural changes in the brains of mice dosed with psilocybin. Senior author Alex Kwan explained, "we not only saw a 10% increase in the number of neuronal connections, but also they were on average about 10% larger, so the connections were stronger as well."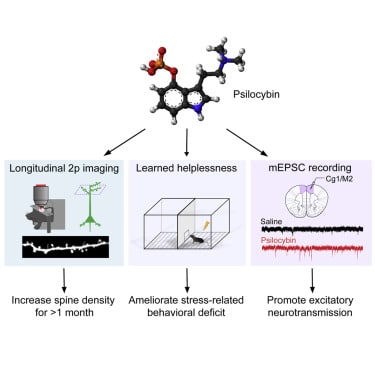 The increased connectivity between neurons—seen in the increased density of dendritic spines—was immediate and long-lasting, according to the authors. In concrete terms, the changes were observed within 24 hours and were sustained at a month post-administration.
Mental health ailments such as depression and chronic stress are known to reduce the density of such connections, leading researchers to believe that psilocybin's opposite effect may be central to its apparent antidepressive qualities.
Read more at Technology Networks, Yale News, Sky News, The Hill, and find the study in Neuron:
Shao, L.-X., Liao, C., Gregg, I., Davoudian, P. A., Savalia, N. K., Delagarza, K., & Kwan, A. C. (2021). Psilocybin induces rapid and persistent growth of dendritic spines in frontal cortex in vivo. Neuron. doi:10.1016/j.neuron.2021.06.008
Michael Pollan's New Book Looks at Our Relationship to Three Psychoactive Plants
Berkeley-based journalist and author Michael Pollan published his latest book this week, which continues his foray into drug journalism. This Is Your Mind on Plants takes readers on a deep dive into three drugs derived from plants: opium, caffeine, and mescaline.
On the latter, The Times' Josh Glancy notes:
As part of the research for his new book, This Is Your Mind on Plants, Pollan had planned to spend part of last summer on the banks of the Rio Grande in Texas at a psychedelic ritual. When that idea ended up on the vast rubbish heap of Covid cancellations, he decided to try mescaline — a naturally occurring psychedelic that grows in the peyote cactus — at home instead.
Pollan has been speaking to various mainstream outlets about his latest work, including NPR, The New York Times, and an appearance on The Joe Rogan Experience.
Join our newsletter to have our Weekly Bulletin delivered to your inbox every Friday evening. We summarise the week's most important developments and share our Weekend Reading suggestions.