It's been a busy week in terms of company announcements as we round-off the month of October. As such, this week's bulletin is packed with summaries of key developments including MindMed's latest program, University College London's first psychedelics study, and much more.
In our Weekend Reads section we spotlight the launch of the Perception Restoration Foundation, which is looking to support research into hallucinogen persisting perception disorder (HPPD), a relatively rare and understudied side effect experienced by some psychedelics users.
Wonderland, Miami: See You There?
In just over a week, our friends at Microdose are hosting their inaugural psychedelics conference, Wonderland: Miami.
Our founder and editor Josh Hardman and editor-at-large Graham Pechenik will be attending the conference and look forward to meeting those of you that are making the trip.
Getting FOMO? Use our discount code ALPHA for a $200 haircut on the advertised ticket price. Head to the Microdose website for tickets.
(We don't receive any compensation when you use our code: it's simply a discount for you, our valued readers!)
Microdose Awards: Voting Closes November 1st
As part of the conference Microdose are launching their 1st Annual Awards for individuals and organizations across the psychedelics space.
We are delighted to be nominated under the Media Company category, and are equally excited to see our editor-at-large Graham Pechenik up for an award via his law firm, Calyx Law.
If you would like to cast your vote, you can do so here.
MindMed Announces R(-)-MDMA Program to target Social Anxiety Associated with Autism Spectrum Disorder
Earlier this week MindMed announced the expansion of their drug development pipeline through the launch of an R(-)-MDMA program that seeks to treat social anxiety and functioning in diagnoses that include Autism Spectrum Disorder.
What is R(-)-MDMA?
MDMA is a racemic mixture, meaning it contains equal parts of two enantiomers: R(-) and S(+) (see a past bulletin for more on enantiomers, in the case of esketamine). Despite being stereoisomers, and thus having the same molecular formula and sequence of bonded atoms, each enantiomer has unique pharmacological activity.
MindMed is looking to develop just one of these enantiomers: R(-).
The Evidence Base
There is an existing evidence base suggesting racemic MDMA (or simply, 'MDMA') induces feelings of social connection. A meta-analysis published yesterday, for example, analysed 27 studies involving nearly six-hundred participants and found a significant effect on sociability.
In its Implications for clinical contexts section, the paper acknowledges that existing work "suggests it may be useful for treating alcohol use disorders, as well as social anxiety among autistic adults," a point which is again made in the paper's conclusion.
Clinical trials of MDMA-assisted psychotherapy in the treatment of (social) anxiety include those written-up by Wolfson et al., 2020 and Danforth et al., 2018, and popular media has been covering the potential of MDMA to help autistic adults with social anxiety for a number of years.
One of those trials (see Danforth et al., above) was sponsored by MAPS, which has led the charge on the development of MDMA-assisted therapy for a number of indications.
MindMed claims that preclinical data suggests R(-)-MDMA maintains the pro-social and empathogenic effects of racemic MDMA but shows fewer signs of adverse effects such as stimulant activity and neurotoxicity.
A quick review of the literature identifies preclinical work such as that of Curry et al (2018): Separating the agony from ecstasy: R(-)-3,4-methylenedioxymethamphetamine has prosocial and therapeutic-like effects without signs of neurotoxicity in mice.
If borne out in human trials, this profile could make R(-)-MDMA more appropriate for repeat dosing, for example.
Timelines
The company will target US and EU clinical trial registrations, with hopes of commencing in 2022.
More foundationally, MindMed will work with the Liechti Lab to conduct pharmacokinetic and pharmacodynamic trials of R(-)MDMA, S(+)-MDMA, and R/S-MDMA next year.
This will take the form of a double blind, placebo-controlled crossover study which should enable researchers to assess the differences in acute and prolonged effects of these individual enantiomers, and the racemic mixture.
***
University College London Joins the Psychedelic Renaissance with DMT Study
University College London (UCL) – a hop, skip and jump across Buckingham Palace from Imperial College London – has become the latest prestigious academic institution to announce a research program into psychedelics, according to a tweet from the newly-minted project.
The UNITy Project – that's Understanding Neuroplasticity Induced by Tryptamines – does what it says on the tin: it seeks to better understand the underlying neurobiological mechanisms by which psychedelics exert their effects on the brain, with a focus on the role of neuroplasticity.
The project will employ tools like fMRI (popular at Imperial's centre), eye-tracking and experience sampling.
The team's inaugural in-human psychedelics study (the first at UCL) will investigate the effects of DMT on language and sensory processing, and memory; with an aim to understanding how these effects might be mediated through brain-network level plasticity.
***
First Trial Investigating Psilocybin-Assisted Psychotherapy for Generalised Anxiety Disorder Secures Ethics Approval
A Phase 2a clinical trial set to investigate psilocybin-assisted psychotherapy for generalised anxiety disorder (GAD) has received ethics approval, according to lead investigator Paul Liknaitzky.
This is the first clinical trial of psilocybin-assisted therapy in the treatment of Generalised Anxiety Disorder, as much of the anxiety-related clinical work to date has focused on existential anxiety, such as that related to those undergoing palliative care.
The study will be conducted at Melbourne-based Monash University, and is expected to be the largest psychedelics study in Australia with a planned recruitment of 72 participants.
The study is being conducted in partnership with Incannex Healthcare Ltd., an Australian pharmaceutical development company.
While Monash and Incannex are evaluating psilocybin for anxiety, other players are looking toward LSD, MDMA and other psychedelics. For example:
MindMed acquired the rights to an ongoing Phase 2 trial of LSD-assisted therapy for anxiety disorder that's being conducted by the Liecthi Lab at University Hospital Basel.
MAPS' Phase 2 trial of MDMA-assisted psychotherapy for anxiety relating to life-threatening illness was published in late 2020, and forms part of a much broader literature and data trove of psychedelic-assisted therapies in the treatment of end-of-life anxiety.
Diamond Therapeutics' lead candidate is a low-dose psilocybin formulation for the potential treatment of undisclosed anxiety disorders, for which they have recently received Health Canada approval for a Phase 1 trial.
A systematic review of psychedelic drug trials in the treatment of anxiety disorders from 1940 – 2000 was conducted by Weston et al., and our Drug Development Tracker catalogues more recent work.
***
Neurodegenerative Diseases: the Next Frontier for Psychedelics?
Last month, we noted a shift toward an increasing interest in psychedelics as potential therapeutics for neurodegenerative diseases.
That trend certainly seems validated in the weeks since, with two announcements in the past week alone demonstrating this focus:
Other Announcements & News

🐸 Beckley Psytech Begins Dosing in Phase 1 Trial of Intranasal 5-MeO-DMT  |  Beckley announced that it has dosed its first cohort in its Phase 1 clinical trial assessing the safety and tolerability of its novel formulation of intranasal 5-MeO-DMT. Preliminary data are expected in H1 2022, with hopes of moving to a Phase 2 study targeting treatment-resistant depression and other neuropsychiatric indications.
👨‍🏫️ Cybin EMBARKs on Facilitator Training Program  |  Yesterday, Cybin announced the launch of a psychedelic facilitator training program based around the EMBARK model, which encompasses 6 domains: Existential-Spiritual, Mindfulness, Body Aware, Affective-Cognitive, Relational, Keeping Momentum. This makes Cybin the latest psychedelics company to take facilitator training into their own hands.
📃 Not just DMT: Small Pharma Scores European Patent on Ketamine Candidate  |  Small Pharma is known primarily for its DMT lead candidate and development program, epitomised by its stock ticker, which is simply DMT. You are forgiven, then, for overlooking their preclinical ketamine-based candidate SPL801B, which the company hopes will prove safe and effective in the treatment of depression (either alone or in combination with a serotonin modulator). This week, the company gained a European patent for the candidate.
Perception Restoration Foundation Launches to Spread HPPD Awareness and Research
A note from journalist and friend of Psilocybin Alpha, Ed Prideaux, Freelance Advocacy Lead of the PRF
As excitement around the therapeutic potential of psychedelics appears unbounded, it's important that we remain cognisant of the potential risks associated with their use, and support research efforts accordingly.
One such concern is Hallucinogen Persisting Perception Disorder (HPPD), an under-researched set of symptoms in which people experience distressing perceptual changes after taking drugs of many kinds, but it seems psychedelics have an especially potent triggering effect.
These perceptual changes include visual snow, haloes and auras around objects, tracers and trails, flashing lights, moving objects, intensified floaters, and more florid psychedelic visions like mandalas, kaleidoscopes, and entities. 
How Prevalent is HPPD?
Due to its under-researched nature, reliable estimates on the prevalence of HPPD are hard to come by.
Perceptual changes after taking psychedelics are not necessarily abnormal – up to three-fifths of respondents to Matt Baggott's 2011 survey reported experiencing this phenomenon, and 20th-century studies pinned the range at between 5 and 50% – but it's when they create distress and hindrance to quality of life that HPPD diagnosis may be warranted. 
Indeed, for many, comorbid problems like anxiety, depression, alcoholism and drug dependence are not uncommon. In one characteristically-small study, 69% of HPPD patients reported suicidal thoughts, 92% depersonalisation (a dissociative symptom), and 93% anxiety. It's worth noting that chronic anxiety is itself associated with similar visual changes – as are migraines, meditation, sensory deprivation, and other psychoactive processes -, which suggests that psychedelics and drugs are a catalyst for changes with multi-causal structures. Many authors have advised that the current diagnostic formulation should be amended before the introduction of the DSM-VI, which may be published in the next two years.
At the same time, what we call HPPD may not be that uncommon. Baggott's same study suggested that 1 in 25 users experienced these perceptual changes to a degree that may warrant clinical help, which is suggestive of HPPD. 
A Lack of Research
With all this in mind, HPPD is a very under-researched area in clinical and academic literature.
Treatments – the whole kitchen sink of antipsychotics, benzodiazepines, anticonvulsants, SSRIs, you name it, have been tried – are scant and laden with side-effects. Antipsychotics and SSRIs in particular are associated with exacerbations in perceptual changes.
We do not know how it works neurophysiologically: drug classes with many different receptor relationships are implicated, so the predominant thesis of an alteration to the serotonergic system will at best be incomplete. 
There have been no controlled studies – only limited case reports, involving handfuls of patients – and we know little about the potential risk factors for developing them. 
That HPPD has not appeared in psychedelic clinical trials suggests that aftercare, integration and other independent mental health problems (screened out in their recruitment) may provide independent risk factors. The work of John Halpern and Torsten Passie suggests that HPPD patients were more likely to develop their perceptual changes after challenging, if not traumatic, psychedelic experiences. HPPD sufferers have reported a diminution in the intensity of perceptual changes with reductions in anxiety, which also lowers the distress that makes HPPD a clinically-warrantable condition.
Crucially, HPPD is likely to rise in incidence as adult use 'outside-the-lab' increases, especially when  media fanfare encourages people to self-medicate for mental health problems (which may themselves have an independent role in susceptibility to perceptual changes). And as the clinical psychedelic sector develops – and strict standards possibly wane with scaling – we may see HPPD appear in legal-medical settings. 

Enter the Perception Restoration Foundation
The PRF is an industry-funded (Field Trip, Entheon, E-Have) nonprofit that's raised cash for two major research programmes through Australia's Macquarie and Melbourne Universities. The first will stage the deepest-ever neuroimaging on HPPD patients versus controls, to see the neurophysiology and possibly parse a mechanism for HPPD. 
The second is a psychophysics tool, which will provide a rough test for whether a subject may have HPPD or be at risk if they took drugs. The work of Halpern and Passie (mentioned above) suggests that a background history of certain visual phenomena makes HPPD more likely. 
Plans are also in place for genetic research, to see if there is a vulnerability then triggered by drug experiences, and also for amassing a database of HPPD patients' experiences, backgrounds and use histories. 
This week, the Melbourne neuroimaging study will open for recruitment. All Australian HPPD patients are encouraged to apply. Till then and otherwise, everyone is invited to view the PRF's website and FAQs here.
***
Detroit to Vote on Psychedelic Decriminalisation Proposal Next Tuesday
Proposal E seeks to effectively decriminalize the personal possession and therapeutic use of entheogenic plants in adults in Detroit, Michigan.
The proposal appears on the ballot in Tuesday's (Nov 2nd) general election as the following question:
Entheogenic Plants: Shall the voters of the City of Detroit adopt an ordinance to the 2019 Detroit City Code that would decriminalize to the fullest extent permitted under Michigan law the personal possession and therapeutic use of Entheogenic Plants by adults and make the personal possession and therapeutic use of Entheogenic Plants by adults the city's lowest law-enforcement priority?
Other cities in Michigan, such as Ann Arbor, have already voted in favour of similar measures (see our psychedelics laws tracker). Advocates of the proposal hope that, if passed, the measure could catalyse statewide legislation.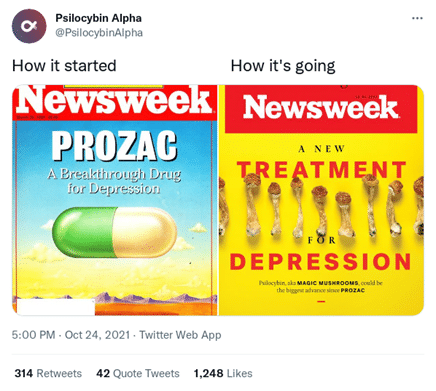 Thread: UK Proves an Attractive Hub for Psychedelics Research
We recap a few key developments in the past weeks that demonstrate that the UK is warming-up to psychedelic research via an increasingly pragmatic approach by regulators and government.
Join our newsletter to have our Weekly Bulletin delivered to your inbox every Friday evening. We summarise the week's most important developments and share our Weekend Reading suggestions.