The Balance at MAPS Between Public Benefit and Private Profit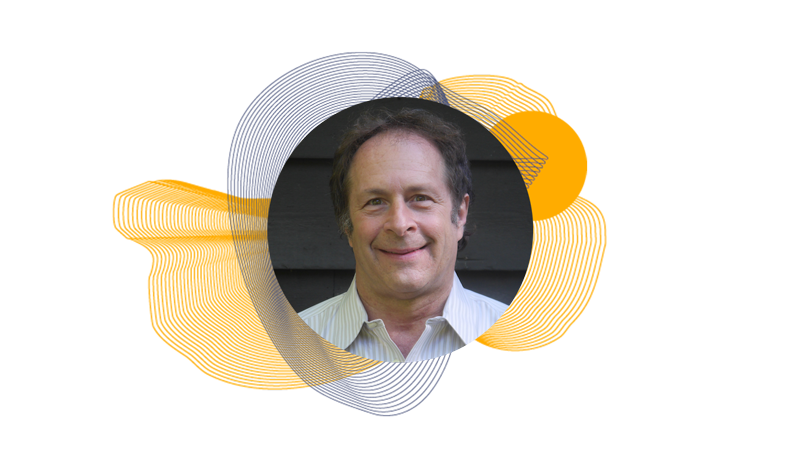 MAPS founder and Executive Director
Part of our Year in Review series
Nearly 37 years after Rick Doblin founded MAPS in April 1986, the organisation's second Phase 3 study of MDMA-assisted therapy for PTSD has been completed. Reflecting on this significant journey, Doblin discusses how MAPS, and its PBC subsidiary, are looking to strike a balance between the "diametric values" of public benefit and private profit…
On January 5, 2023, MAPS announced that we have completed our second successful Phase 3 study of MDMA-assisted therapy for posttraumatic stress disorder (PTSD), nearly 37 years after I founded MAPS on April 8, 1986. Our current timetable suggests the possibility of FDA approval for prescription use sometime in 2024.
When I started MAPS, I chose to pursue FDA-regulated research into the therapeutic use of a drug that, if approved, I thought would immediately become a generic drug. I sought to open the door for all other psychedelic-assisted therapies for many different clinical indications, solely for public benefit. MDMA and its therapy were in the public domain: the molecule was invented by Merck in 1912; MDMA-assisted therapy for a wide range of other clinical applications had already been conducted by hundreds of therapists and psychiatrists; the specific therapeutic approach to be used by MAPS was developed over the past decades by Stan Grof, M.D., Ph.D., Leo Zeff, Ph.D., and many others; and several processes of manufacturing MDMA had been described and published by Sasha Shulgin, Ph.D., and Dave Nichols, Ph.D. The long-term outcomes I was striving for were changes in public perceptions of psychedelics — changes that would lead to the end of prohibition for psychedelics and other drugs, mass mental health, and a spiritualized humanity.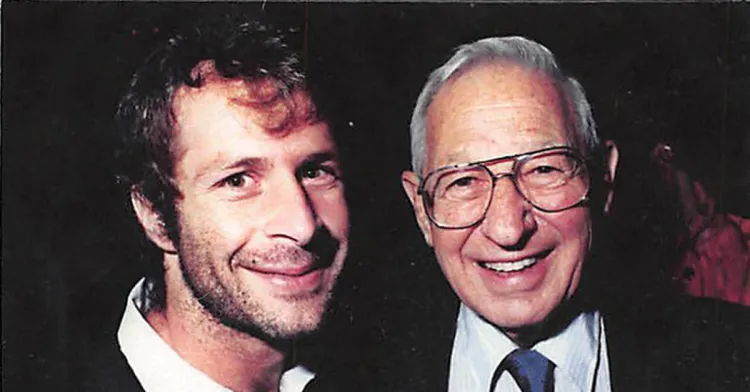 It wasn't until 2014, after MAPS had completed several successful Phase 2 studies of MDMA-assisted therapy for PTSD, that I learned about data exclusivity, an obscure FDA policy signed into law in 1984 by Pres. Ronald Reagan. If prescription use was approved by FDA, this policy would enable MAPS to be the sole provider of MDMA for MDMA-assisted therapy by prescription for at least 6 years (unless another company conducted their own research, generated their own data, and separately obtained FDA approval). In Europe, the European Medicines Agency (EMA) offers data and market exclusivity for ten years.
In December 2014, MAPS created a separate but wholly-owned subsidiary to be our pharmaceutical arm: the MAPS Public Benefit Corporation (MAPS PBC). Creating MAPS PBC was necessary to maintain MAPS' nonprofit status and provided an opportunity: a public benefit company to create a flow of income from selling MDMA by prescription to enable MAPS to become a sustainable non-profit with earned income for further research, education, harm reduction, and advocacy. Donors can appreciate that the tens of millions of dollars needed to make MDMA a medicine–an undertaking no for-profit company would have considered–may also become an endowment toward a sustainable future for MAPS. Open science and public benefit were rooted as core tenets of the philanthropically-funded company.
At the time of the creation of MAPS PBC, I did not anticipate the rise of hundreds of for-profit psychedelic pharmaceutical companies that would follow our research playbook. They also follow the traditional pharma playbook, patenting everything from novel methods of manufacturing psychedelic drug products, to new molecules that may or may not offer advantages over the psychedelics already in the public domain. To be clear, I'm supportive of patenting novel inventions and see the value of the patent system to promote innovation. MAPS, as an organization receiving all its funding from donors and relying on work in the public domain, operates with an open science approach entirely for public benefit.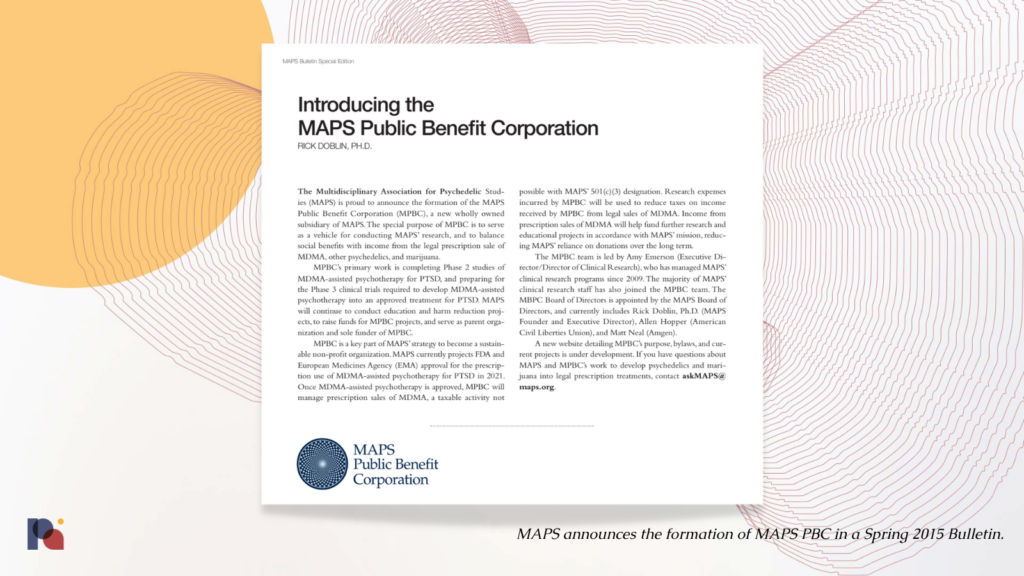 The rise of the for-profits made it increasingly difficult for MAPS to raise the necessary funds from donors when some, but fortunately not all, chose to join the investors pouring more than $730 million into for-profits in 2021 alone. In contrast, MAPS donors have so far given about $140 million in gifts and grants in our entire history. MAPS' first source of non-philanthropic funding, about $43 million in 2022, was from a limited-term revenue share agreement developed in collaboration with Vine Ventures. This was an ideal arrangement from MAPS' public benefit perspective since we retained all the equity in MAPS PBC and offered no new seats on the Board of Directors to investors. These were mission-motivated funders who appreciated balancing public benefit and investment returns.
The pharmaceutical industry, though, is not designed to maximize public benefit. As we are building the commercial infrastructure to deliver MDMA in a way that ensures patient access (should we obtain FDA approval), we are also confronted by increasingly complex and costly challenges. It may cost as much over the next two years — at which time prescription sales of MDMA might cover all of MAPS PBC's expenses — as MAPS has raised in the last 37 years.
At this moment, when two successful Phase 3 studies of MDMA-assisted therapy for PTSD have brought us closer to potential FDA approval than ever before, MAPS and MAPS PBC must faithfully retain our values against the sometimes diametric values of the systems in which we operate. As the sole shareholder in MAPS PBC, MAPS is able to allocate all proceeds from the sale of pharmaceutical MDMA toward pure public benefit.
There are over 350 million people in the world with PTSD. There are over 11 million prisoners around the world with high rates of recidivism in part due to unprocessed trauma. According to the UN, by the middle of 2022, there were over 100 million forcibly displaced people in the world. According to the Institute for Economics and Peace, there could be more than 1 billion climate refugees by 2050. Big pharma approaches cannot address the global trauma crisis.
I believe that fully globalized access to MDMA-assisted therapy can lead to a world of net-zero trauma by 2070. We'll need to create therapeutic opportunities for people with lots of trauma and little to no money. We'll need to find new treatment models in countries with high rates of trauma and relatively few therapists. We'll need to develop group therapy models with local healers to scale the healing potential of MDMA-assisted therapy.
MAPS and MAPS PBC are developing metrics to measure the public benefit of MAPS PBC. A public benefit approach must prioritize addressing the global trauma crisis. MAPS is prepared to dedicate substantially more funding to patient assistance programs than typical for for-profit companies and allocate funds to humanitarian or research projects that would never turn a profit. At the same time, we'll continue our work to eliminate the disastrous — and traumatizing — outcomes of prohibition and the global War on Drugs. We'll work to see MDMA and other drugs available at low cost in some form of regulated legal access, establishing the fundamental human right to explore one's own consciousness.
Many investors, mistakenly in my view, consider drug policy reform to be a threat to the business model of selling psychedelics at pharmaceutical prices covered by insurance. However, if regulated psychedelics are legally available outside of the medical model at generic prices, psychedelics will be further destigmatized and more people will be open to seeking treatment for serious conditions at psychedelic clinics. For those individuals, there is no substitute for qualified treatment provided by trained professionals who can customize a treatment program choosing among a variety of psychedelic molecules with therapy covered by insurance. It's possible that my view is incorrect, and that legalization will indeed reduce income for psychedelic pharmaceutical companies. If that turns out to be the case, then it is nevertheless an outcome that we should all embrace, prioritizing public benefit over generating profits.
MAPS has reached this moment because of the generosity of thousands of donors, the work of hundreds of staff and therapists often working below market along with a great deal of donated labor and expertise, the bravery of courageous people with PTSD and other clinical indications who have volunteered for our studies, and substantial investments from mission-aligned funders. They will help us write the story of the future of psychedelic-assisted therapies — and most critically, who gets access to them.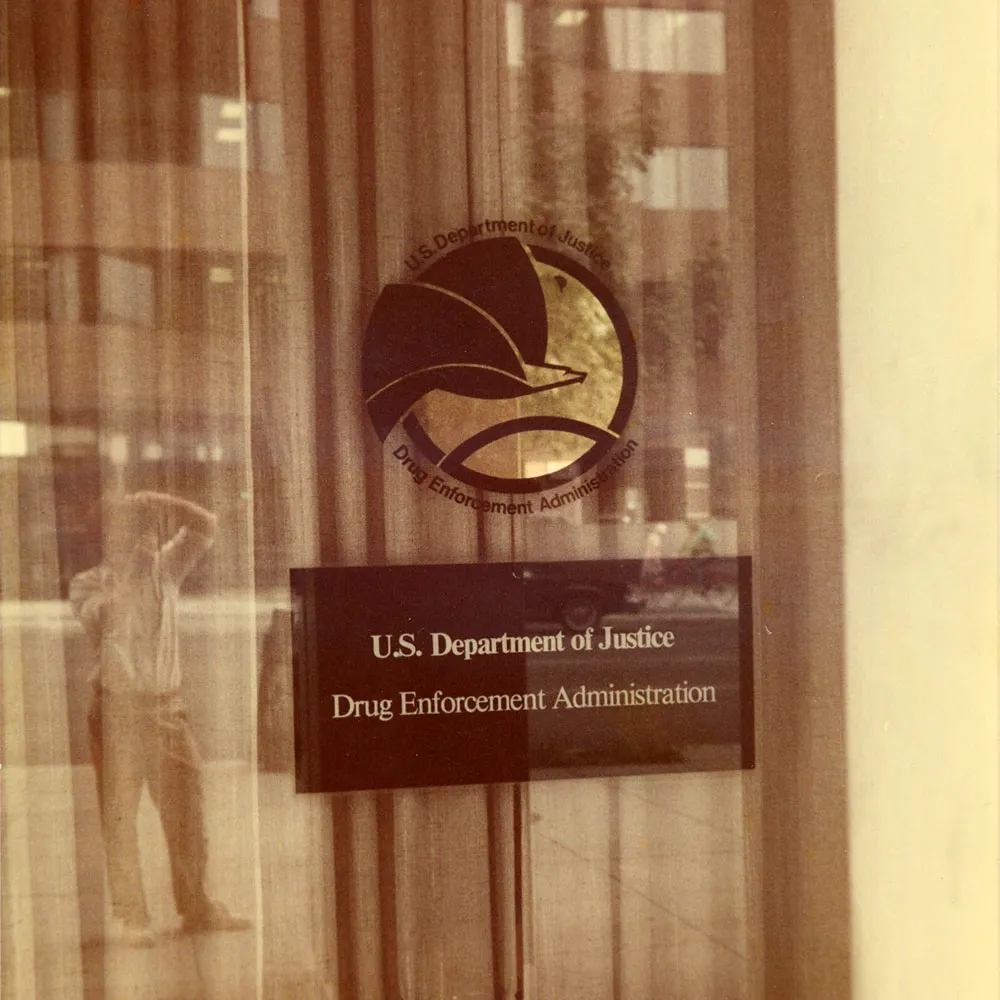 Part of our Year in Review series
This content is part of our 2022 Year in Review, which looks back at the past year through commentary and analysis, interviews and guest contributions.
Receive New Sections in Your Inbox
To receive future sections of the Review in your inbox, join our newsletter…