The Multidisciplinary Association for Psychedelic Studies (MAPS) and its Public Benefit Corp. arm, MAPS PBC, today published its second Phase 3 study (MAPP2) of MDMA-assisted therapy (MDMA-AT) for PTSD in the prestigious journal, Nature Medicine.
In January 2023, MAPS announced that the study had been "successful", confirming prior results. Now, the study's published results show that the intervention performed similarly to the first Phase 3 trial.
MAPS PBC is now preparing to submit a New Drug Application (NDA) to the FDA, with a potential approval coming next year.
MAPS' Two Phase 3 Studies Paint Positive Picture for MDMA-AT
Both MAPP1 and MAPP2 (the organisation's first and second Phase 3 studies) were randomised, double-blind, placebo-controlled multi-site Phase 3 clinical trials that aimed to assess the safety and efficacy of MDMA-AT with very similar protocols. MAPP1 enrolled 90 participants, while the most recent study saw 104 participants randomised to treatment.
MAPP1 was published in 2021 (Mitchell et al.) and reported strong results. Notably, 67% of participants in the MDMA-AT arm no longer had a PTSD diagnosis following three sessions of MDMA-AT compared to just 32% of the placebo-with-therapy group. In MAPP2, published today, 71.2% of those in the MDMA-AT group no longer had a PTSD diagnosis, versus 47.6% in the placebo group; and, 46.2% of the MDMA-AT arm met remission criteria compared to 21.4% in the placebo-with-therapy group.
In MAPP1, 88% of participants in the MDMA arm had a clinically significant response. In MAPP2, this number was similar at 86.5%. In terms of safety, two participants experienced serious adverse events, but both were in the placebo group.
MAPP2's results are not dissimilar. Below, we present the CAPS-5 and SDS total scores for each study: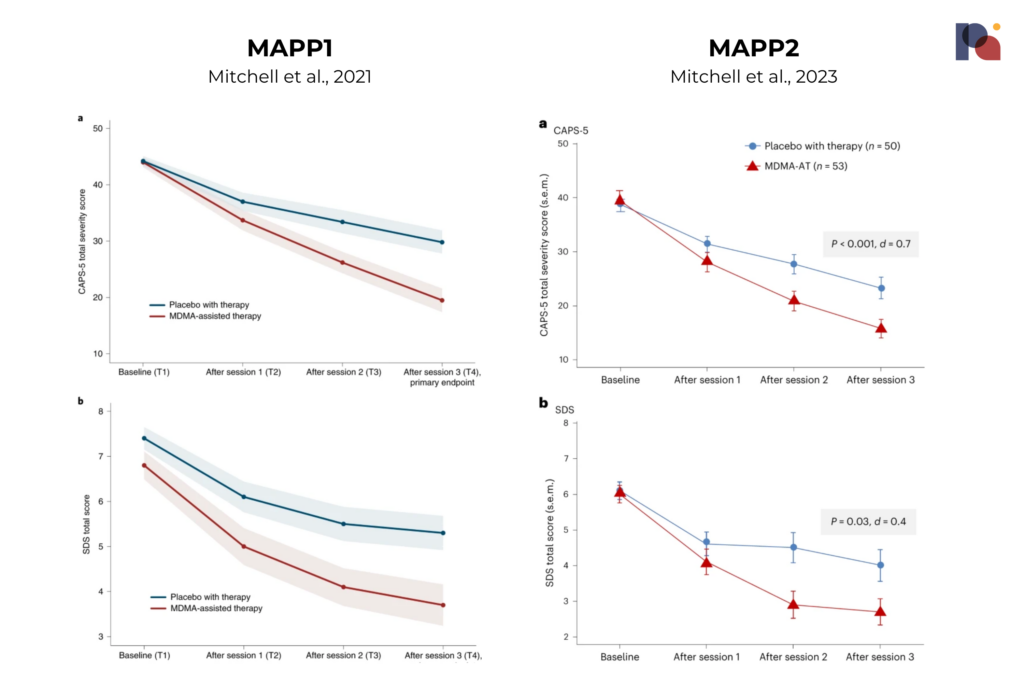 The study observed a mean change in CAPS-5 score of -23.7 for MDMA-AT versus -14.8 for the placebo-with-therapy group. This is compared to a mean change of -24.4 and -13.9 in MAPP1.
Speaking to Science Media Centre, Dr. James Rucker said that the study "shows credible and clinically significant results suggesting that this intervention is both effective and relatively safe in this patient group."
Similarly, Chair of the UK's Royal College of Psychiatrists, Prof Neil Greenberg, said that the results, which his group has "been eagerly awaiting", show MDMA-assisted therapy "appears to be effective in treating people who have chronic PTSD." He also said that "it is notable that the average duration of PTSD in this study was 16 years and participants had received multiple ineffective treatments in the past." However, Prof Greenberg said it "is also important to recognise that nearly half of the participants had taken MDMA previously before taking part in this trial, which is probably not the case for most people who develop PTSD." Indeed, 41.5% (N=22) of participants in the MDMA arm reported having taken MDMA in their lifetime, with 24.5% (N=13) reporting taking it in the past ten years. (In MAPP1, the numbers were not dissimilar: 39.1% (N=18) and 19.6% (N=9).)
Prof Greenberg also sought to temper expectations, explaining that MDMA-AT "is not going to be a treatment of choice for most patients with PTSD", in part owing to the likelihood that it will be "tightly controlled", labour intensive and logistically challenging.
In terms of safety: in MAPP2, seven patients had a severe treatment emergent adverse event, according to the publication. 5 of these were in the MDMA arm, while 2 were in placebo. There were no serious treatment emergent adverse events. On the topic of suicidal ideation, a MAPS PBC press release noted that, "consistent with PTSD, suicidal ideation was observed in both groups however, MDMA did not appear to increase this risk, and no suicidal behavior was observed."
Importantly, participants in MAPP2 included those with a less-severe or moderate PTSD diagnosis, whereas the first Phase 3 focused on severe PTSD only. The average baseline CAPS-5 total score was around 39, compared to 44.1 in MAPP1. MAPP2 participants had a slightly higher mean duration of PTSD at around 16.2 years, versus MAPP1 where the average was 14.1 years.
The MAPP2 cohort was also more diverse than those enrolled in MAPP1, where 76.7% of participants were white. In MAPP2, 26.9% of participants identified as Hispanic/Latino, and 33.7% identified as 'other than White'.
"MAPP2 data confirm the findings from MAPP1 suggesting the results may be generalized to a broader population of individuals with PTSD who vary not only in the severity of their symptoms, but also in their racial and ethnic backgrounds," said Jennifer Mitchell, Ph.D., professor of Neurology and Psychiatry & Behavioral Sciences at UCSF and associate chief of staff for research and development at the San Francisco VA Medical Center.
Next Steps
MAPS' pivotal Phase 3 program was designed in accordance with a Special Protocol Assessment (SPA) that the organisation received from the FDA in 2017. An SPA allows a sponsor, in this case MAPS, to reach agreement with the FDA on the design of a study, including the number of subjects, dosing, endpoints and analysis plans. SPAs represent an effort to ensure that safety and efficacy data produced from clinical trials is acceptable to the FDA for the purposes of market approval.
MAPS PBC will presumably be firing on all cylinders to submit a New Drug Application (NDA) to the FDA later this year. "With two positive Phase 3 studies published, we are focused on pulling all of the data together to submit the new drug application for MDMA-assisted therapy to the FDA later this year," said Amy Emerson, chief executive officer of MAPS PBC.
Thereafter, FDA review teams aim to make a decision within 6 to 10 months, assuming there are no deficiencies in the package submitted.
MDMA-AT should benefit from its Breakthrough Therapy Designation. The SPA might also speed things up. However, MDMA is a new molecular entity (NME) in the eyes of the FDA, which usually tags a couple of months onto the timeline.
There's also the matter of devising, negotiating and implementing a Risk Evaluation and Mitigation Strategy (REMS).
If FDA approves MDMA-AT, the DEA rescheduling process (likely of MAPS PBC's drug product, as opposed to MDMA writ large) would kick in. This could take up to 90 days. Aside from this federal rescheduling, states must also reschedule the approved drug product. Most of the fifty states in the U.S. do this automatically following federal scheduling decision, but a sizeable minority of states (23) do not reschedule by default.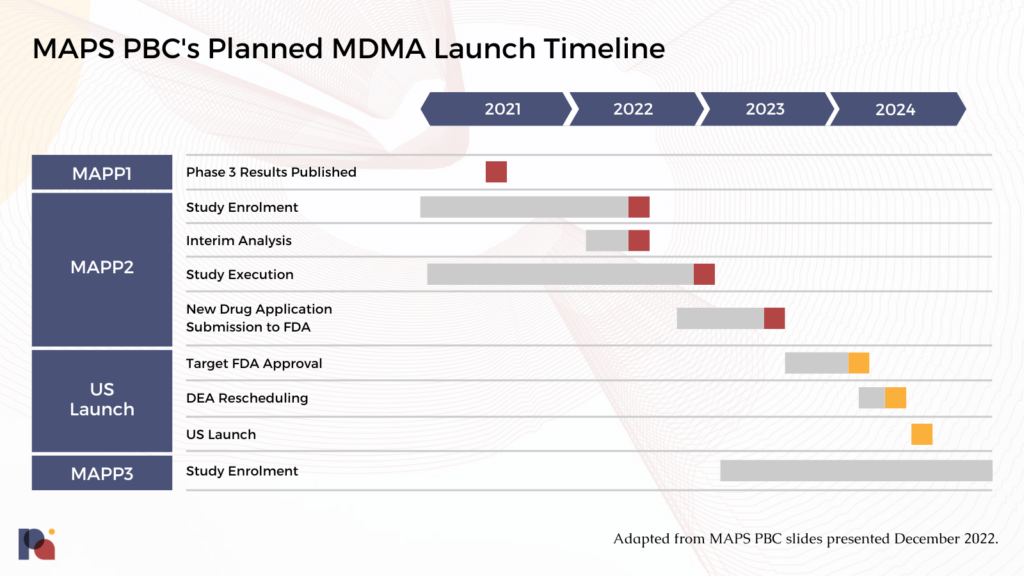 From there on out, the challenge will be commercializing this novel therapy that might not have an obvious logistical or commercial fit in today's healthcare system. That means getting prescribers, practitioners and payors on board. (See our 'From Approvals to Access' content for more on what might follow FDA approval of a psychedelic therapy.)
Given all these factors, MAPS founder, Rick Doblin, told NYT that "it feels a bit too early to really celebrate".
We might expect FDA approval of MDMA-AT to take place in 2024.
Media Coverage
Below, we have collected a selection of media clippings on this latest announcement: