The money, carved out from Opioid Settlement Funds, will be used for psychedelic research, specifically ibogaine for opioid addiction.
Attorney General Daniel Cameron opened a Kentucky Opioid Abatement Advisory Commission press conference, noting that Medal of Honor recipient Dakota Meyer had been instrumental in the commission's work.
"We cannot continue to lose over two-thousand Kentuckians [to addicitons] each year", Cameron said. This is why, he added, the state Attorney General's office has sought to tackle the opioid epidemic over the past years.
"I look forward to the Commission's exploration of possibilities", he said, hoping that they might find "the next big breakthrough".
W. Bryan Hubbard, who chairs the state's Opioid Abatement Advisory Commission, explained the remit of his commission as well as giving details on opioid withdrawal syndrome, before announcing that, "we are here to announce the arrival of Kentucky's breakthrough opportunity": ibogaine.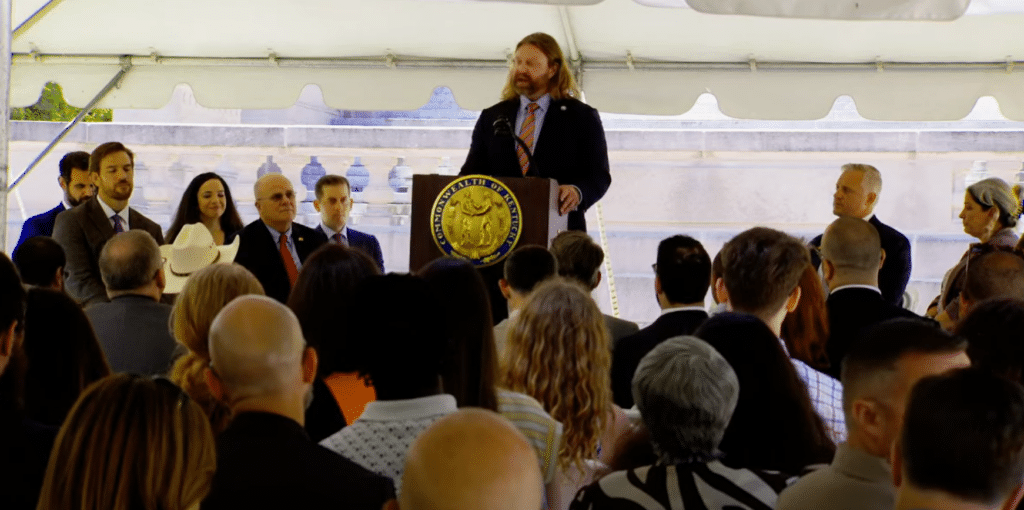 "Ibogaine is an alkaloid derived from three plant sources" found in West African countries. "Anecdotal evidence that is a mountain high and decades wide suggests that ibogaine, within 48 to 72 hours of administration in safe, clinically-controlled conditions, resolves opioid withdrawal syndrome", Hubbard explained.
"If this anecdotal evidence can be clinically validated, ibogaine would represent a transformative therapeutic or treatment of opioid use disorder."

W. Bryan Hubbard
Next, Lieutenant General Martin R. Steele took to the podium. "While ibogaine might not be the right option for everyone", for those not touched by existing options this should serve as "a reason for hope", Steele noted, invoking the name of the organisation he co-founded.
Later in the conference, Hubbard explained that "over the coming months, the commission will explore the possibility of devoting no less than $42 million over the next six years to the creation of public-private partnerships which can incubate, support and drive the development of ibogaine all the way through the FDA approval process."
"Kentucky will also seek to develop the platinum standard model for an ibogaine recovery protocol by hosting multi-site clinical trials right here at home", he added.
"We must overcome the opioid epidemic by any and all humanitarian means necessary. Our history demands it."
This funding, which remains subject to a vote, is largely the product of campaigning and education by Reason for Hope and the Veteran Mental Health Leadership Coalition.