As we discussed in a recent Bulletin (#133), things have been challenging for many ketamine clinics lately; especially those that rely to some extent on remotely prescribing the drug for their patients to take at home.
In that brief analysis, we identified the Biden Administration's tightening of telehealth prescribing rules as the latest blow to a specific type of ketamine clinic: those that have sought to decouple themselves from linear, brick-and-mortar growth trajectories through the employment of remote prescribing and at-home ketamine.
But it's not just the tightening of this loophole that's to blame in the case of Field Trip, we argue.
From the get-go, Field Trip made it clear that they would pursue an aggressive growth strategy, planning to open seventy-five clinics by 2024. These clinics, perhaps more akin to spas in their décor and price lists, were found in expensive locations and were lavishly furnished. This is what the clientele that could afford the company's out-of-pocket services might expect, after all.
But, there's the kicker: Field Trip's services were out of pocket, there was no reimbursement from insurance companies. There's a limited pool of folks that would be able to afford Field Trip's treatments, then.
Self-styled psychedelic clinics like Field Trip were also a bit off in their forecasts of when psychedelics like MDMA and psilocybin might be approved. While former CEO Ronan Levy insisted that they could operate as a ketamine-only outfit, public comms from the company make a big deal of these future compounds (including its 'own', FT-104; now RE104) as part of their ultimate offering.
This confluence of factors has been punctuated by a cooled-off market that's seen a significantly increased cost of capital. To be honest, Field Trip's remarkable fundraising stint will likely be viewed in hindsight as an artefact of a frothy, hype-fuelled early psychedelics market.
It's not too dissimilar from the situation that Synthesis found themselves in, either: a risky, aggressive bet on property (in their case, just one), ultimately being scuppered by the cost of this brick and mortar liability when regulations (in their case, local zoning regulations) effectively sunk their plan. There are many other comparisons to be made, including the fact that costs are out-of-pocket in Oregon's psilocybin services market due to lack of payor involvement, and a slower roll-out than expected. It's interesting to see these similar commercial woes arise at both ends of the spectrum of decriminalised/locally-legal and the more 'medical' side of things.
All-in-all, Field Trip was likely too early, too aggressive, and too extravagant: from its luxe furnishings and expensive leases through to its entirely out-of-pocket sticker prices at a time of belt-tightening for many.
Here, Psychedelic Alpha's Noah Smith digs through pitch decks, interviews and data to piece together a trip report that saw Field Trip go from loud, brash market leader to all-but bankrupt…
An Abridged Timeline
Field Trip, in its original form, emerged in 2019 alongside a handful of other psychedelic early movers like Champignon Brands (now Braxia Scientific), MindMed and Cybin, with the goal of becoming, "the recognized global leader in the medical and therapeutic applications of psychedelics."
The team at Field Trip "came from the Canadian cannabis industry", co-founder and former CEO Ronan Levy told Psychedelic Times in one of the first interviews he did for his new venture back in late 2019. Indeed, both Levy and Joseph del Moral founded Canadian Cannabis Clinics and CanvasRx prior to their psychedelic venture.
Near the beginning of 2020, Field Trip opened the doors to its first "psychedelic-enhanced psychotherapy clinic." Through its flagship location in Toronto, the startup announced that it would begin delivering ketamine to patients alongside a "comprehensive psychotherapy program."
However, the company expected to incorporate other "classic psychedelics" (although, as readers are aware, MDMA is not a classic psychedelic) into its offerings pending marketing authorization or approved use.
Ronan told Psychedelic Times, "we realized that psychedelics will almost certainly become legal in some form", adding that "infrastructure [is] needed to support the coming wave of using psychedelics to treat mental health".
Field Trip "invested heavily" in the (interior) design of its first location. Levy described how the company believed its Toronto facility was "one of the most beautiful medical clinics in Canada."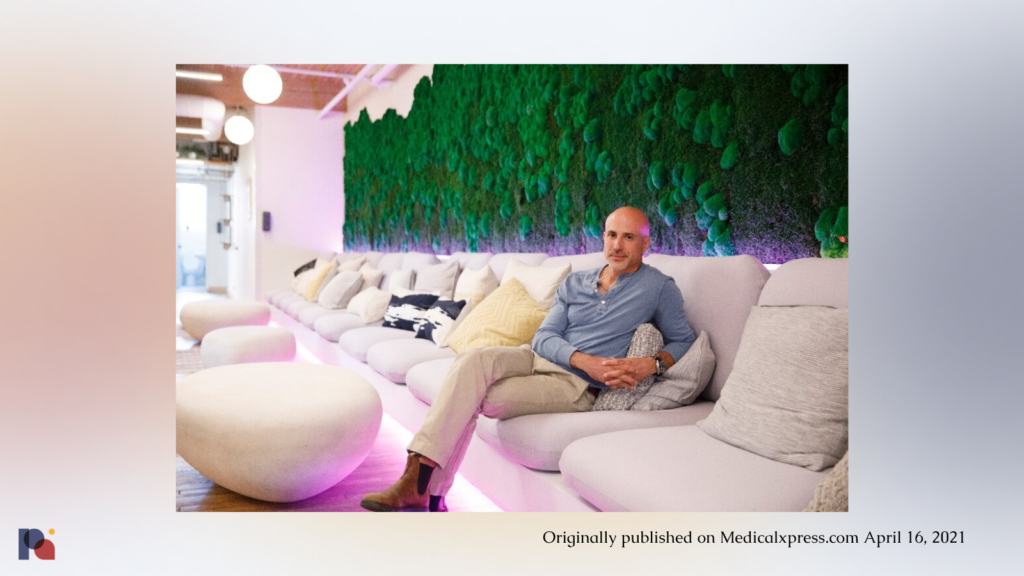 Unfortunately for Field Trip, the timing of its inaugural clinic opening could not have been worse. A little less than a week later, a state of emergency was declared in Ontario due to COVID-19, and businesses began to close their doors.
Expansion
Nevertheless, over the course of 2020 Field Trip continued to expand its treatment delivery operations, working towards a lofty goal of having 75 clinics open by 2024.
By the end of the year, when many businesses had begun to reopen, the company had four clinics up and running. This wasn't far off its projected six, especially given the extraordinary circumstances.
At the same time, the company worked towards other development ambitions through its Field Trip Discovery division. Discovery was established in April 2020 in order to focus on "drug development and advanced research on plant-based psychedelics." Shortly thereafter, the company shared early details of its first psychedelic drug candidate and lead molecule, FT-104.
Field Trip's first foray into the digital world of "virtual psychedelic therapy" came not long after it was forced to prematurely end in-person treatments. This first virtual offering relied on breath work to elicit therapeutic benefits and "create psychedelic experiences".
January 1, 2021 marked the beginning of a busy year of fundraising for Field Trip. Over the course of the subsequent 12 months the company raised more than $100 million through two financing events, made progress towards advancing FT-104 into early human studies, and opened its 12th clinic location.
Twelve locations in the second year of operating in earnest is impressive, but Field Trip was already slipping behind on its projections significantly. What's more, none of its myriad products and pivots were profitable. Like other early psychedelics companies, it was trying to do a little bit of everything (see MINDCURE, for example).
Cue the Strategic Review
Towards the end of 2021 the company announced that it had "commenced a strategic review of the current corporate structure to assess options to maximize the value of the drug development and therapy delivery business units."
This made sense. The operations profile of a discovery-stage drug development company is very different to that of a clinics business. The former is a totally different investment opportunity, too,  requiring patient capital that's able to stomach the risk-reward ratio of biotech. The latter will expect to see revenue in the near term, meanwhile.
Unsurprisingly, then, following the completion of its strategic review Field Trip announced that it would be pursuing a "reorganization that will result in the separation of its Field Trip Discovery and Field Trip Health (and digital) divisions into two independent public companies."
The rationale for the spinout was four-fold: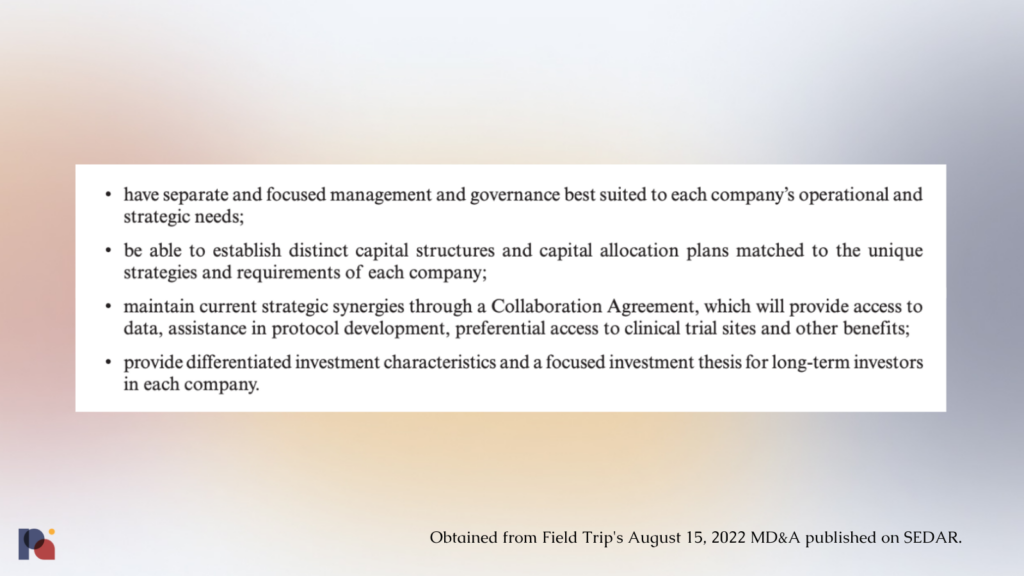 Today, then, we have two companies: Reunion Neuroscience as the drug developer, and Field Trip Health & Wellness as the clinics operator.
Going Digital
In May 2022, as the company worked on its spinout, Field Trip and at-home ketamine company Nue Life Health announced a new partnership that led to the launch of Field Trip at Home™.
The announcement marked another effort by the company to introduce remote options for patients. As Field Trip shared in its press release:
"The collaboration marks the coming together of two like-minded companies in the psychedelics-as-therapeutics space to create a unique mental health solution that increases access beyond in-clinic care."
Field Trip's hope was that, by leveraging Nue Life's existing "at-home and telehealth offerings", the collaboration would help provide its customers with a more accessible and convenient alternative to traditional in-clinic services.
Virtual services would also significantly reduce labour and real estate-related costs for the company, which was struggling to make its patient services profitable. Over the course of the year leading up to the partnership announcement, Field Trip had only managed to generate $4.86 million in patient revenue.
A move towards a greater reliance on technology had always been part of Field Trip's strategy, it seems. A pre-IPO deck seen by Psychedelic Alpha, dated August 2020, identified a number of "Challenges in Scaling Psychedelics".
These include "Labor Costs", with the company explaining that "Psychedelic treatments are labor intensive and high-touch". The solution? "Technology-enabled care".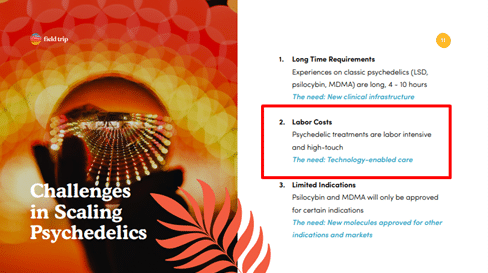 As we will see later, however, this pivot to tech-enabled ketamine-augmented care was ill-fated.
Momentum Fades
As months passed by, Field Trip's momentum appeared to fade.
The company announced in its June 2022 Management Discussion and Analysis (MD&A) that it had halted the construction of six additional clinics that had been  planned across the United States.
Field Trip disclosed that due to an "increased focus on reaching clients through our digital platforms […] as well as ongoing streamlining of our in-person offerings, we have deferred the opening of new clinics to a future date."
While the company originally claimed to be 'deferring' its expansion, in reality Field Trip would never open another facility again.
Later that year, in what appeared to be another attempt to reinvigorate its business, the company announced the launch of its "first-of-its-kind one-year hybrid ketamine therapy program" named Freedom by Field Trip™.
For a monthly outlay of $299, customers could have access to:
"up to 12 at-home or in-person ketamine exploration dosing sessions per year, medical supervision to customize the ketamine explorations and one-on-one integration therapy sessions as well as unlimited group integration sessions with licensed therapists."
Despite its revitalization efforts, the company's hopes for Freedom's success were short-lived.
Citing the program's reliance on the DEA's waiver to the Ryan Haight Act (see our analysis for more information), Field Trip shared how an impending May 11th expiry of that crucial waiver would compromise its ability to deliver at-home ketamine treatments, at least in a commercially-viable manner.
Consequently, in its most recent financial disclosures Field Trip announced that it had suspended enrollment for its hybrid program.
Over the course of the same quarter, the company disclosed that it had "restructured the staffing and operations at our Atlanta, Houston and Amsterdam locations and delayed the acceptance of new clients", reducing its number of operational clinics from twelve to nine.
On March 15, 2023, the company shared news of five additional clinic closures. Field Trip's facilities in Chicago, Washington DC, Seattle, San Diego, and Fredericton are set to discontinue operations around April 15, 2023.
Now, a couple of weeks after it announced the additional closures, Field Trip looks to be coming down from its trip. As the company grapples with an impending inability to make ends meet, its investors are left wondering how the once well-capitalised and ambitious company could have deteriorated so quickly.
Avoiding Bankruptcy
Exactly one week after Field Trip announced that it would be shuttering 5 of its clinics, the company revealed that it had obtained creditor protection under Canada's Companies' Creditors Arrangement Act (CCAA).
What exactly is CCAA? The Canadian government defines it as:
"… a federal law allowing insolvent corporations that owe their creditors in excess of $5 million to restructure their business and financial affairs. The CCAA has a broad remedial purpose, allowing a company to continue in business while it seeks to develop and obtain the approval of compromises or arrangements with its creditors. Canadian courts have held that the main purpose of the CCAA is to avoid, where possible, the social and economic consequences of bankruptcy, and to allow a company to carry on business."
Related court documents reveal that the company is insolvent and as a result cannot  "continue meeting its obligations to make payroll and rental payments under the various lease agreements" that it has.
Now that Field Trip's application has been accepted, the company has been provided with an initial 10-day window of protection (also referred to as a "stay of proceedings"). During this time, Field Trip will be shielded from any enforcement pertaining to the collection of debts.
Outstanding claims against Field Trip are no small figure. As disclosed in its court documents, as of "January 31, 2023, the aggregate amount of claims, or potential claims" the company faces stands at over $59 million.
The company hopes that this time will provide it with the "breathing room" necessary to focus on "developing and executing a path forward to have the business emerge from CCAA protection in a substantially smaller, but stronger form".
This means investors shouldn't expect to hear from the company in any official capacity for at least the duration of the stay of proceedings. Alternatively, those interested in keeping up-to-date with the proceedings can refer to the designated webpage being managed by PricewaterhouseCoopers.
The company disclosed that it has had "a number of informal inquiries about the acquisition of some or all" of its clinics. Additionally, one offer "to acquire a controlling, or 100%, share interest […] or provide debtor in possession financing in any insolvency proceeding" was reported.
Field Trip has shared that it will be permitted to continue operations at its four remaining clinic locations while it searches for a lifeline.
"Too Early"?
Field Trip emerged as a company looking to leverage existing treatment options to develop and scale a chain of specialty clinics that could one day support the delivery of future psychedelic-assisted therapies (PATs).
The company had high-hopes for the scale, reach, and profitability of its future speciality clinic network. Materials from the company's early days reveal that Field Trip had anticipated extraordinary levels of yearly growth across the board, communicating these projections to investors.
In the August 2020 presentation obtained by Psychedelic Alpha the company projected that by the end of 2024 it would be generating $270 million in annual patient services revenue through the treatment of 75,000 patients across 75 locations. 
Suffice to say, after generating less than $15 million in lifetime patient revenues, Field Trip was never able to deliver on its own projections. In fact, its lifetime revenues failed to reach even half of what its early projections were for 2021 alone.
In light of the company's hope to deliver other emerging psychedelic therapies through its clinic network, some may now question whether Field Trip might have jumped the gun.
In a recent Ask Me Anything post, a Reddit user asked Levy whether he believed the company had started "too early", and if ketamine therapy would "be enough to keep you afloat" until MDMA and psilocybin were approved. In response, Levy said:
"We believe so, yes. The market for ketamine therapy is growing rapidly and, as much as we look forward to the eventual availability of MDMA and psilocybin through FDA approval, we've built Field Trip to operate in a ketamine-only world for the foreseeable future. None of our internal financial modelling projects any revenues from other drugs, so while we are very hopeful around those opportunities, we are being as considerative as possible for budgeting purposes."
But in a press release from the beginning of 2022, Levy appears to have had a more optimistic outlook, sharing that:
"It has always been a central thesis to our business model that legal access to psychedelic-assisted therapies using psilocybin and MDMA would happen much sooner than most people would have expected"
In an interview published in June 2021, Levy stated that the company anticipated the FDA would approve MDMA "in the next one to two years." Such an optimistic outlook, roughly consistent with estimates shared in Field Trip's October 2020 corporate deck, has certainly not been an unusual, or unexpected assertion to hear from company executives operating in the 'space'. (In fact, in Delic's most recent corporate presentation, the company claimed that it anticipated MDMA and psilocybin would be "legalized" in 2022 and 2023, respectively, as mentioned in Bulletin #133.)
In light of current MDMA approval estimates, Field Trip's hopeful projections appear to have been at least a year or two too early. As a result, the company was unable to achieve its initial goal of establishing a profitable network of 75 clinics in advance of MDMA's probable rollout.
Some readers will be rolling their eyes by now: the company is "too early" is a common refrain among investors, sometimes used as an easy way of passing on a company.
But, being "too early" can be a genuine issue for many reasons. In Field Trip's case, this was likely true: from its misguided timelines re: expected FDA approval of MDMA and psilocybin through to the lack of reimbursement of its ketamine offering.
The Importance of Reimbursement
Companies working to establish and operate chains of these specialty mental health clinics are faced with a number of financial hurdles.
Due to its sedative and dissociative effects, the off-label use of ketamine has traditionally been conducted under the direction and supervision of licensed health care professionals (HCPs). In fact, before one can even enter into ketamine therapy, assessments need to be conducted by a licensed prescriber.
The requisite involvement of various HCPs from the outset to the end of a patient's care journey introduces a significant cost dimension that is not characteristic of many other, more traditional take-home and unsupervised mental health treatments. This high level of labour intensity was recognized as a barrier by Field Trip early on. However, the company was never able to overcome this fundamental exigency; especially when COVID-era loosening of rules on this front was reversed.
As previously mentioned, Field Trip's high costs have consistently been reflected in its balance sheets. Over the course of its previous 33 months in operation, for every $1 the company earned, it spent roughly $1.60 on personnel costs just to support its patient services.
These personnel expenses are in addition to the costs of leasing, refurbishing (to a high standard), maintaining, and operating the physical clinic space through which treatments are delivered.
Accordingly, prospective patients are often faced with significant treatment costs. For individuals suffering from "complex trauma and PTSD", who may have a limited ability to work, writing a cheque to cover the $7,250 cost of a company's "Support Plus" package is not realistic in the absence of insurance coverage (which, is entirely absent from the off-label ketamine market).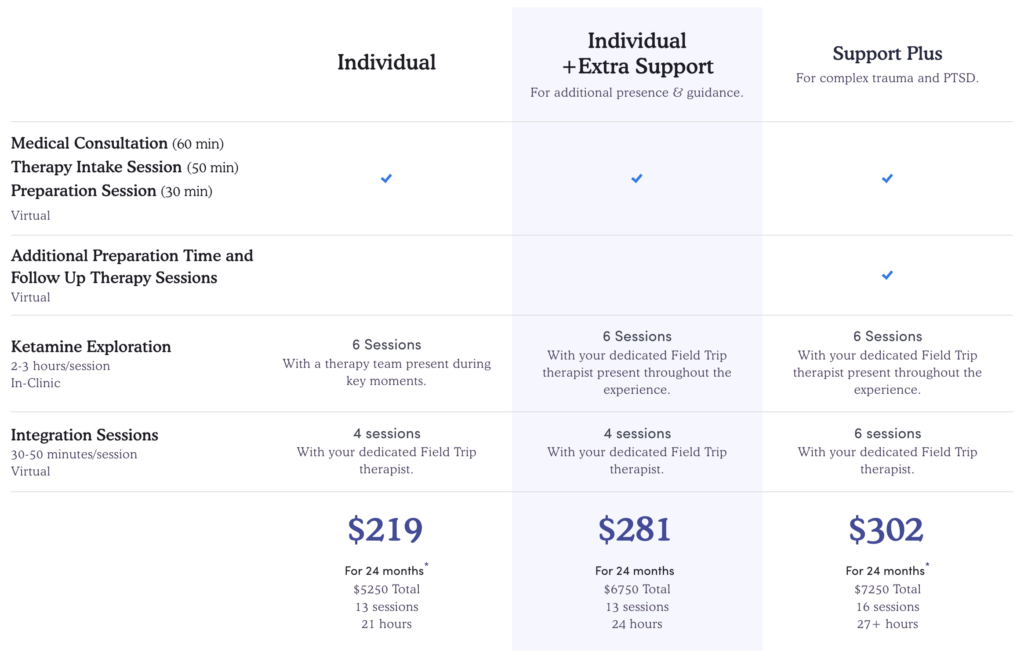 It is perhaps little surprise then, that these relatively new treatment options have been criticised for their poor accessibility, due in large part to their restrictive costs: price points that limit a company's obtainable market to a smaller customer base with deeper pockets.
This lack of coverage for its services was likely a motivating factor in its recent $100,000 investment in Enthea, a health insurance benefit provider that helps companies offer ketamine-assisted therapy to its employees.
Reimbursement would "make businesses more predictable and sustainable in the long run", Dr. Brent Turnipseed of Roots Behavioral Health told us. Without that buy-in from payers, companies like Field Trip will always be operating in a limited market.
A Brief but Costly Trip
Field Trip's apparent demise is likely a combination of it being 'too early' in addition to being too aggressive.
While an adverse macroeconomic environment and a public health emergency undoubtedly contributed to the company's slow rollout and financial woes, these impacts may have only exacerbated the consequences of Field Trip's liberal spending.
The company (inclusive of an investment from Reunion), raised around CAD $150 million (~USD $110 million) in funds since its inception. Only the likes of drug developers such as atai Life Sciences, COMPASS Pathways, GH Research, MindMed, Delix Therapeutics, and Beckley Psytech have been able to raise more.
(Note: Field Trip was able to raise nearly $130 million prior to its eventual spinout. Following the spinout, Reunion retained the balance of the formerly consolidated company's unspent cash and Field Trip was capitalised through a ~$20 million investment, $10 million of which came from Reunion Neuroscience.)
Despite this substantial bankroll, Field Trip quickly burned through its cash runway. Quarter over quarter, the company's expenses consistently outsized any patient revenues.
In its first full fiscal year, Field Trip reported generating $960,895 in total revenue while using $16.4 million in cash to fund its operating activities. Excluding the $3.4 million spent on research and development, the company appears to have generated roughly $1 for every $13 it spent.
While patient revenues saw notable increases over the course of its subsequent fiscal year, so too did the company's cash outlay. After excluding $6,638,408 allocated to research and development, Field Trip spent $37.6 million to fund its operating activities despite generating only $4.86 million in patient revenues.
And finally, over the 9 months preceding its latest financial disclosure, the company managed to generate roughly $5.3 million in patient revenues, while spending $16.5 million in cash to fund operations.
These figures are a far cry from the company's earlier projections.
Despite making later strides towards narrowing this disparity, personnel costs consistently exceeded what Field Trip was able to earn in patient revenues. Additionally, over the course of its second fiscal year, Field Trip's exchange listing costs alone (over $6m) surpassed its revenue, calling into question the prudence of its highly-touted NASDAQ listing.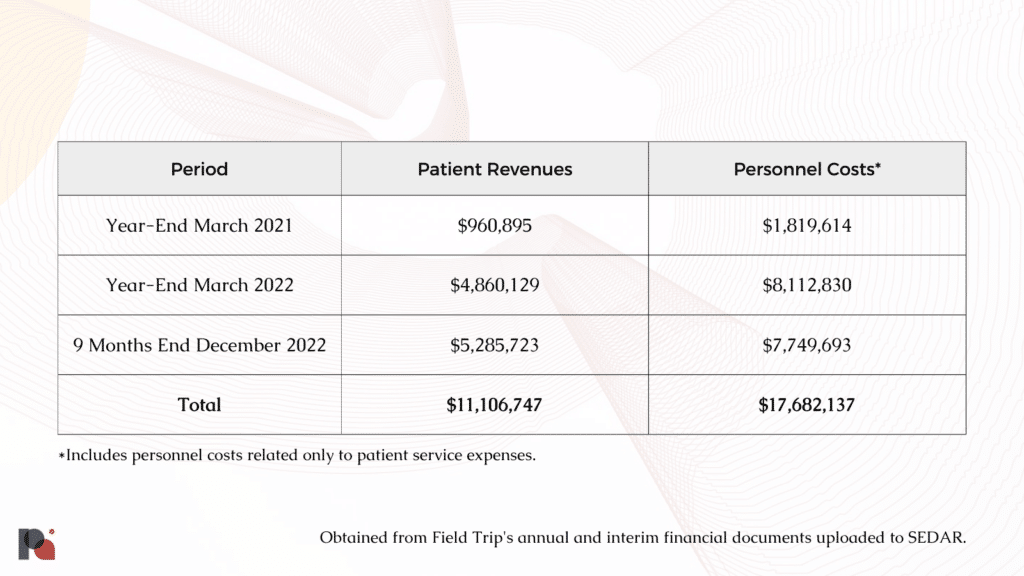 In the absence of sufficient revenues, the company was forced to rely, almost exclusively, on cash it had previously generated through equity offerings. This safety net presumably helped the company fund its various gainless partnerships, products offerings or pivots in an endeavour to identify a venture that would allow it to achieve the elusive goal of profitability.
Following the completion of the Field Trip Health & Wellness spinout in August 2022, the company's runway dwindled as Reunion retained the lion's share of the formerly-conjoined company's $52 million in cash.
Despite managing to secure just under $20 million in proceeds through a private placement led by Oasis Management Company and Reunion, its runway was shortening. Field Trip was forced to cut back on the very thing that had, to date, been fundamental to its value proposition: its clinics.
Leashed by Leases
One major group of expenses that weigh heavily on the company are its lease obligations.
Court documents reveal that the company had entered into several long term lease agreements to enable its clinic scale-up. Field Trip's lease at its Toronto HQ, for example, is a 5-year term expected to end in 2026. While many of Field Trip's previously planned clinics were shuttered before ever opening their doors, the company appears to have still been on the hook for a number of multi-year lease contracts.
As of December 31, 2022, Field Trip had "18 clinic leases signed in addition to leases to the Toronto headquarters and the Jamaica Facility".
These concerns were noted in its most recent MD&A, where the company disclosed:
"Existing funds on hand, when combined with operational cash flow and promissory note, would not be sufficient to fund the Company's lease obligations."
Field Trip has since successfully entered into a sublease agreement for its Scottsdale location and has negotiated a termination agreement for its former Dallas location for a $375,000 fee.
Since then, no new details have emerged regarding its ability to sublet any of the other unused premises. The burden imposed by these multi-year, and in many cases 'non-cancellable', lease agreements is sure to have contributed to the company's current struggles. 
As it stands, the company's current financial predicament looks to be insurmountable. Even if Field Trip somehow emerges from CCAA in what it hopes to be "a substantially smaller, but stronger form", the path towards profitability remains unclear, especially in the absence of clinic-by-clinic financial reports.
Side Note: Another Blow for Reunion?
At first glance, Reunion Neuroscience's separation from Field Trip in its recent corporate reorganisation may have been a shrewd move.
But, unfortunately for Reunion, its troubled drug development program may not be the only challenge that lies ahead.
Shortly after news broke of Silicon Valley Bank's collapse, concerns began to emerge that companies operating along the psychedelic value chain may have been caught in the crossfire.
Like others, Reunion was quick to reassure investors of its lack of exposure to SVB.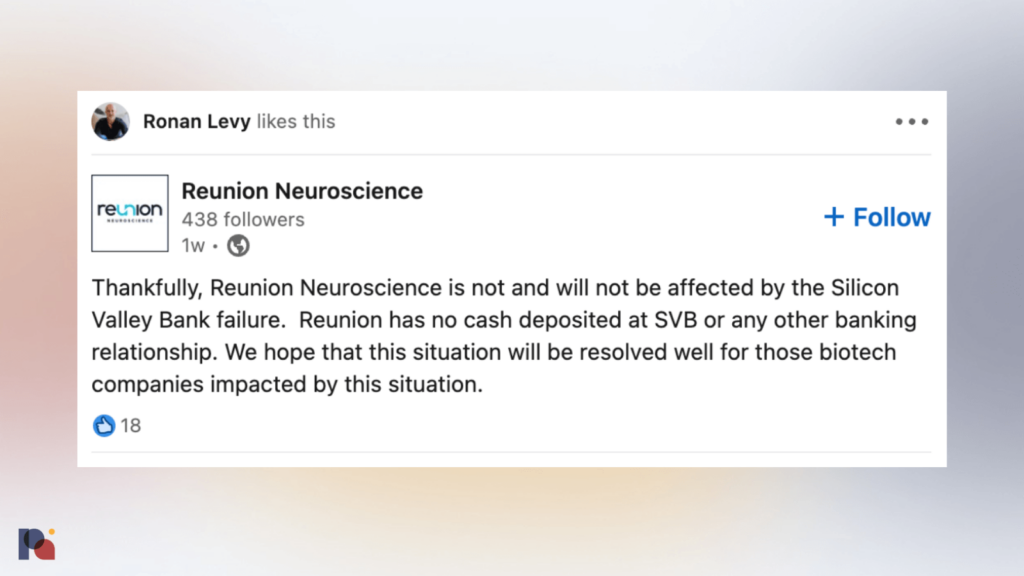 But the apparent collapse of Field Trip may leave the Reunion on the hook for some of the same multi-year lease obligations that drove its partner towards insolvency.
As both companies shared in their most recent disclosures, Reunion "has provided a guarantee of payment for all amounts associated with the leases in the event of non-payment by Field Trip H&W or in the event that the assignees are in default."
As of December 31, 2022, those "non-cancellable" lease obligations looked like this: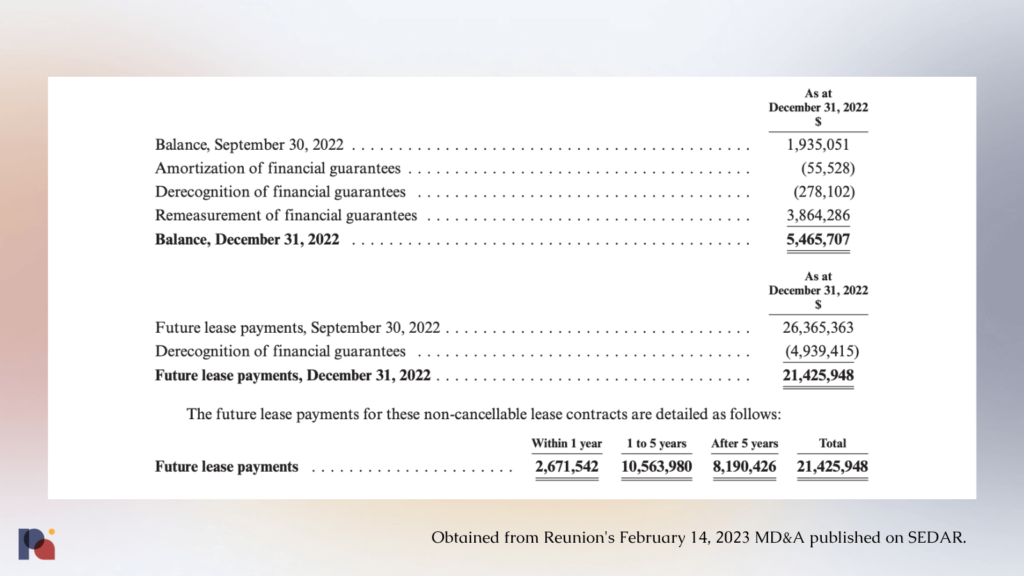 Court documents reveal that Reunion has guaranteed leases for locations in Lincoln, Chicago, DC, New York, and Seattle. The company had previously guaranteed another lease in La Jolla, however in December 2022 "the guarantee was purportedly changed to Field Trip". Interestingly, the "circumstances, rationale and consideration" for this change are now "under review."
What's more, Reunion provided Field Trip with a $10 million cash injection in exchange for 19.6 million common FTHW shares around the time that the spinout occurred. This investment represents a 21.84% interest in the new Field Trip. With the company's status in peril, Reunion's investment also appears to be at risk.
While Reunion, like Field Trip, is likely able to try and work its way out of these extended lease obligations, no guarantees can be made that it will come out of the situation unscathed.
Closing Thoughts
The anticipation and excitement (maybe more aptly described as 'hype') that allowed many of these companies to raise millions of dollars and reliably leverage equity financing to pursue further growth is waning. To support operations moving forward, these once well-capitalised companies will have had to return to fundamentals and search for a path towards self-sufficiency, at least in the case of care delivery companies.
As we discussed in last week's bulletin, Field Trip is not the only ketamine service provider to reach a financial impasse. In fact, faced with an inability to turn a profit, a growing list of other providers have been forced to wind down both virtual and in-person operations.
Unfortunately, these recent closures call into question the viability of a business model that is often seen as laying the foundation for the infrastructure that will support the future rollout and delivery of psychedelic therapies.
The path forward will likely involve more modest growth trajectories, as well as an exploration of how PATs can be integrated into existing healthcare delivery models and facilities. In this future, one can imagine stand-alone centres of excellence that provide PAT-related capacity-building, support and services to existing healthcare settings in a hub-and-spoke model, for example.
Those involved in the potential commercialisation and roll-out of PATs must also be mindful of the many barriers to access (see our From Approvals to Access section of our Year in Review for more). Of course, one should be mindful of these on ethical and moral grounds, but a lack of attention to the fundamental levers of access such as reimbursement are also an important commercial consideration, too.
As mentioned at the top of this piece, Field Trip was likely too early, too aggressive, and too extravagant: from its luxe furnishings and expensive leases through to its entirely out-of-pocket sticker prices at a time of belt-tightening for many.