MINDCURE appears to have become the first prominent casualty of the consolidation we expected to see in the psychedelic public markets this year. Below, we take a look at how other companies in the space are faring as cash runways shorten.
Elsewhere, secretive biotech Terran Biosciences claims to have over 150 psychedelic-related patents and a new study uses natural language processing to connect measures of behaviour to physiological targets (brain receptors, in this case).
MINDCURE: A Canary in the Psychedelic Coal Mine?
In the Looking Ahead to a Psychedelic 2022 section of our Year in Review we predicted that consolidation and insolvency would be key themes to keep an eye on this year.
That wasn't a particularly remarkable prediction on our part, and was a sentiment shared by many across the space. In fact, MINDCURE's ex-CEO Kelsey Ramsden told us back in December that she expected a number of smaller players to "die" in 2022:
We're not alone in predicting that there will be a number of companies that fold in 2022: MINDCURE CEO Kelsey Ramsden goes as far to suggest that half of the psychedelics companies with a sub-$300m market cap (a category in which her company sits) will "die" in the coming year.
Ironically or prophetically, MINDCURE appears to have been the first prominent casualty in this regard after less than six months trading as a public company.
On Wednesday, the company announced that it would be ceasing operations and effectively turning itself into a shell company, seeking to preserve a portion of the CAD $10.57m cash remaining.
At time of writing, MINDCURE has a market cap of around CAD $4.2m, trading at around 40% of its cash value.
Below, we take a look at the case of MINDCURE, before zooming out to look at how a sample of other psychedelics companies are faring.
How did MINDCURE spend its cash?
In the company's latest deck (Q1 2022) it boasted a "strong financial position with CAD $13.4M in cash as of November 30, 2021." The company was spending around CAD $1m a month, implying a runway of just over a year.
Where was the CAD $1m monthly spend going, broadly? Let's dig into the company's last financial filings, which take us up to November 30, 2021.
For the 6 months ended November 30, 2021, MINDCURE spent nearly $2m on consulting fees and employee payroll. That's not necessarily alarming, but might we wonder what portion of that was spent on the 'KPMG Market Opportunity Assessment' report, which is cited repeatedly in the deck?
Elsewhere, the company spent just north of $1m on directors and management fees; nearly $1m on investor relations, marketing and advertising; and $400k on business development. In the 3 months ended November 30, 2021, the line for 'research expenses' records just $5,009.
Check out the filings on SEDAR if you're interested in more detail.
The hefty marketing spend didn't go unnoticed. In fact, the company was asked to comment on its promotional activity by OTC Markets in February 2021. MINDCURE entered a deal with a marketing company worth just shy of $2 million to provide brand awareness and marketing services for a 6 month term, among other marketing spend including with industry publications like Psychedelic Finance.
Pivot or perish?
In our Trends to Follow in 2022 we identified pivot or perish as another key theme for 2022:
Taken together, many of these trends point toward a changing regulatory, scientific, and financial landscape for psychedelic researchers, practitioners, and (in particular) companies. Pivot or perish will likely be a scenario that a number of these companies face in 2022.
In a move similar to other small cap psychedelics companies, MINDCURE has sought to position itself as a diversified company with operations across technology (its iSTRYM digital therapeutic), drug supply (synthetic ibogaine), and research (The Desire Project which sought to research MDMA-AT for the treatment of female Hypoactive Sexual Desire Disorder; and an ibogaine research program).
MINDCURE eventually defined itself as a "life sciences company focused on developing digital therapeutics technology and researching psychedelic compounds," but this was quite a distance from its original operations as a mushroom supplement eCommerce brand.
This abridged timeline demonstrates just some of those pivots:
March 6, 2020:

Mind Cure Health Inc. is

incorporated.
April 2020:

C-suite generates operational plan, works to identify suppliers and packaging (for its

supplement line

, which included

MoonBeam Mushrooms

).

May 2020:

Mind Cure enters into a Sales and Marketing Agreement with a Vancouver-based nutrition, vitamin and supplement retailer, Body Energy Club, cementing its ambitions in this vertical (not dissimilar to the early efforts of other psychedelic companies, like Havn Life Sciences and even Cybin's early operations). Mind Cure then entered into a Product Development Agreement with a BC-based consulting firm to help develop its

MoonBeam Mushrooms

line of natural products, and agreements with two further eCommerce and marketing vendors to support its commercialisation efforts. Their

supplements lines were their clear focus in this early stage

, with vendors providing assistance in basic DTC operations like marketing, conversion optimisation, etc.

June 2020:

Mind Cure

files prospectus for IPO, with a clear focus on functional mushrooms

. Take the first line of the

Narrative Description of the Business

in the company's IPO prospectus: "Mind Cure's business is the development, manufacture, and distribution of a branded line of organic, functional mushroom powder." 'Psychedelic(s)' appears just four times in the 91-page document. The company intended to use the proceeds of the IPO to develop its functional mushrooms business.

September 21, 2020:

Mind Cure

begins trading on the CSE

under MCUR.

December 2020:

The company was

still pursuing its supplement and nootropic focus

, announcing that it was working on

supplements

and

nootropic products

(note,

the storefront is still up here

, but is not accepting orders).

January 2021: Pivot to digital therapeutics.

Now, we see MINDCURE's (now styled in all capitals) first real pivot,

with the company announcing

iSTRYM, its digital therapeutic tool "designed to provide close to real-time data regarding patient care, procedures and protocols, and other resources for therapists, clinicians, and patients with mental health concerns." The deck also outlines how the company was "poised to generate near-term revenue" via the launch of its digital therapeutics platform, iSTRYM, which was planned for "early 2022."

This was the first major deviation from the company's IPO prospectus

, which didn't mention the digital therapeutic at all, suggesting it was a post-IPO pivot.

January 2021: Investment in a psychedelic therapy centre.

Later in January 2021,

MINDCURE signed an LOI

to acquire an ownership stake in ATMA, a psychedelic therapy centre in Canada. An initial investment of $500k was made in

March 2021

; and another $350k in

April 2021

.

February 2021: Another digital product emerges.

MINDCURE announced that

beta testing of its

PsyCollage

data-driven decision-making tool is complete.

February 2021:

The next in a series of pivots was the company's announcement of its intent to

research traumatic brain injury

, engaging a relevant neurologist for the task.

March 2021:

MINDCURE announced its intent to

manufacture synthetic ibogaine

.

September 2021:

The company

launched The Desire Project

to research MDMA-AT for treatment of female hypoactive sexual desire disorder.

February 2022:

MINDCURE

announced a strategic review

.
Some might look at this and see chaos: a scrappy start-up throwing whatever it can muster at the proverbial wall and seeing what sticks. Others might see an agile group of professionals chasing white space in the rapidly changing landscape of an emergent sector.
Ultimately, after all these attempts to pivot (and with over CAD $10m in the bank to pursue further pivots) the strategic review called it quits.
Zooming out: how are other psychedelics companies faring?
Remember that ex-CEO Ramsden told us she expected half of the sub-$300m market cap psychedelics companies to "die" this year? Just a couple of weeks ago we noted that the runway is shortening for many companies in the space, not just MINDCURE.
With just over CAD $10m in cash, and a monthly burn of around CAD $1m, MINDCURE could have continued operating for nearly a year. However, the company decided to take a step back and review their strategy, which ultimately gave rise to this week's decision to cease operations.
What's concerning, however, is that a 10 month runway is more than can be said for a number of other small cap psychedelics companies.
We took a look at psychedelics companies in our dataset to understand their cash burn rates, and make inferences about how long (or, short) their cash runways are.
The largest psychedelics companies like atai Life Sciences and COMPASS Pathways are sitting comfortably, with their cash runway measured in years as opposed to months. COMPASS, atai and MindMed are all burning through their cash at around 2% a month: a very sustainable pace (some might even argue this is too conservative). This is comparable to Anavex Life Sciences, one of the pre-revenue biotech comps we looked at in our earlier analysis of R&D spend.
Medium-sized psychedelics companies (which are micro caps in the broader market context) are generally burning cash in much larger proportions, with companies in the $50-100m market cap territory frequently burning >10% of their cash per month.
Small psychedelics companies with market caps of less than $10m are looking equally shaky, but in terms of market impact it's this middle band of $50-100m market cap psychedelics companies that are most concerning.
What happens at the end of the cash runway?
When a company runs out of cash, it's pretty simple: it either finds a new source of cash, or becomes insolvent.
Public companies can issue new shares in this situation, especially if a company's annual cash burn represents a relatively small portion of its market cap.
Take MindMed, for example. With a market cap of around USD $480m, and an estimated yearly cash burn of $40m, its cash burn is representing less than 10% of its market cap. Conversely, take a look at Lobe Sciences: an annual cash burn of CAD $2.5m represents nearly half of its market cap. That's not the friendliest fundraising environment, with a high cost of capital looming.
Regardless, it's a common way to raise funds when public. According to our data, Nova Mentis had a runway of less than 6 months as of September 30, 2021, and as such we would expect them to be seeking new sources of cash right around now. Like clockwork, earlier this week the company announced the closing of a private placement for total gross proceeds of CAD $1.5m. The company sold units at a share price of CAD $0.05, while shares were valued at CAD $0.095 the day before the announcement.
We see a similar story with Mydecine. Our data suggested the company's runway was almost over as of September 30, 2021. In early December, Mydecine announced a private placement of CAD $5.5m.
A number of companies (and their investors) in similar positions to Nova Mentis and Mydecine will now be watching their runway closely, with companies like Tryp Therapeutics, Entheon Biomedical (which, unsurprisingly given our data, filed a shelf prospectus earlier this week), Field Trip Health (though, the company is somewhat revenue-generating), Awakn Life Sciences, and many others hurtling down their respective cash runways.
Companies who can't efficiently raise further cash by issuing stock (especially in the current environment), or don't wish to go down this route, might look toward other options. One favourable route is to leverage less-dilutive partnerships, such as those with larger pharma companies. But, these aren't exactly easy to come by.
Perhaps the most notable of these in the psychedelics space is Mindset Pharma's collaboration with one of Otsuka Pharmaceutical's U.S. arm, which will financially and operationally support the development of two families of the company's psychedelic compounds.
Mindset's financials are made up to December 31, 2021; while the Otsuka agreement was entered into in early January 2022. Hence, the company's cash position of just over CAD $2m in late 2021 (which implied a runway of less than a Quarter) must be viewed in light of the Otsuka deal, which also provided an upfront cash payment of USD $5m.
This is a useful reminder that we're still very early in the psychedelic space, with the landscape rapidly forming and changing. As such, all data, insights and trends should be understood in this context.
Specifically, please note the following caveats about our assumptions:
Companies take a short while to file their financials, so we're using data up to Q4 2021. As such, a company with a runway of 12 months might already be 3 or 4 months into that runway as the filings might reflect a period ending November 30, 2021, for example.

We estimated a monthly burn rate by looking at this latest-available data and taking an average (of the last 12 months where available, but occasionally 9 months). Of course, operating costs change over time, and are especially lumpy for new companies like those in this sector, but it's the best we can do for now.

For companies working to develop drugs the initiation of new, or more advanced (and consequently, demanding) drug programs will foreseeably lead to larger monthly cash burn rates. As a result, the runway reflected in some of the more recent filings may now have shortened considerably due to both time elapsed (as mentioned above) and an acceleration in spending. 

The underlying data is in both CAD and USD; but, seeing as we're displaying it in terms of runways and percentages it's not relevant here.
Terran Biosciences, in Stealth Since 2017, Claims to Have >150 Psychedelics Patents
Fierce Biotech reports that Concert Pharmaceuticals has sold a number of CNS assets to Terran Biosciences, a biotech startup that's been in stealth since 2017. Terran appears to be working on a potential treatment for schizophrenia, an MRI-based imaging diagnostic for Parkinson's, TBI and other indications, and other projects.
Interestingly (though not surprisingly), Terran boasts having "more than 150 patents in psychedelic therapeutics," according to Fierce. A press release from the company corroborates the figure.
Terran has received funding from Noetic Fund, Catalytic Impact Foundation and Transhuman Capital.
Old Drugs, New Tricks
"Psychedelics paired with new applications of computational tools might help bypass the imprecision of psychiatric diagnosis and connect measures of behavior to specific physiologic targets."
A broader theme in psychedelic medicine is how researchers are applying innovative scientific methods to a class of drugs that have thousands of years' of anecdotal evidence.
Editor's note: I was reminded that this is not specific to psychedelic medicine (though perhaps more obvious here), but rather is a theme that threads through medicine more broadly. When attending Horizons NYC last December, it was a sculpture above the main entrance to the New York Academy of Medicines that prompted this…
An aside: Unfortunately, a sculpture above the main entrance to the Academy is obscured by scaffolding, but nonetheless dons the Latin inscription: Post Mille Secula Præscindetur Occasia Aliquid Adjiciendi, which means, "He who shall be born a thousand ages hence will not be barred from his opportunity of adding something further."

The subsequent sentence in the text from which this motto is lifted (Seneca, Epistulae Morales 5-8.1) can be understood to convey the idea that even if all things were already found or invented by those from the past, there will always be new ways of harnessing or adjusting them to be relevant to our present moment.

Is this not a wonderful metaphor for (psychedelic) medicine, which inherits so much from past uses, yet may need – at least to some extent – reworking to meet our current needs and contexts?

From the Bulletin, Our Dispatch from Horizons NYC.
This week, a short Focus piece in Science Advances (pithily titled The doors of precision) discusses this theme in response to a recent publication in the same issue.
"The problem is not the drug… but rather, not pairing the right [drug] with the right patient," write Barron and Friedman, who argue that the primary task for psychedelic companies is to "identify which specific compounds alleviate which specific types of human suffering." Of course, this endeavour is well under way (take a look at our Psychedelic Drug Development Tracker, updated last week).
But this is no straightforward endeavour, the authors remind us. In fact, it's one of the reasons why Big Pharma "has largely withdrawn from psychiatric drug development." One of the reasons for this difficulty is rooted in the translational effort between DSM-V checklists and symptom questionnaires (used for diagnosis) and the language of pharmacology. The authors, who are not shy of a well-placed metaphor, explain:
The language of psychiatric illness is symptoms, the language of pharmacology is molecules, and right now, we have no Rosetta stone that translates symptoms to molecules and can help us match the right drug to the right patient.
Efforts to etch this Rosetta Stone are also underway (not just in the academic research sphere: this approach reminds us of that described by MindState Design Labs, for example), with a study published this week which attempts to bypass the diagnostic questionnaires and match real-world reports of psychedelic drug experiences with their pharmacological properties.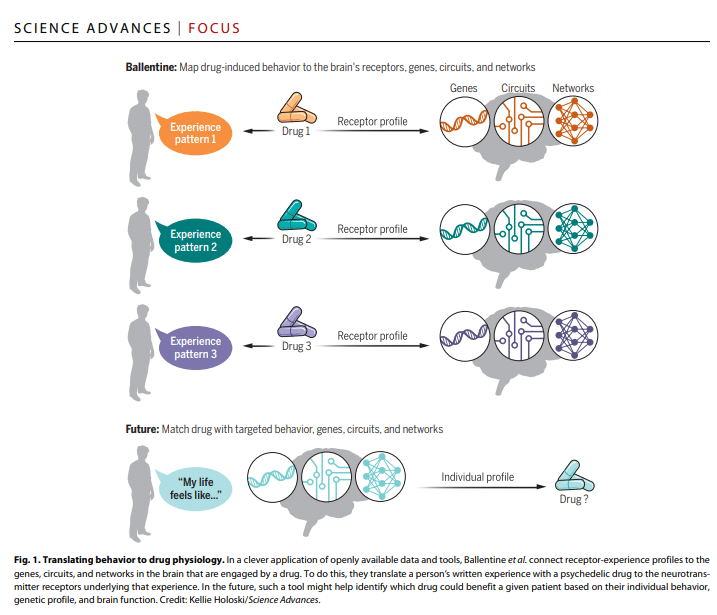 The researchers used the AI-based method of natural language processing (NLP) to analyse nearly 7,000 written reports of psychedelic experiences (derived from Erowid) and compared these with what is known about the receptor binding profile of drugs like psilocin. "Overall, Ballentine's method quantitatively translates a person's experience into the molecular profiles responsible for that experience," explain Barron and Friedman in their concise write-up.
Barron and Friedman also point out that Ballentine et al.'s study was not only innovative in its methods, but also in its cost profile. Using existing python toolboxes (the coding language, that is) and public datasets the researchers were able to do this study in a very economical manner.
Ballentine et al.'s study, which is part of broader attempts to better connect behaviour to physiology, was also written-up elsewhere, including:
New Scientist: AI analyses drug users' trip reports to better understand psychedelics
Technology Review: What do psychedelic drugs do to our brains? AI could help us find out
The Conversation: AI maps psychedelic 'trip' experiences to regions of the brain – opening new route to psychiatric treatments
WW: 'California Psychedelics Investors Are Closely Monitoring Oregon's Psilocybin Market'
Tess Riski is putting out some fantastic coverage of the happenings in Oregon as it slowly marches toward becoming a regulated psilocybin market. This week, Riski reported on how out-of-state groups, like the Psychedelic Science Funders Collaborative (PSFC), are seeking to gather data from Oregon's roll-out of psilocybin services in the hopes of replicating it across the U.S.
Join our newsletter to have our Weekly Bulletin delivered to your inbox every Friday evening. We summarise the week's most important developments and share our Weekend Reading suggestions.