This Week:
💂 UK Set to Make Drug Approvals 'Faster and Nimbler'; Could MDMA Be Among the First Beneficiaries?
🏥 Ketamine Clinics Close Following Rule Change; Potential Repercussions for PAT Roll-Out?
🤠 Psychedelics at SXSW
💥 Inside Synthesis Institute's Implosion
⚖️ Reunion Sues Mindset, Claims it Copied RE104
and lots more…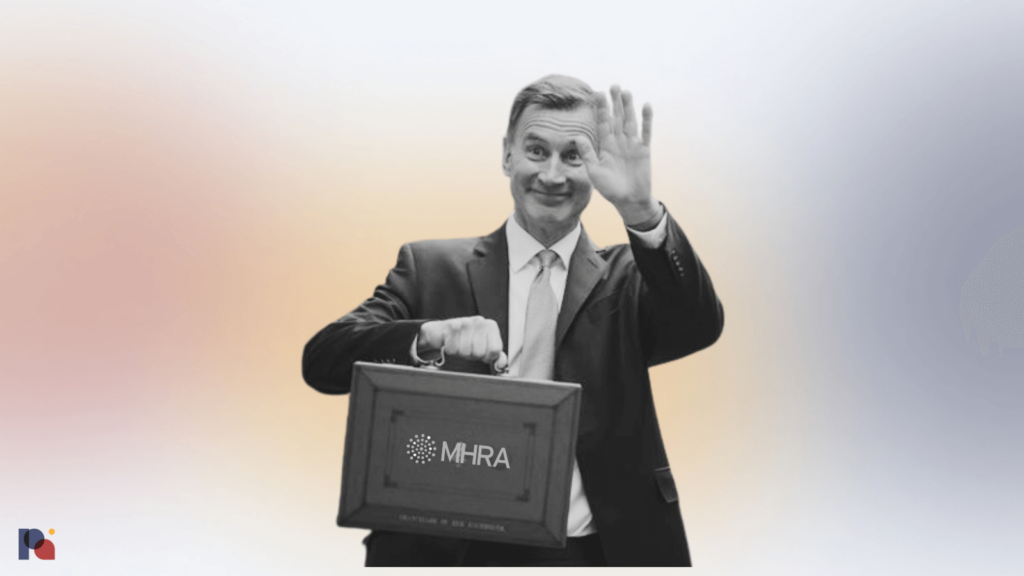 UK Set to Make Drug Approvals 'Faster and Nimbler'; Could MDMA Be Among the First Beneficiaries?
On Wednesday, the UK's Chancellor Jeremy Hunt announced the Spring Budget, which sets forth the government's economic priorities.
Among these announcements was a £10m (over two years) award to the Medicines and Healthcare products Regulatory Agency (MHRA), which is intended to "help it maximise use of its Brexit freedoms and accelerate access to treatments."
In practice, this will be achieved via "partnerships with trusted international agencies, such as in the US, Europe and Japan, to provide simple, rapid approvals for medicines and technologies that have received their approval from 2024." The aforementioned 'Brexit freedoms' include the fact that the MHRA is, effectively, no longer 'slowed down' by the European Medicines Agency (EMA). Taken together with these potential 'mutual recognition' partnerships with agencies like the FDA, these developments might make MHRA approvals process among the fastest.
While the UK government is seeking to couch these moves in the discourse of post-Brexit freedoms and innovation, the simple fact of the matter is that 'little Britain' is just that: a small market. Given that fact, pharmaceutical companies would likely favour larger markets, such as the US, EU and Japan, when deciding on the order of national marketing authorisation submissions; meaning the UK would be left behind in terms of access to innovative medicines if it insisted on national submissions alone. It's also worth noting that MHRA was forced to cut around a fifth of its workforce following Brexit, which saw the agency lose millions of pounds in funding from the EU.
We covered this potential development last month (Bulletin 131) after our eagle-eyed Medical Advisor, Michael Haichin, caught wind of it. At that time, we asked: "might MAPS PBC's MDMA-assisted therapy for PTSD be among the first products considered under this new reciprocal drug approval pathway?"
With the Chancellor's formal announcement and funding of these attempts to make MHRA's approval process "faster and nimbler" by 2024, it only seems more likely that MDMA-AT may be among the first drug products to be reviewed under this protocol.
But, it's by no means a done deal: discussions with other regulators are at the 'exploratory' stage and MDMA-AT is not exactly a 'normal' drug product.
Ketamine Clinics Close Following Rule Change; Potential Repercussions for PAT Roll-Out?
As we explained in Bulletin 131 (and, have been covering since early 2022), the expiration of a COVID-era waiver to the Ryan Haight act has thrown the viability of companies that rely on prescribing scheduled substances via telemedicine into question. Among these companies are at-home ketamine providers.
(As we discussed last month, the Biden Administration will tighten rules on the virtual prescribing of scheduled substances as the Public Health Emergency comes to a close, meaning only a thirty day supply may be prescribed remotely before an in-person consultation will be required.)
Among the first casualties of this impending rule change was Peak, an at-home ketamine therapy provider which announced in late 2022 that it would cease operations in response to "upcoming changes in federal and state regulations." The company anticipated the rule change after it became clear that HR 4040, the Advancing Telehealth Beyond COVID–19 Act of 2021, would omit the Ryan Haight Act waiver, the company explained.
We can't really be surprised at a move like this. Uncertainty alone can make the operating of a business—especially a small, early-stage one, which may have been seeking funding—very tricky.
But, readers might be surprised to learn that some of the largest in-person ketamine clinic providers are facing significant challenges, too.
Field Trip Closing Majority of Locations
Earlier this week, Field Trip Health & Wellness announced that it would close five clinics. According to the company's deck, it operates nine clinics in North America ("and growing", it writes), which means these closures represent the majority of Field Trip locations. (Note that the company formerly claimed twelve locations, but sought to sublease a number of locations that were not in operation as of the end of 2022. If it were unable to do so, the company explained it would also consider settling its lease obligations—as was the case for its Dallas location—and writing it off as a loss.)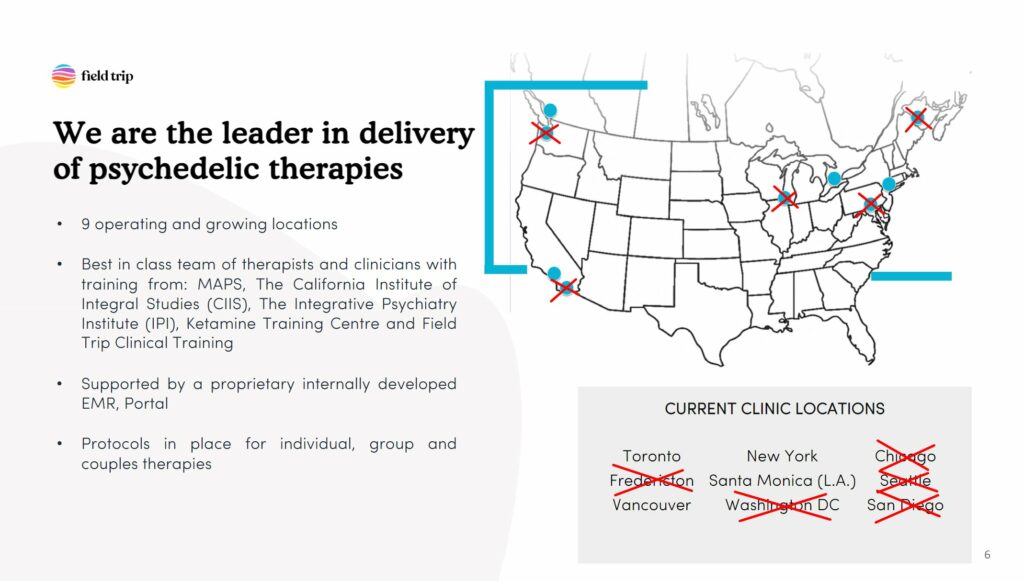 The company cited "an effort to reduce expenditures and preserve capital" as the driving force behind the decision, which was informed by an 'Independent Committee' of the board of directors formed in December 2022 to "assess strategic options for the Company".
The company expects to close the locations "on or around April 15, 2023".
In its Q3 2022 earnings, the company explained that the independent committee formation was, "in response to, among other things, current unfavourable capital market conditions, which have presented a challenge for the Company in seeking additional sources of financing, ongoing fixed costs associated with the Company's brick and mortar locations and the pausing of its hybrid in-clinic/virtual Freedom Program due to regulatory changes potentially affecting the ability of the Company to operate the program."
A look at the company's financials for the three months ended December 31, 2022 paints a troubling picture: Field Trip burned through around $8 million, while generating only $1.6 million in revenue. This wasn't a new phenomenon: financials for the nine month period were similarly poor, showing $5.3m in revenues paling in comparison to over $35m in burn. As summarised in the most recent management discussion and analysis (MD&A), the company explained:
"At December 31, 2022, Field Trip H&W has not yet achieved profitable operations, has a deficit of $48,774,684 since its inception and negative operating cash flows for the 9 months period December 31, 2022 of $17,870,357, and expects to incur further losses in the development of its business, all of which creates a material uncertainty that may cast significant doubt about the Company's ability to continue as a going concern."
Field Trip likely hoped its Freedom program would improve scalability while reducing costs, thus improving the company's financial performance. The program, announced in November 2022, was touted as "a first-of-its-kind one-year hybrid ketamine therapy program that blends the power of psychedelic-assisted therapies with holistic wellness support". Crucially, the program provided customers with ketamine lozenges and allowed them to take them at home or in-clinic (in a group setting), at one of the company's locations. The program was offered at $299 a month.
As part of the company's Q3 22 earnings filings it announced that, partially as a result of the aforementioned ending of the public health emergency in the U.S., Field Trip suspended its Freedom program. The program, it explained, "relies, in part, on the Ryan Haight Waiver", which damaged the commercial viability of the Freedom program.
As such, it appears that both the company's in-person and virtual offerings are struggling with commercial and regulatory hurdles.
In light of this inability to achieve profitability, the company engaged in a number of partnerships and offers. It grabbed headlines when it offered a free month of ketamine therapy for those affected by lay-offs, around the time when Twitter, Meta, Stripe and others were shrinking their headcount. The promotion was presumably less altruistic, and more of a loss-leader in the hopes that some portion of these free trial customers stayed on.
Field Trip also partnered with Cerebral a matter of mere months before the telehealth startup came under intense scrutiny from the media as well as the U.S. Department of Justice for potential violations of the Controlled Substances Act. Shortly after the DOJ's probe came to light, Field Trip announced its initial at-home ketamine therapy offering, powered by Nue Life Health.
The company also launched a "KAP Co-Op", which sought to decentralise its offering by allowing patients of trained therapists to access ketamine-assisted psychotherapy at Field Trip sites while their existing therapist would provide integration therapy.
Ultimately, none of these partnerships, product offerings or pivots (including its ill-fated Netherlands clinic) seem to have allowed Field Trip to achieve profitability. Now, it presumably hopes that refocusing efforts on a smaller number of (presumably) more viable sites will allow it to reach that elusive goal; or at least to preserve its cash runway for a little longer.
According to the company's MD&A for the period ending June 30, 2021, the company had hoped to have 30 clinics by the end of 2022, and 75 clinics by the end of 2024. Today, it has a handful. (It also expected to have Phase 2 studies of its FT-104 compound—now owned by Reunion Neuroscience—completed by Q3 2023, but that's unlikely.)
Other Ketamine Clinics Struggling
On the same day as Field Trip's announcement, Delic Holdings Corp. announced that it "has suspended operations at Ketamine Wellness Centers", explaining that the company "continues to evaluate potential strategic initiatives to preserve shareholder value moving forward." At the same time, the company announced that its CEO and CFO had resigned.
In its most recent MD&A (for the period ended September 30, 2022) the company—which was established as a media and events company before diving headlong into the ketamine clinic business—shared some metrics on its ketamine clinics:

If we use data from the most recent quarter (Q3 2022), we can infer that the clinics have approximately 10,500 appointments per year. With thirteen open clinics at the time of reporting, that's around 800 appointments per clinic per year; or three per day per location (their clinics are generally open Monday-Friday). On average, an appointment brings in around $500.
Simple math like this call into question some of the claims made in the company's investor presentation. Take, for example, the claim that one of the company's clinics will break even in "~6 months", assuming a $250,000 start-up cost. Based on the 'clinic operational metrics' disclosed in the MD&A, this is exceedingly unlikely.
The company's current investor presentation, retrieved via its website, claims that Delic expects MDMA to be "legalized" in 2022, and psilocybin in 2023. Perhaps this is why the company's financial projections and growth strategy were so off.
The company's stock is down over 98% since November 2020, and the company has a market cap of around $350,000.
The day after Field Trip and Delic announced clinic closures, Irwin Naturals announced that it had terminated an LOI with Braxia Scientific Corp. (formerly Champignon Brands) that would have seen Irwin acquire the chain of clinics. Braxia also acquired KetaMD in an attempt to build out an at-home ketamine program.
Last month, Irwin Naturals announced that it has secured a $40m credit facility to support its roll-up of ketamine clinics, with the intention of positioning them as sites for psychedelic-assisted therapies, if and when approved. The terminated Braxia deal was valued at $30m.
Back in September 2022, Wesana Health announced the sale of its clinics business, for a total consideration of $2.1m.
Taken together, these developments suggest a pessimistic picture for the commercial viability of ketamine clinic companies; especially those looking to find profitability via telemedicine and/or aggressive scaling.
Other Interventional Psychiatry Facilities Feel the Crunch
But, it's not only ketamine clinics that are making cutbacks: other interventional psychiatry treatment facilities appear to be, too.
Last week, one of the largest providers of transcranial magnetic stimulation (TMS)—Greenbrook TMS—announced restructuring plans "aimed at focusing operations to the Company's most profitable treatment centers".
In concrete terms, the plan will see around a quarter of the company's staff laid off, and just over a quarter of the company's 183 treatment centres closed. The remaining 133 centres will continue to offer TMS, while a growing number of centres will offer Spravato (esketamine), the company explained. Greenbrook added that it "expect[s] that these remaining centers will provide a strong foundation to innovate and develop new product lines."
This alludes to a broader point on the potential ramifications these closures could have on the infrastructure for any forthcoming psychedelic-assisted therapies (PATs)…
Repercussions for PATs?
At the close of our 2022 Year in Review, we shared some predictions and themes to watch in 2023. A prominent theme we expect to see—and encourage—in 2023 is a focus on commercialisation-related discussions, as MDMA-assisted therapy (MDMA-AT) faces a potential approval as early as next year. Given the novelty of PAT protocols, integrating them into the prevailing healthcare system will be a challenge. In many cases, the infrastructure for PAT will have to be built from scratch.
This focus on infrastructure, which has been emerging over the past two years, will only heighten in 2023 as we approach the convergence of the period where it's 'too early' to begin building the 'rails' for PATs in the medical model and the period where it's 'too late': i.e., a situation where the post-approval roll-out of MDMA-AT, for example, is severely stymied by a lack of infrastructure (such as appropriate clinic space, trained therapists, etc.).
Of course, the most obvious part of this infrastructure is the physical spaces at and in which PATs will take place.
Many are expecting existing interventional psychiatry facilities, such as those that offer Spravato and TMS, to include MDMA-AT, psilocybin-AT and other PATs if and when they are approved. Indeed, many of the companies mentioned above were, to some extent, banking on this projection (the likes of Field Trip and Delic, for example) while others will simply see it as a potential new business line (as in the case of Greenbrook, as alluded to in the aforementioned quote).
On the other side of the coin, psychedelic drug developers themselves are, at least to some extent, relying on these types of facilities to offer their treatment protocols if and when approved: protocols that are likely to be very labour intensive and regulated.
Take COMPASS Pathways, for example. As we alluded to in our From Approvals to Access reporting, drug developers like COMPASS do not intend to be in the business of establishing networks of COMP360 therapy clinics. Rather, the company will rely on "delivery partners".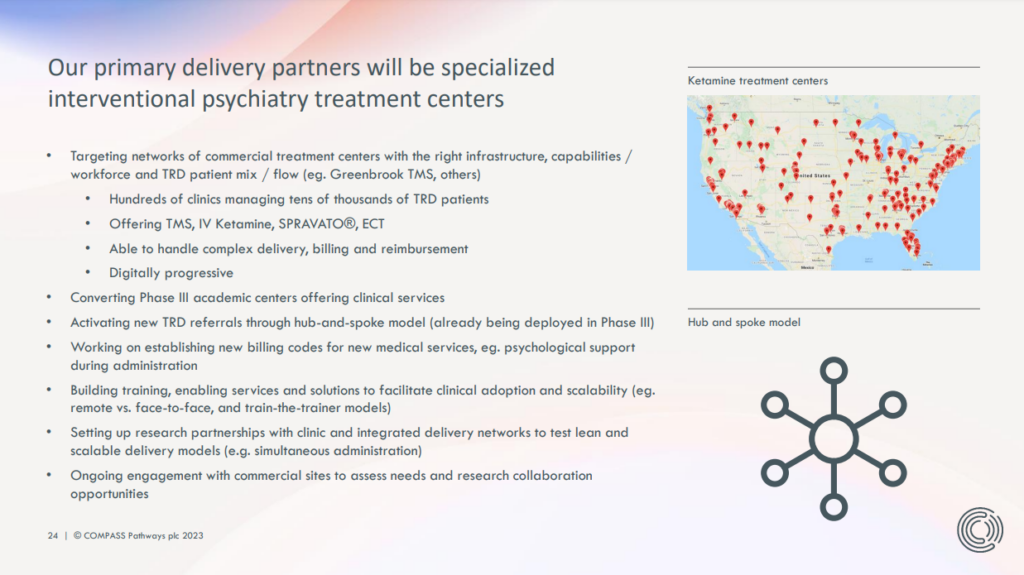 As explained in the above slide, these delivery partners will include "networks of commercial treatment centers" that are specialised in interventional psychiatry treatments like TMS, IV ketamine and Spravato. Interestingly, Greenbrook TMS is the only concrete example provided.
Given this model, it's natural to ask what the recent spate of restructurings and site closures among ketamine clinics and, to a lesser extent, interventional psychiatry treatment centres more broadly might mean for the roll-out of PATs.
Reunion Sues Mindset, Claims it Copied RE104
A lawsuit filed by attorneys on behalf of psychedelic drug developer Reunion Neuroscience alleges that Mindset Pharma "knowingly copied" Reunion's RE104 compound  (FKA FT-104, when Reunion was part of Field Trip), "and presented that exact composition to the [U.S. Patent and Trademark Office] as its invention."
The dispute, filed on March 13th in the U.S. District Court for the District of New Jersey, revolves around Reunion's lead candidate isoprocin glutarate, a hemiglutarate prodrug of 4-HO-DiPT—one of Sasha Shulgin's TiHKAL compounds. Shulgin described the drug as such: "I truly doubt that there is another psychedelic drug, anywhere, that can match this one for speed, for intensity, for brevity, and sensitive to dose, at least one that is active orally". At 2-3 hours, the drug has a much shorter trip than that of psilocybin, for example, which might make it a more scalable product. Reunion's initial indication for the candidate is postpartum depression. (We covered the compound back in a December 2021 Bulletin.)
Psychedelic Alpha Editor-at-large Graham Pechenik had expected an action for some time, explaining in January that Reunion might try to invalidate Mindset's claim via a post-grant challenge or via district court litigation.
Here, we provide an abridged timeline of events, a look at the potential strength of Reunion's lawsuit, as well as the broader context of the company's present predicament. 4-HO-DiPT hemiglutarate, isoprocin glutarate and RE104 are used interchangeably throughout this piece.
Will this lawsuit, viewed by lawyer Matt Zorn as "a desperation move", lead to a reunion with karma?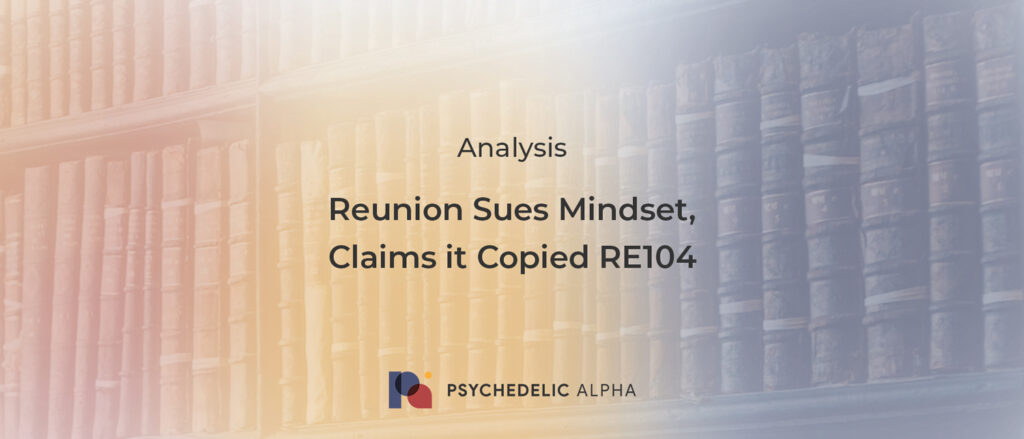 Inside Synthesis Institute's Implosion
Earlier this month we published the first deep dive into the apparent implosing of the Synthesis Institute.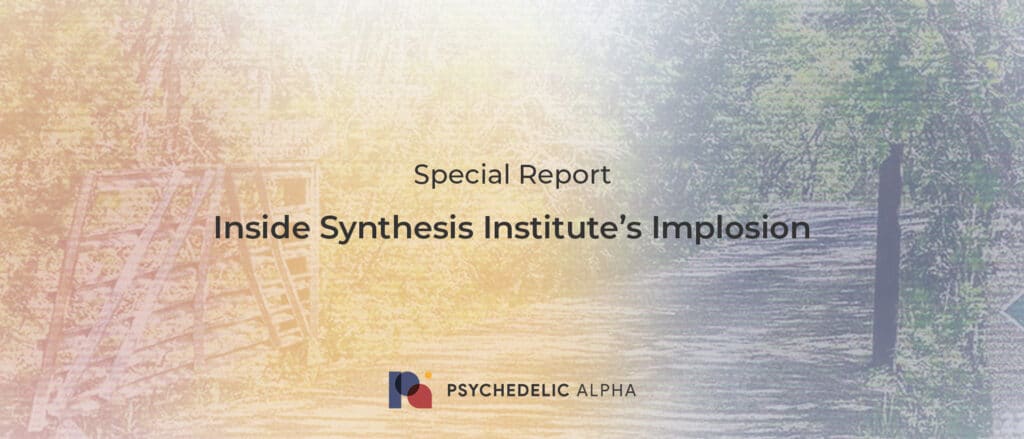 Since then, a number of other outlets have covered the story and added more colour to our understanding of the situation. Examples include:
There are many lessons to be learned from Synthesis' collapse. In this author's opinion, one such lesson is that we should support local journalism!
Featured Psychedelic Jobs
Psychedelics at SXSW
We had a great time meeting with many folks from across the psychedelics 'space' at SXSW in Austin, Texas over the past weekend.
The Psychedelics Track featured a variety of talks and panels, from Paul Stamets' keynote titled, How Psilocybin Mushrooms Can Help Save the World, to a panel discussion featuring the Nichols' and Rachel Yehuda titled, To Trip or Not to Trip.
For our part, I (Josh Hardman) participated in a panel discussion titled, Building an Equitable Psychedelic Medicines System, on which I was joined by Professor Colleen Chien (who is also an Expert Consultant to USPTO) and our Editor-at-large and patent attorney Graham Pechenik. The panel was moderated by journalist Shayla Love.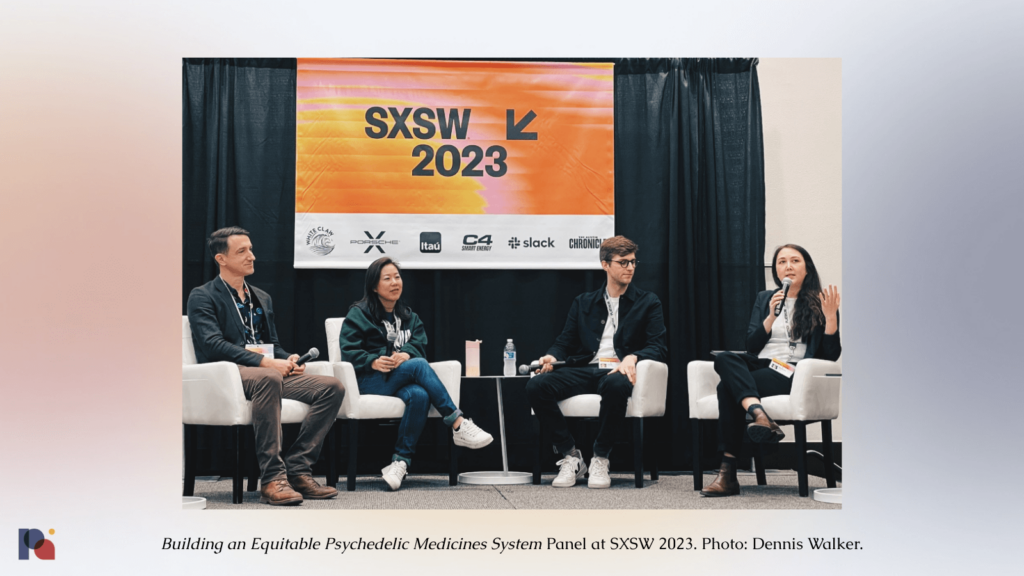 Given the calibre of the other panellists, and our moderator, we largely focused on the role that psychedelic patents (might) play on equity in the psychedelic industry: both present and future.
(On this note, some people—including fellow SXSW speakers—have suggested that folks like us are focusing on patents too much, or that we shouldn't be giving them any attention at all. These individuals suggested that we should instead focus our efforts on drug policy reform, including decriminalisation. I think this is a false dilemma: we can do both. I shared some related thoughts on Twitter in response to an article that made a similar point.)
The Daily Dot's managing editor, Ramon Ramirez, had this to say about our panel:
Magic mushrooms are mostly illegal worldwide, but Oregon became the first U.S. state to legalize psilocybin mushrooms for depression this year. According to Stamets, 22 states have or have had ballots and bills on behalf of the same cause. This bubbling enthusiasm has led to one looming problem, however: Patents.

There are more than 400 companies playing in the psychedelic space, according to journalist Josh Hardman, who is the editor and founder of Psychedelic Alpha: "That's led to a situation where we've seen a huge rise in psilocybin patents."

Patents can mean inequality, journalist Shayla Love added, because these companies can camp on an idea for 20 years.

"If you get overly broad [patents] you're effectively discouraging others from trying to work in that field as well," she said.

And it's a two-front battle, advocates say: decriminalization and commodification. But it's one with aligned interests that are pushing in the same direction, Hardman noted.

"I think we can have both."
Given that the Psychedelics Track came hot off the heels of the implosion of the Synthesis Institute, coincided with the collapse of Silicon Valley Bank (SVB) where a number of psychedelic companies held funds (SVB 'bet big' on biotech), and was hosted in decidedly conservative Texas, the timing and geography of this conference were—at least on paper—awkward.
Instead, while we were in the Lone Star State, lawmakers filed three bills to further promote state-sponsored psychedelic research.
Other coverage of psychedelics at SXSW comes from Tiffany Kary's newsletter in Bloomberg and Dennis Walker's more light-hearted piece in Lucid News.
Miscellany
The United Nations Office on Drugs and Crime (UNODC) hosted a side event to the 66th Session of the Commission on Narcotic Drugs yesterday, during which representatives heard from the likes of Professor Gabriella Gobbi and Jan Ramaekers on the topic of "Emerging Research on Psychedelic Therapies and their Implications for Policy. During the Q&A portion of the brief session, Gobbi commented on accessibility: "Can all people have access in a democratic manner to these substances? Probably no." The researcher explained that therapy is expensive, and already difficult to access in many countries. Ramaekers, meanwhile, told attendees that he isn't too worried about conflicts of interest among researchers. He explained that collaboration between researchers and pharma is needed, adding that psychedelic biopharma companies are "small pharma, at least for now". "I think it's a needed route, for us, if you want to develop psychedelics" as medicines, he noted.
AMA Adds 3 CPT Codes for Psychedelic Therapy. The codes, which will be effective from January 1, 2024, will record Psychedelic Drug Monitoring Services. See Bulletin 126 for background.
First Issue of Psychedelic Medicine Journal Available Now. All articles in the first issue are free.
PhilaDelic Conference Accepting Abstract Submissions. The July conference will discuss the interdisciplinary frontiers of psychedelic studies, and is organised by the Penn Psychedelic Collaborative. Submissions close April 15th.
TIME Explores How Psychedelics "Could Revolutionize Couples Therapy" in an article published earlier this week.
Join our newsletter to have our Weekly Bulletin delivered to your inbox every Friday evening. We summarise the week's most important developments and share our Weekend Reading suggestions.