This Week:
📊 New Batch of Data Boosts Spravato's Case
⚖️ Analysis: Bipartisan Breakthrough Therapies Act
🏛️ Berkeley Health Commission Votes to Move Psychedelics Decrim. Resolution to City Council
🙋 Master's Student Finds Flaw in LSD-Induced Neural Entropy Study; Leads to Retraction
📘 VA Publishes Evidence Review of Psychedelics
📈 DEA Increases Aggregate Production Quotas
and lots more…
New Batch of Data Boosts Spravato's Case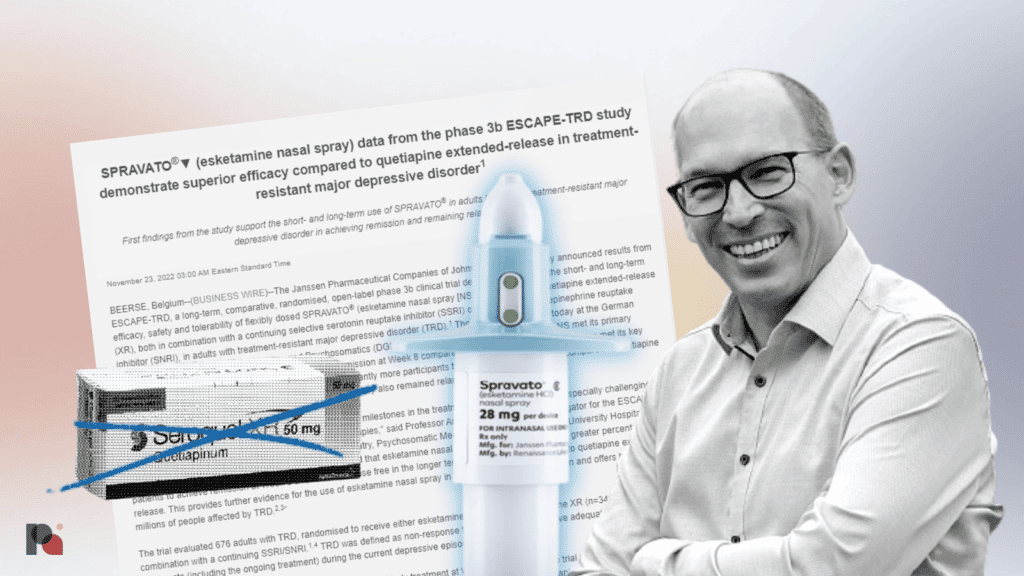 J&J's esketamine nasal spray, Spravato, has been something of a damp squib since its original approval for treatment-resistant depression (TRD) back in 2019. The product has yet to become a blockbuster drug, largely due to difficulties in demonstrating its cost-effectiveness. (For more background, see our recent Deep Dive, Racing Beyond Racemic and Josh's Twitter thread on NICE's reiterated rejection of Spravato in the UK). 
Towards the end of November, though, J&J had more than Turkey to be thankful for. The day before Thanksgiving, J&J's Janssen shared data from a Phase 3b trial of Spravato versus Seroquel XR (quetiapine), a drug used to treat a variety of mental health conditions including major depressive disorder (MDD). By week 32, around 55% of all Spravato patients had achieved remission, compared to 37% of quetiapine patients.
We wouldn't be surprised if the data from this 676-participant trial is working its way into a fresh submission to agencies like the UK's NICE as we speak.
Analysis: Bipartisan Breakthrough Therapies Act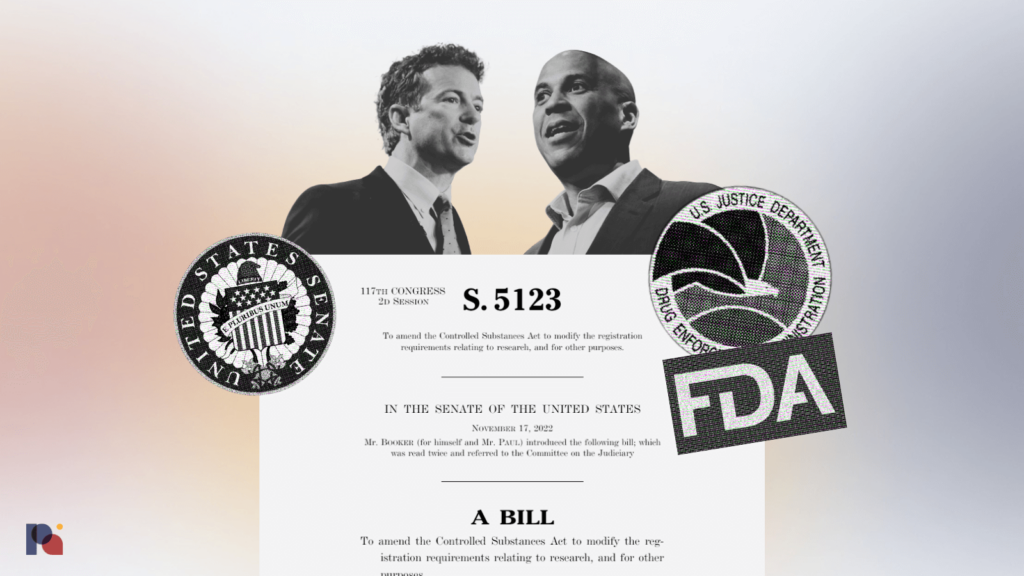 Cory Booker and Rand Paul are the latest U.S. senators to forward a bipartisan effort to reduce barriers to psychedelic research and access. After seeing discussion of the Bill's rescheduling element, we decided to provide a short clarification…
The Breakthrough Therapies Act would reclassify as Schedule II ('currently accepted medical use with severe restrictions') any Schedule I drugs ('no currently accepted medical use and a high potential for abuse') that are the subject of a Breakthrough Designation or are authorised for expanded access.
Given that such drugs would now fall under this definition, the DEA would be effectively compelled to move them to Schedule II.
Interestingly, the Bill calls for this rescheduling to apply to "a drug or other substance, includ[ing] a drug or other substance that is an active moiety or active ingredient (whether in natural or synthetic form) of an investigational new drug", as opposed to only covering the specific investigational new drug or drug product itself. This is interesting, as sponsors must apply to the FDA for Breakthrough Therapy Designations pertaining to a drug product. If such a Designation is awarded, it only covers that product; not the broader substance.
To make this more concrete, an example: COMPASS Pathways received a Breakthrough Therapy Designation for its COMP360 therapy for treatment-resistant depression. This Designation only applies to COMPASS' synthetic psilocybin formulation, COMP360, and not to psilocybin more broadly.
As such, the Breakthrough Therapies Act is interesting in its attempt to reschedule the substances, not the drug products.
However, it's possible that any rescheduling under the Act would not be permanent: section 3(a) of the Bill provides that a Schedule I drug or substance shall not be eligible for rescheduling to Schedule II if it "is an active moiety or active ingredient" of an approved drug or biological product.
As such, it's our understanding that this Act (if passed) may move substances like MDMA and psilocybin to Schedule II only until such a time that a drug (or biological) product that contains such substances is approved. It would then be likely that the drug product be rescheduled (via processes outside of this Act), but the substance itself remain on Schedule I: a phenomenon referred to as bifurcated scheduling.
Again, to make this more concrete: the Act would see psilocybin rescheduled to Schedule II (given the Breakthrough Therapy Designations obtained by COMPASS Pathways and Usona Institute for psilocybin-based drug products), but if a drug product such as COMP360 is approved, psilocybin itself could go back to Schedule I (while COMP360 is downscheduled).
Unrelatedly, a STAT opinion piece by Arthur Caplan and Kenneth Moch has already taken aim at the Bill for other reasons. Their take, in short: Good idea, wrong solution. What do you think?
Featured Psychedelic Jobs
Master's Student Finds Flaw in LSD-Induced Neural Entropy Study; Leads to Retraction
A few months ago, an article published in Nature Scientific Reports was retracted following the discovery of a typo in the underlying code that powered a computer model of the brain. In a tale of studious intrigue and academic integrity, the typo was discovered by a 25 year old student at the University of Amsterdam (UvA), who ran the model on his computer after contacting the lead author, Rubén Herzog. After some back-and-forth with Herzog, the student, Paul Lodder, informed the researcher that he believed there was an error in the code.
The error flipped the study's main finding on its head, showing that LSD caused less entropy in the brain. This ran contrary to the claims of the paper as well as those found in similar studies (however, using a different brian model found a result more consistent with the extant literature). The article was soon retracted, and Herzog invited the Master's student to co-author a forthcoming replacement. The pair met in person at a conference in the Netherlands over the summer, and Herzog has helped tap Lodder into the psychedelic research community, according to a UvA publication.
While the display of academic integrity on behalf of Herzog is admirable, it does leave us wondering how many other publications are floating around with fatal flaws; especially given how difficult it is to reproduce some of the results due to inadequate or non-existent instructions or datasets.
Berkeley Health Commission Votes to Move Psychedelics Decrim. Resolution to City Council
Last week, a dormant project to decriminalize psychedelics in the city of Berkeley, California, was brought back to life. Notably, the resolution—which originally covered natural psychedelics only, which is unsurprising, given that it was initially drafted by Decriminalize Nature in 2019—now calls for the decriminalization of LSD, too. Excellent coverage of the project in Berkeleyside notes that this would make its titular city the first in the United States to decriminalize LSD. This has led Decriminalize Nature, a group that has been subject to scrutiny within the psychedelics community of late, to oppose the project.
Note: There aren't many cities that have a richer connection to the history of LSD than Berkeley. Take Owsley Stanley, for example. After dropping out of UC Berkeley after just one semester in '63, he became a prolific LSD producer working out of a house dubbed The Green Factory on Virginia St, opposite a small park. Alongside his work as a sound engineer with the Grateful Dead, "Bear" (as he was known to friends) or "the Acid King" (as he was referred to by the media) manufactured over five million doses of LSD.
It's worth skimming the resolution (starting at page 27), which calls for the provision of harm reduction, education and support resources alongside the deprioritization of law enforcement in this realm. The resolution defines psychedelic drugs as LSD, psilocybin, DMT, mescaline, "and other compounds that exert similar psychoactive effects by stimulating a specific subtype of serotonin receptor (5-HT2A)".
On Tuesday, the Berkeley Community Health Commission (CHC) voted unanimously to approve the resolution, though some elements were the subject of objections. Provisions that would have deprioritized enforcement against the sharing and gifting of psychedelics between adults were dropped, with officials concerned about the potential for creating a grey market. The neighbouring city of Oakland, which passed a psychedelic decrim. ordinance resolution back in June 2019, is seen by some officials as a reference case for the emergence of such a market.
The resolution will now go to Berkeley City Council for consideration.
(Berkeley-related event: DEI-focused Open House for Berkeley's Psychedelic Certificate Program. Wednesday, December 7th, 6-7pm PST. Online. More info and registration.)
Far from Far Out: Stanford Summer Course Review
Earlier this year, we provided a micro-scholarship for Laurel Kilgour's 5-week Stanford summer course, Far from Far Out: Policy Perspectives on the Psychedelic Renaissance. Erin Eberle received the scholarship and completed the course. Here, Erin shares some key takeaways…
This summer attorney Laurel Kilgour offered a five week survey course on the state of psychedelic policy for Stanford Continuing Studies. This weekly offering took place live via zoom, but all class sessions were recorded for later access. 
In this survey course we traversed a wide variety of issues/topics at a high level beginning with the history of psychedelic prohibition in the United States and then moving on to the current legal frameworks (what's legal where, what's not legal, differences between medical and recreational access etc.). 
The course took two of the five weeks to discuss the commercialization of psychedelics including holding space for deep conversations about ethics and repairing harm to communities. This segment of the course prompted questions like "What do you think different actors involved in the psychedelic movement today should do to address past harms, and prevent future harms to marginalized communities?" and exposed students to thinking about sacred reciprocity, representation and equity in the psychedelic renaissance, and ideas about cultural history and decolonizing psychedelic pharma and corporate social responsibility. 
The remaining classes looked at patents and market structures with a focus on potential benefits of commercializing psychedelics, what rules might be needed to structure markets fairly, and the value of patents in the psychedelic world. The course ended with a vision forward of "What's Next." This discussion prompted questions about the possibility of scientists inventing psychedelic-derived medicines that engineer out the "trippy" aspects, the current bills in states like Oregon, Colorado, California etc., and predictions about the future of psychedelics. 
I'd recommend this course [should it be offered again] to anyone who is interested in taking a deep dive in the history of the psychedelic movement, and wants a thorough and thoughtful guide to the current state of the renaissance. I found the readings and resources required for the class to be very informative and appreciated the wide range of media—podcasts, research journals, news articles, interviews—offered. The course also offered time with experts in the field in the form of guest lectures, which made the class feel "of the moment" in a subject area that's changing quickly and hard to keep up with. 
My Hot Take: While psychedelics and plant medicines have been used in healing ceremonies in Indigenous communities for thousands of years, our modern society is just beginning its "psychedelic resurgence." The history of psychedelics—and drug use more generally—in the United States is complicated at best, colonialist and racist at worst. This course prompted questions about policy, law, and research, but also created a space for those interested in trying to better understand the current landscape of psychedelics as an emotional, spiritual, and even physical tool for healing today.
There is no silver bullet fix to what ails us, but it seems that if we're able to traverse a path that can hold nuance, compassion, reverence, connection, and community as well as law, policy, patents, rights, research, and licenses, and so much more at the same time, we just might be able to forge a new psychedelic movement to serve the millions of people who truly stand to benefit. What if we could imagine a future in which there are multiple paths to accessing psychedelic therapies and spaces? One thing I've learned in this lifetime is that change can take time, and each seed that we plant today is quite literally growing our tomorrow. I'll surely be watching how this psychedelic garden continues to be planted for years to come.
Miscellany
Dept. of Veterans Affairs' Evidence Brief on Psychedelic Medicines  |  An Evidence Brief from the VA's Evidence Synthesis Program reviews psychedelic medications for mental health and substance use disorders. The review considered 2,532 "potentially relevant articles" and ultimately included 38 studies.
The 50+ page report's main takeaway is:
Results from small RCTs demonstrate that MDMA-assisted psychotherapy for PTSD may improve symptoms and lead to remission for some individuals in the short-term. Psilocybin-assisted psychotherapy for depression also shows some promise. Study interventions included intensive psychotherapy protocols that may be challenging to implement in everyday practice. Results may not be generalizable to diverse populations and settings. Evidence is therefore very preliminary and several critical gaps need to be addressed by future research.
Jury Trial Orders MAPS to Pay $1m in Damages Over Death of Festivalgoer  |  On Wednesday, a jury decided that MAPS bears 25% of the responsibility and damages associated with the 2017 death of a 20-year old attendee of Lightning in a Bottle music festival. Many are concerned that this judgement might have a chilling effect on harm reduction efforts, especially at live events. MAPS' Director of Comms, Betty Aldworth, said that the "trial must be a reminder that, collectively, we as a global community must continue to support harm reduction services while fighting the policies that inhibit safety for people who use drugs." MAPS says it will appeal the verdict.
Horizons NYC & Portland 2022 Recordings Now Available  |  Recordings from Horizons' 2022 conferences in New York City and Portland are now available via the organisation's YouTube channel, including our Editor Josh Hardman's opening talk at the Horizons NYC Psychedelic Business Forum. 
One of UK's Most Popular Newspapers Claims MAPS PBC Will Submit MDMA Data in "MONTHS"  |  In characteristically sensationalist style, the UK's Daily Mail reports that MAPS PBC expects to submit a New Drug Application (NDA) "within months". The paper, which is no stranger to stretching semantics, is misrepresenting how quickly this process will happen. Based on public statements made by MAPS PBC representatives, we expect an NDA submission to happen in Q3 2023. From there, it would likely be at least another 6-10 months before the FDA is ready to approve MDMA-AT, if at all.
DEA Increases Psychedelics Production Quotas Yet Again  |  In a notice published by the DEA in the Federal Register on Friday, the Administration details the aggregate production quotas it has set for Schedule I and II controlled substances in 2023.
The quotas were increased in response to comments requesting such action to allow for expanded research activity, as well as comments from biotech companies exploring MDMA and DMT. The bump in aggregate production quotas is significant in some cases, as displayed in this chart from Marijuana Moment:
Designer Receptors Exclusively Activated by Designer Drugs (DREADD)  |  New research from Bryan Roth's lab at UNC details their creation of a chemogenetic technology called DREADD. It's too much to explain here, so interested folks should read the University's news release. Boffins can dive into the article itself.
The Times Asks: Are psychedelic drugs the answer to the mental health crisis?  |  In this In Depth article for the Sunday Times, Ben Spencer explores the science.
A$AP Rocky's New Home Decor Line Features Psychedelic Cactus  |  Architectural Digest reveals a new take on Gufram's iconic cactus design, which now features 'psychedelic' mushrooms. "[S]ince I've always advocated for mushrooms it was only right that we made a cactus with them," the rapper said in a statement. It looks like there's some Amanita muscaria in the mix, too.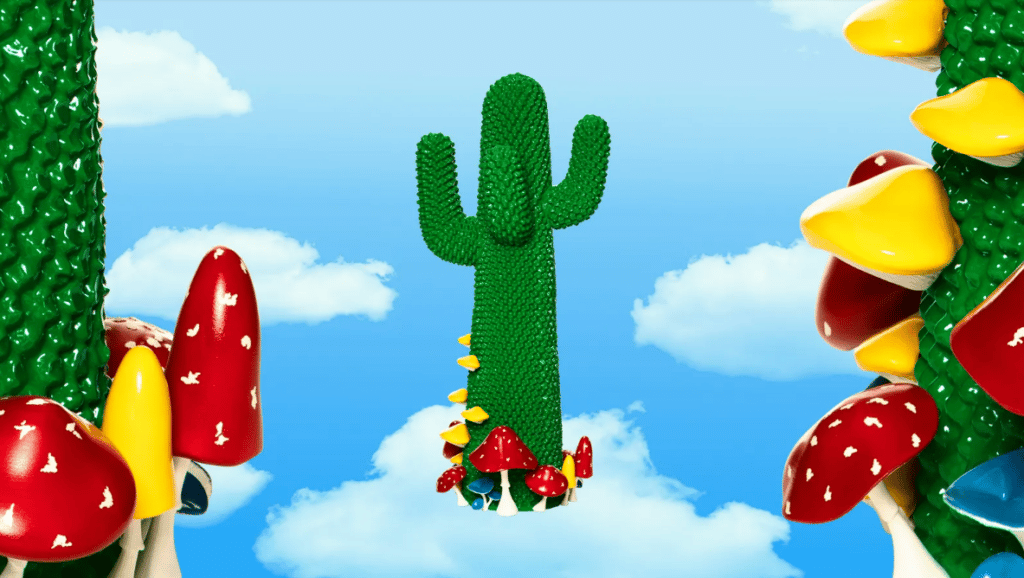 Harvard Divinity Bulletin Publishes Two Long-Reads on Psychedelics  |  The two features, replete with striking illustrations from Deborah Cheyenne Cruchon, are titled The Greening of Psychedelics and A Theological Reckoning with 'Bad Trips'. 
Light-Induced Psychedelic Experiences?  |  Lumenate, an app that uses the flashlight on your phone to induce psychedelic-like experiences, has entered into collaborations with Freie Universität Berlin and Imperial College London in an attempt to reveal the neural mechanisms underlying the experiences it produces.
Psychedelics and Methamphetamine Survey  |  Researchers at UNSW are conducting a project about the effects of psychedelics and methamphetamine (meth/ice) and you are invited to take part. More info.
Responding to a Letter to the Editor

In our last Bulletin, we shared a deep dive into the development of ketamine and its enantiomers as therapeutics for depression ahead of Perception Neuroscience's (part of the atai platform) imminent r-ketamine (PCN-101) trial readout. In the piece, dubbed Racing Beyond Racemic, we touched on factors that have limited the commercial success of both racemic ('normal') ketamine and esketamine (approved as J&J's SPRAVATO product).
In the case of SPRAVATO, some payers have baulked at the cost of the nasal spray, with the UK's healthcare technology assessment agency, NICE, not finding the evidence of efficacy and safety significant enough to justify it just yet. Racemic ketamine for the treatment of a neuropsychiatric condition like depression, meanwhile, is very rarely covered by insurance companies in the United States or worldwide.
In response to our article, one reader wrote in to remind us that, "a whole month's supply of ketamine can be had for less than seventy dollars at a lot of pharmacies", and that, "plenty of private psychotherapists work with patients for under $100 a session". This is a fair point, though it doesn't change the fact that patients would be paying for this out of pocket in all but exceptional cases; which was the main thrust of our commentary with regards to 'normal' (i.e., racemic) ketamine.
This reader was so surprised by our omission of the cost profile of racemic ketamine that they wondered if our article might in fact be an advertisement – presumably for atai Life Sciences which is developing PCN-101. This serves as a good opportunity to remind readers that Psychedelic Alpha does not publish advertorials or sponsored posts. If we were to do so in the future, rest assured it would be clearly demarcated as such.
We enjoy hearing from readers, so please do send us your feedback.
Psychedelic Research Bulletin: November 2022
Read the Latest Research Review. Throughout November, we gained some fascinating new insights into the potential of psychedelic medicine as researchers from some of the world's leading institutions published their work. The month brought with it exciting new psychedelic research and some long-awaited results.
Most notably, the official results of COMPASS Pathways' Phase IIb trial exploring the use of psilocybin in treating treatment-resistant depression (TRD) were finally published.
Antidepressants were found to weaken the effects of psilocybin, while ketanserin has the potential to stop an LSD trip.
Join our newsletter to have our Weekly Bulletin delivered to your inbox every Friday evening. We summarise the week's most important developments and share our Weekend Reading suggestions.