This Week:
Our Year in Review series is in full swing, with 23 guest articles, interviews, panels and mini-reports published so far. You can find them all on this dedicated webpage.
This week's Bulletin will catch you up on some key headlines from the past few weeks, including:
🪃 Australia Set to Reschedule MDMA and Psilocybin When Used in Patients with PTSD or TRD
📝 Small Pharma Reports Positive Topline Data for DMT Candidate in MDD
💵 Journey Clinical Closes $8.5m Series A
💂 British Taxpayer Money Invested in Beckley Psytech
🍁 British Columbia (Canada) Decriminalises Personal Possession of Small Amounts of Certain Drugs, Including MDMA
and lots more…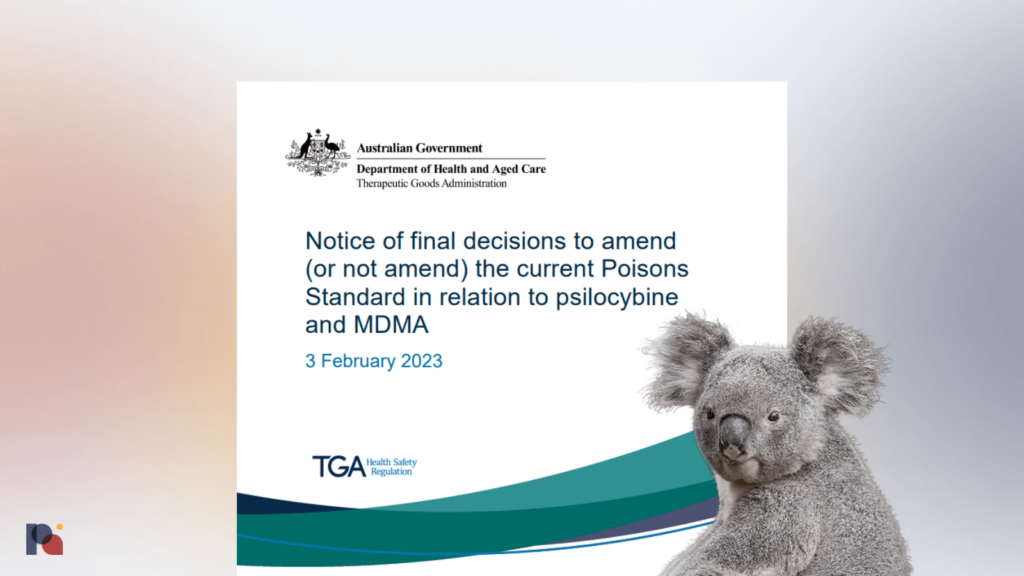 Australia Set to Reschedule MDMA and Psilocybin When Used in Patients with PTSD or TRD
The headline: Australia Recognises MDMA and Psilocybin as Medicines; Limited Rescheduling Decision Makes Australia the First Country to Officially Recognise the Drugs as Medicines (Psychedelic Alpha, Feb 3, 2023)
Now that the initial excitement is subsiding, we're embarking on an attempt to understand what the implications of this forthcoming rescheduling might be. For example: will this create a meaningful access pathway for those with PTSD and TRD diagnoses in Australia? Or, is it primarily concerned with loosening restrictions on clinical research in the country?
We will be doing a deeper dive into this topic in the coming weeks, but for now Rhys Cohen provides a breakdown of the hurdles that any prospective prescriber would have to jump:
Cohen believes that access to MDMA and psilocybin might follow a similar trajectory to the legalisation of medical cannabis in the country. "I predict that, at first, access will be non-existent", he said on Twitter, explaining that Human Research Ethics Committees (HRECs) and professional Colleges may refuse to endorse psychiatrists' prescribing of these drugs. 
On this front, he also reminds us of last summer's memorandum from the Royal Australian and New Zealand College of Psychiatrists which didn't mince its words (though, is it really a surprising or noteworthy stance by the College, given the fact that no psychedelic products are approved?):
"Clinical use of psychedelic substances should only occur under research trial conditions that include oversight by an institutional research ethics committee and careful monitoring and reporting of efficacy and safety outcomes."
Might this be a case of the regulator (TGA) passing the hot (politically-charged) potato to the HRECs or Colleges, which we might (at least in the case of the latter) expect to remain conservative in their approach toward psychedelic therapies?
Editor's note: Upon revisiting the TGA's notice, it does not appear that Colleges will be gatekeepers in this case. Rather, it will be HRECs and TGA. See pp8 of the notice.
Small Pharma Reports Positive Topline Data for DMT Candidate in MDD
In late January, British psychedelic drug developer Small Pharma reported positive top-line results from a Phase 2a trial of DMT (SPL026) in major depressive disorder (MDD). (We covered the results, and the associated conference call, on Twitter.)
The company reported that the DMT candidate met its primary endpoint with a -7.4 point difference from placebo at 2 weeks post-dose, measured by MADRS. Rapid onset of antidepressant effect was observed and no drug-related serious adverse events were reported. The company also reported some outcomes at week 12, though it should be noted that second doses were open-label.
The company will progress with an international multi-site Phase 2b study, which it hopes to commence in the first half of this year.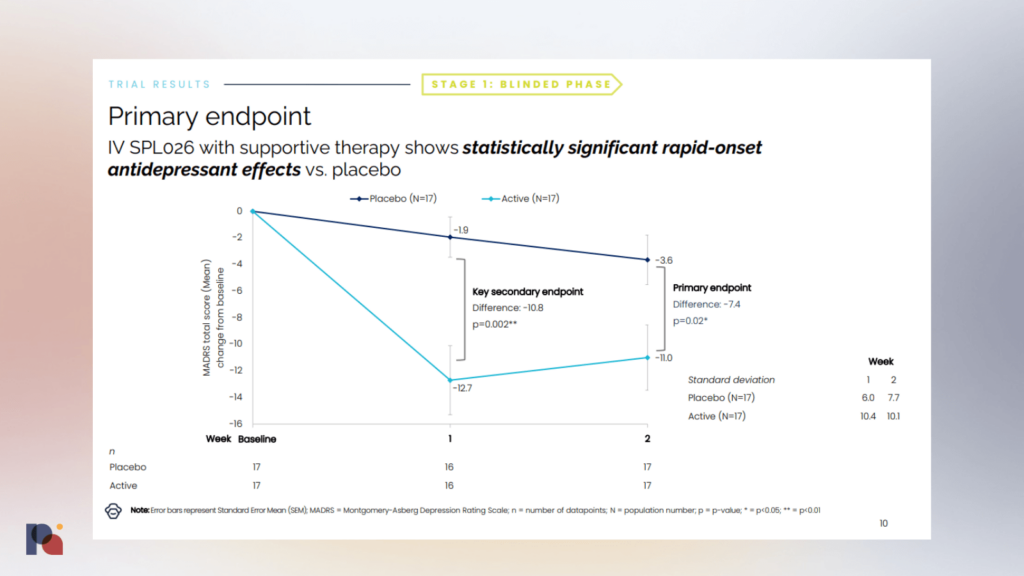 Journey Clinical Closes $8.5m Series A
Journey Clinical has closed an $8.5m Series A round, led by the prolific VC firm Union Square Ventures and marking the firm's first psychedelics investment.
Journey's 'plug-and-play' platform provides therapists looking to add ketamine-assisted psychotherapy (KAP) the necessary infrastructure to do so, such as tools to verify eligibility and adverse event monitoring. The pricing model is relatively straightforward: therapists pay $200/month, while patients pay $250 for intake and $150 per follow-up. The company doesn't profit from the ketamine itself.
It's an interesting model, which the company hopes will empower independent practitioners to provide the still somewhat unconventional offering. Without the overheads associated with a high street ketamine clinic, this might lead to lower costs for patients, and more money in the pocket of the practitioner. 
PsyMed Ventures' Matias Serebrinsky explained why his fund re-invested in the company:
British Taxpayer Money Invested in Beckley Psytech
The British Government's Future Fund has taken a stake in psychedelic drug developer Beckley Psytech. The company joins 514 others in which the fund has an equity stake. The fund opened to applications in Spring 2020 to help companies through the coronavirus pandemic.
Beckley isn't the first British company to receive taxpayer money via a state-backed fund. Fellow British psychedelic drug developer Small Pharma has previously received funding from Angel CoFund, which participated in the company's £830k ($1m) equity financing in 2017. Innovate UK, the government's innovation agency, also provided £140k ($170k).
British Columbia (Canada) Decriminalises Personal Possession of Small Amounts of Certain Drugs, Including MDMA
In November 2021, the Canadian province of British Columbia (BC) submitted an "exemption request" under Section 56(1) of the Canadian Controlled Drugs and Substances Act (CDSA) to the country's federal health agency. In its submission, the province described how the "criminalization of simple possession remains a significant impediment to BC's ability to implement a comprehensive public health response to the illicit drug poisoning crisis." Accordingly, the province sought to decriminalise personal possession of certain amounts of controlled substances. 
On May 31, 2022, representatives from Health Canada announced that BC's request had been granted, and that the exemption would come into effect later in the new year. As of January 31, 2023, adults in BC (18 years and older) will no longer face criminalization for the possession of less than 2.5g of an opioid, crack and powder cocaine, methamphetamine, or MDMA. Instead, individuals found to be in possession of less than 2.5g of these substances will be "offered information about health and social supports." 
Featured Psychedelic Jobs
First Participants Enrolled in MDMA-AT for Adjustment Disorder Dyad Study  |  Sunstone Therapies has enrolled the first patient and caregiver in the first MDMA-assisted therapy trial that treats dyads consisting of a cancer patient and a loved one. (NCT05584826.)
Colorado Governor Appoints Colorado Natural Medicine Advisory Board  |  The board, which consists of 15 members, will provide input throughout the rules drafting process for Colorado's psilocybin program. Mason Marks provides a rundown of the appointees over on his Substack, Psychedelic Week.
Oregon yet to Hand out a Psilocybin Licence  |  Numbers obtained by Psychedelic Alpha reveal that not a single psilocybin licence has been awarded in Oregon, with zero facilitator applications received, and just 7 manufacturer, 3 service centre and 1 laboratory applications in hand.
UC Davis Launches Institute for Psychedelics and Neurotherapeutics  |  The institute becomes the latest in a growing crop of research hubs, but interestingly is funded in part by a contribution of c.$5m from the University itself. This sets it apart from the majority of its peers, which are funded primarily via philanthropy. The institute aims to spin out companies and foster close collaboration with pharmaceutical partners via sponsored research agreements and partnering. Delix Therapeutics is the most obvious first partner for the new institute.
Israeli Center for Psychedelic Research Launches  |  Negev Capital's incubator, Negev Labs, has provided $1.5m for the establishment of the centre at Hadassah. 
"Bad News for Ketamine Telehealth"?  |  As a waiver to the Ryan Haight Act occasioned by the COVID-19 public health emergency looks set to sunset, where does this leave ketamine telehealth companies? Harris Bricken's Griffen Thorne takes a look in his latest article. 
New Federal Grant Funding for Psilocybin Pilot Study in Canada   |  CAMH recently announced that Dr. Bernard Le Foll has been awarded a project grant to conduct a pilot study of psilocybin-assisted therapy as a treatment for comorbid major depressive disorder and alcohol use disorder. Earlier in 2022, CAMH received "Canada's first federal grant to study psilocybin" in a proof-of-concept study that will investigate whether psilocybin's antidepressant effects were dependent on the drug's subjective effects. 
Numinus Gets Green Light for Psilocybin Tea Trial  |  Numinus has received a clinical trial application approval from Health Canada to proceed with a Phase 1 open-label trial that will see psilocybin administered to therapists training in psilocybin-assisted therapy. The trial is the first to test whole Psilocybe mushrooms in a clinical setting.
Congressional Research Service Report Discusses Increasingly Divided Federal and State Drug Policy: First Marijuana, Now Psychedelics  |  Congressional researchers explain that, "there is a growing gulf between federal and state law with respect to Schedule I controlled substances with potential medical benefits", before citing a raft of local and state-wide psychedelic drug policy reforms (pp39).
Psychedelic Communication Firm Launches  |  CURA Communications launches as a comms firm "built for clients in the psychedelics sector." It's led by Chris Koddemann and has some familiar faces on the founding team like ex-atai VP Comms Camilla Dormer and ex-Numinus May Lee.
Alberta's Regulation of Psychedelics is Not So Simple…  |  We took to Twitter to clarify a few things about the province's regulation of psychedelic drugs, which might not be the success that some psychedelics-related groups have heralded it is. TL;DR: "while these changes demonstrate awareness of psychedelic therapy, and some level of expectation that PAT is coming down the pike, it's unlikely that they represent any meaningful increase in the accessibility of psychedelic therapy for now."
Call for Survey Respondents  |  Ed Prideaux, a Master's candidate in Psychology and a representative of the HPPD nonprofit the Perception Restoration Foundation, is recruiting participants for questionnaire research. 
His new study aims to understand the drivers of distress and quality of life reductions among those with HPPD and post-drug effects. The anonymous survey should take around thirty minutes to complete and is open to anyone who reports the onset of visual and dissociative effects from the use of drugs, though it is especially targeted at those who identify as having HPPD.
Join our newsletter to have our Weekly Bulletin delivered to your inbox every Friday evening. We summarise the week's most important developments and share our Weekend Reading suggestions.