DEA Again Increases Psychedelics Production Quotas for 2021
In an early September bulletin we reported on the DEA's proposal to significantly increase the production quota for research psilocybin for 2021. Then, in mid-October, we covered the Administration's proposal to greatly increase psychedelic production quotas for next year, 2022.
In its earlier proposed increases to the 2021 quotas, the DEA expressed plans to increase psilocybin production to 1,500 grams (1.5kg), which represented a fifty-fold increase from the 30g federal quota. On Monday, a notice published in the Federal Register revealed that the agency has boosted this in-year quota increase yet again, with the final adjusted aggregate production quotas allowing for 6,000 grams (6kg) of psilocybin and 3,500 grams (3kg) of psilocin to be produced in 2021.
Not only is this revised psilocybin production quota four times what the agency announced just a couple of months ago, it's also twice as much as the agency proposed for 2022 (3kg). As such, one might assume that we will see those 2022 proposed numbers be scaled-up at least in-line with these finalised 2021 quotas.
We also saw significant increases in quotas for other drugs used in psychedelic research and trials such as DMT and MDMA.
For those looking for a deeper diver, Kyle Jaeger's reporting in Marijuana Moment provides a fantastic overview of the changes.
***
Shorter Trips?
Perhaps one of the most 'disruptive' aspects of psychedelic therapies is that they appear to work remarkable quickly. While an SSRI may take many weeks to become effective (if at all), psychedelic therapies seem to work within hours or days (see, for example, preliminary evidence of efficacy at day 2 in COMPASS Pathways' recently-shared topline Phase 2b data).
However, a psychedelic experience such as psilocybin- or LSD-assisted therapy can take up to twelve hours, which is a very long time when compared to the standard of care: hour-long psychotherapy sessions and/or take-home antidepressants.
Writing in Forbes today, Will Yakowicz looks at how a number of companies in the space are aiming to develop shorter-acting psychedelics, hoping that this will modify the cost effectiveness profile of psychedelic-assisted therapies making them more enticing to payers like insurance companies (should they be approved, that is).
Cost-effectiveness is a matter of great interest as psychedelics progress through mid- and late-stage trials, with non-profit and for-profit drug developers alike keen to understand how to convince payers to cover their unorthodox therapies. Just this week, for example, Awakn Life Sciences announced a potential partnership with an NHS trust in England to try to identify the evidence required to demonstrate cost effectiveness of ketamine therapy to the relevant bodies, who have thus far rejected to cover it.
In fact, a dedicated project is now underway on this precise topic. Along with a number of fellow academics and in collaboration with the Usona Institute, Elliot Marseille founded the Global Initiative for Psychedelic Science Economics (GIPSE) to bring together health economists dedicated to conducting policy-relevant economic analyses of psychedelic therapies.
Shortening the trip is just one way of potentially reducing the cost basis of psychedelic therapies, and/or making it more straightforward to integrate into the prevailing care model. Yakowicz explains how atai Life Sciences, Cybin and Field trip Health are among the companies developing shorter-acting psychedelics, while companies like Delix Therapeutics and researchers like Bryan Roth are opting to skip the trip altogether.
But, folks like Rick Doblin aren't so bullish on taking shortcuts when it comes to the length of a trip, and Doblin calls non-psychedelic psychedelics a "bogus" pipedream. Doblin briefly discussed the matter in a recent appearance on the podcast Shrink Speak. On the podcast, Doblin also reminds us of a Stan Grof quote:
There's plenty more to explore on this topic: expect a deeper dive from us soon.
***
Other Announcements & News
😴  MindMed to Study Effects of Microdosing LSD on Sleep and Cognition  |  The Nasdaq-listed company has begun recruitment for a randomized placebo-controlled study evaluating the effects of daytime and evening administration of repeated low doses of LSD, the company explained. MindMed will measure effects of LSD microdoses on neuroplasticity markers such as BDNF plasma levels, as well as measures of sleep, mood, cognitive performance and more. Dr. Kim Kuypers at Maastricht University will lead the study.
🏥  Awakn Life Sciences in Talks with an NHS Trust and University of Exeter  |  Awakn announced that it has signed a Memorandum of Understanding (MOU) with Devon Partnership NHS Trust (a provider of mental health services to <1 million people living in Devon, south-West England) and the University of Exeter. The proposed partnership intends to enhance the evidence base for ketamine-assisted psychotherapy as an alternative treatment for Alcohol Use Disorder and treatment-resistant depression within the NHS. At present, Brits looking to access these therapies must do so by paying out-of-pocket: a practice that is much rarer in the UK vs. the U.S., for example. Read more in the company's press release.
🤝  CaaMTech to Work With University of Wyoming to Study Psychedelics for Addiction  |  CaaMTech has announced a research collaboration with the University of Wyoming's School of Pharmacy. Through the collaboration the University will evaluate CaaMTech's proprietary compounds in addiction models, with the company hoping their anti-addictive properties will be proven out. As the press release notes, assessing the abuse potential of novel compounds is an important early stage of the drug development process.
INVERSE: "Aharon Said it Was Healing." Psychedelic-assisted therapy is bigger than ever, but it's at risk of being compromised by alleged abuse.
Note: these articles include media and discussion around topics of sexual assault, misconduct and harassment.
A long-read in INVERSE exposes alleged abuses suffered by Will Hall at the hands of psychedelic therapist Aharon Grossbard. The piece goes on to suggest that this is not an isolated incident: rather, this issue of sexual abuse can be found in many corners of the psychedelics space, both historically and today.
Joe Moore, co-founder of Psychedelics Today, wrote a thought-provoking piece on this issue late last month. Moore highlighted how the punitive environment fostered by the war on drugs has made it even more difficult for survivors—and those they confide in—to report their alleged abusers. Moore suggests that so long as psychedelic therapy continues to be forced to operate in an underground capacity, these problems will continue to exist.
As an immediate action, you might consider supporting efforts like Psychedelic Survivors, which is fundraising to develop a website with resources for survivors and community-based support services. If you have been a victim of abuse, you may also find resources via their website.
***
Nominations open for the most influential women in the psychedelics space
Yeji Jesse Lee at Business Insider shared news that the popular outlet is accepting nominations for the most influential women in the psychedelics space.
There's no limit to the number of nominations you can make, but they must be submitted by December 15th via a form linked to in this article.
***
Odds and Ends
📺 CBS News: Using psychedelics to treat veterans' PTSD. Hear from a number of veterans who have struggled with PTSD and found relief through psychedelic-assisted therapy in this clip (c.7 mins) from CBS News. The piece also features Dr. Rachel Yehuda.
📜  The Philadelphia Inquirer: "Pennsylvania could become a leader in studying magic mushrooms as a treatment for mental illness under a bill that was introduced last month in the House of Representatives and is scheduled for a Health Committee vote Tuesday in Harrisburg."
📊 CB Insights: Betting On Magic: Funding For Psychedelics Startups Reaches A Record High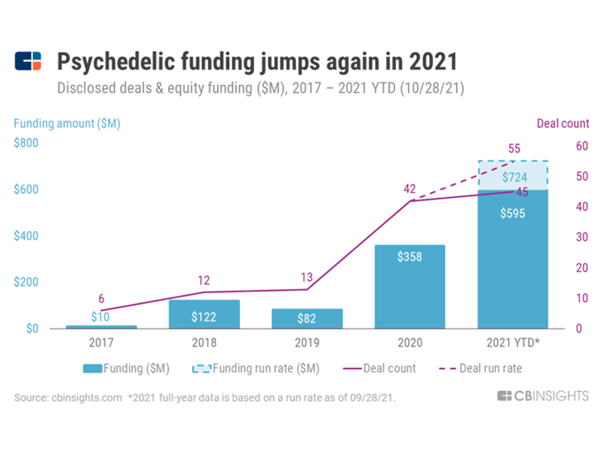 Join our newsletter to have our Weekly Bulletin delivered to your inbox every Friday evening. We summarise the week's most important developments and share our Weekend Reading suggestions.