The psychedelics sector has gathered significant momentum toward the latter half of 2020, with the last six weeks in particular demonstrating tremendous growth. Take these two observations, for example:
Following last week's decriminalisation measures in Oregon and DC, decision-makers in both California and New Jersey look set to follow a similar route. 
October was the busiest month for psychedelics research in 2020 thus far, with research and development activity set to continue accelerating throughout November.
Mounting safety and efficacy data coupled with legal reforms are generating broader interest in the medical and therapeutic promise of psychedelics, with a growing crop of mainstream media outlets now covering developments.
Companies in the space are seeking to match the pace of news and interest, with this week proving no exception…
Compass: Q3 Financials Show Strong Cash Position
In their Q3 financial results, Compass revealed that they held cash (and cash equivalents) of $196.5 million as of 30th September 2020. Compass expects this to fund their operations into 2023.
On the short call (which we live-tweeted), Compass explained that their Psilocybin Clinical Trial progress remains steady despite COVID-19, and that their plan to report data by late 2021 remains unchanged. Co-founder George Goldsmith went on to highlight that Compass is opening a Berlin trial site next month, increasing their total sites to 21.
When asked about Oregon Measure 109 legalising psilocybin-assisted therapy, Goldsmith explained that Compass believes regulators are looking for more significant, rigorous evidence on safety, efficacy and quality. Goldsmith went on to explain that regulatory approvals are prerequisites for reimbursement of psilocybin therapy (i.e. by insurers or state healthcare providers), and thus access.
As an aside, this week we also learned that Compass has joined the Psychiatry Consortium.
Cybin & Entheon Go Public
Champignon: New Ketamine Clinic in Toronto
Champignon Brands announced the opening of a new clinic in downtown Toronto, under its Canadian Rapid Treatment Center of Excellence arm. The clinic provides ketamine therapy to those with severe depression.
Note: SHRM remains halted under a Cease Trade Order from the BC Securities Commission. The Commission was unable to provide Psilocybin Alpha with further comment on the status of the Review.
Revive Therapeutics: Update on Psilocybin Oral Thin Film
Revive announced that they have completed an oral thin-film strip product with psilocybin. Doses range between 1mg and 20mg.
Reminder: Revive is developing an oral thin-film delivery system for the administering of psilocybin under a research partnership agreement with a team at the University of Wisconsin-Madison.
Mind Cure: Announces $3m Non-Brokered Private Placement
Today, Mind Cure announced a non-brokered private placement, stating that it has received subscription commitments for the aggregate amount of $3 million. Units are priced at $0.45.
Mind Cure also announced the hiring of experimental scientist Dr. Ryan Hartwell as CSO.
MagicMed: Announces $2.5m Private Placement
Ehave: Partners with Blockchain Company 
Ehave announced a partnership with BurstIQ to deploy its Ehave Dashboard telehealth platform over the blockchain company's network. Ehave claims this will ensure the security of Health Records.
Octarine Bio: Danish State Growth Fund Participates in Seed Financing
We're now covering Octarine Bio – a synthetic biology company developing biosynthetic platforms for psychedelics, cannabinoids and novel derivatives. The Company closed its seed financing led by the Danish Growth Fund, with Bruce Linton among the investors. The Company has raised over $1.8m to date.
Silo Pharma: Launches Scientific Advisory Board; Files 3 Provisional Patents
At the top of the week, Silo Pharma announced the launch of their Scientific Advisory Board. The Company has appointed psychedelic research heavyweight Dr. Matthew W. Johnson of Johns Hopkins.
The Company also announced the filing of three provisional patent applications in the US, relating to psilocybin. Many companies in the space have filed provisional patent applications, demonstrating how central IP and patents will be to this sector. Read our editor-at-large Graham Pechenik's commentary on patents in the psychedelics sector to learn more
NeonMind: Obtains Health Canada Approval for Psilocybin Research
Better Plant Science's majority-owned subsidiary NeonMind Biosciences has obtained Health Canada approval to advance a preclinical trial on psilocybin-based research.
The trial hopes to investigate whether psilocybin can be used to cause weight loss and prevent weight gain. The University of British Columbia is set to conduct the Trial under the supervision of Dr. Alasdair Bar
Monthly Psychedelics Research Review
October was an incredibly busy month for psychedelics research: the busiest month of 2020, in fact. In our endeavour to provide you with the data necessary to track and analyse the emergent psychedelic sector, we're working with Blossom Analysis to bring you a monthly research round-up. Read our October 2020 review here.
Decrim Ambitions Spread to NJ and CA
Last week, voters in Oregon and Washington, DC decriminalised psychedelics, with the former additionally committing to legalising psilocybin therapy. This week, calls for decriminalisation have strengthened in other US cities.
In California, Senator Scott Wiener (D-San Francisco) has announced plans to introduce legislation decriminalising psychedelics (Forbes). In New Jersey, meanwhile, the Senate Budget and Appropriations Committee unanimously approved a bill to decriminalise marijuana. Notably, "an unidentified senator added an amendment to the bill" to extend its coverage to psilocybin (The Philadelphia Inquirer).
3 Metrics Demonstrate Increasing Interest in Psilocybin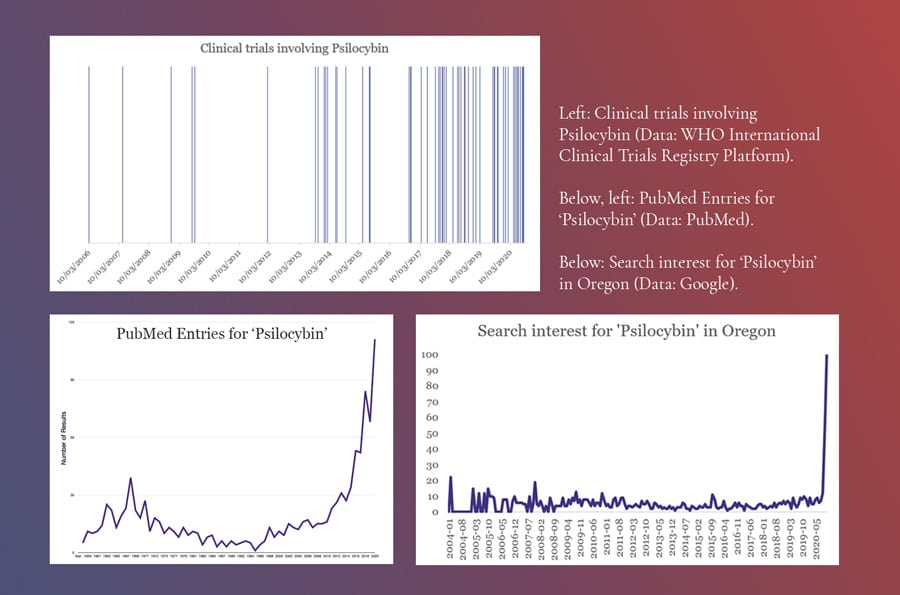 We pulled data from PubMed, the World Health Organisation's Clinical Trials Registry, and Google, to demonstrate the rising interest in psilocybin.
The last chart, visualising search interest for 'Psilocybin' in Oregon (Data: Google) suggests that decriminalisation campaigns and successes are accompanied by increased education surrounding these substances.
Further News & Analysis on Twitter
We share a great deal of content on our Twitter, some of which doesn't make it to the Psilocybin Alpha website or our newsletter.
This week, for example, we broke the news that TheraPsil secured the 13th Sec 56 exemption for a palliative Canadian…
Join our Newsletter
Get the weekly bulletin plus exclusive interviews and analysis delivered to your inbox.