It's been a relatively muted week in terms of company news, but the second psychedelics-tinged ETF has now seen its first full week of trading on the US NYSE Arca exchange.
In the Weekend Reading section we cover a recent poll that shows widespread support for psilocybin research and rescheduling among the British public. British MP Crispin Blunt shared his opinions on this poll in an Op-ed for Psilocybin Alpha. We also signpost two articles on psychedelics patents, both published this week.
Psychedelics and Cannabis ETF Launches on NYSE Arca in First for the U.S.
The Defiance Next Gen Altered Experience ETF allows investors to gain exposure to a basket of psychedelics and cannabis stocks.
Defiance's latest ETF product focuses on medical psychedelics and cannabis companies, trading under ticker symbol PSY on NYSE Arca; the world's largest ETF exchange.
Importantly, its listing on the New York-based exchange provides convenient access for U.S. investors, in contrast that launched earlier this year on the Canadian NEO Exchange.
In a summary prospectus filed with the SEC, Defiance set out the key terms of the ETF. The Next Gen Altered Experience ETF tracks an underlying index in a passive manner. In this case, the index is the BITA Medical Psychedelics, Cannabis, and Ketamine Index.
At launch, 21 companies are included in the Index and thus the ETF, including Compass Pathways,  MindMed, Numinus and Cybin.
The majority of these 21 companies are in the medical cannabis field, as an aggregate weight of 35% of the underlying index is assigned to psychedelics healthcare companies, while 65% is assigned to medical cannabis companies. The index will be periodically rebalanced to ensure that no one company can occupy greater than 7% of the index.
Based in New York, Defiance ETFs operates a number of ETFs covering disruptive sectors such as quantum computing (QTUM), small cap biotechs (IBBJ), and 5G (FIVG). The latter ETF had approximately $1.2bn under management as of May 28, 2021.
The launch of this ETF may signal growing investor interest in psychedelics, and seeks to provide U.S. investors greater access to the emergent market.
Other Headlines
Poll Shows Widespread Support for Psilocybin Research & Rescheduling in UK
A poll conducted by Drug Science and Psilonautica, in collaboration with YouGov, has found that a majority of Brits support further research into psilocybin.
Among other questions, the poll asked:
To what extent would you support or oppose the government relaxing restrictions on research into the medical use of magic mushroom-based treatments (psilocybin- assisted therapies) for mental health conditions if this didn't affect how it was classified in criminal law (e.g. as a class A drug)?
The infographic below depicts support across geographies and political leanings, with only 13% of respondents in opposition.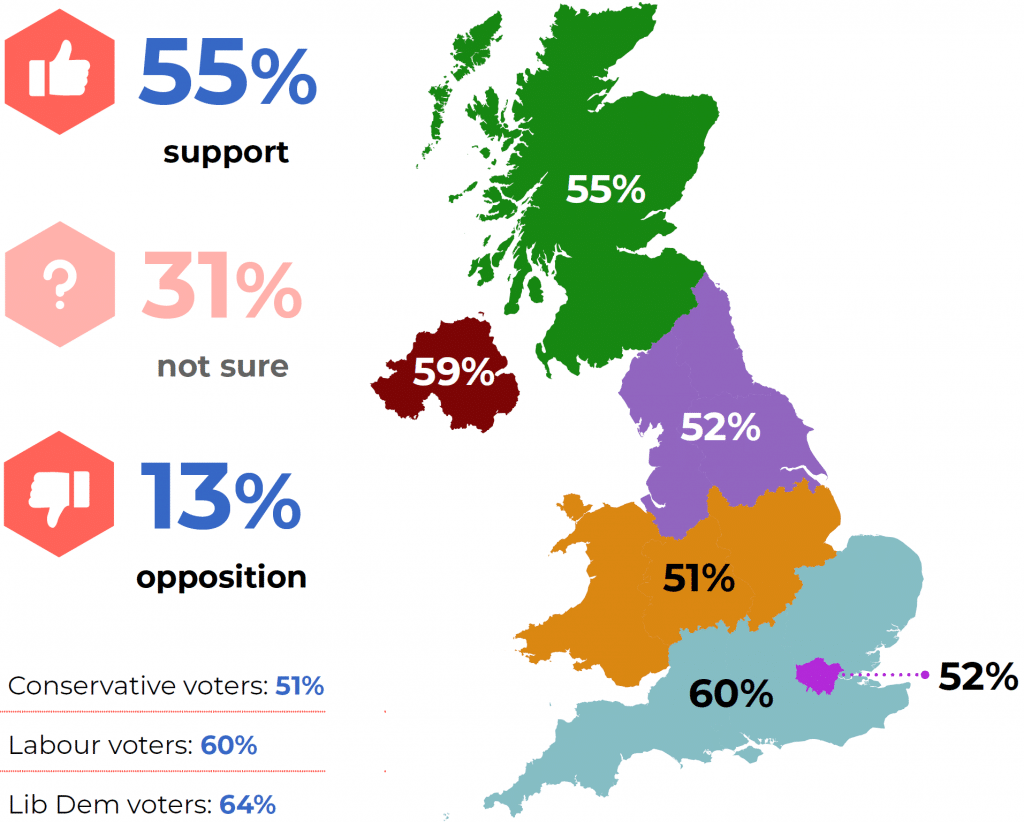 In an Op-ed for Psilocybin Alpha, British MP Crispin Blunt, who launched the Conservative Drug Policy Reform Group, discusses this apparent mismatch between the public's perception of psilocybin-assisted psychotherapy and the Home Office's policies.
Nevertheless, 58% support law changes to permit terminally ill patients to access it with therapy—a demographic for which it is already clinically evidenced to offer otherwise-unattainable solace and peace-of-mind. Tellingly, this rose to 68% with education on clinical research and similar policy advances elsewhere in the world, and opposition shrank to just 9% – the remaining proportion just not having enough information to make a decision.

The results of Psilonautica's population sampling with DrugScience say more about the compassion and discernment of the British public than they do about psilocybin.
VICE: Psychedelics Patent Claim Raises Questions From Researchers Who Say They Did It First
In her latest piece covering the emergent psychedelics sector, Shayla Love discusses a recent patent application by CB Therapeutics covered in our Bulletin on May 22nd.
The application, published on May 20, was originally filed on November 15, 2019. (Patent applications are kept secret for 18 months.) First reported by Psilocybin Alpha, the application has claims on organisms genetically modified to produce psilocybin by giving them the genes for enzymes that make the compound naturally in mushrooms. 

It's a promising approach to make psilocybin in the large quantities needed to do research, or, one day, treat various mental health conditions. In a press release, CB Therapeutics wrote that its application represented a "major breakthrough in the biosynthesis of psilocybin."

But the four enzymes in the patent application were discovered in 2017 when Blei was getting his PhD at the Leibniz Institute for Natural Product Research and Infection Biology. He published a scientific paper on those enzymes with his colleagues Janis Fricke and Dirk Hoffmeister in the German journal Angewandte Chemie International Edition; they wrote in the paper how their findings could be used to produce psilocybin by "using engineered microbial hosts." 

Their research was not cited in the patent application. Yet, if this patent application was granted as is, it could block others—including Blei, who is now the co-founder of Mimosa Therapeutics—from producing psilocybin using host organisms with these enzymes. 
Beyond this specific application, Love's article covers a number of patent-related conventions that are relevant to the broader psychedelics space. Read the full piece here.
Business Insider: Experts share how a brewing fight could shape the future of the $100 billion psychedelics industry
Patents were also the focus of a Business Insider article this week, noting that "the conflict over patents has the potential to shape the future of the psychedelics lanscape."
The story focuses on COMPASS Pathways' patents (and applications), and Carey Turnbull's opposition.
A decade ago, Carey Turnbull was at the forefront of a movement to fund research into the medical potential of psychedelics.

Now, the businessman turned psychedelics philanthropist has found a new cause: fighting to keep the knowledge and discoveries that undergird the psychedelics industry in the public domain.

He recently estimated that he's spent about $400,000 of his own money on a fight against what he and others in the psychedelics community say are overreaching patents. For now, they're taking aim at patents filed by the psychedelics-industry giant Compass Pathways, a $1.4 billion firm focused on medical uses of psilocybin, the active ingredient in magic mushrooms.
Join our newsletter to have our Weekly Bulletin delivered to your inbox every Friday evening. We summarise the week's most important developments and share our Weekend Reading suggestions.