The world's first psychedelics ETF began trading this week, marking a significant milestone for the sector. The ETF is trading under ticker symbol PSYK on one of Canada's senior exchanges, the NEO.
Further institutional validation for the psychedelics space came from Massachusetts General Hospital (MGH), which is partnering with atai Life Sciences via its new Center for the Neuroscience of Psychedelics. This development makes Harvard Medical School, for which MGH is the original and largest teaching hospital, the latest prestigious institution to dedicate a research centre to the study of psychedelics.
This is the third announcement of a major psychedelics centre of excellence being established in January 2021 alone. In New York, the Icahn School of Medicine at Mount Sinai launched a new center for psychedelics research, led by Rachel Yehuda, Phd, with an initial focus on MDMA for PTSD. In Baltimore, meanwhile, COMPASS Pathways is establishing a Centre of Excellence with Sheppard Pratt, which it hopes will model the 'clinic of the future'.
The Northeast United States is becoming a hive of psychedelics research, building on the work of Johns Hopkins' Center for Psychedelic & Consciousness Research, which launched in September 2019.
Elsewhere, both Field Trip and Champignon Brands added ketamine-assisted psychotherapy clinics in Ottawa and Atlanta, respectively. UK regulators gave Beckley Psytech the go-ahead for a clinical trial investigating psilocybin for a rare headache condition. Scientists at CaaMTech synthesised novel derivatives of toad secretions.
World's First Psychedelics ETF Commences Trading
Horizons Psychedelic Stock Index ETF began trading on Wednesday 27th January, with $1.2m in trading volume on opening day. Yesterday, PSYK saw a daily volume of just under a half-million dollars, with net assets of approximately $10m, according to Horizons.
Visit our dedicated page to learn more about the ETF, and monitor its performance in the coming weeks and months.
atai Strikes Partnership with Mass General
Industry heavyweight atai Life Sciences announced a collaboration with Massachusetts General Hospital (MGH) and its new initiative, the Center for the Neuroscience of Psychedelics. According to atai's CSO and Co-Founder, Srinivas Rao, the purpose of the collaboration is to "further research the therapeutic potential of psychedelics to treat mental health disorders."
MGH is the original teaching hospital of Harvard Medical School, a world-leading academic medical centre. Dr. Jerold F. Rosenbaum, who will lead the new centre alongside colleagues, commented:
"There is accumulating evidence that psychedelics have unique disease-modifying potential. Understanding how these medicines enhance the brain's capacity for change could lead to much-needed novel treatments for mental illness."
MGH becomes the latest prestigious institution to establish a centre solely dedicated to the study of psychedelics.
CaaMTech Synthesizes Novel Derivatives of Toad Secretions
New academic work published by scientists at CaaMTech explores the chemical differences between pure 5-MeO-DMT (and its derivatives) and natural secretions from the Bufo alvarius toad. The team claim that the toad secretions contain additional tryptamine compounds that, while closely related to 5-MeO-DMT, differentiate the natural toad secretions from pure 5-MeO-DMT.
5-MeO-DMT has received a great deal of media attention of late, due to the third season of Hamilton's Pharmacopeia premiering on Vice TV. CaaMTech CEO, Dr. Andrew Chadeayne, commented:
"Hamilton Morris illustrates the potential for synthetic, well-characterized compounds such as 5-MeO-DMT. But these ancient compounds are really just the starting point for psychedelic research. Much like cannabis and psychedelic mushrooms, toad secretions include multiple psychoactive compounds. CaaMTech has been the first to make synthetic derivatives, salts, crystalline forms, and combinations of many of these compounds, giving us the unique opportunity to study their pharmacology and how they could contribute to an 'Entourage Effect.'"
Read our interview with Andrew, published in December 2020.
Beckley Psytech to Study Psilocybin for Rare Headache Condition
UK-based Beckley Psytech has received Clinical Trial Authorisation from UK authorities, allowing it to explore the effects of psilocybin in the treatment of short-lasting unilateral neuralgiform headache attacks (SUNHA). The company plans to enrol up to 12 patients suffering SUNHA, as part of a Phase 1B clinical trial. It will be the first to evaluate the potential therapeutic benefits of psilocybin in the treatment of this headache condition.
In accordance with a pronounced trend in the psychedelics space of late, Beckley noted that they are evaluating the use of wearables for data capture. Given that the Medicine and Healthcare Products Regulatory Agency (MHRA) has approved the trial, Beckley expects to initiate the study this quarter: Q1 2021.
Field Trip Adds Atlanta Location
Field Trip's fifth health centre has opened in the city of Atlanta, Georgia, marking the first of a number of planned openings in 2021. The company describes its centre as "clean, quiet, and alive with light and plant life," claiming to have "reimagined the health centre to be a calming oasis." Take a look for yourself on Field Trip's website.
Champignon Opens Ketamine Therapy Centre in Ottawa
Champignon Brands has opened its third Canadian Rapid Treatment Centre of Excellence (CRTE), located in the Alta Vista neighbourhood of Ottawa. Joining existing Centres in Mississauga and Toronto, the new location will provide ketamine therapy to those suffering depression and suicidal ideation.
Psyence Completes Psilocybin Mushroom Harvest in Lesotho
Newcomer Psyence Group announced that it has completed the first cultivation cycle of psilocybin mushrooms at its production facility located in Lesotho. Psilocybin Alpha understands Psyence is one of the first to receive a license to cultivate psilocybin-containing mushrooms in the country. The company is now cultivating a second batch, a process that takes 10 weeks from spore to storage.
Lesotho, a landlocked country bordered entirely by South Africa, was the first African nation to issue licences for the cultivation of medical cannabis in 2017. Cannabis thereafter became the country's most significant cash crop; a 2019 article in Quartz provides an overview of how this played out.
Financials, Financings and IPOs
On Wednesday Psyence Group became the latest public company in the psychedelics space, trading under ticker symbol PSYG on the CSE. Psyched Wellness Upsized its previously announced offering to $5.5m, and Red Light Holland closed their bought deal offering just shy of $10m.
Numinus Q1 2021 Financial Results
Numinus shared their Q1 2021 Financial Results today, including highlights and CEO commentary:
"We achieved landmark industry firsts, including the first legal harvest and extraction of Psilocybe mushrooms by a public company in Canada, while also embarking on two compassionate access trials and expanding our national footprint. Supported by our strong cash position and balance sheet, Numinus is poised to take advantage of market opportunities that will further cement our leadership role in the psychedelics industry.
Psyence Group Commences Trading
Psyence Group Inc. became the latest psychedelics company to go public (via an RTO), commencing trading on the CSE under ticker symbol PSYG on January 27. 
Psyched Wellness Upsizes Offering to $5.5m
17.75m units are priced at $0.31.
Red Light Holland Closes $9.77m Bought Deal
38.3m units were issued at a price of $0.255 each, a significant discount at the time of writing.
Nature: How ecstasy and psilocybin are shaking up psychiatry
The prestigious journal Nature ran a news feature on MDMA and psilocybin this week, with author Paul Tullis claiming: "regulators will soon grapple with how to safely administer powerful psychedelics for treating depression and post-traumatic stress disorder."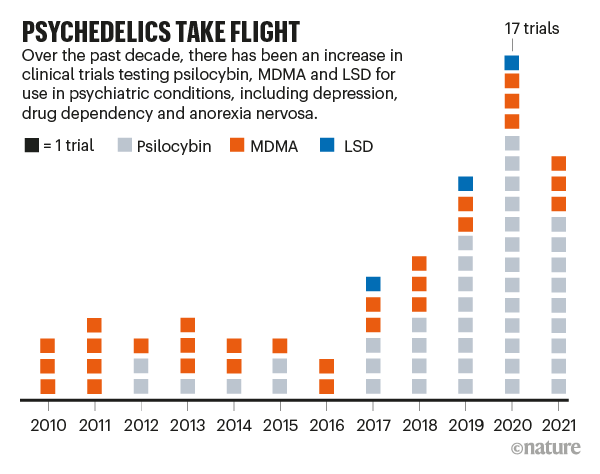 Bloomberg: Could Ibogaine Solve the Opioid Crisis?
Bloomberg Quicktake's latest video covers the Iboga plant, which has been used for tribal rituals in West Africa for millennia. More recently, researchers are exploring non-hallucinogenic analogues of iboga as a potential cure for drug addiction. Watch the full video here (12:36).
McGill: LSD may offer viable treatment for certain mental disorders
Researchers at McGill administered a low dose of LSD to mice over a 7 day period, which resulted in an increase in sociability. The team hope to eventually explore whether microdoses of LSD, or derivatives thereof, may have a similar effect in humans.
We can only expect the rate of change and development in the psychedelic space to continue accelerating in 2021. Stay informed via our various platforms and channels…
Join our newsletter to have our Weekly Bulletin delivered to your inbox every Friday evening. We summarise the week's most important developments and share our Weekend Reading suggestions.