This Week:
🏥 DMT Study Skips Set and Setting
🛒 Cybin Acquires Entheon's Phase 1 DMT Study
🚧 FDA Snubs Mydecine's Seamless Trial Design
🗑️ Eleusis Scraps SPAC
and more…
DMT Study Skips Set and Setting
This week we take a closer look at a recent publication out of Yale and VA Connecticut Healthcare System. This exploratory study sought to ascertain the safety, tolerability and efficacy of DMT in a small group of participants.
D'Souza, D. C., Syed, S. A., Flynn, L. T., Safi-Aghdam, H., Cozzi, N. V., & Ranganathan, M. (2022). Exploratory study of the dose-related safety, tolerability, and efficacy of dimethyltryptamine (DMT) in healthy volunteers and major depressive disorder. Neuropsychopharmacology, 1-9.
TL;DR
This exploratory study provides "support for DMT's tolerability, safety, and potential rapid antidepressant effect."
This study is intriguing because, in contrast to other trials of psychedelic therapies, it administered DMT in a typical hospital setting and without intensive psychotherapy.
If replicable, this could have significant repercussions for the cost-effectiveness and scalability of psychedelic therapies.
Caveats & Preliminaries
Caveats
It's important to keep a few caveats at top-of-mind when interpreting studies like this. The most obvious limitations of the study are its open-label design, the small sample size (n = 10) and the fact that measurements of effect were only taken one day after dosing sessions. Many of the other limitations of the study are discussed by the authors and are recapitulated at the end of this write-up.
Preliminaries
Sample size: 
Major Depressive Disorder (MDD): n= 7, 

Healthy Controls (HC): n = 3

Total: n = 10
Design: Open-label, fixed-order dose escalation study in both healthy volunteers and patients with treatment resistant major depressive disorder (MDD) using intravenous DMT.
Dosing: first dose 0.1 mg/kg; second dose 0.3 mg/kg. Doses were spaced out by at least 48 hours. Note that the psychedelic effects of DMT appear at around 0.2 mg/kg when given intravenously.
Notable exclusion criteria: participants did not have to be psychedelic naive. Rather, the investigators chose to exclude those who admit to "regular use of psychedelics," among other exclusion criteria including pregnancy, drug dependence (current or recent), and use of OTC products with serotonergic properties.
Note that any emphasis within quotations below is our own.
Ready, skip set and setting, go!
What's really intriguing about this study is the hands-off approach investigators took when it comes to set and setting. Let's take a look at this in terms of psychological support or therapy and physical setting.
Psychotherapy
A distinguishing feature of this study is the lack of preparatory and integrative therapy provided. 
Participants in this study "met with the study psychiatrists for a preparatory session of about 45 min". Here, volunteers were given information about the psychological effects of DMT, and study psychiatrists suggested approaches for navigating the experience. Participants suffering with MDD were "invited to discuss their mood symptoms and their depression history." 
Investigators used the 2 hours or so between the subsiding of DMT's effects and the time of discharge to 'debrief' patients with a psychiatrist. The day after drug sessions, participants received a telephone check-in to monitor for adverse events, check on well-being and to administer the HAMD-17 questionnaire for MDD participants. No structured integration program here.
Elements to ensure a mindset propitious to psychedelic-assisted therapy are not very present here (i.e., preparatory and integrative therapy was minimal). What about the physical environs, the setting element?
Physical Setting
DMT was administered in a typical hospital setting, with the investigators keen to note this: right down to the fact that they used hospital-issued linens. 
The investigators explain:
"Participants were dosed in a booth containing a medical-grade reclining chair and desk that was lit with overhead fluorescent lighting. There was no art adorning the room and no music was played. Participants were provided pillows and hospital-issued linens."
The description of the test session protocol goes on to depict a decidedly clinical scene:
"The two psychiatrists stood on either side of the medical chair, with a research nurse and research assistants stood immediately behind the subject. After connecting the DMT-containing syringe to the intravenous port, the impending administration of DMT was announced."
The DMT is then administered via intravenous push over a period of 30-60 seconds, with blood pressure measured at baseline and regularly following DMT administration and heart rate and pulse oximetry measured on a continuous basis.
Participants were simply asked how they were feeling while the aforementioned physiological recordings were taking place: "no psychotherapy was provided".
So, no plush soft furnishings and muted tones: the surrounds are less 'Anthropologie', more like outpatient gastroenterology.


Tolerability, safety, preliminary efficacy
Tolerability
Using a score of 0-100 (where 100 = well tolerated and 0 = intolerable) participants rated DMT as well tolerated, with a score of 89.8 for the 0.1 mg/kg dose session and 71.11 for the 0.3 mg/kg dose. This isn't surprising, given that investigators deem the 0.1 mg/kg to be a sub-hallucinogenic dose.
The tolerability data is presented in Figure S1 (Supplementary Material), with the three healthy controls participants to the left of the x axis, and the 6 MDD participants to the right. The low dose is in blue; the higher dose in red.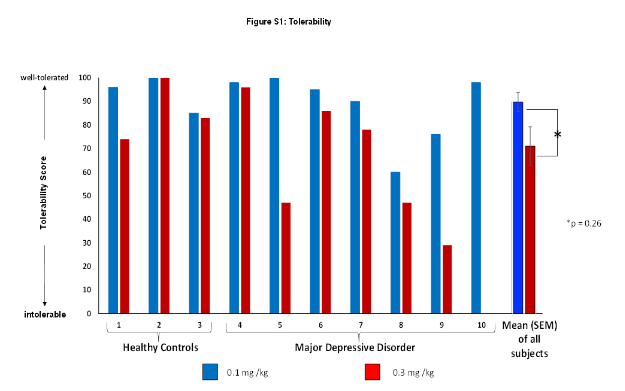 Noting all the usual caveats surrounding small sample sizes, we can see that participants with MDD found the high-dose DMT session less tolerable. In particular, participants 5, 7, and 9 all reported tolerability scores that appear to be <50 for the 0.3 mg/kg dosing session.
Given that participant 10 did not participate in the second dosing day, we might infer that 50% of participants (n = 6) with MDD who participated in the high dose group reported its tolerability at the <50 level.
The implications of this are unclear, and we're sure some of you are already mumbling, "the bad trips are the most useful ones" under your breath. The authors address this briefly, explaining that "participants reported that the experience was intense and challenging," yet they "reported that the experience was meaningful".
Safety & Abuse Potential
The study reported acute increases in blood pressure and heart rate, though there were no major safety concerns and no rescue medications used (lorazepam and risperidone were on-hand for psychological distress, and labetalol for hypertension). 
The only instance of a serious adverse event (SAE) was later explained by the participant's undisclosed medical history of many previous low blood pressure episodes. Five minutes after receiving the 0.3 mg/kg dose, the participant experienced asymptomatic low heart rate and blood pressure, which was "determined to be an interaction between the participant's (undisclosed) history of autonomic instability and DMT effects". This highlights the importance of rigorous cardiovascular risk factor screening, and plans to manage any arising cardiovascular events.
In terms of abuse potential, participants were asked to report drug desirability on a 0 – 100 scale, and monetise the value of drug effects on a $0 – $100 scale. Participants reported willingness to use DMT as 24.00 for the low dose session, and 22.44 for the high dose. Similarly, in monetary terms, participants on average reported $25.56 for the low dose, and $24.78 for the high dose.
Efficacy: antidepressant effect
There was no significant change from baseline following the 0.1 mg/kg session, but significant changes were observed following the 0.3 mg/kg dosing session. Scores measured following the 0.3 mg/kg session were also significantly different from those measured following the 0.1 mg/kg session.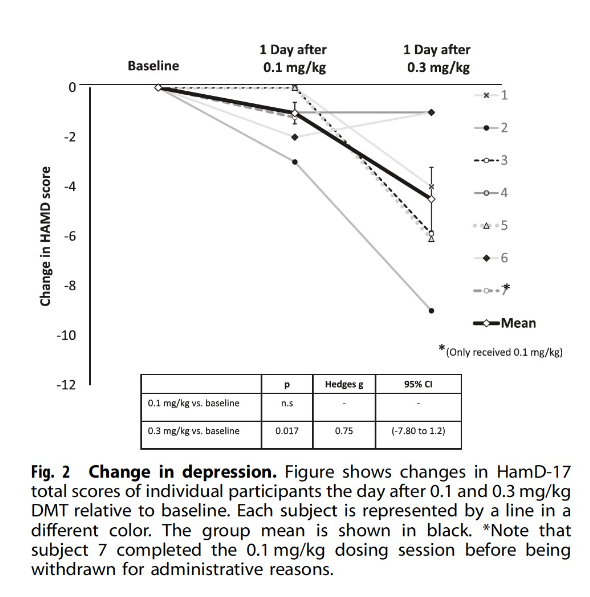 We see HAMD-17 depression scores reducing by an average of 4.5 from baseline, with a significant difference between the 0.1 and 0.3 mg/kg sessions of -3.5.
Note that antidepressant effects were measured the day after dosing sessions, so there is no data on the longer-term durability of such antidepressant effects. The authors acknowledge this limitation, suggesting that further study might seek to understand how long the antidepressant effects of DMT that they observed the day after dosing last.
Comparing the Effect
It is important to note that the study design does not allow us to discount potential carryover effects from the 0.1 mg/kg session, given that participants did not undergo depression rating pre-0.3 mg/kg session.
The magnitude of the antidepressant effect is considerably smaller than that observed a somewhat comparable open-label study of psilocybin with psychological support for treatment-resistant depression from Imperial College London (Carhart-Harris et al., 2016; n = 12).
The Imperial study reported a difference from baseline of -14.0 on HAM-D one week following the high-dose psilocybin session.
However, in the Imperial study, participants were provided psychological support before, during, and after each session. Dosing rooms were "pre-decorated" with low lighting and music was played through "high-quality stereo speakers and earphones". i.e., the Imperial study sought to provide a more propitious set and setting. Other notable differences include the route of administration and duration of the psychedelic effects of psilocybin versus DMT.
The investigators note that there was no significant correlation between psychedelic effects and changes in depression scores from baseline to post-0.3 mg/kg dose. They deem this lack of significant correlation to be 'unsurprising'. We were surprised to see the authors deem it unsurprising, given the debate around the role of subjective experience in driving the apparent therapeutic effect of psychedelics (Yaden and Griffiths, 2021; see also Bulletin #102 where we explained MindMed's LSD for anxiety results that showed correlation between acute positive or mystical experience and LSD's therapeutic effect). Despite the mixed bag of evidence, there is some level of consensus that subjective effects are still important to therapeutic effects, though there are some important examples to the contrary (see Gukasyan et al., 2022 for a recent example).
Limitations and Next Steps
Beyond its novelty in terms of using a typical hospital setting and delivering no substantive psychotherapy, we enjoyed the questions the authors pose toward the end of their write-up.
The authors suggest further research should attempt to investigate the following areas:
Uncovering how long the antidepressant effects of DMT last.

Evaluating whether the high dose used in this study (0.3 mg/kg) is optimal.

Exploring whether a slower and longer infusion may be safer and allow participants to engage in psychotherapy.

Understanding whether sub-psychedelic doses might still have antidepressant effects.

Estimating the effectiveness of blinding, and potentially using an active control or sub-psychedelic doses of DMT for comparison.

Measuring expectancy and its potential impact. Interestingly, the authors note that having a balance of self-referred and clinician-referred participants (as in their study) might help control for strong expectancy effects.

Whether or not psychotherapy would enhance the antidepressant effects of DMT. Authors note that to conduct psychotherapy, the psychedelic effects of DMT need to be reduced and prolonged.

Implications on resource intensity of intravenous DMT vs. oral psychedelic treatments.

How does the mechanism of DMT's action contribute to its effects versus a 5-HT2A psychedelic?
Cybin Acquires Entheon's Phase 1 DMT Study
Earlier this week, Cybin announced that it has entered into an agreement to acquire Entheon Biomedical's Phase 1 study of DMT in a transaction valued at up to CAD $1.5m.
Entheon's EBRX-101 Phase 1 study will be renamed CYB004-E, and will replace Cybin's planned pilot study for CYB004 that it had expected to begin in Q3 2022.
Cybin will hope that this acquisition will speed up its DMT drug development efforts, with CEO Doug Drysdale noting that it could shave 9 months off its previous Phase 1 study timeline.
FDA Snubs Mydecine's Seamless Trial Design
Two weeks ago (Bulletin #104) we spoke to Mydecine's CEO, who sought to downplay concerns over large insider activity and late filings. We noted that: 
"The company is running on fumes, with a monthly burn of $1.6m according to accounts for the quarter ended March 31. During that quarter, the company spent $2m on salaries and consulting fees."
This week, the company again sought to allay investor concerns with a company update, which included news of two financings for gross proceeds of $4.5m CAD, and an explanation that the company has "significantly decreased" its burn rate (which we drew attention to in the earlier Bulletin) since Q4 2021.
The company also announced that it has abandoned its aforementioned seamless Phase 2/3 clinical trial design, in response to FDA feedback during a pre-IND meeting earlier this year. The move, described as a "pivot", has lengthened the company's trial timeline.
We expressed surprise at Mydecine's attempts to run a seamless trial back in September 2021:
In the press release, Mydecine explained that they hope to utilise a seamless Phase 2/3 clinical trial design, which they explain as "combining two or more phases into one study." These adaptive clinical trials allow for changes to the trial after its initiation, making them more flexible and – ideally – efficient (see Mahajan and Gupta, 2010). Speed is clearly of interest to Mydecine, which claimed that this study "could be completed as early as Q4 2022." 

Seamless trial design is accepted as being appropriate for some drug development programs, and has primarily been employed in the development of oncology drugs. While former FDA commissioner Scott Gottlieb did announce in 2017 that he sought to expand the use of seamless trials beyond oncology to reduce drug development costs, the scope was still largely limited to immunology and targeting specific molecular deficits.

Seamless trial design also raises issues with regard to statistical analysis and validity, as the adaptive process introduces bias into the process. For a more detailed explanation of the statistical complexities surrounding these trial designs, see this piece by Elaine Eisenbeisz.

The seamless design, somewhat iterative in nature, can also lead to a lack of interaction with the FDA in the midst of important changes to the trial design or cohort. As such, FDA representatives have previously suggested that it might best be reserved for drugs that are granted breakthrough therapy designations, as this designation increases interaction between the FDA and the sponsor.
Eleusis Scraps SPAC
Citing unfavourable market conditions (we described it as a "tricky market: both for SPACs and psychedelics," when we reported the news of the SPAC back in January), UK-based psychedelic drug developer Eleusis has scrapped its SPAC agreement with Silver Spike.
The news came just days after receiving a green light from UK regulators to commence its Phase 1 trial of ELE-Psilo, an IV psilocybin treatment for depression.
Speaking to Endpoints News, Eleusis' CEO Shlomi Raz said that the Phase 1 would go ahead as planned, starting next month with Phase 1/2a data expected by year-end. "We're gonna have more news soon," Raz explained. We might expect more details with regards to funding soon.
Featured Psychedelic Jobs
First National Trade Association for Psychedelics Companies Launches
'Psychedelics Canada' claims the title of the first national trade association for legal psychedelics companies, with the goal of "representing the blossoming psychedelic medicine and therapy industry".
The not-for-profit's founding members include Cybin, Psygen, Filament Health, PharmAla Biotech and over a half-dozen others.
Join our newsletter to have our Weekly Bulletin delivered to your inbox every Friday evening. We summarise the week's most important developments and share our Weekend Reading suggestions.