This Week:
👓 Early Analysis of MindMed's Phase 2 LSD for Anxiety Results
💂 UK's First Commercial Psychedelic Research Facility Launches; Trials to Begin in August
📫 Mail-Order Ketamine Providers May Come Under Increased Scrutiny
🗒️ Our Notes from PSYCH Symposium
📰 "Psychedelic Patents are Broken Because the Patent System Is Broken"
and more…
A First Look at MindMed's Phase 2 LSD for Anxiety Results
On Wednesday morning, Professor Matthias Liechti and Dr. Friederike Holze gave PSYCH Symposium (a broader recap of the event can be found later in this Bulletin) attendees a first look at the much-anticipated results of a Phase II trial of LSD for the treatment of Generalised Anxiety Disorder (GAD).
This investigator-initiated randomised controlled trial (RCT) was led by researchers at the MindMed-supported Liechti Lab at University Hospital Basel (UHB) in Switzerland. The primary goal of the trial was to measure the effect of two doses of LSD on participants' anxiety. Patients could continue any anxiolytic or antidepressant medications they were taking at enrollment throughout the study. Interestingly, participants were not administered therapy alongside LSD, and there was no post-session integration therapy. Any therapy that was administered throughout the process (outside of dosing sessions) was on a one-to-one basis and therapists were given room for creativity.
This lack of in-flight therapy differs from other late-stage trials of psychedelics such as MDMA and psilocybin, in which the -assisted therapy suffix is central (especially in MAPS' MDMA-AT for PTSD, and to a lesser extent COMPASS' COMP360 psilocybin-AT for treatment-resistant depression).
Some previous studies of LSD's anxiolytic (anti-anxiety) potential (e.g., Gasser, et al., 2014), focused only on patients suffering from anxiety associated with life-threatening illnesses. This is also the case with some other existing efforts (see our Drug Development Tracker – examples include MAPS', Incannex, and Diamond Therapeutics). However, for this study, 46 patients who were suffering from anxiety without a somatic illness were included.
As the researchers shared, LSD elicited a clinical response in two-thirds (65%; 13 out of 20) of treated patients, compared to a clinical response of only 9% (2 out of 22) in the placebo arm. LSD's anxiolytic effect, as measured by the State-Trait Anxiety Inventory global score (STAI-G), was found to be both fast acting (a significant difference was measured as early as 3 weeks after the first dosing session) and durable. Patients treated with two, 200 ug doses of LSD experienced what the researchers described as "rapid, long-lasting and significant reductions in anxiety at 16 weeks post-treatment". In numeric terms, this translated to a reduction in STAI-G scores of -16.2 (95% CI=-27.8 to -4.5, p=0.007) from baseline at 16 weeks compared with placebo. However, the drug's therapeutic effect was noted to be strongest two weeks after the second dosing session.
The study, which had been publicised as being "new evidence of efficacy", according to the presenters, was the first to show significant lasting effects of a psychedelic up to 16 weeks compared with placebo. These results seem to support, at least clinically, a major part of MindMed's current drug development focus. The company, which has rights over data emerging out of the UHB's Liechti Lab, is set to begin its own Phase IIb study of MM-120 (LSD D-Tartrate) in the treatment of Generalised Anxiety Disorder (GAD).
The topline data readout also included analysis of some of the trial's secondary endpoints. These additional results revealed a "rapid and lasting reduction in comorbid depressive symptoms", as measured by the Hamilton Depression Rating Scale (HAM-D 21) and the Beck Depression Inventory (BDI). Such findings might be worth keeping an eye on as UHB is in the midst of recruiting for a Phase II trial of LSD for Major Depressive Disorder with many of the similar outcomes of interest.
The researchers also shared a slide showing an apparent correlation between acute positive or mystical experience and LSD's therapeutic outcome. This isn't necessarily surprising, but rather corroborative of other researchers' findings (see Yaden and Griffiths (2021) for more).
Together, these promising results add to the growing body of research and evidence supporting the therapeutic potential of psychedelic drugs. Now that we're clear on that matter, let's dig into some specifics.
Safety Profile: Discussion of the Serious Adverse Event
The topline data reports that one Serious Adverse Event (SAE) consisting of acute transient anxiety and delusions was considered related to treatment as it occurred during an LSD session. The patient was treated with lorazepam (a sedative) and olanzapine (a 5-HT2A antagonist), and received a reduced dose in the second LSD session.
Given the small number of participants in this study it's unwise to make too many assumptions about the expected incidence of SAEs in a broader patient population. But, the napkin math here suggests a 5% (1/20) incidence. That's not great, and might remind readers of COMPASS Pathways' Phase 2b readout.
In COMPASS' topline results from its study of COMP360 psilocybin therapy for Treatment-Resistant Depression (TRD), the company reported that 5 of the participants in the high-dose psilocybin group (n=79) reported treatment-emergent SAEs. That's just over 6%. The 10mg group had an SAE incidence rate of 8%, meanwhile.
In our analysis of those results we compared the incidence of SAEs in the study to trials of Spravato (Janssen's esketamine nasal spray for TRD). When compared to these studies, the incidence rate of SAEs in COMPASS' trial appeared to be relatively high: 3 double-blind, placebo-controlled studies of esketamine for TRD reported SAE rates in the region of 1.7-4.2% (see the data here).
The SAEs reported in COMPASS' Phase 2b generally revolved around suicidal ideation and behaviour and self-injury. Coincidentally(?), when presenting their data, MindMed's collaborators were keen to note that there were "no recorded instances of treatment-emergent suicidal ideation with intent, suicidal behaviour or intentional self-injury."
It's also worth noting that an 'acceptable' rate of SAEs is also indication-dependent. We might (regrettably) expect more cases of suicidal ideation and behaviours among a group of patients suffering Treatment-Resistant Depression, for example.
Commercial Viability
As aforementioned, this topline data is certainly promising and might raise confidence in psychedelics for mental health disorders more generally. But, should LSD be the drug of choice here? Remember that it has a long duration of subjective effects (8-12 hours), even longer than those of psilocybin (4-6 hours). Below, we take a brief look at some questions one might raise regarding the commercial viability of MindMed's LSD for anxiety plans.
In response to a question from the audience on the matter of whether there are any significant differences between psilocybin and LSD, Liechti responded: "in short, no."
Liechti would be dishonest to answer otherwise, given his team recently compared the effects of psilocybin (15 & 30mg) and LSD (100 & 200µg) to placebo in healthy volunteers and found that both doses of LSD and the high dose of psilocybin produced qualitatively and quantitatively very similar subjective effects. This study suggests that alterations of mind induced by LSD and psilocybin do not differ beyond the effect duration. As such, Liechti et al. concluded that "[a]ny differences between LSD and psilocybin are dose-dependent rather than substance-dependent" (see the March 2022 Psychedelic Research Bulletin for more).
In short: while the duration of effects is different, the subjective experiences and outcomes appear to be remarkably similar.
As alluded to above, this similarity between the qualitative and quantitative subjective effects of LSD and psilocybin, both showing preliminary evidence of therapeutic efficacy, and correlation between acute mystical experiences and therapeutic outcomes, might make one ask the question: why would anyone (or, any payer like an insurance company, for that matter) opt for LSD over a shorter-acting psychedelic? In short: is LSD competitive in this context?
While we're on the topic of competitivity: there's also the matter of patents…
While LSD itself isn't patentable, it's possible that MindMed might opt for a strategy like that of COMPASS Pathways, which has secured patent protection over its COMP360 synthesised psilocybin formulation (indeed, concerns about a company taking such a strategy caused Freedom to Operate to sponsor research to "prevent others from claiming and being awarded a patent" on polymorphic forms of LSD and its salts). MindMed describes MM-120 as its "proprietary drug candidate, a pharmacologically optimised form of LSD being developed for GAD and other brain-based disorders." In a 2019 paper also from Liechti and Holze, the formulation is referred to as a ​​"novel oral LSD solution with documented long‐term stability…and higher content uniformity than" the "previous capsule formulation". The paper describes the solution as LSD base in 96% ethanol. Although 18 months have passed since this 2019 paper, a patent application on the "novel oral LSD solution" does not appear to have published.
The company might also seek to protect other elements of its therapeutic. When we spoke to MindMed's former CEO JR Rahn – way back in Summer 2020 – we discussed the company's filing of a US patent application for an 'LSD trip neutralizer technology.'
As it turned out, it was actually just the well-known 5-HT2A antagonist ketanserin. On this topic, we wrote about ketanserin and MindMed's LSD neutralizer technology ambitions over a year ago. It's also worth noting that other 5-HT2A antagonists and inverse agonists like risperidone and olanzapine, respectively, are readily available (see Valeriani et al., 2015 for more here). As aforementioned, olanzapine was used alongside lorazepam to treat the participant suffering an SAE in this very trial.
Beyond not being exactly novel, aborting an acid trip with an antagonist like ketanserin may be more tricky than with other psychedelics. That's because when LSD binds to a serotonin receptor, a part of the receptor (a 'lid', in simple terms) folds over and locks the LSD molecule into place. This finding was the product of groundbreaking research by Bryan Roth and co. (take a look at this publication in Cell: truly remarkable!), who suggests that this may be why LSD's effects may last so long, and why it's very difficult to knock LSD off the serotonin receptor using methods like the administration of a 5-HT2A antagonist like ketanserin. 
So, posttreatment administration of ketanserin to abort a bad trip, or shorten the trip, may not be feasible. Perhaps these realities explain why MindMed – now under the leadership of Robert Barrow – has moved away from foregrounding efforts like their Trip Neutralizer 'technology'. 
The anticipated importance of a company's underlying programs and technologies might be proxied by the space they afford them on their pitch decks. If this is the case, MindMed has certainly sought to downplay this 'Trip Neutralizer' since Robert Barrow took the helm:
In January 2021,

half a slide

(33) was dedicated to the 'Trip Neutralizer' technology as "Invaluable & Protectable IP".

By April 2021, the 'LSD Neutralizer' was afforded a full slide in

MindMed's deck

, where it was displayed as an "IP Example".

Last month in April 2022, the 'Neutralizer' dropped off the deck, along with a number of investigator-initiated trials.
But there might be another reason why the company has downplayed this tech: the patentability of ketanserin as a trip neutralizer was already in question, but the revelation that an additional earlier-filed patent application also describes the use of LSD together with ketanserin may be the final nail in the coffin for the company's hopes of securing a patent in this regard.
One application, owned by Blumentech and including the late Dr. Jordi Riba as a co-inventor, covers combination products of psychedelic tryptamines and 5-HT2A antagonists (including ketanserin). Filed in 2017—and part of the portfolio recently acquired by Terran Biosciences (read more in our April 25th Bulletin)—Blumentech's application was found by an examiner to disclose or render obvious every one of the Liechti PCT application claims. (In ongoing US prosecution, Blumentech's application itself stands rejected over an abandoned 2013 application, that teaches combining "serotonin agonists" with a "second agent" such as ketanserin.)
A more recent application, published on February 18, 2021 (after the Liechti application was filed), from inventor Scott Thompson and the University of Maryland, Baltimore (UMB), also has an earlier priority date than the Liechti application. The Thompson application has claims to "administering a serotonin agonist in combination with a serotonin receptor 2A antagonist, wherein said agonist is administered separately, sequentially or simultaneously with said antagonist," including where the combination is LSD and ketanserin. Note, Terran Biosciences may have an interest in this application too—having just exclusively licensed a portfolio of patents and data from UMB.  
Besides the 'Trip Neutralizer' application ("Controlling Effects After 5HT2A Agonists Administration"), several other LSD-related Liechti applications have published: "LSD Dose Identification", "MDMA Treatment to Enhance Acute Emotional Effects Profile of LSD, Psilocybin or Other Psychedelics", and "Method of Quantifying LSD AND O-H-LSD in Human Plasma". In its most recent investor deck, MindMed states that 10+ applications cover LSD; given the 18-month secrecy period however, some of these may not have yet published.
In sum: while these results may add fuel to the broader goal of demonstrating the therapeutic (and apparent transdiagnostic) effects of psychedelics (as a broader class), the commercial viability and attractiveness of MindMed's LSD therapy for anxiety remains unclear.
The stock traded down on the news, closing the week around 5% lower.
UK's First Commercial Psychedelic Research Facility Launches; Trials to Begin in August
London-based psychedelic Contract Research Organisation (CRO) Clerkenwell Health has announced it is set to commence trials in August, aiming to capitalise on what it perceives to be a "conducive regulatory environment."
We spoke to Clerkenwell's CEO, Tom McDonald, as part of our 2021 Year in Review. McDonald told us that strategic initiatives underway in post-Brexit Britain make the UK an attractive place to conduct psychedelic research, despite fears of a brain drain as certain prominent psychedelics researchers crossed the pond to North America. 
As a reminder, here was our verdict on the UK psychedelic research environment:

As the UK seeks to find its edge in a post-Brexit world, nurturing its biotech industry has emerged as a clear focus. This bodes well for psychedelic researchers and companies, who may benefit from streamlined drug development routes such as the Innovative Licensing and Access Pathway (ILAP) and pragmatic approaches to research and clinical trials such as the employment of real-world data.
Clerkenwell has already inked deals with North American psychedelic drug developers like Mydecine and Mindset Pharma, and has launched a training program for therapists seeking to work with psychedelics.
The company's first trial will focus on the use of psilocybin for the treatment of adjustment disorder in patients with terminal diagnoses and is expected to commence in August. The trial is in collaboration with Psyence.
The launch caught the eye of journalists in the UK, with coverage from outlets including The Times, The Guardian and Metro.
Mail-Order Ketamine Providers May Come Under Increased Scrutiny
San Francisco-based mental health startup Cerebral is under investigation by the U.S. Department of Justice (DOJ) for potential violations of the Controlled Substances Act, according to Business Insider.
The company has been very much in vogue. Shortly after a $300m Series C in December 2021, the company revealed that Olympic gymnast Simone Biles would join as Chief Impact Officer.
Cerebral, valued at $4.8bn, is one among a growing bevy of telehealth startups providing online mental health services that include the prescribing of controlled substances without seeing a doctor in person. These include Adderall, a Schedule II substance prescribed for the treatment of ADHD.
As reported in Fierce Healthcare, former employees have become increasingly critical of the company's prescribing practices, with some complaining that the company has been "too quick to prescribe powerful stimulant drugs." In fact, the company's former VP of product and engineering filed a labour lawsuit against the company alleging that they "fired him after he complained about the company's prescribing practices."
A grand jury subpoena from the U.S. Attorney's Office for the Eastern District of New York is the latest blow for the company. It is unclear whether this is related to a DEA probe that has also been launched against Cerebral. The subpoena demands documents related to Cerebral's relationship with the online pharmacy, Truepill, among other disclosures. Truepill has since paused fulfilment of all schedule II substances.
This increased scrutiny could have significant repercussions for other companies seeking to prescribe controlled substances remotely, including the growing crop of ketamine telemedicine companies. Just last month, for example, at-home ketamine therapy company Nue Life Health announced a $23m Series A financing.
As Shayla Love reported last November, the legal legroom that allows companies to prescribe controlled substances virtually was not easily carved out. Rather, "it took a pandemic."  Now, there's concern that if telehealth companies exhibit irresponsible behaviour in their prescribing of such substances it could close these loopholes. That won't just affect at-home ketamine providers and Adderall pill mills; it might also limit the ability of those with substance-use disorders to access "consistent care within their communities, and with less stigma," writes Love.
A recent blog post over at Harris Bricken explains this temporary rule suspension in more detail, before further highlighting the potential ramifications for at-home ketamine companies:
"Federal law requires prior in-person evaluations before a physician can provide telehealth services. The federal government declared a COVID-19 public health emergency, essentially suspending this rule. Following this suspension, ketamine telehealth providers and other virtual telehealth providers popped up all over the country. In all likelihood, the emergency declaration will end soon, leaving the industry in limbo. And to make matters worse, the federal government may be paying close attention to controlled substance telehealth providers."
***

Editor's note: just as we finalised this Bulletin, we received an email from Field Trip Health titled Introducing…*drumroll please* 🥁. Inside, it read: "As part of our mission to make psychedelic healing more accessible to those who need it most, we launched our At Home ketamine therapy offering this week!" The offering is "powered by" Nue Life Health.
Featured Psychedelic Jobs
Our Notes from PSYCH Symposium
The PSYCH Symposium, set in the National Gallery at the head of Trafalgar Square in London, showcased a bevy of work underway in the psychedelics space: from policy reform and campaigning through to efforts to highlight the importance of integration.
On the campaigning side, the UK's Conservative Drug Policy Reform Group (CDPRG) were prominent, with MP Crispin Blunt repeatedly apologising for his own party's lack of action on psilocybin rescheduling. Chris Koddermann, meanwhile, spoke about the International Therapeutic Psilocybin Rescheduling Initiative (ITPRI), which he co-founded, which seeks to go beyond a national rescheduling and instead reclassify psilocybin under the 1971 Convention on Psychotropic Substances.
Drug Science is another group seeking to instigate evidence-based drug policy reform in the UK, with a significant focus on cannabis and psychedelics. On the cannabis side the organisation runs the largest observational medical cannabis study in the UK under the title Project Twenty21. Perhaps we will see a similar initiative should psychedelics become prescribable in the country.
Attendees also heard powerful personal testimony from the likes of former international rugby player Rory Lamont and Heroic Hearts UK CEO Keith Abraham.
The focus on British organisations was also found in a wonderful discussion between Lady Amanda Feilding – the 'Countess of Psychedelic Science' who has stewarded and supported psychedelic research in the UK for many years – and her son, Cosmo Feilding Mellen (founder of Beckley Psytech).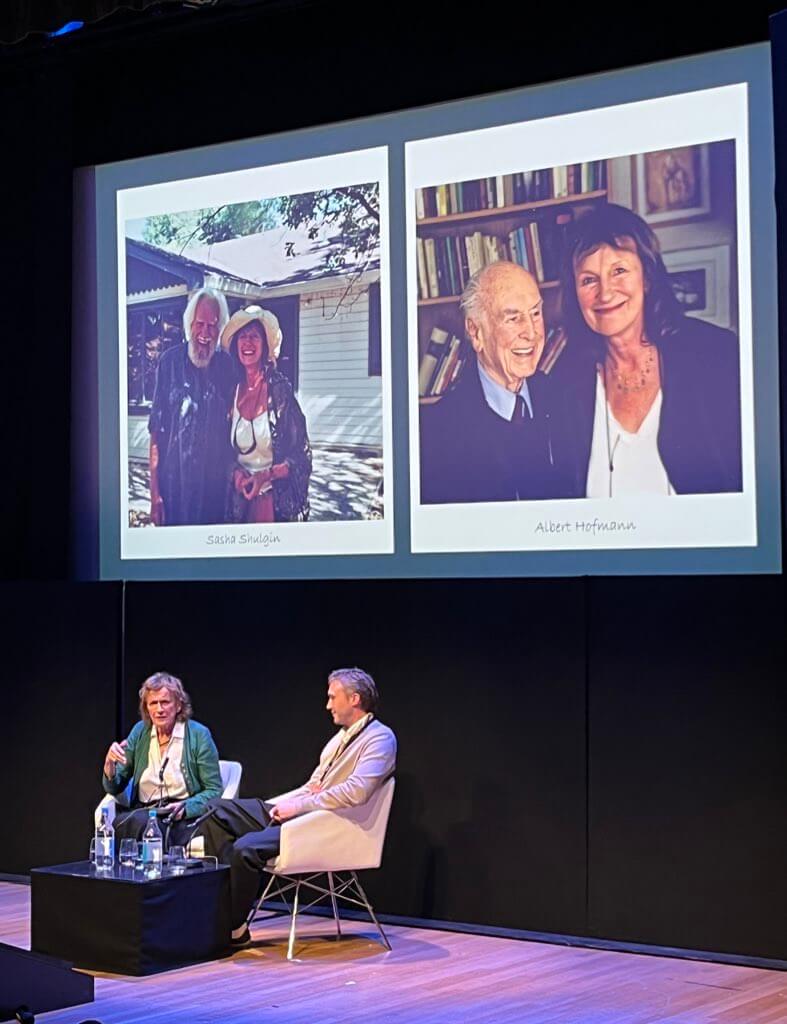 After sharing some amusing anecdotes from her past (at one point, her son Cosmo had to cut her off: "We're not getting into trepanation," he insisted), Feilding explained her Foundation's research pipeline, which includes research on both full dose and microdose psychedelics. While full dose investigations generally focus on neuroimaging, the microdose arm of the research seeks to explore "a range of clinical applications for LSD microdosing in ageing and palliative care." The move to research psychedelics for neurodegenerative disorders (we wrote about this in our 2022 predictions) is well underway!
As aforementioned, the importance of post-psychedelic session integration was another significant topic discussed at the Symposium. Ros Watts, who was formerly Clinical Lead for Imperial College London's psilocybin trial and Clinical Director at Synthesis Institute, feels strongly on this issue. She explained her stance in a Medium post back in February, and restated it on stage at the Symposium noting that the drug session is a "tiny" part of the healing journey. In response to a perceived lack of focus on proper integration, Watts launched her own service: ACER Integration.
It's not only Watts that's convinced that integration is important to the sustained efficacy and therapeutic potential of psychedelic-assisted therapies. But, the concept of integration in itself is a loose one. There's a need to identify and codify best practices for integration in a more evidence-based manner (note: there's also a research effort in this realm launching soon in the UK; potential donors are encouraged to get in touch).
Integration also appeared in an interview-based research publication last month (see our April 2022 Psychedelic Research Bulletin). The authors interviewed 30 integration therapists in the hopes of better defining integration, and the challenges or concerns associated with the practice.
More broadly, we were pleased to see journalists frequently taking on the role of moderators on panel discussions at this event. 
One highlight was Zoe Cormier's probing questions and general no-bullshit approach, which appeared to be appreciated by the crowd.
Of course, she brought up the perennial controversy of psychedelic patents. Filament Health CEO Benjamin Lightburn admitted, "it's no secret that the idea of patents in the psychedelic industry has been quite controversial". More on this in the Weekend Reads below.
The panel was characterised by very little debate with speakers generally remaining slick and sound-bitey in the face of Cormier's no-nonsense questions. It was supposed to deal with the question of "natural vs synthetic" psychedelics which, mind you, is not the most original topic. 
Nonetheless, the topic does give us a neat segue into some decidedly pragmatic comments on GMP psilocybin (in the context of the SAP and clinical trials) issued by Health Canada the week before last.
The notice begins by acknowledging the "growing interest in the use of psilocybin, including psilocybin that occurs naturally in certain mushroom species ("magic mushrooms"), for potential therapeutic purposes." 
The agency explained that the notice aimed to "provide information on the use of psilocybin mushrooms in clinical trials or as a drug requested through the Special Access Program (SAP), and to emphasize the importance of drug quality and Good Manufacturing Practices (GMP)."
The agency goes on to acknowledge that the use of natural psilocybin, i.e. that which is derived from psilocybin mushrooms, "presents challenges for clinical trials" due to the "potential variability in the content of the active ingredients" and "potential impurities among different mushroom cultivars," among other factors.
Why do we view this as pragmatic? Well, rather than suggesting these challenges make it impossible for such naturally-derived drug products to meet GMP quality requirements, Health Canada instead writes:
"While this inconsistency in dosing and impurities can make it difficult for psilocybin mushrooms to meet GMP requirements, Health Canada is aware of the challenges with the characteristics of this product and remains open to receiving evidence that a mushroom product could meet GMP quality requirements and be demonstrated to be equivalent to (or better than) purified or synthetic forms of psilocybin from a clinical perspective."
Back to our notes from PSYCH Symposium, we'll give the last word to atai Founder Christian Angermayer, who was keen to not only again emphasise his belief in his company's strong patent position (again, see Shayla Love's recent reporting, further discussed in Weekend Reads below, for more on this topic), but also that those patents would not be used to go after naturalistic use of psychedelics; only in the medical context. He was keen to stress that he won't come to Burning Man to "take your mushrooms."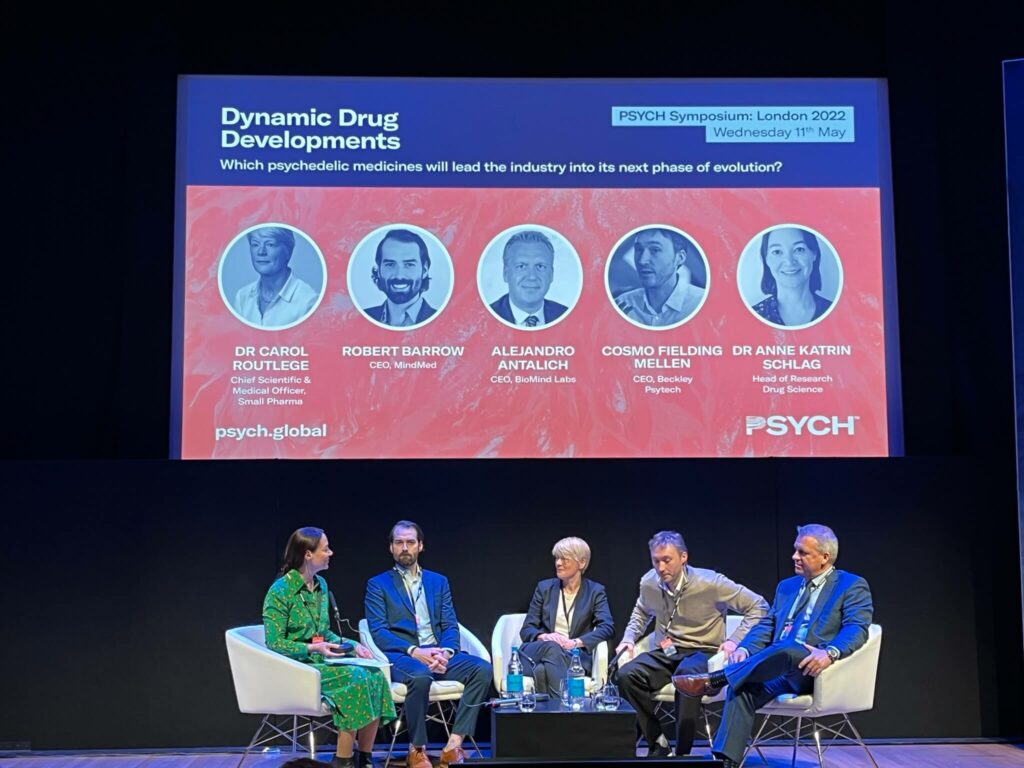 VICE: Psychedelic Patents are Broken Because the Patent System Is Broken
When we announced our rebrand to Psychedelic Alpha, we took the opportunity to share some of our core values. One of those is our effort to zoom out:
Zoom out: While Leary encouraged folks to turn on, tune in, drop out, we're always reminding ourselves to 'zoom out': recognising the broader and myriad contexts within which the loosely-defined 'psychedelics space' exists.
Shayla Love's latest piece in VICE applies this treatment to psychedelic patents, asking: "Pharmaceutical patents are used to extend monopolies, leading to high drug prices, and reduced access. Will the psychedelic industry follow suit?"
Aside from the fact that our patent trackers are cited and our editor-at-large Graham Pechenik is quoted, this is why we appreciated Love's latest. The piece documents what appears to be "a patent reckoning," with "President Biden call[ing] for the FDA and the USPTO to work together to understand the problem of drug pricing, and address solutions." Love cites the role of patents in reducing global access to COVID-19 vaccines as another example of widespread attention being brought to the issue.
"Psychedelic companies can choose to position themselves within existing structures, maintaining the current state of affairs. There is an opportunity, though, for a new industry—one that claims to exist for the sake of improving well-being and at its most grandiose claims to be capable of ushering in utopia—to be part of the call for patent reform. Psychedelics cannot foster a "revolution" in well-being if they replicate the abuses of power and inequities that already exist in our world. Psychedelics could better the systems they enter into, rather than just playing by their rules."
It's also reminiscent of a question the attorney Nicole Howell asked the audience at Horizons NYC last year while presenting with Pechenik in a session titled Medicines, crimes, laws, and patents: 
Pechenik was speaking alongside Nicole Howell, who made a strong case for asking not 'how do we make psychedelics more mainstream,' but rather 'how do we make the mainstream more psychedelic?'

From our December 2021 Bulletin.
Might we be able to take a healthy dose of the vigilance and consciousness around overbroad patents found in the psychedelics space and broaden it to more systemic efforts to reform patent regimes?
The Hill: Activists demanding psilocybin for terminally ill patients arrested outside DEA headquarters
"More than a dozen activists staged a "die-in" outside the Drug Enforcement Administration (DEA) headquarters in Arlington, Va., Monday, demanding the agency allow patients with life-threatening conditions to legally access psilocybin, the active ingredient in "magic mushrooms," to treat psychiatric disorders. 

Federal police arrested 17 protesters who were lying down in front of the building's entrance and refused to leave until a representative from the agency met with them to discuss their demands. The DEA refused to send anyone out to speak with demonstrators, which included terminally ill cancer patients."
Public Consultation on Rescheduling Psychedelics in Australia
A public consultation on proposed scheduling amendments that include MDMA and psilocybin is closing in less than two weeks. Public submissions may be made to Australia's Therapeutic Goods Administration until May 27.
Discounts for Psychedelic Alpha Readers
2nd Annual Psychedelic Therapeutics & Drug Development Conference.

May 23-24, 2022 – Washington, DC.
This event will highlight the progress being made towards regulatory approval of a variety of psychedelics with the potential to treat various conditions, including inflammatory/autoimmune disorders, brain injury, pain, PTSD, anxiety, ADHD, headaches, depression, and opioid use disorder.
15% off with discount code psych15. More information, and tickets, here.
***
ESPD50 Collector's Box Set
In collaboration with Synergetic Press, the McKenna Academy reprinted the 1967 symposium volume and published the 2017 ESPD conference findings together in a high quality collector's edition box set that won the esteemed James A. Duke Botanical Literature Award. This popular publication has been reprinted seven times already.
25% off with discount code ESPD55. More here.
Join our newsletter to have our Weekly Bulletin delivered to your inbox every Friday evening. We summarise the week's most important developments and share our Weekend Reading suggestions.