This Week:
⚖️ Lawsuit alleges Compass Pathways "milked" researcher for trade secrets before "secretly" filing patent on same technology
🐤 Exclusive: Tweet from Compass Account Calls Terran "slime" and Lawsuit "Publicity ploy" — Compass Blames Hack
🏛️ California's Decrim. Bill Tentatively Passes Final Hurdle Before Heading to the Floor
🪧 Former MindMed Chief Medical Officer Launches Effort to Effect Drastic Changes
🎤 Opinions | Hallucinations of Meaning: If you can lie, so can psychedelics
and more…
Compass "milked" researcher for trade secrets before "secretly" filing patent on same technology, alleges lawsuit
This week's drama comes courtesy of Terran Biosciences, which alleged in a lawsuit filed on the 5th August that Compass Pathways stole trade secrets from a University of Maryland, Baltimore (UMB) researcher Dr. Scott Thompson then filed patents claiming them.
Why does Terran care? Well, in 2021 the stealth biotech company inked an exclusive licensing deal for a suite of psychedelic-related patents and data from UMB. Thompson's work was among it.
Thompson researches methods of antidepressant drug action, and depression itself, in his role as professor of physiology at UMB. According to the lawsuit filed by Terran, Thompson has been working on the "idea of co-administration of psilocybin with a 5-HT2A antagonist" since 2016. The purpose of this co-administration would be to tamp down or eliminate the hallucinogenic effects of a psychedelic (in this case psilocybin) while maintaining any therapeutic (in this case antidepressant) effects.

While research into non-hallucinogenic psychedelics—the pursuit of uncovering whether the apparent therapeutic effects of psychedelics can be decoupled from the 'trip'—has become a hot topic lately, researchers like Thompson had theorised their potential years ago; at least in the case of psilocybin and a 5-HT2A antagonist like ketanserin.
Thompson and UMB filed patent applications on this work, which the lawsuit claims to be "then-trade secret inventions". We wrote about one such UMB patent application back in May (#102) when discussing MindMed's (now lesser-spotted) 'trip neutralizer' program, along with another patent application on psychedelic tryptamines and 5-HT2A antagonists filed by Blumentech with the late Dr. Jordi Riba as a co-inventor (and which Terran also acquired).
According to the suit, Thompson kept this research confidential, not disclosing it outside of the scope of an NDA or other confidentiality agreement.
In May of 2019, the complaint claims that Compass reached out to Thompson to discuss a potential partnership. The company implied that it was "excited about an opportunity to work together," the lawsuit alleges.
After entering into a mutual NDA Terran alleges that, "in reliance on the NDA," Thompson engaged in "numerous substantive discussions and negotiations" with Compass. This purportedly included his disclosing of these trade secrets to the company.
In short, Terran's lawsuit alleges that "Compass milked Thompson for all the information it could about his confidential research." Then, "Compass misappropriated the Psilocybin Trade Secrets for itself", and "secretly filed its own patent application" covering the co-administration described above.
According to the suit, on a phone call with Thompson in September 2019 Compass asked whether he had filed any patent applications. When he informed them that he had done so on August 13th, just over two weeks prior to Compass' August 29th filing, the suit alleges that Compass "became notably upset."
Around 6 months after it began negotiations with Thompson, Compass "abruptly" ended its talks with the researcher in November 2019, according to Terran's filing.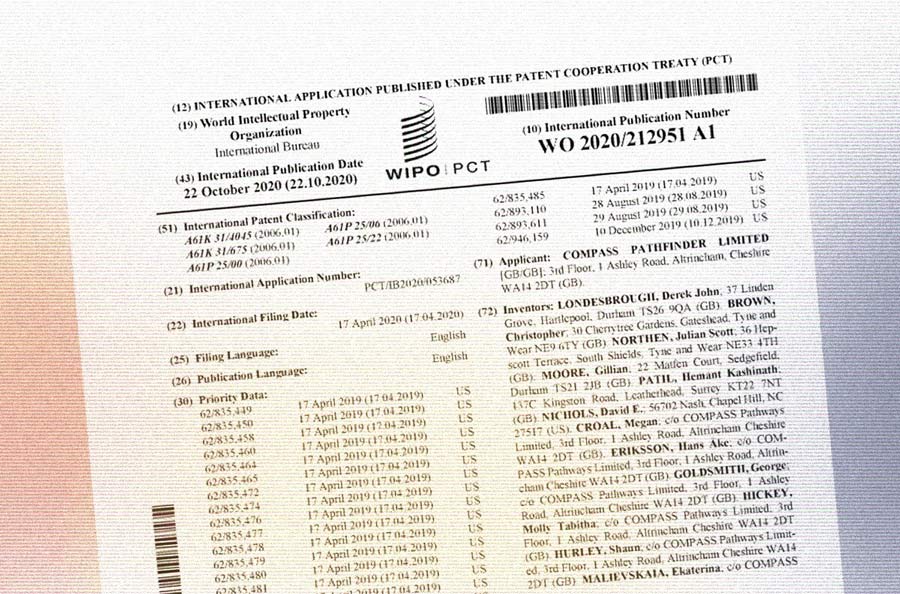 But, given that Thompson's patent application was filed a fortnight prior to Compass', why all the hoopla?
Regardless of whether Thompson's application might preclude Compass from obtaining any claims (as it would presumably represent prior art), Terran is looking to realise injunctive relief and damages.
In terms of injunctive relief, Terran hopes to prevent Compass from utilising or disclosing the alleged trade secrets. In addition, Terran will look to compel Compass to turn over information that pertains to how the trade secrets were utilised or transmitted with and beyond Compass. This could include handing over documents and plans that contain the psilocybin-plus-5-HT2A-antagonist technology, as well as identifying persons or other entities that are aware of it.
Terran also seeks an order requiring Compass to assign to Terran "any rights to patent applications or other intellectual property that incorporates the Psilocybin Trade Secrets." 
Co-administration of psilocybin and a 5-HT2A antagonist is disclosed in at least Compass' WO2020212951A1 ("Methods for treating anxiety disorders, headache disorders, and eating disorders with psilocybin", notable given Compass' recent launch of its phase II anorexia trials), WO2020212952A1 ("Treatment of depression and other various disorders with psilocybin", perhaps best known for its soft furniture), WO2020212948A1 ("Methods of treating neurocognitive disorders, chronic pain and reducing inflammation"), and all of their foreign and national stage counterparts, which ultimately could total in the dozens.
If Terran could sell this 'fruit of the poisonous tree' theory (see Lemley, 2017), Compass would have to hand over the lion's share of its psilocybin IP portfolio, even though the coadministration of psilocybin with a 5-HT2A antagonist is surely not the primary subject. Terran is also seeking damages and costs.
It's difficult to appraise the motives of a plaintiff in the best of times, but given Terran's secretive nature it's closer to impossible. We know very little about the company, which has been in stealth since 2017 and claims to have hundreds of psychedelic patent applications in its portfolio. When news broke that the startup had licenced assets from Sanofi earlier this year, we provided a short recap about what's known of the company; which largely revolves around a handful of licensing agreements.
A more cynical observer might wonder if this alleged misappropriation of trade secrets might be the impetus for a fishing expedition of sorts. If Terran convinces the Judge to compel Compass to turn over sensitive documents and plans, and make corporate representatives available for deposition testimony, they might come away with intelligence worth more than any straightforward monetary award. Of course, this is pure speculation.
It's also very important to remind readers that this lawsuit represents just one side of the story: a story told by Terran Biosciences with neither Thompson nor UMB are included as plaintiffs (Thompson did take to Twitter to describe Compass' alleged behaviour as, "Shameful").
Compass Pathways told us that, while it takes the allegations seriously, it "strongly disagree[s] with the claims" and is "confident that the facts will ultimately bear this out." The company told us that it is considering its own legal options in response.
Terran declined to comment.

Exclusive: Tweet from Compass Account Calls Terran "slime" and Lawsuit "Publicity ploy" — Compass Blames Hack
In the course of writing-up this piece we felt that even mentioning the possibility of a fishing expedition on Terran's part was overly cynical.
That's until a tweet steeped in even more cynicism came to our attention. The tweet was posted in response to a thread we wrote as the news broke, and read:
Publicity ploy for Terran. What slime
What surprised us was that the tweet was posted from Compass Pathways' Twitter account (ownership of the account was confirmed to Psychedelic Alpha in writing).
We reached out to Compass, who told us that "COMPASS did not make this comment". A representative from the company went on to tell us that they would "assume we have been hacked".
The tweet was deleted within minutes of being posted.
California's Decrim. Bill Tentatively Passes Final Hurdle Before Heading to the Floor
SB-519, which would generally decriminalise psychedelics in the state of California, appears to have passed another hurdle yesterday. California Senate Bills must run through a gauntlet of senate and assembly committees before reaching the floor. 
Thus far, SB-519 has the following scorecard in terms of committee votes:
Senate Public Safety: Passed with a 4-1 vote (6th April, 2021)

Senate Health: Passed with a 6-2 vote (14th April, 2021)

Senate Appropriations: Passed with a 5-2 vote (20th May, 2021)

Senate Floor: sent to the Assembly in a 21-16 vote (1st June, 2021)

Assembly Public Safety: Passed with a 8-4 vote (29th June, 2021)

Assembly Health: Passed with a 8-4 vote (13th July, 2021) 
As you can see, the Bill passed through the requisite Senate committees and two Assembly committees last year before being put on pause just under a year ago in order to build a coalition to earn the support of Assembleymembers.
Yesterday, the Assembly Appropriations Committee voted 9-5 to endorse the motion do pass as amended. Frustratingly, however, the full text of the amendments—which are thought to be significant—is not available at the time of writing. Even Senator Scott Wiener, who is forwarding the Bill, is awaiting final clarity on such amendments.
The confusion is enormous, as Kyle Jaeger reports in Marijuana Moment:
"It's not immediately clear if the amendment deletes the bill's criminal justice reform provisions that would have removed penalties for possessing certain substances and only maintains a section directing state officials to establish a working group to study and make recommendations regarding future psychedelics reform—or if the opposite occurred, meaning that the main thrust of the bill survives and the study itself was taken out."
LA Times reporter Hannah Wiley implied, on Twitter, that this lack of transparency around amendments is par for the course for this committee.
If the amendments are reflected in the Bill, SB-519 should progress to the Assembly Floor for a full vote.
Former MindMed Chief Medical Officer Launches Effort to Effect Drastic Changes in Shareholder Activist Turn
"You Are Entering The MindMed Zone", reads the landing page of an odd website and accompanying press release that began circulating around MindMed investor forums yesterday. The communications were published by "FCM MM HOLDINGS, LLC" (FCM), which claims to represent "investments in 5.64%" of MindMed's outstanding shares.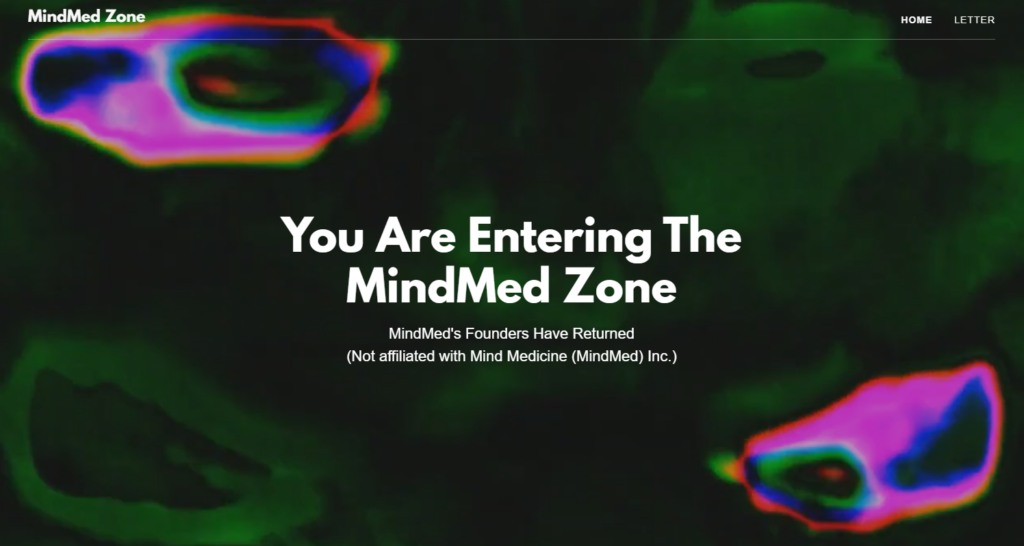 The group is spearheaded by Dr. Scott Freeman, MindMed's first Chief Medical Officer (CMO) after the company acquired Savant HWP where he also served as CMO. Dr. Freeman wasn't at MindMed for long. He was the first senior member of the team out the door, in fact, leaving the company around a year after he joined. MindMed did not immediately respond to Psychedelic Alpha's request for comment on any of the matters discussed herein, but a representative from FCM said they could not divulge the reason for Freeman's departure due to a non-disclosure agreement.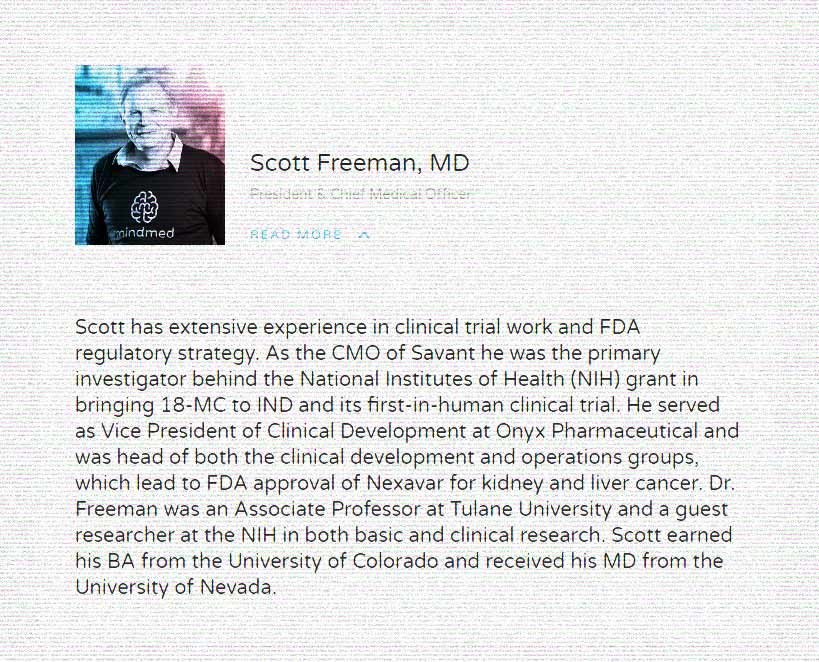 Despite proclaiming that "The Founders Are Back" on its website, the group's two other members would struggle to identify themselves as such. Chad Boulanger is Director of 'Obiter Research' (save yourself a Google, we cover it later) and was also a Director at Savant HWP during Scott Freeman's time as CMO. The final member of the trio is Scott Freeman's 20-year old nephew, Jake Freeman.
Jake Freeman is a curious character, who just last month penned a letter to Bed Bath & Beyond's Board of Directors after accumulating a sizable stake in the company. Freeman, a math major, suggested that the company "needs to cut its cash-burn rate, drastically improve its capital structure, and raise cash." The action led to a flurry of discussions on a subreddit dedicated to Bed Bath & Beyond investors, who refer to the company as "Buy Buy Baby". He also registered as an independent candidate for President in 2020. But, we digress.
While MindMed's former CMO, Scott Freeman, is the only member of the group with any claim to 'founder' status, his nephew Jake appears to be taking the helm. "The strategic direction of the plan overall was mine along with the strategic plan for this activism," Jake commented on a Reddit AMA.
Despite repeatedly alluding to representing other members of MindMed's founding team, and "many members of Savant," names are not forthcoming. Jake Freeman told Psychedelic Alpha that his group "involves former members and founders of MindMed," but that FCM "cannot comment on this as some members may be subject to agreements with MindMed which may prohibit engaging in shareholder activism."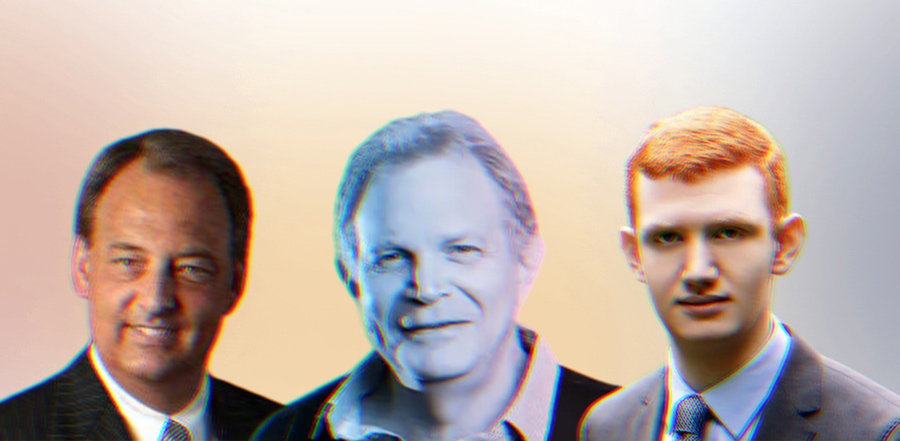 In a Letter to the Board of MindMed, the trio outlined their "value enhancement plan" which called for drastic cost-saving measures at the company. Like many other public psychedelics companies, MindMed's stock performance has been terrible of late. MNMD, which trades on the NASDAQ, is down nearly 60% year to date.
So, what's FCM's prescription? Here's the short answer:
Scrap the at-the-market offering (which the group believes it can suspend via legal action)

Slim down the drug development pipeline to focus on MM-110 (18-MC) and MM-120 (LSD)

Slash compensation, especially among execs, and use share-based compensation to better align incentives

Ditch digital health company HealthMode

Re-appoint Scott Freeman as Chief Medical Officer
The group would have been dismayed, then, to hear MindMed's direction as discussed in the company's Q2 financial results and conference call yesterday (on which CEO Robert Barrow asked that those asking questions refrain from discussing FCM's letter).
While you'd think FCM might be pleased to hear CEO Robert Barrow's emphasis on a "cost effective approach," the de facto shelving of MM-110—MindMed's 18-MC drug development program for the treatment of opioid withdrawal—is likely to upset the group.
MindMed explained that during the course of discussions with the FDA it became apparent that, in order to progress to a Phase 2a study of MM-110, they would need to present more nonclinical data to the agency. According to the company, in light of the time and costs associated with producing such data, MindMed will cease this drug development program. If non-dilutive funding comes along (such as in the form of a partnership), or material circumstances change, the company said it may revisit it.
But, as we have mentioned before: there are probably more fundamental commercial issues with the ibogaine derivative that have factored into MindMed's decision to drop its MM-110 program. For starters, 18-MC is now off-patent. What's more, MindMed faces little hope of obtaining meaningful IP protection over MM-110 due to the fact that the treatment of addiction was claimed in the earliest patents on the drug. This apparent lack of defensibility is likely, in our opinion, to weigh heavily on the company's decision.
There are other wrinkles in the history of 18-MC's development, too. 
​​In January 2013, Savant HWP announced a significant grant commitment from the National Institute on Drug Abuse (NIDA) to support its development of 18-MC. The grant, which totaled nearly $6.8 million over the course of its three year project lifespan, was in large part used to support Savant's IND-enabling studies of its flagship drug candidate which included dose finding, cocaine interaction, and cardiovascular effects studies. 
As principal investigator in the NIDA-funded research, Scott Freeman appears to have played a notable role in this stage of 18-MC's development. Following the completion of the three-year project, the group submitted a follow-up application for the continued support of research into 18-MC. However, for reasons reportedly unknown to even Stephen Hurst, NIDA denied Savant's grant second proposal (Hurst who told Wired in 2019 that "No one ever actually told us why").
The apparent abandonment of MindMed's 18-MC program, and redistribution of funds to its LSD (MM-120) and R(-)-MDMA (MM-402) programs, has evidently upset the Freemans and Chad Boulanger. That's unsurprising, as they have been involved in the development of the drug for some time.
Let's back-up a little…
Chad Boulanger's brother, Bill, is a chemist. The pair run Obiter Research out of Champaign, Illinois. A 2014 write-up in a local Illinois publication, News-Gazette, provides orientation for those looking to understand Obiter and Savant's dealings with 18-MC prior to the MindMed acquisition.
Essentially, Obiter was a specialty chemicals manufacturer that was looking for "a partner with deep pockets" to help it pursue FDA approval for 18-MC in the treatment of addiction. Obiter, which licensed technology for 18-MC from Albany Medical College (where Stanley Glick et al. invented the ibogaine derivative), had worked with Savant but apparently became frustrated by the company's "reluctance to contractually obligate itself" to the development of the drug, according to Chad Boulanger.
Obiter and Savant presumably thought they had found those "deep pockets" in MindMed, which acquired the 18-MC project from Savant in 2019. This project became the "immediate priority" of MindMed and was the jewel in the company's crown for some time.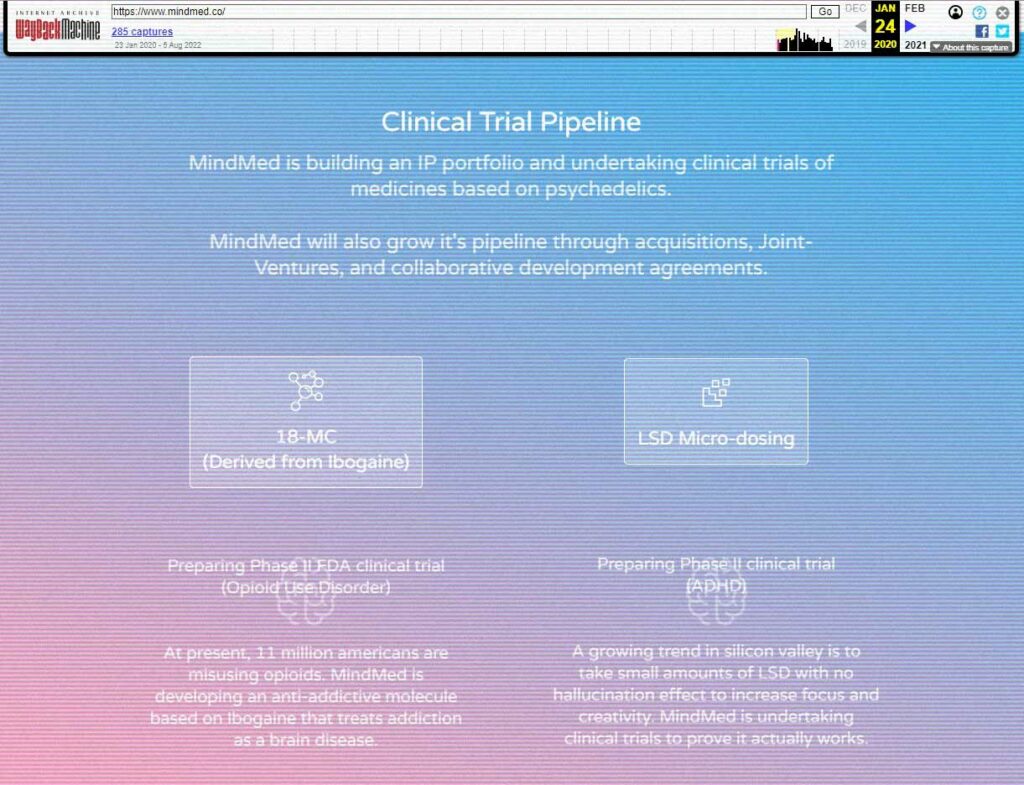 Just as Obiter was frustrated by Savant's reluctance to throw itself behind 18-MC back in 2014, it appears that both Obiter and Savant—or, Scott Freeman and Chad Boulanger, at least—are today frustrated at MindMed's unwillingness to back the drug.
There's plenty of skin in the game for FCM, too… Jake Freeman told Psychedelic Alpha that all three members of FCM have shares locked up in Savant, with the total in excess of 8 million shares.
It's unclear whether FCM's stunt will remain just that, or whether it will progress into a fully-fledged shareholder activism campaign. "Potentially, we are prepared to launch a full activity campaign to change management's strategic direction", FCM's Jake Freeman said.
Editor's note: today, the day after shelving its potential opioid use disorder treatment (18-MC), MindMed announced it has appointed Roger Crystal to its Board. Crystal is the lead inventor of the incredibly popular opioid overdose treatment, Narcan (Naloxone), and is widely regarded as an authority on the opioid crisis. MindMed somehow managed to avoid using the word 'opioid' once in the Press Release.
Featured Psychedelic Jobs
Opinions | Hallucinations of Meaning: If you can lie, so can psychedelics
We are very pleased to share the first article via our Opinions series. This piece explores whether psychedelics might amplify our self-deception, and whether we can tell truly meaningful psychedelic insights from misleading ones.
It's written by Abigail Calder, a doctoral candidate in medical neuroscience at the University of Fribourg, Switzerland. Her research focuses on the effects of LSD on neuroplasticity, learning, memory, and other topics in healthy people. She also leads a study investigating the side effects of various psychedelic drugs. When she doesn't want to think about psychedelics anymore, she goes rock climbing or crochets a tiny animal.
Here's an excerpt of the full piece:
A common first sign of a psychedelic taking effect is the feeling that something important is happening. There is a sense of something big and significant approaching – a mental pregnant pause before the world starts to change. People usually cannot tell you what is happening. They just know that something is.

This shows something important: psychedelics can cause a sense of meaning and significance without any content. Later, the experience overflows with content, served with a side of 'Wow' and a sense that it's all important. Whatever network in the brain creates feelings of meaning, psychedelics seem to send it into overdrive.

But therein lies the trouble. If psychedelics can cause the feeling of significance without any content, why couldn't they do it with false content? I don't doubt that some psychedelic insights are real in ways that are important to people. But if you can hallucinate sights and sounds, why not meaning? Why not knowledge, memory, and insight?

That's an uncomfortable question because the natural next question has no easy answer: How does one tell the real insights from the misleading ones?
Assorted Weekend Reading
There's plenty to read this weekend…
Join our newsletter to have our Weekly Bulletin delivered to your inbox every Friday evening. We summarise the week's most important developments and share our Weekend Reading suggestions.