It's been an important week for psychedelics, with historic decriminalisation ballot initiatives in Oregon and DC succeeding by significant margins.
We also learned that two psychedelics companies are set to go public next week: Entheon and Cybin.
Here's your roundup…
Featured Story: Psychedelics Decriminalised in Oregon and Washington, DC
Ballot initiatives pertaining to the decriminalisation of psychedelics have been successful – by significant margins – in both Oregon and Washington, DC.
We covered the results live on Twitter and a dedicated page, thanks to those who joined us.
In Oregon, Measure 109 mandates the provision of psilocybin therapy, while in DC Initiative 81 decriminalises psychedelics. A further ballot initiative in Oregon, Measure 110, sees all drugs decriminalised.
As such, psychedelics are to be effectively decriminalised for those in both Oregon and DC.
We spoke to representatives from across the sector, including Numinus, Field Trip and TheraPsil to gauge their reaction. You can read their reaction in our exclusive piece.
The successful ballot initiatives – and the broader election news cycle – have dominated the discourse this week. However, there were some notable announcements from companies in the sector…
Cybin: to Go Public on NEO Exchange Nov 10th
Following their historic CAD $45 million raise, Canada's largest go-public funding round for a psychedelics company, Cybin is set to begin trading on the NEO Exchange.
Having successfully completed its RTO yesterday, the Company will trade under the symbol CYBN on or around Nov 10th.
Investors in their pre-IPO round included RA Capital Management, who have a healthcare and life sciences portfolio in excess of $5 billion. One of RA's most significant portfolio holdings is Novavax, a vaccine development Company that just received an order of 40 million doses from the Australian government.
Readers outside of Canada should note that NEO Exchange may not be accessible via your usual trading desk. If you wish to participate in trading CYBN shares, you may need to use a broker that allows for access to Canadian exchanges, such as Interactive Brokers. Visit our dedicated page to learn more.
Entheon: to Go Public on CSE Nov 12th
The second go-public happening next week is Entheon. The Company is set to begin trading on the CSE under symbol ENBI, on or around November 12th.
Eleusis: LSU Files Patent Application Covering Their Work in Partnership with Eleusis
Note: Our editor-at-large for IP and patent developments, Graham Pechenik, covered this story via Twitter.
On October 22nd, a new patent application by Louisiana State University was published, covering work done by Drs. Charles Nichols and Timothy Foster. Drs. Nichols and Foster, both professors at LSU Health Sciences Center, are investigating the use of certain serotonin 2A receptor agonists—including psilocybin, LSD, DMT, DOI, and numerous other psychedelics—as anti-inflammatory agents to treat chronic eye diseases.
Their work is supported by and being done in partnership with Eleusis. 
MindMed: Completes Phase 1 LSD Dosing Study
MindMed, in partnership with University Hospital Basel's Liechti Lab, has completed a Phase 1 study measuring the dosing effects of LSD.
The study evaluated doses of LSD from 25 ug up to 200 ug.
It found that maximal good drug effects were reached at a 100 ug dose; while an experiential dose of 200 ug LSD was shown to induce greater ego dissolution than a lesser 100 ug dose. Note that ego dissolution is thought to be central to the therapeutic potential of psychedelic experiences.
These dosing findings will inform Phase 2 clinical trials of LSD in patients with anxiety and other indications.
While the study was conducted in partnership with University Hospital Basel, MindMed maintains an exclusive license to the resulting data and IP. The two organisations are actively filing patent applications on the clinical trial data generated.
Nova Mentis: Acquisition Target, Pilz Bioscience, Signs Psilocybin Manufacturing Agreement
Nova Mentis acquisition target Pilz Bioscience has entered into a psilocybin manufacturing agreement with a US pharma company.
Pilz are working with the company's chemists to design a proprietary synthetic pathway, which they hope will be patentable. Full release here.
Compass: to Announce Q3 Results 12th Nov
The management team will host a conference call at 1.00pm GMT (8.00am ET) on 12 Nov. You can find joining details here.
Field Trip: Update on Jamaica Facility; Prepares to Enter Oregon Market
Field Trip, responding to the success of Oregon Measure 109, explains its intent to enter the market that will subsequently emerge.
Currently, the Company cultivates psilocybin-producing mushrooms in Jamaica, and is expanding its presence in the Caribbean country via the development of a purpose-built facility. The Company shared architectural renderings of the facility with Psilocybin Alpha.
The Company also intends to seek licenses for cultivation in the State of Oregon when regulations following from Measure 109 are established.
Beckley Psytech: Adds Members to Scientific Advisory Board
Beckley Psytech has appointed Joanna Neill, Professor of Psychopharmacology at the University of Manchester, and Dr Mike Emanuel, former Vice President of Global Clinical Operations at Johnson & Johnson, to its Scientific Advisory Board.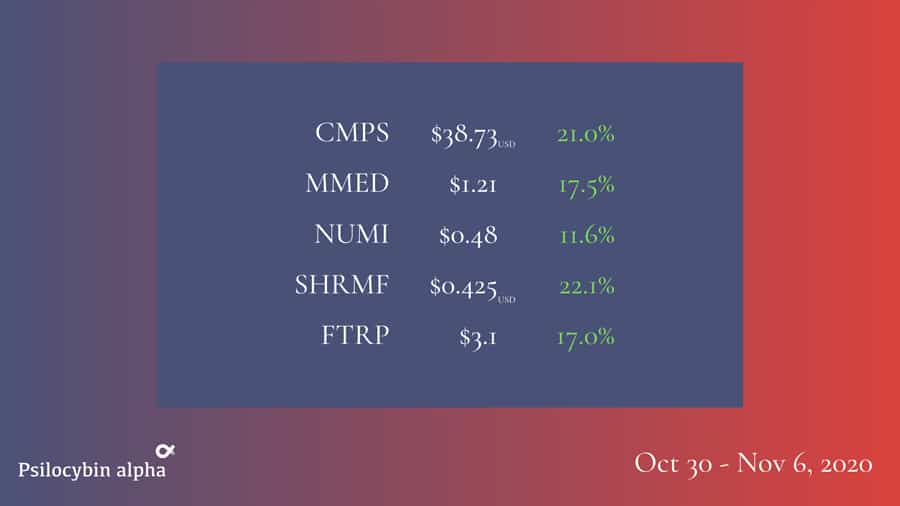 Weekend Reads / In the News
Video: Psilocybin for Anorexia Nervosa
Drug Science (YouTube). Drug Science has released a 12-minute video explaining latest research into Psilocybin for Anorexia Nervosa. The video features Dr Meg Spriggs of Imperial College London, where the trial is taking place.
Psychedelic Treatment with Psilocybin Relieves Major Depression, Study Shows
Johns Hopkins Medicine. Commenting on their own study, Johns Hopkins reports that two doses of psilocybin can relieve symptoms of major depression for at least a month. Half of study participants were in remission one month post-treatment.
'A tipping point': Psychedelics, cannabis win big across the country on election night
NBC News. There has been an enormous amount of coverage of the two psychedelic-related ballot initiatives that succeeded on Tuesday night. This piece from NBC is just one example.
Join our Newsletter
Get the weekly bulletin plus exclusive interviews and analysis delivered to your inbox.