Psychedelics in the Public Markets
While there are a greater number of private psychedelics companies and organisations, the fifty-or-so public ones offer us a look 'under the hood', so to speak, given their requirement for quarterly filings. As such, let's take a look at the health of publicly-traded psychedelics companies…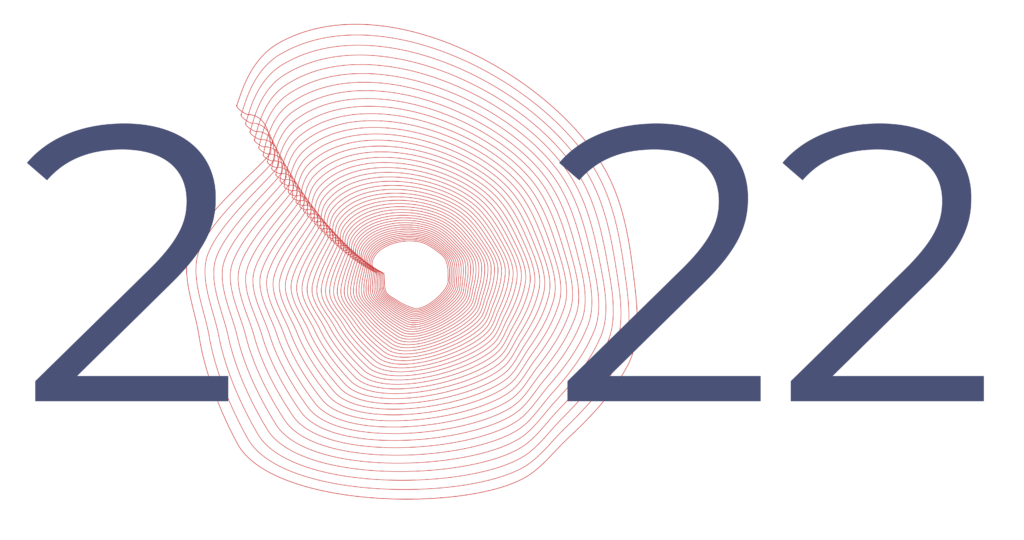 Part of our Year in Review series
An Overview of the Public Psychedelics Market
By the end of 2022, there were around 50 psychedelics companies.
In terms of market capitalization ('market cap'), all companies were trading below $1 billion by the end of the year, with GH Research, COMPASS Pathways and atai Life Sciences the largest publicly-traded psychedelics companies by this metric.
Aside from these three larger companies, no other public psychedelics company had a market cap of over $200m, meaning almost all psychedelics stocks are classed as micro- or nano-cap companies.
To put this into perspective, compare the aggregate psychedelic sector public market cap (just over $2bn at the end of 2022) with that of just one big pharma company such as Pfizer, which had a market cap of around $266bn at year-end.
To put this into perspective, compare the aggregate psychedelic sector public market cap (just over $2bn at the end of 2022) with that of just one big pharma company such as Pfizer, which had a market cap of around $266bn at year-end.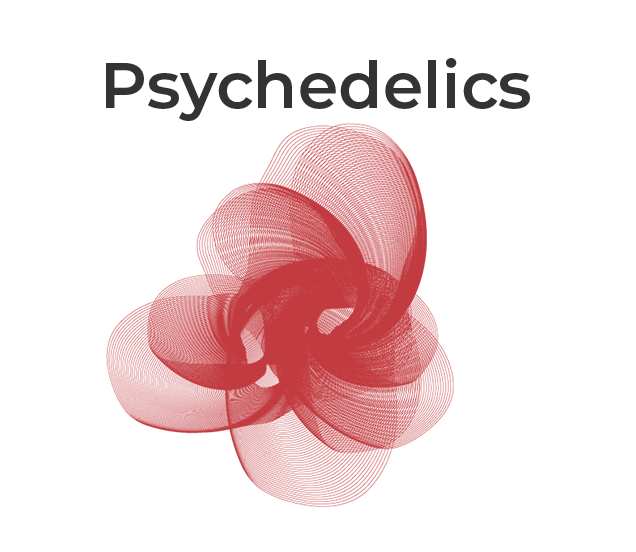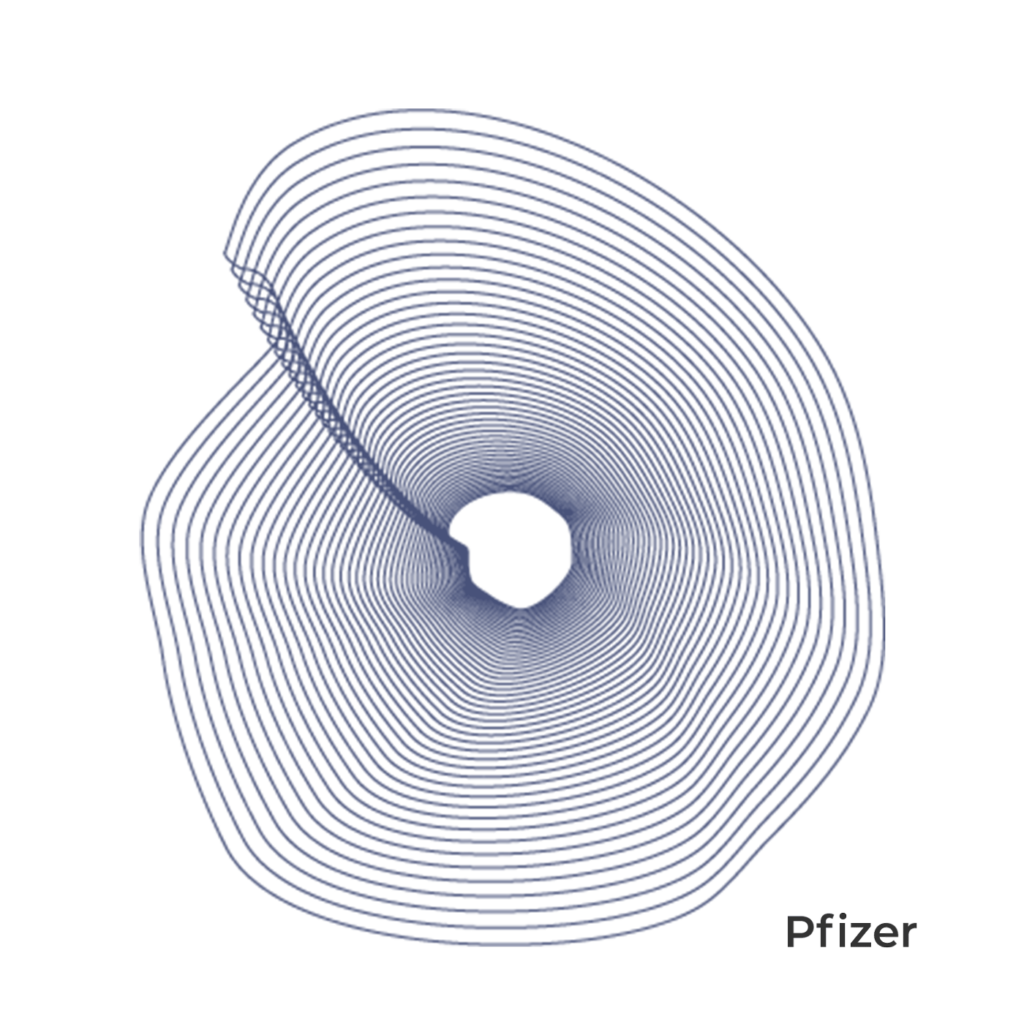 Stock Price Performance
When the performance of psychedelics stocks–here displayed via two psychedelic ETFs–is compared to the broader stock market1 and biotech industry2, it's clear that psychedelics had a particularly tough year.
While psychedelics and biotech stocks were largely correlated in their decline in the first half of 2022, psychedelics stocks fell sharply from September onwards, a period when the broader biotech industry and stock market traded sideways.
Why Are Psychedelic Stocks So Erratic?
We compared the ownership characteristics of 9 representative psychedelics stocks to those of 9 pre-revenue biotech comps, and the results were striking. Psychedelic stocks have a significant level of retail ownership, with retail investors typically buying and holding stocks for shorter periods than their institutional counterparts. This is especially relevant with risky, medium- to long-term ventures like biotech.
Now let's hone in on one psychedelics company, COMPASS Pathways. Given that the company has one lead candidate—its COMP360 psilocybin therapy—and is one of the largest psychedelics companies, it's offers a simple case study.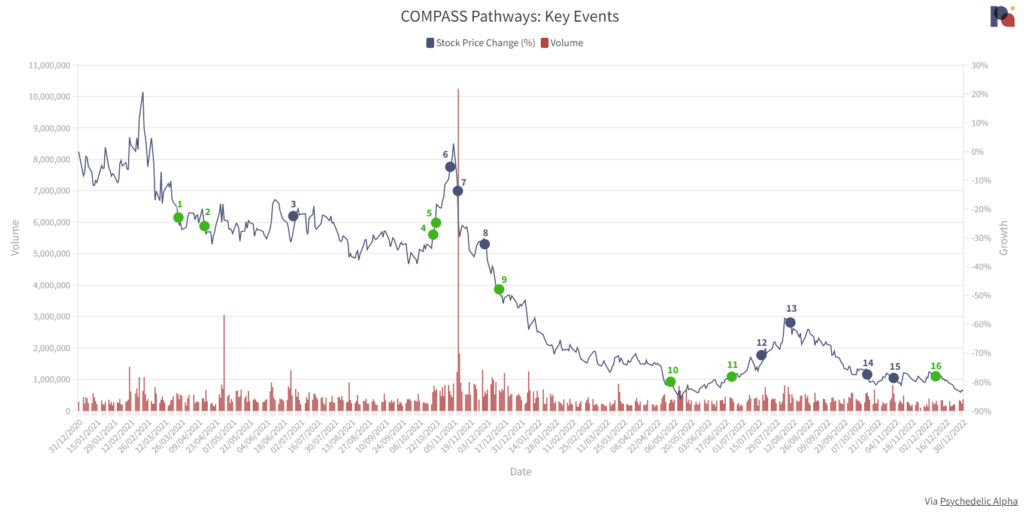 Green signifies events that are broadly accepted to be positive (catalysts).
Granted two U.S. patents

(March 23, 2021).

NEJM published exploratory study showing signals of positive activity in COMP360 vs. escitalopram for MDD

(April 15, 2021).

Completed COMP360 administration in 2b trial of COMP360 psilocybin therapy for TRD  (June 28, 2021).

Granted U.S. patent on crystalline psilocybin

(October 19, 2021).

Open-label study of COMP360 for depression in cancer patients showed feasibility of simultaneous administration

(October 20, 2021).

Announced launch of Phase 2 trial for PTSD (November 3, 2021).

Announced topline results from Phase 2b trial of COMP360 psilocybin therapy for TRD (November 9, 2021).

Further results from Phase 2b trial announced (December 1, 2021).

Announced positive outcome of 25mg COMP360 therapy as adjunct to SSRI

(December 13, 2021).

COMP360 showed potential in exploratory open-label studies for anorexia nervosa and severe TRD

(May 3, 2022).

Survived two patent challenges

(late June, 2022).

Kabir Nath appointed CEO (July 19, 2022).

Terran Biosciences filed a complaint against COMPASS (August 5, 2022; news broke shortly thereafter).

Virtual Capital Market Day; Phase 3 program design announced (October 12, 2022).

Publication of Phase 2b study in NEJM (November 3, 2022)

COMP360 showed potential in open-label study in type II BD 

(December 8, 2022).
In the run-up to the company's announcement of topline results from its Phase 2b trial of COMP360 psilocybin therapy for treatment-resistant depression (TRD), COMPASS published a flurry of press releases as the stock price appreciated. Upon publication of the topline results on November 9th, 2021, however, the stock price took a sharp turn for the worse3. This downward movement was significant, with trading volume spiking to over 10,000,000 on the day of the news: a level that far exceeds any other trading day.
Given that almost all psychedelics companies are pre-revenue, with very concentrated bets on just one lead candidate (or, one lead molecule with a small number of variations), it's clear that clinical trial readouts can have significant consequences for this category.
Whether investors' reactions to the events marked on the company's stock price chart above were rational or proportional is the subject of much debate.
At-Risk Companies
This challenging public market milieu leaves a large portion of publicly-traded psychedelics companies in a precarious position. The total cash and cash equivalents available to public psychedelics companies in late 2022 was just over $900 million, around two thirds of which is on the balance sheets of just a handful of companies.
To better understand the financial health of public psychedelics companies and identify those with an acute risk of folding, we adapted a method of analysis employed by RA Capital. 
The chart below shows the number of public psychedelics companies (the left axis) organised by market cap (as of year-end 2022). Red bars represent the number of psychedelics companies with less than one year of cash, while blue represents the number with more than a year of cash. The right axis represents the burn/market cap ratio4.
As the chart shows, the vast majority of public psychedelics companies have less than one year of cash runway remaining (note that RA Capital deems companies with <2 years cash runway to be concerning, but we had to reduce this threshold to one year as only five companies met the former criteria). The handful of psychedelics companies with market caps over $100m are in a much more favourable position. Generally, the smaller the market cap, the more dire the situation.
RA Capital generally considers any company burning greater than 20% of its market cap is, "starting to enter a problematic zone." With the exception of the >$100m market cap companies, of which there were three at the end of 2022, all psychedelics companies vastly exceed this threshold.
In the below table, we adopted RA Capital's <2 year cash threshold in order to compare publicly-traded psychedelic drug developers with S&P Biotech ETF data.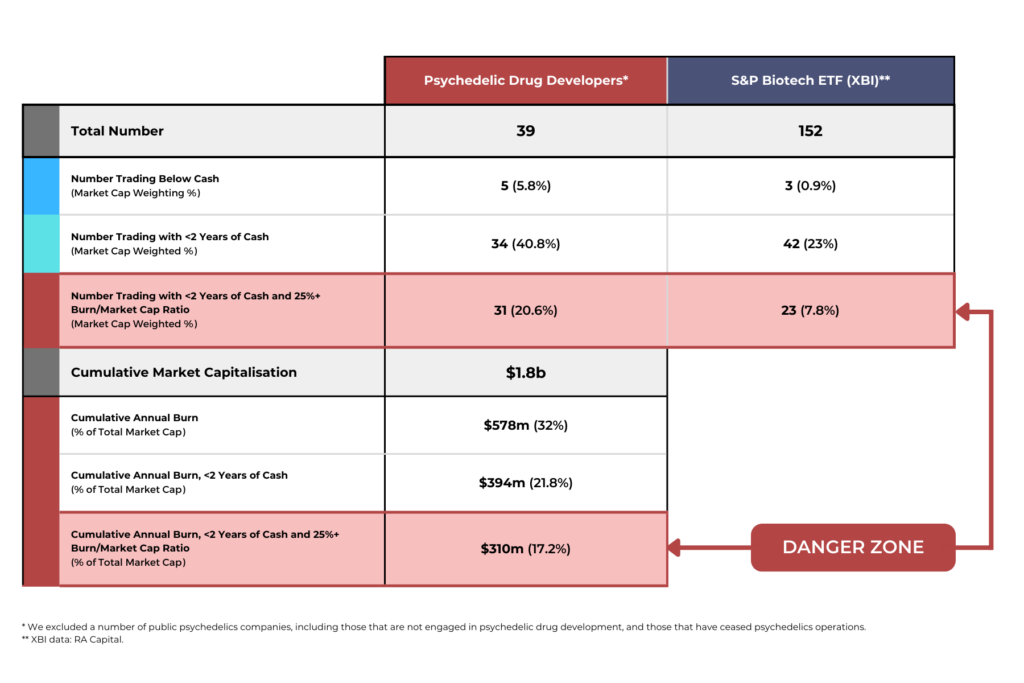 The table tells a straightforward story: a significant portion of public psychedelic drug developers are in a precarious financial position, with 31 of the 39 companies we evaluated falling well within RA Capital's DANGER ZONE.
The First Casualties
The risk isn't just theoretical: some of these distressed public companies ceased operations in 2022. 
The most prominent example from 2022 was MINDCURE. As part of last year's Year in Review, the company's CEO Kelsey Ramsden told us that she expected half of the psychedelics companies with a sub-$300m market cap would "die" in 20224. In March, it became apparent that her company was among the first to effectively revert to a shell company5, after just six months of trading as a public company.
MINDCURE didn't burn through all its cash to the point of insolvency, however. When the company announced it would cease operations it had just over CAD $10m in the bank, representing about 10 months of runway. It was a strategic review that led the company to make the decision to wind down its psychedelics operations6.
Other psychedelics companies are operating right up to the brink of insolvency (see Less Favourable Financings).
We provide further analysis of public psychedelics companies later in our Year in Review.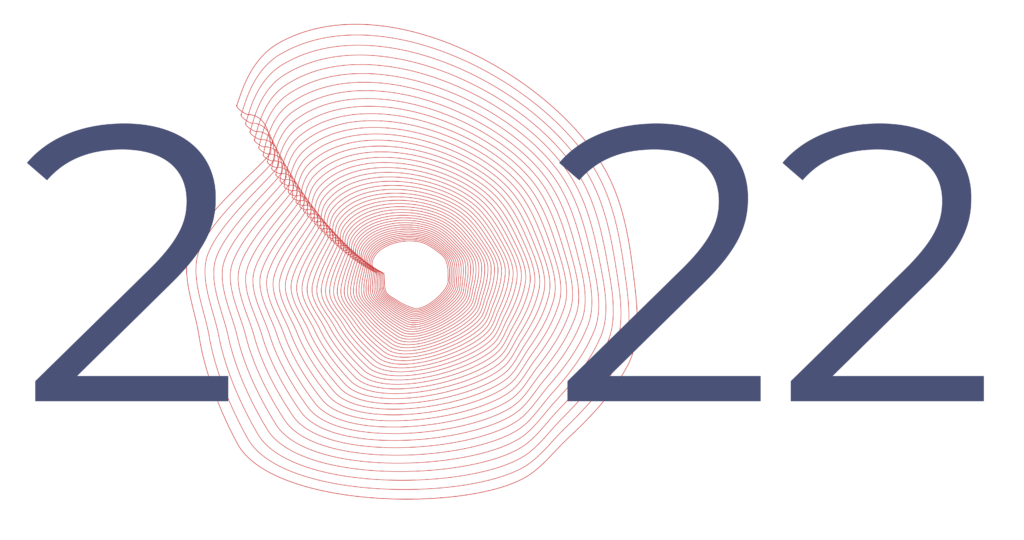 Part of our Year in Review series
This content is part of our 2022 Year in Review, which looks back at the past year through commentary and analysis, interviews and guest contributions.
Receive New Sections in Your Inbox
To receive future sections of the Review in your inbox, join our newsletter…
Browse Other Sections of the Review