This Issue:
📑 MAPS' Second Phase 3 Study Published in Nature Medicine
📄 EMA's New Draft Guideline for the Clinical Investigation of Depression Medicines Includes Section on Psychedelics
⚖️ California's Governor to Decide the Fate of State's Psychedelic Decrim. Bill
and lots more…
MAPS' Second Phase 3 Study Published in Nature Medicine
MAPS-affiliated researchers published their second Phase 3 study of MDMA-assisted therapy (MDMA-AT) for PTSD last week.
The data looks remarkably similar to that produced by the first Phase 3, MAPP1.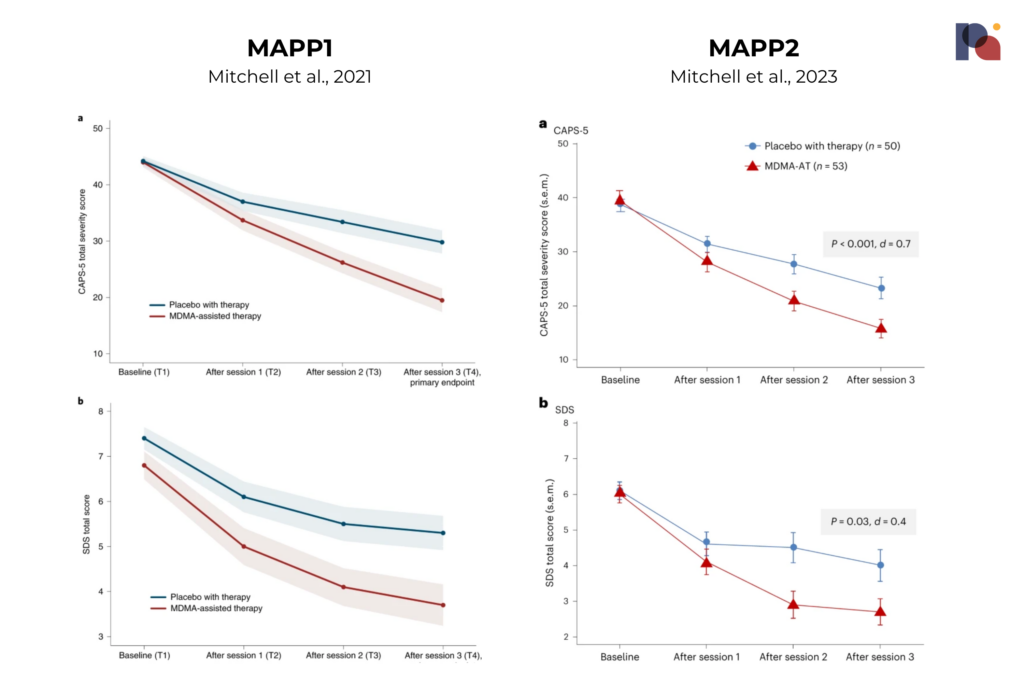 EMA's New Draft Guideline for the Clinical Investigation of Depression Medicines Includes Section on Psychedelics
The European Medicines Agency's latest draft Guideline (PDF) on the clinical investigation of medicinal products for the treatment of depression includes a section on psychedelics. We first covered this forthcoming section back in March, when lead editor Marion Haberkamp mentioned that the new section would feature in the draft Guideline at ECNP's New Frontiers gathering.
The "repurposing of psychedelics", along with other rapid-acting antidepressants (RAADs), necessitates "separate design strategies", the document's executive summary notes. As such, the update to the Guideline provides a new section that covers issues that psychedelic drug developers should consider.
EMA refers to a "new paradigm of psychedelic assisted psychotherapy in the field of MDD", adding that psychedelics "are currently being recognised in psychiatry as potential treatment options to treat various medical conditions including depression."
The document states that psychedelic-assisted psychotherapy1 "faces several challenges mainly related to standardisation, training, monitoring and safety that need to be addressed in specific study designs".
In terms of the draft guidance, the document notes that—consistent with "all other antidepressants"—double-blind placebo-controlled short-term trials are needed to establish a positive risk-benefit profile, along with trials geared toward establishing the durability of effect.
The draft guidance—which is concise, at around a page long—then details a half-dozen challenges that may be encountered in psychedelic clinical trials.
The first such challenge is most likely the least surprising: the fact that maintaining blind (and thus the primary intended utility of placebo control) can be difficult. The second point is closely related, as it focuses on positive expectancy which can lead to both an "overestimation bias" as well as negative expectancy or a nocebo effect in those that guess that they are not assigned to the active arm. The draft Guideline suggests that strategies such as employing a low-dose or active placebo, or enlisting independent and blinded external raters, might go some way to overcoming these challenges. Interestingly, EMA does not recommend swapping-out facilitators/monitors after the dosing session, which the FDA included in its own draft guidance (to much chagrin!).
The draft guidance also suggests that investigators should seek to characterise a dose-effect relationship. In the case of psychedelics, "the relationship between characteristics of the acute psychedelic experience and clinical improvement" should also be investigated. So too, the draft Guideline notes, should the need for "individualised dosing due to inter-individual variability in drug metabolism, age, sex, or personality".
Maintenance of effect is the subject of the next point, which reminds sponsors that they need to demonstrate both durability of effects as well as any need for recurrent dosing. On the topic of psychedelic therapies, the draft notes that data on this topic is "very limited".
Safety is the focus of the next point, which notes that the "ability to change the perception of reality can have unknown implications for depressed patients", such as anxiety, derealisation and "negative trips". Other adverse events such as headaches, elevated blood pressure and heart rate, and suicidality are also mentioned as having been reported with the use of psychedelics. "That", the draft states, "is why psychedelics need to be administered in a controlled environment."
Unsurprisingly, the draft Guideline notes that drug-drug interactions, at least in the case of regular co-administration, need to be characterised. Interestingly, the safety-related guidance ends by mentioning that "long half-life psychedelics may require long surveillance which can be burdensome for patients, physicians and health care systems."
Finally, the psychedelics-specific guidance looks at the role of psychotherapy. "The monotherapy setting with psychedelics alone may not be applicable or feasible", it begins, before noting that the use of psychedelics as therapeutics "is usually embedded in a non-directive psychological support."
EMA says that trials "need to be able to demonstrate that the effect of the psychedelic assisted therapy is not due to the psychotherapy alone." The protocol used, including preparatory and integration sessions, should be clearly defined; including where this may need to be tailored to the type of psychedelic administered. "Type, length and frequency of psychotherapy and training need to be standardised to the maximum possible effect, despite ethnic and cultural differences", the draft Guideline continues. EMA's expectation of standardisation goes beyond the trial setting and into clinical practice. On this note, the agency expects sponsors to devise a plan to "provide specific training to therapists".
In closing its psychedelics guidance, EMA encourages sponsors to seek scientific advice prior to initiating their clinical development program. For those that aren't familiar, 'scientific advice' is a facility through which EMA responds to specific questions posed by sponsors.
As we noted in our Dispatch from ECNP earlier this year, uptake of this offering is very low in the psychiatric disease category:
But, drug developers need not navigate these challenges alone, at least with regards to the EMA. Haberkamp was keen to point out statistics on uptake of the EMA's scientific advice facility, which show a very low level of interaction between EMA and drug developers in the psychiatric diseases category versus, say, infectious diseases.

"Scientific Advice and early dialogue is recommended and is probably helpful", her slides read. More psychedelic drug developers might be wise to take up the EMA on its offer of advice!
There aren't any nasty surprises for psychedelic drug developers in this draft Guideline, which summarises the more well-known challenges that sponsors and investigators face. It's also similar to FDA's draft guidance in many respects.
There are some notable differences, however. As aforementioned, EMA has (perhaps wisely) steered clear of suggesting sponsors use different facilitators/monitors for integration sessions in an attempt to reduce biases.
EMA also avoids discussing potential risks associated with chronic 5-HT2B agonism, which FDA mentioned a number of times in its draft guidance and prescribed "a thorough evaluation of [receptor subtype] binding" and activity as well as the exclusion of subjects with preexisting valvulopathy or pulmonary hypertension from multiple-dose studies and potentially the inclusion of baseline and follow-up echocardiograms for chronic administration studies (though, "chronic" is as-yet defined). EMA did note that "cardiovascular effects" should be monitored, though this is most likely referring to acute effects during dosing sessions.
However, FDA's draft guidance goes into much more detail than EMA's, including guidance on areas like Chemistry, Manufacturing, and Controls (CMC) and preclinical matters. So, any omissions in EMA's draft Guideline might be best chalked up to brevity, in many cases. (Indeed, the primary focus of the EMA draft Guideline is the clinical investigation of Depression therapeutics, with psychedelics being just one subset of RAADs.)
EMA's draft Guideline, though shorter, draws some focus to the logistical difficulties that may be encountered in scaling psychedelics due to monitoring requirements (especially in the case of "long half-life" molecules) as well as training therapists.
Psychedelic drug developers are likely to find other updates to the Guidance relevant, such as EMA's updates to several aspects for trial designs in 'difficult to treat' patients and those targeting sub-domains of depression; requirements for new rapid acting therapies; and, monitoring "the degree of suicidal thoughts and behaviour and their change […] with antidepressant therapy by use of validated instruments".
The draft Guideline is now open to public consultation, which closes on the 31st of March 2024. Comments (which can be anonymous) may be submitted via a webform.
California's Governor to Decide the Fate of State's Psychedelic Decrim. Bill; TREAT Initiative Reviewed
Having passed out of the California Assembly Appropriations Committee's 'suspense day' proceedings and re-clearing the Senate floor, Senator Scott Wiener's psychedelic decrim. Bill (SB-58) has headed to Governor Newsom's desk.
The Governor, who many believe has future Presidential ambitions, has until mid-October to decide whether to sign the Bill into law.
Even if signed into law, SB-58 would not take effect until 2025 due to amendments made by Wiener's fellow Assembly members.
Elsewhere in the Golden State, a ballot measure that would carve out $5bn in state bonds to establish a psychedelic institute was reviewed by the California Legislative Analyst's Office.
The proposed institute, dubbed the Treatments, Research, Education, Access and Therapies (TREAT) Institute, would be governed by an independent board and would oversee both R&D and care provision activity. TREAT would largely act as a grant-giving body.
According to the Legislative Analyst's Office, bond repayment would cost $220m per year for thirty years, meaning costs would total $6.6bn over the course of the proposed period. Proponents of the initiative argue that TREAT-driven discoveries such as novel drugs or therapeutics and related intellectual property rights could generate revenue for the state.
Other benefits might be derived from discovering or implementing more cost-effective mental health treatments, but this will be determined by the health economics of any novel interventions: as the Legislative Analyst's Office report points out, "government costs could increase if promising new treatments are more expensive or if more staff are needed to support their implementation."
The TREAT campaign now needs to collect over 850,000 valid signatures from registered voters in order to get a spot on next year's ballot.
Featured Psychedelic Jobs
Other Stories
Participants and practitioners share stories of healing with ibogaine in an effort to convince the Kentucky Opioid Abatement Advisory Commission to assign $42m to the cause. More via Lexington Herald Leader, WLKY News (video), and the full seven-hour recording. This was the final hearing before the Commission votes on November 15th.
Lophos Pharmaceuticals list on CSE. On September 6th, shares of Lophos Holdings Inc. commenced trading on the CSE under ticker symbol MESC. But it was a damp squib, with very low volume. The share price halved on the first day of trading, and has since lost more than half its value again. The company's market cap is a sobering $5m. As at July 31, 2023, the company had working capital of just $89k.
The company's principal business, according to its Prospectus, is "the cultivation and research of Lophophora williamsii ("peyote cactus")." In the long-term, the document continues, "the Company is engaged in the research and development of compounds derived from peyote cactus." So, it seems like the company hasn't strayed too far from the plans we covered last January (See Company Seeks to "Secure Existing Supply" of Peyote in Canada).
Origin Therapeutics writes off a number of psychedelics investments. According to its most recent filings, CSE-listed investment issuer Origin Therapeutics has assigned a value of nil to a number of its investments. The company has around a half-dozen investments, all of which are somewhat psychedelic-related. It's clearly been a challenging time for Origin, which has assigned a nil value to its investment in Dimensions Health Centres and Xpira Pharmaceuticals, and wrote off convertible notes with Clairvoyant Therapeutics as bad debt.
Awakn scores UK Innovation Passport. The UK's MHRA has awarded Awakn's ketamine-assisted psychotherapy protocol, AWKN-P001, an Innovation Passport allowing it entry to the Innovation Licensing and Access Pathway. The agency had already awarded its own version of a Breakthrough Therapy Designation to over a half-dozen psychedelic drug developers.
Florida State University chemist Joel Smith has scored $1.8m from the National Institute of General Medical Sciences to study LSD derivatives, among other things. The researcher hopes to use the funds to devise strategies to synthesise some of nature's more complex molecules, according to an article. Among the projects is the pursuit of LSD derivatives, which has purportedly lagged behind efforts to develop derivates of other psychedelics (such as DMT and psilocin) due to its complexity.
Steven Cohen's Point72 buys 19 million Cybin shares. Cohen's hedge fund now owns just north of 8% of the company, according to filings.
Norrsken Foundation launches with €3m to fund psychedelic research. The Norrsken Foundation has launched Norrsken Mind, which will fund psychedelic research in Sweden and Europe more broadly. It's starting with around €3m, but hopes to raise more in time. More via Tech.EU.
Misc. Reads
BBC: The firms hoping to take psychedelic drugs mainstream (Note: Josh commented on investor interest in shorter-acting and non-hallucinogenic psychedelics in this piece.)
PBS: Oregon's new psilocybin service center invites public to try psychedelic mushrooms
POLITICO: Experienced trippers should advise on Europe's use of psychedelics, says lobby
The Intercept: California Might Legalize Magic Mushrooms
The Herald: Psilocybin: A cure for alcohol addiction and depression? [An interview with David Nutt.]
Daily Hampshire Gazette: Local group pushes psychedelic legislation as D.C. outfit aims for ballot
The Charlotte Observer: From a basement in Charlotte to the NC statehouse: Psychedelic therapy gets a new look
Wired: Elon Musk Does It. Sergey Brin Does It. Your Boss Might Do It. Welcome to the Workplace Shroom Boom
The Guardian: Psychedelic treatment in mental health lacks evidence, Australian experts say
CN Anschutz Medical Campus: Could Psychedelic Research Comeback Signal Holy Grail?
CPR News: Colorado wants to hear your thoughts on psychedelic legalization
National Seniors Australia: Aussies pioneer psychedelic treatment for prolonged grief
Ten Trips: The New Reality of Psychedelics – Andy Mitchell
Friend of Psychedelic Alpha and neuropsychologist-cum-drug tourist (New Scientist) Andy Mitchell has penned Ten Trips, which will be released on Thursday 21st of September. As the name suggests, Mitchell embarks on a world tour with the goal of experiencing ten different psychedelic drugs in a variety of contexts: from a neuroimaging lab to the Colombian Amazon.
I had a great time chatting with Andy for this book and even more fun reading it. I'll let the reviews speak for themselves:
An original and thrilling investigation into psychedelics and the claims that currently surround them, achieving profound insights into their essential qualities

Mike Jay, author of Psychonauts
An incisive, deeply personal and beautifully written account of the power, the uses and the modern misuses of psychedelics. Highly recommended

Anil Seth, author of Being You
Mitchell's decapod of delirious drug experiences is an antidote to the hype and a rallying cry to keep psychedelics . . . psychedelic

Josh Hardman, Psychedelic Alpha
For more info and to pre-order, head to Penguin.
Join our newsletter to have our Weekly Bulletin delivered to your inbox every Friday evening. We summarise the week's most important developments and share our Weekend Reading suggestions.