This Issue:
🚫 Analysis: California Governor Vetoes Psychedelic Decrim. Bill
🚨 At-Home Ketamine Gets Another Lifeline, But FDA Sounds Alarm
⚖️ One to Watch: Challenge to Chevron Could Shatter Federal Agencies' Power
📊 Bionomics' Phase 2b Study of PTSD Treatment Reports Positive Results
🏅 Fabre-Kramer's 5-HT1A Agonist Scores FDA Approval for MDD After Multiple Rejections
📰 Psychedelic Drug Development Updates (GH Research; atai; Cybin)
and lots more…
Analysis: California Governor Vetoes Psychedelic Decrim. Bill
On Saturday October 7th California's Governor, Gavin Newsom, returned Senate Bill 58 to the Senate without his signature, effectively vetoing it.
As a reminder, SB 58 would have decriminalised the personal possession and use of small quantities of psilocybin (and psilocin), DMT and mescaline.
It seemed like California voters were generally on-board with the measure, with an August survey by FM3 reporting that 60% of likely 2024 voters in the Golden State saying Newsom's signature on the bill would have a positive or neutral impact on their opinion of the Governor. So, why might Newsom—who was a vocal proponent of California's 2016 cannabis legalisation campaign—oppose the decriminalisation of a handful of (handfuls of) psychedelics?
We alluded to Newsom's rumoured Presidential ambitions back in September, and most analysts seem to agree that national political sensitivities may have superseded state-level support for the measure.
Look at UC Berkeley's Psychedelic Survey results, for example: their representative sample of U.S. voters found that 49% support the decriminalisation of personal possession and use of psychedelics. While that's a significant portion of the population, it's also evidence of a hotly-contested issue. What's more, the majority of voters have strong opinions about the matter, with 31% strongly opposing it and 29% strongly supporting it. And, even of the 49% that support decrim., 41% of them said psychedelics are not "good for society".
And there's clear political contouring to it. Despite colleagues noting that psychedelic policy reform is a firmly bipartisan issue, it's still not quite there yet. If we remove the "don't know" answers Berkeley's poll, for example, shows that conservatives are nearly four times as likely to oppose psychedelic decriminalisation versus liberals. Among self-identified moderates, the margin between support and opposition is razor thin with 2% fewer opposing than supporting. That's well within the +/-2.5% margin of error for the survey, and with a substantial portion of respondents responding, "don't know", this is a political hot potato, especially in swing states.
All this to say, it's perhaps not surprising that psychedelic decrim. doesn't fit into Newsom's electoral calculus.
But for advocates of such a move, it's not all doom and gloom because:
a) Newsom didn't shut the door entirely, and
b) the California public could get their say on the matter at next year's elections.
Let's take a closer look.
a) Newsom didn't shut the door entirely
The Governor issued a short letter to the Members of the California State Senate to explain his veto of SB 58. Despite its conclusion, the letter strikes a somewhat optimistic tone about the potential of psychedelics.
"Both peer-reviewed science and powerful personal anecdotes lead me to support new opportunities to address mental health through psychedelic medicines like those addressed in the bill", the letter explained, adding that psychedelics, "have proven to relieve people suffering from certain conditions such as depression, PTSD, traumatic brain injury, and other addictive personality traits." (Note: the phrasing is odd in that it implies that the conditions listed are addictive personality traits, though that presumably wasn't intentional.)
"This is an exciting frontier and California will be on the front-end of leading it", Newsom exclaimed.
The Governor prescribes that "California should immediately begin work to set up regulated treatment guidelines – replete with dosing information, therapeutic guidelines, rules to prevent against exploitation during guided treatments, and medical clearance of no underlying psychoses." "Unfortunately," he continues, "this bill would decriminalize possession prior to these guidelines going into place, and I cannot sign it."
Newsom then encourages ("urge[s]", even) his colleagues to "send me legislation next year that includes therapeutic guidelines", adding that he is "committed to working with the legislature and sponsors of this bill to craft legislation that would authorize permissible uses and consider a framework for potential broader decriminalization in the future, one the impacts, dosing, best practice, and safety guardrails are thoroughly contemplated and put in place."
That's an odd way to grapple with a decriminalisation bill, isn't it?
It is true that SB 58 contemplated establishing a framework for governing therapeutic or facilitated use of the psychedelics included. But, this was a secondary element of the Bill, which would have instructed California Health and Human Services to convene a workgroup to explore this piece. Far and away the most substantive element of the Bill was decriminalisation of the aforementioned drugs.
So Newsom's reasons for not lending his autograph to the Bill are a little befuddling… decriminalisation should be agnostic of the venue or context in which psychedelics are used, so long as it is in-line with the limitations of the statute (e.g., adhering to permissible quantities). Things like "dosing information" and "therapeutic guidelines" are relevant to 'therapeutic' or facilitated use models only.
The most straightforward interpretation is that Newsom wants 'therapeutic use' to come ahead of any decriminalisation. Indeed, the fact that he signed AB 1021 into law a week ahead of his SB 58 veto was a hint at this tack. (AB 1021 ensures that California law is automatically harmonised with federal scheduling decisions, meaning that prescribing formerly-Schedule I drugs would be possible immediately following a federal downscheduling decision. Of course, this could shorten the time-to-market for drugs like MDMA and psilocybin in the state, if approved by the FDA and rescheduled by DEA.)
So, what next? As I mentioned when chatting to Celia Ford for her piece in Wired, Wiener is expected to return next session with yet another psychedelics bill. Third time's a charm? But this time I expect it to be more tightly focused on 'therapeutic use'. Where that line will be drawn is unclear, though… does it include the type of facilitated use seen in Oregon, and soon Colorado?
But before that, we will learn whether questions on two psychedelic initiatives make it to the state's 2024 ballot.
b) the California public could get their say on the matter at next year's elections
If, as suggested by FM3's polling, CA voters are on-side, we could see success for two psychedelics ballot initiatives at next year's elections.
But first, they have to collect over a million signatures between them in order to secure a place on the November 5 ballot.
The first of the two initiatives is a straightforward psilocybin legalisation one (it's even titled straightforwardly, "The California Psilocybin Mushroom Legalization Initiative").
It would legalise and regulate the cultivation, processing and distribution of psilocybin mushrooms for medical, therapeutic, religious or recreational use. It also directs the state to "implement qualification requirements and protocols for psilocybin-assisted therapy", allows "qualified healthcare practitioners" to use psilocybin mushrooms in research, treatment and therapy, and authorises the sealing of criminal records for prior psilocybin-related offences if the person's sentence is spent.
This one will need to gather 546,651 valid signatures by January 10th, 2024.
The second is the "California Establish TREAT Institute Initiative", where TREAT stands for Treatment, Research, Education, Access, and Therapies.
As mentioned in our earlier reporting, this initiative would authorise state general obligation bonds to the tune of $5 billion, which would fund the project with up to $500m a year.
This initiative, which would lead to constitutional amendments and state statute changes, requires 874,641 valid signatures.
Signature collecting is underway for both initiatives.
At-Home Ketamine Gets Another Lifeline, But FDA Sounds Alarm
DEA and HHS have announced another temporary extension to COVID-era telemedicine flexibilities that allow for the remote prescribing of controlled substances, such as ketamine. The last exemption was issued on May 10th and was due to end on November 11th. This latest extension, published in the Federal Register on October 10th, runs through the end of the 2024 calendar year.
It's likely that DEA and HHS still intend to find a middle ground between COVID-era flexibilities and pre-COVID checks around controlled substances (notably, in-person consultations in the first instance). However, this significant 13-month extension will provide some level of certainty for practitioners and patients, at least in the medium-term.
On the very same day (October 10th, that is), FDA issued a warning to patients and healthcare providers on "potential risks associated with compounded ketamine products, including oral formulations, for the treatment of psychiatric disorders".
The statement reminds readers that ketamine is "not FDA approved for the treatment of any psychiatric disorder", despite increased interest in this area. It also reminds us that compounded drugs themselves are not FDA approved, either, meaning their safety, effectiveness or quality has not been evaluated by the agency.
Now, onto the more practical concerns. FDA says that the use of ketamine products without monitoring by a healthcare provider for sedation, dissociation and changes in vital signs "may put patients at risk for serious adverse events."
"Despite increased interest in the use of compounded ketamine," the agency writes, "we are not aware of evidence to suggest that it is safer, is more effective, or works faster than medications that are FDA approved for the treatment of certain psychiatric disorders."
Last February, FDA issued a warning about compounded ketamine nasal sprays, which were presumably being used as a cheaper alternative to Janssen's Spravato (esketamine) product. "Though esketamine is derived from racemic ketamine, they are not the same drug", the agency wrote, adding that animal studies "have shown that racemic ketamine can cause lesions in the brains of rodents": a finding that animal studies with esketamine "do not show".
FDA was keen to note that the Spravato Risk Evaluation and Mitigation Strategy (REMS) was part of its FDA approval, requiring the product be "dispensed and administered in medically supervised health care settings" that include elements like monitoring a patient for at least two hours post-administration. Compounded ketamine products, meanwhile, are not subject to REMS.
Since that February 2022 warning, FDA says it has "become aware of increasing public interest in the use of sublingual and oral dosage forms of compounded ketamine for the treatment of psychiatric disorders." It specifically calls out telemedicine platforms that allow for at-home use, noting that "the lack of monitoring for adverse events … by an onsite health care provider may put patients at risk."
At-home ketamine treatment providers (big names include Mindbloom and Nue Life) would be wise to take note of this warning and consider whether their protocols offer adequate monitoring and allow for intervention if needed.
***
While we're on the topic of Spravato vs. generic ketamine, an interesting article published last Friday in the Australian & New Zealand Journal of Psychiatry. Rodgers et al. (2023) discuss how the lack of incentive to develop generic racemic ketamine for psychiatric disorders like depression—despite its promise as an antidepressant being uncovered more than two decades ago—explains the failure to seek or achieve approval for this use. Instead, Janssen's Spravato product gained approval of its patented drug-device, priced at $600-900/dose compared to around $5/dose for generic ketamine, the researchers explain.
But the country's Medicare system doesn't cover Spravato, meaning it's inaccessible to the majority of Australians. The authors state that "emerging evidence indicates that generic racemic ketamine is at least as effective as Spravato", and point out that without action, "this story will repeat regularly in the next decade with a new wave of psychedelic-assisted psychotherapy treatments, for which the original off-patent molecules could be available at low-cost and reduce the overall cost of treatment."
It's an interesting read that goes beyond armchair philosophy (or, health economics) by providing some concrete suggestions for reforms, including public and public-private funding schemes, reduced regulatory barriers and coordinated international funding schemes.
Elsewhere, a study (n=336) that compared esketamine (Spravato) to quetiapine (Seroquel, among other brand names) for treatment-resistant depression found that Spravato was "superior to extended-release quetiapine" with respect to remission at week 8 (Reif et al., 2023). (Note: both arms were using an SSRI or SNRI, too.)
(We initially covered this back in December 2022, when Janssen shared the news that its Spravato had outperformed quetiapine.)
The Janssen-funded study will likely boost the company for another shot-at-goal with groups like the UK's National Institute for Health and Care Excellence (NICE) who, like Australia's state-funded healthcare system, have repeatedly refused to cover Spravato.
While the results are positive, some have wondered whether quetiapine is a suitable comparator. Speaking to STAT, Columbia's Joshua Berman noted that "Quetiapine is not the most robust add-on treatment for treatment-resistant depression", adding that he's "not surprised that ketamine would be a superior treatment".
Editor's Note: Shortly before this piece went to press, Johnson and Johnson released its Q3 2023 results. The company reported $183 million in worldwide sales (the vast majority of which were in the U.S.) of Spravato in Q3 2023 vs. $100 million in Q3 2022.
Bionomics' Phase 2b Study of PTSD Treatment Reports Positive Results
Bionomics, which is backed by the likes of Christian Angermayer and has a Memorandum of Understanding with atai's EmpathBio, shared positive topline results from a Phase 2b trial (n=212) of its negative allosteric modulator of the α7 nicotinic acetylcholine receptor, BNC210.
BNC210, which received FDA Fast Track designation for the treatment of PTSD and social anxiety disorder (SAD), among other related disorders, met its primary endpoint showing that it led to a statistically significant reduction in total PTSD symptom severity at 12 weeks. The company reported that its candidate was well-tolerated, demonstrating a safety profile that could support chronic administration.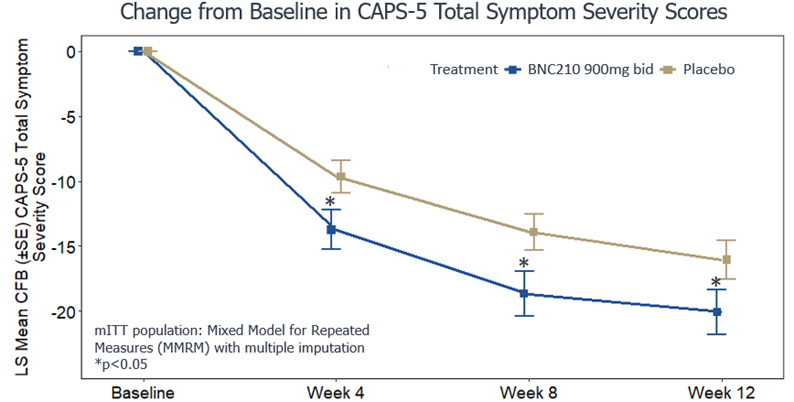 If we compare this topline data (which, we remind you, is a very crude endeavour) with MAPS's MDMA-assisted therapy for PTSD results from its two Phase 3 studies we see a somewhat similar effect, at least at first look. Across its two studies, MAPS' MDMA-assisted therapy led to a mean change in CAPS-5 score of -23.7 and -24.4 versus -14.8 and -13.9 in the placebo groups. Bionomics' candidate, meanwhile, led to a mean change of around -20, versus around -16 in the placebo group.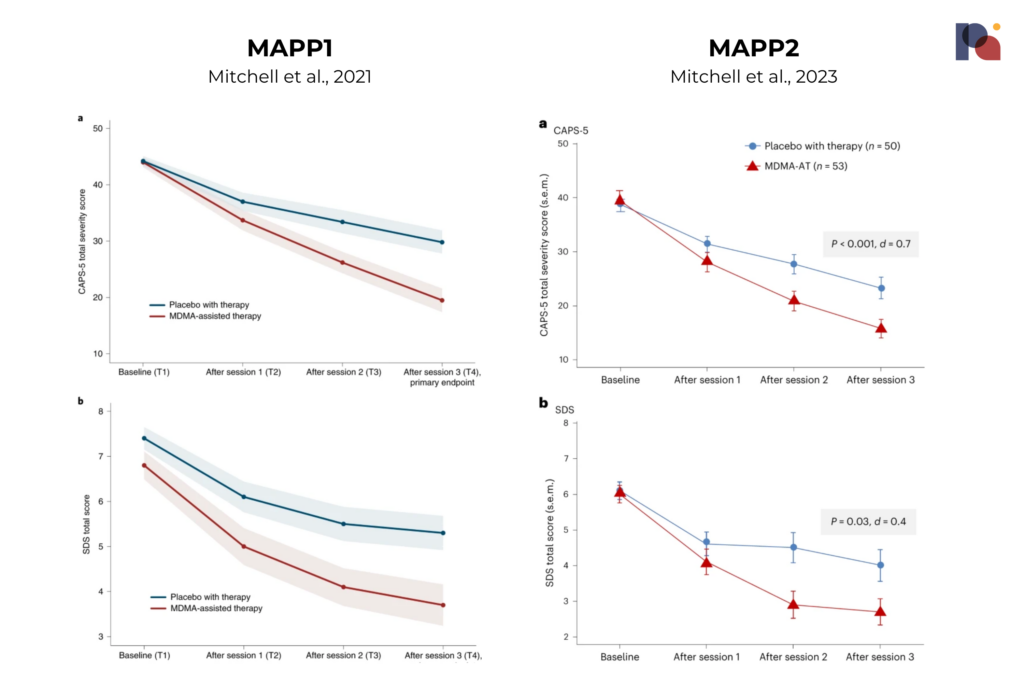 The first question here might be: why is Bionomics' placebo effect so large? It's larger than that seen in either of MAPS' trials, where extensive and intensive psychotherapy is provided to the placebo group. Without knowing more about the intervention and patient population, however, it's difficult to infer much about why this may be.
We might also note that MAPS' data shows a placebo-subtracted mean change of around 10 after session 3, with the change between placebo and active group growing as time goes on (at least up until the post-session three point in time). BNC210, meanwhile, reports a ~4 point placebo-subtracted mean change at the week 12 endpoint, and this separation between placebo and BNC210 appears relatively consistent with both groups' CAPS-5 scores trending downward.
As aforementioned, without knowing further information about the study and its participants (such as baseline characteristics), it's difficult to do much more analysis. As such, we await a full publication of Bionomics' Phase 2b data.
Fabre-Kramer's 5-HT1A Agonist Scores FDA Approval for MDD After Multiple Rejections
After a decades-long saga, Texas-based Fabre-Kramer has achieved approval for its first-in-class 5-HT1A agonist, gepirone, for the treatment of major depressive disorder (MDD).
Gepirone was first invented by Bristol Myers Squibb back in 1986 before being licensed to Fabre-Kramer. Fabre passed it on to Organon, which saw FDA turn it down twice in 2002 and 2004. Organon flipped it back to Fabre-Kramer, who worked with GSK to have another shot-on-goal with FDA. It was third time unlucky, though, as FDA refused to approve the drug in 2007. FDA had determined that a number of failed studies outweighed a smaller number of positive ones.
GSK dipped, and Fabre-Kramer decided to appeal the 2007 rejection five years later in 2012 leading to an advisory committee hearing in 2015. The committee voted 9-4 against Fabre-Kramer, finding a lack of evidence supporting the candidate's efficacy.
As such, the approval—announced late last month—was hard-fought, and has led some to question whether the drug is meaningfully better than current options or whether pressure on FDA to approve antidepressants with novel mechanisms might be at play here.
While the product's box will have a warning for suicidal thoughts and behaviours in children and young adults (though it's not approved in these populations), Fabre-Kramer was keen to point out that it does not include warnings around sexual dysfunction and weight gain, with which it might hope to differentiate itself from currently-available antidepressants.
The extended-release gepirone hydrochloride tablets will be marketed under the brand name Exxua, and are expected to be available early next year.
Psychedelic Drug Development Updates
FDA Places GH Research's Lead Candidate on Clinical Hold
GH Research's inhaled 5-MeO-DMT candidate, GH001, has had its Investigational New Drug (IND) application placed on clinical hold by the FDA due to  "21 CFR 312.42(b)(1)(iv): Insufficient information to assess risks to human subjects". The company announced the hold at the foot of a press release in late September.
Thus far, GH001 has been trialed in Europe, such as in a Phase 1/2 trial that's completed. The company is currently recruiting for a larger European trial of the candidate: a Phase 2b multi-centre, randomised, double-blind, placebo-controlled study in patients with treatment-resistant depression (TRD). Topline data is expected in H2 2024. These trials use a third-party inhalation device.
The U.S. IND application, however, concerns GH's plans to initiate a Phase 1 trial of GH001 administered using its proprietary aerosol device. The company hopes to use data from that trial to bridge the pre-existing clinical data (including the ongoing European Phase 2b) over to this in-house device, enabling a Phase 3 pivotal program with this device.
So, how might we interpret the hold? One might naturally assume that, given that the Phase 2b was green-lit in Europe, the hold might have something to do with the company's proprietary aerosol device, assuming all else equal.
GH told Psychedelic Alpha that the company plans to provide an update in its next earnings release in November. By that time, GH should have received further information from the FDA.
Many clinical holds are ultimately lifted, though the length of time in which this is achieved can vary. Some readers might remember that MindMed had a clinical hold on its LSD IND lifted within around a month, and a clinical hold on Tryp Therapeutics' synthetic psilocybin candidate was lifted within a couple of months.
Perhaps the key question is: How much might this set GH001's development timeline back?
If the hold is resolved in short order and GH is able to substantially conduct its Phase 1 in H1 2024, it might still be on track to bridge its European clinical data to its proprietary device and remain on-track for a Phase 3 program thereafter. But if this hold drags on (for example, it might necessitate the collection of further preclinical data to satisfy FDA), it could eat into the company's Phase 3 launch timeline.
Shares in GH did not immediately react to the news. In fact, the share price actually appreciated in the days following the September 29th announcement. However, in the weeks since, GH has repeatedly closed trading at sub-$10 levels for the first time since May.
Much of the stock is held by institutional investors, which might explain the relative lack of volatility at this news.
atai Wraps Phase 1 Study of DMT Candidate, but Won't Move to Phase 2 Just Yet
Earlier this month, atai announced that it has completed a Phase 1 study of VLS-01, its oral transmucosal film (OTF) formulation of DMT. While the company reported the candidate was well-tolerated and the PK/PD data suggests OTF delivery is comparable to IV, the company announced that it plans to "further optimize" VLS-01 prior to entering Phase 2.
As such, the company is planning a Phase 1b which it plans to commence recruitment in H1 2024.  The company had already amended its protocol to add a Part 3 to its initial Phase 1 study, in the hopes of optimising the PK and PD of its OTF formulation.
Prior to that, atai had hoped to start a Phase 2a study in H1 2023 with results in H1 2024. Now, it looks like it won't be starting a Phase 2 study until H2 2024 at the earliest.
Dosing Complete in Cybin's Phase 2 Study of Deuterated Psilocybin for MDD
Earlier this month, Toronto-based Cybin announced that it has completed dosing the final cohort in its Phase 2 study of CYB003, its deuterated psilocybin candidate for major depressive disorder (MDD). Topline efficacy data is expected soon (Q4 2023).
Cybin shared that the candidate has "been shown to be safe and tolerable at all doses evaluated with no serious adverse events or discontinuations due to adverse events having been observed in the final dose cohort." As a reminder, the trial evaluates doses in six cohorts: 1mg, 3mg, 8mg, 10mg, 12mg, and 16mg.
The company is preparing for a potential Phase 3 pivotal study in early 2024, according to CEO Doug Drysdale. That includes an End of Phase 2 meeting in early 2024 to review Phase 3 program design as well as scaling the training of facilitators for future studies, the company explained.
Dr. Roland Griffiths Passes Away
On Monday evening Roland Griffiths, a pioneer in psychedelic and consciousness research, passed away.
Professor David Nutt shared:
A sad day: my longtime friend and colleague Roland Griffiths died last night after a long battle with cancer during which he showed the inspiring courage and wisdom that characterised his whole career, especially in resurrecting psychedelic research. A truly great scientist.
An interview between Roland and his wife, Marla, and Manish Agrawal displays the pair's remarkable sense of perspective on Roland's diagnosis and beyond.
Beyond his immense impact on the present field of psychedelic and consciousness research, his legacy includes The Roland R. Griffiths, PhD, Professorship Fund in Psychedelic Research on Secular Spirituality and Well Being. The Fund establishes (and aims to support, in perpetuity) a world-class psychedelic research program to advance human flourishing and wellbeing.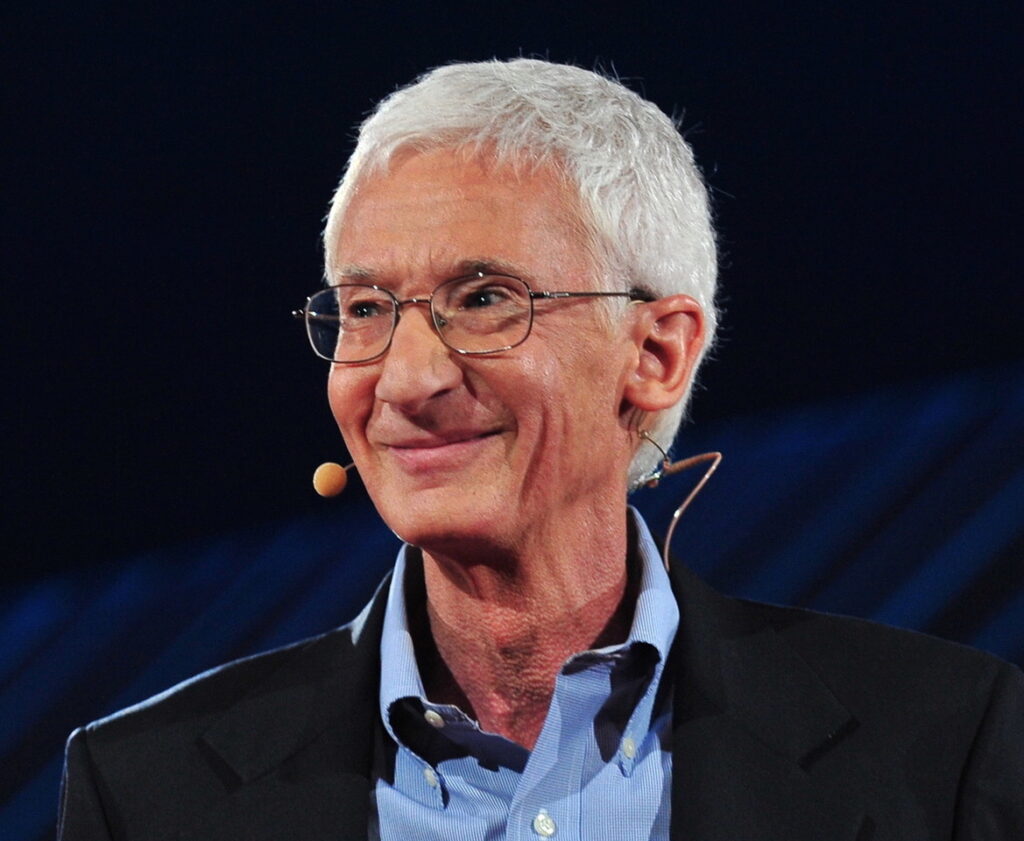 Featured Psychedelic Jobs
One to Watch: Challenge to Chevron Could Shatter Federal Agencies' Power
Next January, the U.S. Supreme Court is set to tackle the question of whether effectively devolving federal government agencies the power to interpret the legal authority afforded to them by Congress is appropriate.
The precedent that afforded this legal doctrine, known as Chevron deference, will be argued via two cases consolidated for review: Loper Bright Enterprises v. Raimondo and Relentless, Inc. v. Department of Commerce. Last Friday it was announced that the two cases would be heard in tandem.
Loper and Relentless both revolve around challenging whether federal fisheries regulators can require fishing vessel operators to stump up for on-boat checks and monitoring to ensure compliance with federal limits, such as paying for federal observers to join them on voyages. Under the Chevron doctrine, the Department of Commerce's own interpretation of its statutory powers afforded by Congress must be given deference, as long as they are not arbitrary or capricious or obviously contrary to the statute, but those bringing the cases believe it is acting beyond its remit.
The move to overturn Chevron is primarily supported by conservatives, some of whom deem it to afford too much power to federal bureaucrats as opposed to judges. Supporters of Chevron, meanwhile, argue that this somewhat technocratic set-up affords agency to those with the highly specialised knowledge needed to interpret unclear or ambiguous federal law in regulated industries. These supporters include the Biden administration.
"What impact does Chevron have on psychedelics", I hear you ask. Well, the autonomy of federal agencies like the DEA and FDA benefits from Chevron deference. If Chevron is overturned, it would significantly reduce the power of federal government agencies. This could have significant impacts on how (and where) ongoing cases (such as AIMS v. US DEA), as well as new ones, are decided.
As Shane Pennington has discussed at length, Chevron has effectively protected the DEA's standards for interpreting "no currently accepted medical use in treatment in the United States", even where the First Circuit and D.C. Circuit have rejected the agency's reading. These interpretations have been important to scheduling proceedings for both MDMA and cannabis. But for more on this, you really should read Shane's commentary.
The import of the case is demonstrated by how quickly the Court will hear it: the January timeline is much faster than usual. Decisions on the cases are expected by summer 2024.
Other News
Reminder: visit our Psychedelic News Feed for the latest. We have moved the bulk of media clippings there.
Recordings from MAPS' Psychedelic Science 2023 are available now. They include Josh's State of the Psychedelic Sector, which is available here.
atai's Chief Medical Officer leaves role. As of October 15, Rolando Gutiérrez-Esteinou has transitioned from CMO to strategic clinical advisor (through "at least the end of 2023"). Gutiérrez-Esteinou served in the role since January 2021.
Psychedelics might reverse aphantasia. Friend of Psychedelic Alpha Shayla Love penned a piece on psychedelics and aphantasia—the lack of a 'mind's eye', the inability to form mental images—for Psyche. A spattering of case reports suggest that drugs like psilocybin might 'reverse' this condition. But, Love wonders whether that's what those with aphantasia ('aphants') want. 
Sunstone expands its dyad study. Rockville-based Sunstone Therapies announced earlier this month the expansion of its MDMA-assisted Dyad Study to include 20 pairs of participants. The Phase 2 trial assesses MDMA-assisted conjoint therapy for adjustment disorder in dyads of patients with cancer and a concerned significant other. The study has completed the recruitment of the 10 dyads that were initially planned. This boost to the recruitment target, with the support of The Jurvetson Family Foundation's funding, "allows for a significant increase in study size and power". The trial is expected to complete in 2024, according to the company.
Hamilton (ON, Canada) police "permanently" close doors of psilocybin shops. The Whac-A-Shroom continues, as Hamilton Police bust two psilocybin businesses.
One Mind Accelerator applications close December 1st. The mental health focused accelerator supports companies at varying stages with a $100k investment and 9 weeks of intensive programming. More info and apply.
New study of microdosing in rats. "Results further substantiate anecdotal reports of the benefits of psilocybin microdosing as a therapeutic intervention, while pointing to a possible physiological mechanism." (Kiilerich et al., 2023)
Portland, Maine 'decriminalises' certain psychedelics. Earlier in the month, the City Council of Portland (Maine) passed a resolution that made the prosecution of personal cultivation and use of psychedelic plants the lowest law enforcement priority in the city (a measure that's close to, but not quite as clear-cut as, decriminalisation).
Unsealed court filing reveals email exchange between MindMed and Ceruvia execs. According to the now-unsealed communications, Stephen Hurst negotiated the exchange of GMP LSD with Carey Turnbull. In consideration, an email contemplates a cash payment from MindMed plus an agreement to not assert IP rights, among other things. Then-CEO, JR Rahn, appeared surprised to hear Hurst offering Ceruvia freedom to operate across LSD broadly: "…we cannot give the house away on our programs we are investing millions of public investor money into", he told colleagues. "Molecule not indication or the deal is off", Hurst replied. Read the exchange, which was unsealed following efforts by concerned shareholders including a Psychedelic Alpha reader, here.
Psychedelics and Psychotherapy: Is the Whole Greater than the Sum of its Parts? …asks a Perspective piece in Clinical Pharmacology & Therapeutics that calls for more trials with factorial designs that might allow us to parse out the individual effects of a psychedelic and psychotherapy, as well as uncovering any synergistic interaction therein (Dworkin et al., 2023).
UK's new streamlined scheme could see clinical trials processed by MHRA in less than 14 days. As part of its 'overhaul' of clinical trials regulations, the UK's MHRA has announced that initial applications for the lowest-risk Phase 3 and 4 trials will now be processed within 14 days, instead of the statutory 30 days. However, criteria must be met, including confirmation that there are no known safety issues with the medicine being investigated. For Phase 3 studies, there are other stipulations, such as the fact that the candidate cannot be first in class. As such, only 20% of UK initial clinical trial applications are expected to be eligible for the scheme, and it's unlikely psychedelic trials will be included in that group.
If a Stock Begins Trading, and There's No One Around to Trade It, Does It Trade? Shares of Mydecine Innovations Group were admitted to Aquis last week. For the first two days, not a share was traded. It's quite a come-down from December 2020, when the company had a market cap of around $60 million.
Mark Your Calendars: The 4th Annual Psychedelic Therapeutics & Drug Development Conference
The 4th annual Psychedelic Therapeutics & Drug Development Conference event will take place in Boston, MA on May 23-24, 2024. The organisers are now accepting speakers submissions and sponsor/exhibitor queries.
The event seeks to bring together leading experts across academia, industry, the non-profit sector and government to share vital research and discuss the challenges and opportunities facing those engaged in the research and development of psychedelics. Through the plenary talks, panel sessions, workshops and facilitated networking opportunities, the conference aims to provide a bridge between the silos that can become an impediment to successful clinical development and commercialization of therapeutics with the intent to ease suffering and provide real benefit to patients.
Psychedelic Alpha is pleased to once again partner with the conference. Learn more and submit speaking proposals via the website.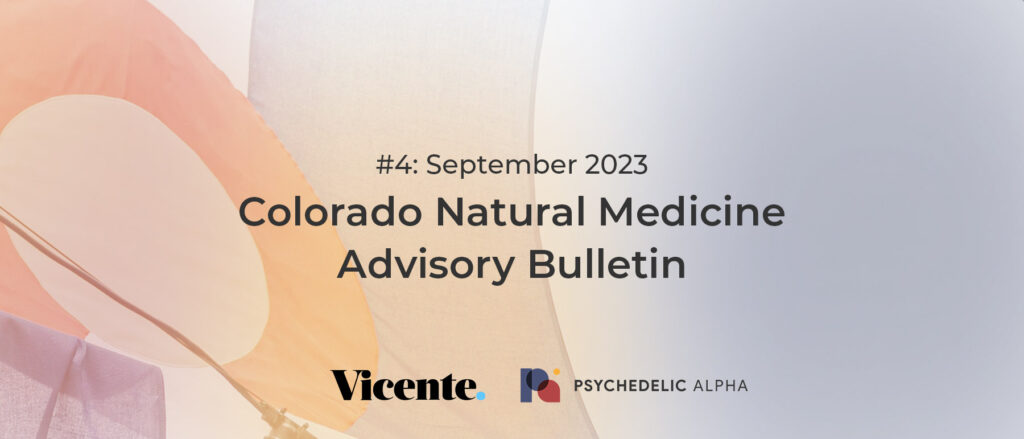 Join our newsletter to have our Weekly Bulletin delivered to your inbox every Friday evening. We summarise the week's most important developments and share our Weekend Reading suggestions.