Psychedelic Perceptions in 2021: Popular Culture & Controversy
Part of our Psychedelics 2021: A Year in Review Series
In 2021, the psychedelic space was flush with notable, and sometimes controversial events. Burgeoning interest led to the creation and support of research centres, institutes, and conferences all centred around psychedelics. More mainstream media outlets covered psychedelics, TV shows and documentaries featured them, and a great number of celebrities came out of the psychedelics closet.
However, amidst all of the excitement emerged many important, and challenging, ethical considerations that will demand more attention as the space matures. 
Here, we review a number of pop culture moments that foregrounded psychedelics in 2021, before touching on just a couple of the controversies that developed throughout the year.
Psychedelics in Popular Culture
Public interest in psychedelics seemed to continue increasing throughout 2021, with every week bringing a new mainstream media mention or celebrity 'endorsement'.
Using Google search trends as a proxy for public interest, the graph below shows that the last two years have seen significant levels of interest in psychedelics. The map on the right, meanwhile, suggests that state-level drug policy reform efforts are driving a significant amount of interest in psychedelics like psilocybin. It's clear that Oregonians are Googling the psychedelic most frequently, no doubt due to the increased attention it's received since Measure 109 passed in November 2020.
Celebrities in Psychedelia
In 2021, even more celebrities came out of the psychedelic closet, sharing their experiences with a variety of psychedelics via interviews and news pieces.
But, some may argue that the evangelism displayed by at least some of the below celerities is irresponsible from a harm reduction or environmental point of view.
Take Tyson's comments, for example, in which he sings the praises of 'toad venom': might that encourage folks who hear his comments to seek out toad-derived 5-MeO-DMT, and what might that do for the already-struggling population of Bufo alvarius? We discussed this in a November Bulletin.
Handler's claim that "psilocybin is good for everybody, it puts you in a good mood, keeps you upbeat…" could also be seen as a concerning blanket statement that smoothes out the complexities of the psychedelic experience.
Hover over the images below to learn more…
Joe Rogan Hosts Rick Doblin
Episode #1661 of The Joe Rogan Experience featured MAPS' Rick Doblin for over 3 hours of discussion.
Chelsea Handler Says She Microdoses
On The Tonight Show, Handler said "I take mushrooms almost every day... microdosing mushrooms is a gamechanger."
Megan Fox Discusses Ayahuasca on Jimmy Kimmel Live
Fox explained that she 'went to hell for enternity' during her ayahuasca trip.
Will Smith Discusses Ayahuasca Rituals with GQ
In a Cover Story for GQ, Smith explained that 'more than a dozen ayahusaca rituals' in Peru changed his life.
Christina Haack Smoked Toad Venom
In mid-2021, Haack explained in a lengthy Instagram post that she smoked toad venom which 'reset' her brain.
Liam Payne Invests in atai
In July 2021, the One Direction star revealed his investment in atai.
Kristen Bell Tried Psilocybin
After struggling with depression and anxiety for 22 years, Bell says she tried psilocybin.
Elon Musk Endorses Psychedelics at Code Conference
Musk said, "I think generally people should be open to psychedelics..."
Mike Tyson Continues to Discuss 'The Toad'
Tyson received a great deal of attention for his comments on 'doing the toad' throughout the year.
Psychedelics also appeared in a number of mainstream TV shows, films, documentaries and cultural arenas in 2021. Below are just a handful of examples…
Nine Perfect Strangers Drives Interest in Psychedelic Therapies
Hulu's Nine Perfect Strangers series, which first aired in August 2021, stoked a great deal of interest in psychedelic therapies, but also contributed to the further development of common misconceptions around these practices.
Two articles sought to clarify the portrayals, with Business Insider tackling 12 elements of psychedelics retreats that the show got right and wrong, and Mic publishing a more critical piece in which the title describes the show's portrait of psychedelic wellness retreats as "deranged."
Writing in the LA Times, Qualey (who also authored the Mic piece) is keen to point out that the show's director, Jonathan Levine, is an ardent psychedelic therapy proponent. Levine told Qualey psychedelic therapy "is one of my top five options for the salvation of humanity."
What did you think of Nine Perfect Strangers? Is any publicity [for psychedelic therapy] good publicity?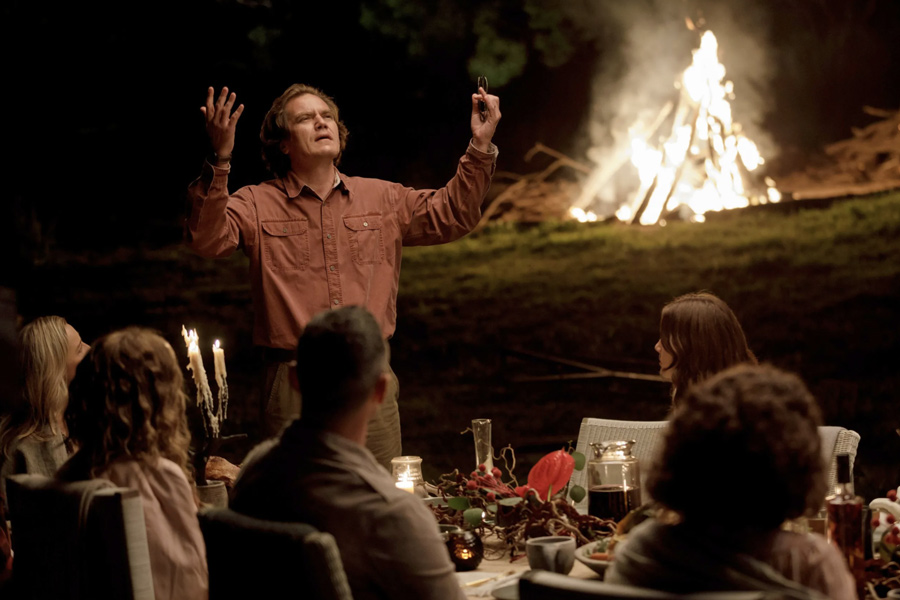 BBC Airs Documentary: The Psychedelic Drug Trial
A special hour-long documentary aired on the BBC in May 2021, the culmination of 16 months of filming Imperial College London's escitalopram vs. psilocybin study.
In the film we hear from the likes of Professor David Nutt, Dr Robin Carhart-Harris and Dr Rosalind Watts, as well as participants in the groundbreaking trial.
We discussed the trial itself in our earlier section on Psychedelic Research and Clinical Trials in 2021.
Hamilton's Pharmacopeia Returns with Season 3
The third season of Hamilton Morris' VICE series, Hamilton's Pharmacopeia, aired in January 2021. 
The first episode, Synthetic Toad Venom Machine, saw Morris reflect on his earlier reporting regarding an "international toad venom smoking phenomenon" by clarifying the history of 5-MeO-DMT, before urging viewers that wish to experience "The God Molecule" to do so via a synthetic option. Shortly after the episode aired, psychedelics company CaaMTech published research investigating the chemical differences between pure 5-MeO-DMT, its derivatives, and natural Bufo alvarius toad secretions.
The six-part series went on to explore other psychedelics including ibogaine and LSD, with the final episode profiling "a new era of psychedelic research."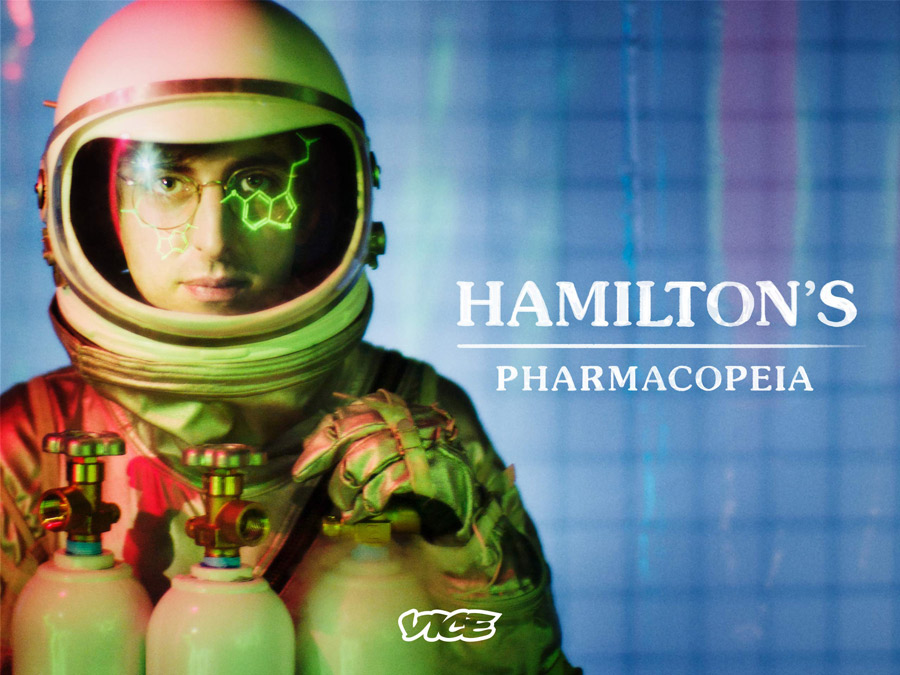 LSD-Themed Broadway Show Launches: Flying Over Sunset
A new Broadway musical dramatizes a fictional account of a meeting between Aldous Huxley, Cary Grant and Clare Boothe Luce, all of whom used LSD over the years. The show's website sets the scene:
1950s Hollywood. You are at a beautiful beach house overlooking the Pacific with Cary Grant, Clare Boothe Luce and Aldous Huxley… and they are on an acid trip. Together.
Flying Over Sunset premiered in November, officially opening just over a month later on December 13th.
'Psychedelic City' TV Series and Metaverse Platform Under Development
A Los Angeles Magazine cover story titled, 'Shrooms! Shamans! Kosher LSD! Why Los Angeles Is Suddenly Tripping Out, is set to be developed as a TV series and metaverse platform, according to The Hollywood Reporter.
The author of the original story, Peter Kiefer, explained: "It's such wonderful fodder for a series and what's more, I think it's an extremely important topic that is only going to become more so in the coming years."
Is this a sign of things to come re: the confluence of psychedelics and other 'edgy' investment and tech categories such as the metaverse, crypto, and VR?
CTV News W5 Investigation 'Harnessing the Power of Psychedelic Drug Therapy'
An October 2021 W5 investigation shared the stories of Canadians using ketamine and psilocybin as treatments for post-traumatic stress disorder and cancer-related anxiety. 
The episode also briefly discusses the status of drug policy in Canada and the need for more well-regulated and accessible psychedelic-assisted psychotherapies. 
CityNews (Canada) 'The Psychedelic Frontier'
In January 2021, Canadian media outlet CityNews aired The Psychedelic Frontier. The special shared the stories of many Canadians working to deliver or access psychedelic therapies.  The episode follows a Canadian war veteran as he searches for relief from post-traumatic stress disorder (PTSD) and addiction through psychedelic therapy. 
CityNews also featured a number of Canadian companies operating in the psychedelic space including Numinus, Braxia, and Red Light Holland.
In 2021, a number of prominent athletes and sports organisations expressed their interest in psychedelic therapies. Below are just a few examples…
UFC Looking at Johns Hopkins Study on Psychedelics As Potential Therapy for Fighters
ESPN published an article in January of 2021 covering the UFC's growing interest in psychedelics as possible therapies for its athletes. According to the article, the UFC had been in contact with researchers at Johns Hopkins University to discuss the potential psychedelic might have in treating brain injury, addiction, post-traumatic stress disorder (PTSD), and other mental-health challenges. 
Jeff Novitzky, the senior president of health and performance of the UFC, described how the company may look to involve both current and retired fighters in psychedelic research. Should these emerging treatments prove to be effective for brain and psychiatric health, UFC president Dana White has said that "we want to be on board and we want to be first."
Retired NHL Player Daniel Carcillo Heads Up Wesana Health
Ex-NHL player Daniel Carcillo has emerged as a prominent figure in the psychedelic space. In 2015, Carcillo retired from professional hockey after witnessing and experiencing the enduring health damage caused by concussions. Since then, Carcillo has worked to create a new company, Wesana,  focused on healing brain injuries using psychedelics. The inspiration for Wesana came from the now-CEO's personal healing experience using psychedelics. 
In 2021, Wesana, under the leadership of Carcillo, began trading on the Canadian Securities Exchange and has since engaged a number of partners in an effort to develop new treatment options for traumatic brain injuries (TBI).
Documentary 'Lamar Odom Reborn' Released
In May 2021, a documentary titled Lamar Odom Reborn was released. The film follows the story of ex-NBA player, Lamar Odom, as he works to overcome his struggles with addiction and depression through "medically-guided alternative treatments." Following a nearly fatal overdose in 2015, Odom's struggles with mental health were propelled into the public spotlight. As the documentary depicts, Odom has since been able to recover and heal with the help of ketamine and ibogaine treatments. 
You can also watch a follow-up Q&A on psychedelic medicines with Lamar Odom and others here.
Significant News Publications
News outlets from the BBC through to Good Housekeeping covered psychedelics in 2021, with the montage below highlighting just a handful of these headlines.
Side note: our most popular Tweet of 2021 looked at Newsweek covers from March 1990 and October 2021, and is presented here without comment…
2021 also foregrounded a number of debates and controversies in the psychedelics space, not least the long overdue discussion around sexual abuse in the context of psychedelic therpay and the salient debate surrounding the role of patents in the space.
Below we touch on these two controversies and debates, but readers should be sure that there are many more.
Sexual Abuse in Psychedelic Therapy
A collaboration between New York Magazine and Psymposia brings the discussion around (sexual) abuse in the psychedelics space to the foreground via the first season of the Cover Story podcast, titled Power Trip. Across 8 episodes, host iO Tillet Wright and collaborator Lily Kay Ross "uncover the secrets and expose the darkest corners of the psychedelic revolution through a twisted, deeply personal tale at the intersection of mind, body, and control." Learn more, and listen to the series, here.
The podcast series builds on a spate of allegations and testimonies that have emerged in recent months, including that of Will Hall who shared a powerful account of his experience with a number of (formerly-)respected psychedelic therapists and teachers. Hall's account was originally shared in a self-authored article published on Mad in America in September, and is explored in detail in an Inverse article from November.
The discussion was also a recurrent theme at December's Horizons conference in New York. Laura Mae Northrup gave a powerful talk on sexual abuse in psychedelic-assisted therapy, saying what many might hope is obvious: "I want to be clear that having sex with the client or patient in a psychedelic therapy relationship is always sexual abuse, and that is because of the power dynamic."
This healthy and long overdue debate will surely continue into the new year.
The Psychedelic Patent Wars
The role of intellectual property, and particularly patents, in the psychedelics space continued to be heavily debated in 2021, with some using the phrase 'patent wars' to describe the situation.
This debate has been charted by Shayla Love's reporting over at Vice, which is recommended reading for those looking to dive deeper into this topic:
Case Study: Non-Profit Group Challenges COMPASS Pathways Patent
Much of the criticism has been levied at COMPASS Pathways, which has been awarded patents covering synthetic forms of psilocybin, as well as common elements of a psychedelic-assisted therapy protocol.
In December, COMPASS' "infamous" patent on synthetic psilocybin was challenged by a non-profit group, which argued that COMPASS' Polymorph A is no different to the crystalline forms made over and over again since psilocybin was first synthesized.
The group challenging the patent is Freedom to Operate, a non-profit group dedicated to "protecting psychedelic science and medical development for public benefit," of which Carey Turnbull is at the helm. You can download the post-grant review petition here.
Turnbull footed around half of the bill for the research that underpins the challenge, which took months of work and cost close to a million dollars. The rest came from donors like Bill Linton, Bronner's Soaps, The Steve and Alexandra Cohen Foundation and Evolve Foundation, according to Carey Turnbull.
That expense begins to make sense when you read that researchers involved in the challenge had to scour the world for "high-quality synthetic psilocybin stored in safe conditions," with one such sample being a 1963 bottle of Sandoz psilocybin, obtained via NIDA's Drug Supply Program. Turnbull told Psilocybin Alpha that the sample most extensively used in the research was obtained via Rolan Griffiths' lab at Johns Hopkins University, and was made by Heffter Research Institute founder Dave Nichols.
COMPASS Pathways has 3 months to respond to the post-grant review that this research has informed. Then, the Patent Trial and Appeal Board (PTAB) decides whether a case should proceed to trial. If it does, a lengthy process ensues.
The company responded to the story by stating that they "remain highly confident in the strength of our patents and our polymorph A is the subject of numerous granted patents from several different Patent Offices, confirming that it is novel and inventive."
This isn't the first time the company's patents have been questioned, however. In July 2021, a patent examiner at the UK IP Office issued an opinion on Compass Pathways' UK Polymorph A patent (GB2572023), having received a request for opinion from Kohn & Associates acting on behalf of Freedom to Operate. The examiner found a number of claims to be lacking an "inventive step," a foundational tenet of the patent regime.
However, an earlier petition for post-grant review levied at COMPASS was denied in 2020, with the PTAB concluding that the petitioner failed to show that "it is more likely than not" that claims were unpatentable as obvious.
This will certainly be an interesting development to watch, and one that COMPASS is no doubt gearing up to fight. Around the time the news of the challenge broke, COMPASS announced the forthcoming appointment of a new Chief Legal Officer (and, the departure of co-founder Lars Wilde as Chief Business Officer), Matthew Owens. Owens was formerly responsible for legal and IP strategy at Novartis, in his role as Global Head Legal, Digital.
Some of the researchers hired by the non-profit submitted additional findings to an academic crystallography journal, in an article that was accepted later in December.
***
We are pleased to have contributed to greater transparency around psychedelic patents through the provision of our freely-available psychedelic patent trackers…
Psilocybin Patent Filings Tracker
A catalogue of U.S. psilocybin-related patent filings, where publicly announced.
Psilocybin Patent Tracker
A catalogue of U.S. psilocybin-related patent publications. 
Read the Rest Of Our Year in Review
Join Our Newsletter
Have our multi-part Year in Review, plus our 2022 predictions, delivered to your inbox.