Psychedelic Research and Clinical Trials in 2021
Part of our Psychedelics 2021: A Year in Review Series
The resurgence of research into psychedelics has continued to thrive over the past year. Dozens of trials and hundreds of studies have been published in 2021, expanding the depth and scope of scientific inquiry in this flourishing space.
If published findings from this past year are a reliable indicator of what is to come, these investigations will foreseeably expand our fundamental understanding of psychedelics and point to new, promising avenues of exploration.
However, we must also appreciate the methodological challenges inherent in psychedelic research, as well as the broader fields within which such research is nested.
It's worth reminding ourselves of the lengthy timescales involved in drug development, with clinical trials regularly taking in excess of six years to complete. As such, it's worth looking at studies announced and approved in 2021, and considering when we may expect to see data readouts from such work.
Just as the funding environment for psychedelic research has heated up significantly in recent years, regulators are also demonstrating an increasingly warm attitude to such work. Toward the end of this section we review some key regulatory developments in 2021, and profile a handful of new psychedelics research centres.
As you will see as you leaf through this report, psychedelic research is showing no signs of slowing. One of the most prolific psychedelics researchers, Robin Carhart-Harris, predicts "more of the same" in 2022, and data confirms that we're witnessing the most productive period of psychedelic research (at least that which is conducted in recognised institutions).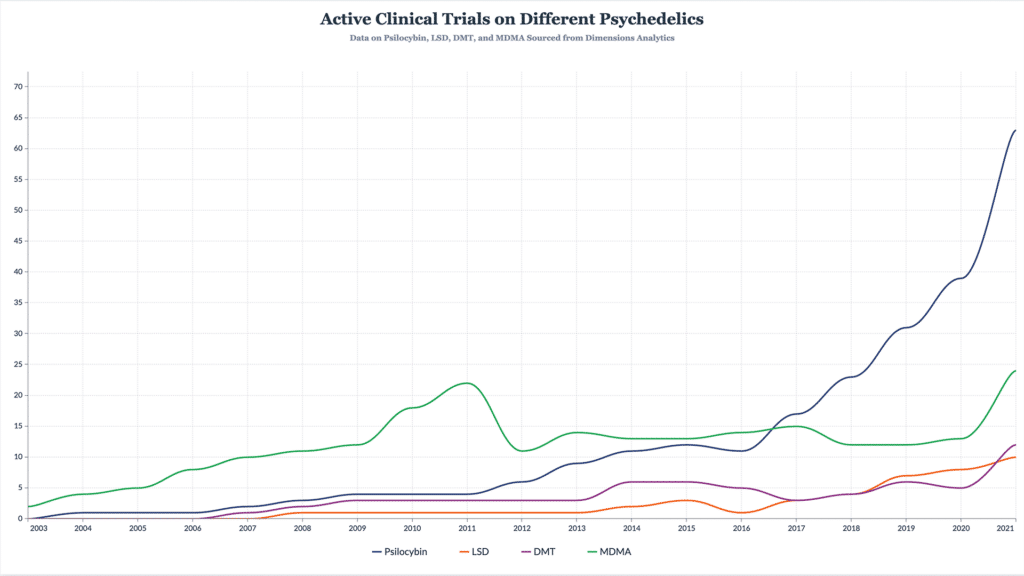 Newly-Approved and Announced Studies
As interest continued to grow throughout 2021, investigations into the effects, mechanisms, and therapeutic potential of psychedelics proliferated. Companies at various stages of development announced the approval and initiation of dozens of new trials studying psychedelics for an increasingly wide range of treatment indications, and investigators at academic institutions and research centres across the globe helped push the number of ongoing investigations to new heights. Researchers are working diligently to bolster and challenge our current understanding of psychedelic science. 
Below you will find a sample of sponsor or investigator led trials that were announced, approved, or initiated in 2021.  
A Sample of Company-Sponsored Trials That Were Approved or Began in 2021
TRYP Initiates a Phase 2 Trial of Psilocybin for Binge Eating Disorder [December 23, 2021]
In October of 2021, TRYP Therapeutics announced that the FDA had placed a clinical hold on its Phase 2 trial of psilocybin in the treatment of binge eating disorder. The company subsequently amended its IND application with the FDA. On December 23, TRYP announced that it had received notice from the FDA that the clinical hold had been lifted. The study will evaluate both the safety and feasibility of treating patients diagnosed with binge eating disorder using psilocybin. [

NCT05035927

]
MindMed Initiates a Phase 2a Proof-of-Concept Trial of LSD for ADHD [December 17, 2021]
On December 17, 2021, MindMedicine announced that it had begun enrollment for a Phase 2a trial evaluating repeated low doses of LSD as a treatment for ADHD. The company will collaborate with both Maastricht University and the University Hospital at Basel. Through the study, researchers will gather information on changes in ADHD symptoms, dosing regime, therapeutic mechanisms, and other effects of low doses of LSD. 
TRYP Receives FDA Approval for a Phase 2a Trial of Psilocybin for Fibromyalgia [December 6, 2021]
In December of 2021, TRYP Therapeutics announced that it had received FDA approval to study its TRP-8802 psilocybin candidates as a potential treatment for fibromyalgia. The trial, which is slated to begin in 2022, will evaluate whether or not psilocybin-assisted psychotherapy can help treat chronic pain symptoms in patients diagnosed with fibromyalgia. [

NCT05128162

]
Cybin and the University of Washington Initiate a Phase 2 Trial of Psilocybin for COVID-Related Distress [December 1, 2021]
On November 30, 2021, Cybin announced that the FDA had authorized advancement of an investigator-initiated Phase 2 trial studying psilocybin-assisted psychotherapy in the treatment of frontline clinicians suffering from COVID-related distress. The co-funded trial will occur at the University of Washington in Seattle. Investigators will use Cybin's EMBARK model of psychedelic-assisted psychotherapy to inform its use in future company-sponsored trials. [

NCT05163496

]
COMPASS Pathways Announces a Phase 2 Trial of Psilocybin for PTSD [November 3, 2021]
On November 3, 2021, COMPASS Pathways announced a new Phase 2 trial investigating COMP360 psilocybin therapy as a potential treatment for PTSD. The company intends to enroll 20 patients to assess the safety, tolerability, and efficacy of its psilocybin therapy protocol. This announcement followed the completion of the company's flagship Phase 2b trial of psilocybin therapy for treatment-resistant depression (TRD). 
DemeRx (atai) Initiated Part 1 of a Phase 1/2a Trial of DMX-1002 for OUD [September 21, 2021]
On September 21, 2021, atai life Sciences announced that its platform company DemeRx had dosed its first patients in the first part of a Phase 1/2a trial investigating DMX-1002 (ibogaine) as a treatment for opioid withdrawal syndrome. The company announced that this Phase 1 part of the trial will evaluate the safety, tolerability, pharmacokinetics, and efficacy of its DMX-1002 oral ibogaine formulation. [

NCT05029401

]
Small Pharma Initiates Part 2 of a Phase 1/2 Trial of DMT for MDD [September 21, 2021]
On September 21, 2021, Small Pharma announced that it had completed the first phase of its Phase 1/2a clinical trial studying SPL026 (DMT) as a treatment for major depressive disorder (MDD). The company subsequently initiated the second Phase 2a proof-of-concept segment of the trial to assess the efficacy, safety, and tolerability of its intravenous DMT drug candidate in conjunction with psychotherapy. [

NCT04673383

]  
Beckley Psytech Initiates a Phase 1b of Psilocybin for SUNHA [September 14, 2021]
On September 14, 2021, Beckley Psytech announced that it had begun dosing patients in its previously approved Phase 1b trial of low-dose psilocybin for Short-lasting Unilateral Neuralgiform Headache Attacks (SUNHA). The trial will investigate the safety, tolerability, and efficacy of different ascending doses of psilocybin in patients diagnosed with SUNHA. [

NCT04905121

]
Mydecine Announces a Phase 2/3 Trial of MYCO-001 for Smoking Cessation [September 7, 2021]
On September 7, 2021, Mydecine announced its intent to initiate a new Phase 2/3 studying its MYCO-001 psilocybin drug candidates for nicotine dependence. The company will collaborate on the trial with Johns Hopkins researcher Dr. Matthew Johnson. Through the study, researchers will assess the efficacy of using MYCO-001 in conjunction with a smoking cessation treatment program to treat nicotine dependent patients. 
Braxia Initiates a Phase 2 Trial of Psilocybin for TRD [August 27, 2021]
In August of 2021, Braxia Scientific announced the initiation of a Phase 2 trial studying psilocybin for treatment-resistant depression (TRD). Braxia will collaborate on the study with the Usona Institute to assess the safety, feasibility, and efficacy of varying doses of psilocybin in patients diagnosed with treatment-resistant depression. [

NCT05029466

]
A Sample of Investigator-Initiated Trials That Were Approved or Began in 2021
Trial of LSD Microdosing for Creativity and Brain Activity at the University of Auckland
Phase II Trial of Psilocybin for Co-occurring MDD and AUD at Johns Hopkins University
Phase I Trial of Psilocybin for Headache Disorders at Yale University
Phase I/II Trial of Psilocybin for Severe OCD at Beersheva Mental Health Center 
Phase II Trial of Psilocybin for AUD at Copenhagen University Hospital Rigshospitalet
An Increasingly Warm Regulatory Environment for Psychedelic Research
Following a near half-century nadir in psychedelic research, the field is booming. This is helped, in part, by an increasingly warm regulatory environment: from federal funding and increases in production quotas for research purposes, right through to further fast-track designations and research partnerships with federal agencies.
Below, we highlight some of the key signals of bureaucratic amenability toward psychedelic research.
DEA Increases Psychedelics Production Quotas
The U.S. Drug Enforcement Administration (DEA) sets annual quotas for the legal production of controlled substances for research purposes, including psychedelics like psilocybin, DMT and MDMA.
The federal agency has increased these quotas—both intra-year quotas for 2021, and for the current year, 2022—multiple times in the latter half of 2021, with drugs like psilocybin seeing enormous boosts to production levels.
In an early September 2021 bulletin we reported on the DEA's proposal to significantly increase the production quota for research psilocybin for 2021. Then, in mid-October, we covered the Administration's proposal to greatly increase psychedelic production quotas for the present year, 2022.
Take psilocybin, for example. In its earlier proposed increases to the 2021 quotas, the DEA expressed plans to increase psilocybin production to 1,500 grams (1.5 kg), which represented a fifty-fold increase from the 30 g federal quota. On Monday 15th November, a notice published in the Federal Register revealed that the agency has boosted this in-year quota increase yet again, with the final adjusted aggregate production quotas allowing for 6,000 grams (6 kg) of psilocybin and 3,500 grams (3 kg) of psilocin to be produced in 2021. In December, that number was increased even further to 8,000 grams (8 kg).
For those looking for a deeper diver, Kyle Jaeger's reporting in Marijuana Moment provides a fantastic overview of the changes.
Biden-Harris Administration Recommends Reducing Barriers to Research For Schedule I Substances
In a press release published in September the White House explained that Regina LaBelle, Acting Director of National Drug Control Policy, presented to Congress the Biden-Harris Administration's recommendations that primarily related to reducing the supply and availability of illicitly manufactured fentanyl-related substances (FRS).
However, if one looks beyond recommendations related to FRS, the piece explains the Administration's ambition to "establish a simplified process that would align research registration for all Schedule I substances […] more closely with the research registration process for Schedule II substances."
The press release goes on to explain that, "the Biden-Harris Administration strongly supports expanding the research of Schedule I substances to help advance evidence-based public policy."
Given that psychedelics are Schedule I substances in the United States, these recommendations to Congress could make research into psychedelics such as psilocybin and DMT more straightforward than at present, especially when combined with DEA quota increases.
Federal Grant Awarded to Johns Hopkins Researchers to Study Psilocybin for Smoking Cessation
In September 2021, prominent psychedelic researcher Matthew W. Johnson announced (via Twitter) that he has received a grant from the National Institute on Drug Abuse (NIDA) to study psilocybin for the treatment of tobacco addiction.
According to Johnson, this is the first grant from the U.S. Government dedicated to investigating the therapeutic effects of a classic psychedelic in over a half-century, marking a "new era in legitimacy" for psychedelic science.
We spoke to Sandeep Nayak, Post-Doctoral Research Fellow at Johns Hopkins' Center for Psychedelic & Consciousness Research, about this development.
"It's hard to overstate the importance of federal funding for psychedelic research," Nayak noted. Commenting on the changing research funding landscape, he went on to add that, "this is a huge step towards normalizing this line of work which has been mostly funded by philanthropy and now nascent drug companies."
Beyond the grant itself, which amounts to nearly $4m, this government funding "legitimizes the research and makes it much more feasible for researchers to build careers working on psychedelics," Nayak added, noting that, "it's also a clear sign of how much public opinion has shifted."
The Johns Hopkins researcher, who is working alongside Matthew W. Johnson on this research, believes this isn't the last we will see of government funding for psychedelic research: "This funding is significant on its own, but I anticipate it will be the first of many." Finally, he noted that this trend is not limited to the U.S., "there are now government funded psychedelic trials in Germany and Canada, and likely we'll see this expand greatly in coming years." As we mentioned in our first Year in Review section, the Australian government carved out $15m for psychedelic research, which is supporting seven trials.
National Institute on Drug Abuse Partners with Psychedelics Companies
Two psychedelic drug developers, Delix Therapeutics and CaaMTech, are among a growing crop of companies to score cooperative R&D agreements with U.S. federal agencies.
In the case of CaaMTech, the company has entered into a Cooperative Research and Development Agreement (CRADA) with the Designer Drug Research Unit (DDRU) at the National Institute on Drug Abuse (NIDA) Intramural Research Program (IRP). That's a lot of jargon, but the company told Psilocybin Alpha that the purpose of this agreement is to screen CaaMTech's library of tryptamine compounds using a number of in vitro and in vivo assays.
According to a CaaMTech spokesperson, "previous work in this area has been frustrated by a lack of access to pure, well-characterized compounds." As such, the aim of the CaaMTech-DDRU collaboration is to "supply much-needed data about the fundamental biological activity of tryptamine compounds, making it possible to develop safer and more effective next-generation psychedelic drugs."
In December, Boston-based Delix Therapeutics announced its own partnership with NIDA. Research will be conducted under NIDA's Addiction Treatment Discovery Program (ATDP), which works to screen promising therapies that may be more effective than the standard of care for substance use disorders.
Delix's non-hallucinogenic (in animal models) drug candidates, such as DLX-7, appear to reduce alcohol- and heroin-seeking behaviour in preclinical studies. The company will hope to have these findings validated through further study, with initial data from NIDA's research on the candidate expected in early 2022.
DMT Therapy Receives Fast-Track Designation in UK
In October, London-based Small Pharma announced that it had been granted a fast-track designation from a UK regulator for its DMT lead candidate. The UK Medicines and Healthcare products Regulatory Agency (MHRA)–the country's equivalent of the FDA–granted Small Pharma's SPL026 candidate an Innovation Passport Designation via a relatively new Innovative Licensing and Access Pathway (ILAP) program.
In a similar manner to the FDA's fast-track designation, the ILAP aims to accelerate time to market and facilitate patient access to emerging novel treatments. The ILAP connects other key stakeholders in the drug development and roll-out process, including the country's National Health Service (NHS) and the National Institute for Health and Care Excellence (NICE). The program was touted as a way to encourage the development of innovative medicines in the UK post-Brexit.
Psilocybin Alpha understands that Small Pharma's DMT candidate is the first psychedelic to receive this designation since they began being issued in Spring 2021.
Speaking to Psilocybin Alpha, Small Pharma's Chief Medical and Scientific Officer Dr. Carol Routledge explained that the designation allowed for the company to receive "specialist advice throughout the drug development process," and that the Innovation Passport "has the potential to enable a speedier, more efficient development process for SPL026," the company's lead candidate.
SLP026, the company's DMT-assisted therapy, entered clinical trials for major depressive disorder (MDD) at the start of this year, with topline results expected H1 2022.
Investors seemed optimistic, too, with the company's share price jumping c.60% on the news after months of steady decline. This was short-lived, however, with the stock price slowly bleeding toward pre-news levels.
New Psychedelics Research Centres
2021 saw the number of prestigious institutions with psychedelic research centres continue to swell. Below are just a few of the new centres launched this past year…
Nikean Foundation Provides $5m to Launch Centre for Psychedelic Psychotherapy in Toronto
In September, we helped break the news of the launch of the Psychedelic Psychotherapy Research Centre at Toronto's University Health Network.
A $5m donation from the Nikean Foundation, founded in 2019 by Canadian tech entrepreneur Sanjay Singhal, provides founding capital for the new centre.
Linda Medeiros, Director of Operations at Nikean Foundation, told Psilocybin Alpha that the creation of this centre "was a giant leap forward in Canadian history." Medeiros went on to say, "the partnership with the University Health Network validated the need for systemic change in mental healthcare and the urgent need for new tools to meet unmet therapeutic needs."
Importantly, Nikean supports those organisations conducting research in accordance with an Open Science approach rooted in principles of cooperation and accessibility. This is in contrast to the operating principles of many for-profit actors, especially in drug discovery and development, who tend to focus on confidentiality and defensibility (through various forms of IP, for example).
Medeiros was keen to highlight this point, telling us that, "as we emerge into this psychedelic renaissance, it is crucial that we promote collaboration and Open Science methods to move this field forward together for the greater good of humanity."
Harvard Law School's Petrie-Flom Centre Launches Research Initiative on Psychedelics and the Law
In June, the Petrie-Flom Center for Health Law Policy, Biotechnology, and Bioethics at Harvard Law School announced a new research initiative that will promote safety, innovation, equity and access in psychedelics research, commerce, and therapeutics.
The Project on Psychedelics Law and Regulation, or POPLAR, is the first academic initiative offering a clear focus on psychedelics law, regulation and ethics.
In our coverage of the launch we spoke to Mason Marks, Senior Fellow at the Center and Project Lead of POPLAR.
Beyond legislative measures, the debate around intellectual property in the psychedelics space is set to be a "major focus" of POPLAR, which will "analyze the role of biopiracy in psychedelics commercialization and the ethics, validity, and social utility of patents on psychedelics related inventions," Marks explained.
University of Wisconsin Madison Launches Psychoactive Research Centre and Master's Program
This year, the University of Wisconsin Madison approved a new Transdisciplinary Center for Research in Psychoactive Substances, and launched the first psychedelic master's program in psychoactive pharmaceutical investigation, which is led by Dr. Cody Wenthur.
We spoke to the Director of the Center, Dr. Paul Hutson, who explained that the Center will expand its current portfolio of translational and Phase I, II, and III clinical research into psychedelics, as well as "embracing members from across the UW Madison campus" from a variety of disciplines including, "historians, anthropologists, and ethnobotanists, as well as the expected biomedical scientists and clinicians."
According to Hutson, the Master's program was well subscribed in the Fall of 2021, "and anticipates expansion in the coming years that will include internships in many of the new global psychedelic pharmaceutical companies."
Top Publications by Attention
Hungry for more? We pulled the top 16 articles of the year, according to Altmetric. We covered some of these above, but not all…
Read the Rest Of Our Year in Review
Join Our Newsletter
Have our multi-part Year in Review, plus our 2022 predictions, delivered to your inbox.