Given that we have been away for a couple of weeks, this Bulletin is chock-full of news and analysis of recent events…
This Week:
🛒 Beckley Psytech Acquires Eleusis – Our Quick Analysis
🧬 Empyrean Neuroscience Scoops $22m Series A to Genetically Engineer Small Molecule Therapeutics from Fungi and Plants
📊 DEA Increases Production Quotas for Psychedelics, Again
🤿 Deep Dive: COMPASS Pathways Reveals Phase 3 Trial Design
⚖️ Alberta Will Be First Canadian Province to Regulate Psychedelic Therapy
🐨 Australian Capital Territory Decriminalises Small Amounts of Psilocybin, MDMA, LSD, Others
🪧 Two Oregon Counties See Campaigns to Oppose Psilocybin Opt-Out Initiatives
🏦 NIDA Grant Opportunity
and lots, lots more…
Breaking: Beckley Psytech Acquires Eleusis
Editor's Note: This news broke just as we were going to publish this Bulletin. As such, below is our quick take; it's certainly not exhaustive.
It was rumoured for some time, but now it's official: Beckley Psytech has acquired Eleusis.
The two British companies have long histories of involvement in psychedelic research and business. The former is the latest in a series of both charitable and for-profit ventures stemming from the Oxford-based Beckley Foundation, headed up by Amanda Feilding (see our July 2020 interview with Beckley Psytech's founder for more background). The latter, Eleusis, is headquartered just 60 miles down the road in London, and claims to be one of the first psychedelic drug development startups.
Indeed, when we spoke to Eleusis CEO Shlomi Raz (who will now take up the position of Chief Business Officer at Beckley) back in June 2020, he was keen to remind us that his company is one of the oldest in the game. According to Raz, given that Eleusis was founded in 2013, it was "the world's first company dedicated to the transformation of psychedelics into medicines."
The company began as a joint enterprise between ex-Goldman Sachs managing director Raz and renowned psychedelics researcher Charles Nichols. Back then, Raz was keen to tell us about the company's dual focus on both the psychiatric applications of psychedelics, but also on their apparent anti-inflammatory potential. This latter facet was inspired by Nichols' work, which has attempted to uncover the potent anti-inflammatory effects of 5-HT2A agonists (see Flanagan and Nichols, 2018, for a brief review).
You can see this dual focus reflected in the company's Pipeline webpage from March 2021 where we see five candidates with indications ranging from adjunctive treatment of major depressive disorder right through to ocular inflammation, peripheral inflammatory disease and Alzheimer's.
Fast forward to January of this year, and you will see that the pipeline page has received a substantial haircut. Just one asset remains: ELE-Psilo, or ELE-101. (Note: the indications for this asset were previously "Major Depressive Disorder and Treatment Resistant Depression", but this has now been replaced by simply, "Depression". Given that Eleusis, and now Beckley, is putting this candidate through a Phase 1 trial, they need not disclose a specific indication just yet.)
It seems that this ambitious pipeline wasn't met with ample resources. In January, after the company had doubled-down on its lead candidate, the company announced a SPAC that it hoped would raise $288m and result in a NASDAQ listing. Unfortunately for Raz et al., they couldn't have timed it worse: the biotech, psychedelics and SPAC markets were cratering. In June, the company scrapped the SPAC.
And so, ELE-101 is what Beckley Psytech is substantially acquiring, an IV formulation of psilocin being developed under the candidate name ELE-101. By cutting out the prodrug (psilocybin) and skipping straight to IV administration of the active metabolite itself, Beckley will hope that this formulation proves to deliver a more consistent and predictable response in patients. The onset of effects will likely be faster and the duration of treatment shorter, which could have obvious benefits in terms of convenience and cost. Indeed, it fits logically into Beckley Psytech's focus on short-acting psychedelics, seen at its extreme in its development of a 5-MeO-DMT asset, BPL-003.
It's also logical, then, that Beckley is dropping its oral psilocybin for Short Lasting Unilateral Neuralgiform Headache Attacks (SUNHA) program. While the company just announced this today via press release, the trial's termination was reflected on its ClinicalTrials.gov entry earlier this month.
Beyond ELE-101, Beckley will gain some team members from Eleusis, including its R&D team. They will also gain access to a library of novel compounds, but there's little detail on this.
Our major question is: does this R&D team include Charles Nichols, the scientific founder of Eleusis? There's no mention of Nichols in the press release, nor of his work on indications beyond psychiatry. If he were joining the Beckley ecosystem you would think it would be press release-worthy (or, website-worthy).
Our bet is that Nichols is a free agent, but whether rights related to his work on 5-HT2A agonists as potent anti-inflammatory agents are locked up in the deal is yet to be seen. This author would certainly like to see that body of work given the attention and resources it deserves.
Empyrean Neuroscience Scoops $22m Series A to Genetically Engineer Small Molecule Therapeutics from Fungi and Plants
Empyrean Neuroscience is the latest psychedelic drug developer on the block. Psychedelic Alpha's Noah Smith takes a look at the new company…
Earlier this week, the latest psychedelic drug development company launched: Empyrean Neuroscience. In its inaugural press release, the latest entrant described itself as "a genetic engineering company dedicated to developing neuroactive compounds to treat neuropsychiatric and neurologic disorders." The company, based out of the U.S. and U.K., also disclosed that it had recently secured $22 million in funding through a Series A financing round led by a private investment group, 'Spore Partners'. 
Empyrean is headed by CEO Dr. Usman Azam and CMO Dr. Fred Grossman, both of whom have a great deal of experience in the pharmaceutical industry. In particular, Dr. Azam was previously involved in development programs in the field of genetic engineering and gene therapies through his time at Tmunity and Novartis. Scientific advisory members William Porter, Hesseini Manji (who was heading up Janssen's neuroscience efforts when Spravato was under development), and Francis Lee look set to support the company's research and development efforts.
Empyrean's pipeline features several development programs focused on optimising and advancing different species of plants and fungi in the hopes of treating a swathe of psychiatric and neurological disorders. The company's broad (and certainly ambitious) research focus includes investigations into its "neuroactive compounds" for indications such as PTSD, MDD, OCD, anxiety disorders, substance use disorders, pain disorders, and more.  
Currently, Empyrean is working to develop treatments by making genomic modifications to known species, including Psilocybe cubensis, Tabernanthe iboga, and Cannabis sativa. Indeed, Empyrean's core value proposition appears to revolve around its genetic engineering platform, which the company believes will support the creation of improved and/or novel compounds. Specifically, the company anticipates being able to use genetic engineering to alter the concentration and type of neuroactive compounds produced by plants and fungi.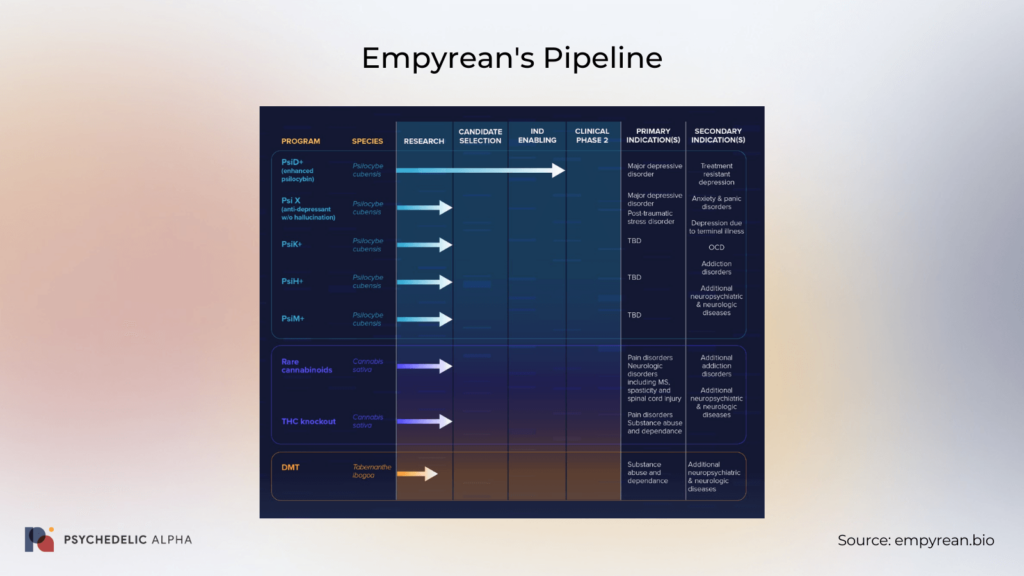 One of Empyrean's recently published patent applications elucidates how these innovative methods may allow the company to deliver on its aim of "enhancing nature through science." The application, titled "Genetic Engineering of Fungi To Modulate Tryptamine Expression", describes how fungi can be genetically modified to "increase the production of one or more tryptamine", such as psilocybin. These methods may eventually prove to be an alternative means of creating safer or more effective treatment options. 
"Genetics and bioinformatics capabilities allow us to up-regulate and down-regulate genes and knock-out and knock-in genetic payloads to modify the neuroactive compounds that are created by fungi and plants." – Empyrean website.
Empyrean's development pipeline comprises eight programs related to three different species of plants and fungi. While most of the company's development efforts are still in the early stages of research, Empyrean is currently conducting IND-enabling studies for its PsiB+ "enhanced psilocybin" program. This "genetically engineered encapsulated mushroom drug product" will first be studied as a treatment for MDD. Based on discussions with the FDA, Empyrean anticipates being able to initiate a Phase 2 clinical trial of its PsiB+ candidate at some point in 2023. 
In contrast to many other drug developers working with synthetic or more isolated formulations of pure psilocybin, Empyrean intends to provide treatments using entire psilocybin-containing mushrooms. The company has suggested that this approach may allow it to leverage an entourage effect resulting from synergies with other constituents naturally produced by the fungus. 
Traditionally, the term "entourage effect" has been used in reference to the hypothetical synergies between THC and other compounds found in cannabis that are thought to be able to modulate its therapeutic effects. Lowe et al. (2021) describe the crux of this theory, stating:
"the sum of the contributing parts of a botanical or biological system produce a greater, synergistic effect in comparison to the effect of each individual part when presented alone."
Given the presence of many other bioactive compounds in natural psychoactive mushrooms, it is probable that some synergism between constituent compounds would exist. However, it remains unclear whether these resulting effects could produce a superior therapeutic benefit compared to isolated forms of psilocybin. Nonetheless, Empyrean's work using genetically engineered plants and fungi may help shed more light on these unresolved questions.
DEA Increases Production Quotas for Psychedelics, Again
In a notice published in the Federal Register on October 18, DEA revealed that it is again increasing proposed production quotas for a number of psychedelics. Notably, 5-MeO-DMT, LSD, mescaline and psilocin all saw substantial increases.
DEA noted that there has been "a significant increase in the use of schedule I hallucinogenic controlled substances for research and clinical trial purposes." The administration goes on to explain, "DEA supports regulated research with schedule I controlled substances, as evidenced by increases proposed for 2023 as compared with aggregate production quotas for these substances in 2022."
Featured Psychedelic Jobs
Alberta Will Be First Canadian Province to Regulate Psychedelic Therapy
Canada's fourth largest province, which has a population of 4.5 million, will become the first to regulate psychedelics when new rules come into effect in January 2023.
The regulations will require service providers looking to deliver psychedelics in the treatment of psychiatric disorders (e.g., clinics) to be licensed. It covers, initially, 5-MeO-DMT, DMT, ketamine, LSD, MDMA, mescaline, psilocin and psilocybin.
The regulations will require qualified professionals to apply for licences before treating patients; stipulate that a psychiatrist must oversee any treatment; and will aim to ensure that psychedelic therapy is only administered in medical facilities (with an exemption for palliative patients). The new regulations were announced alongside other drug policy changes that allow for the prescription of certain opioids to those suffering from Opioid Use Disorder.
However the implications of the new regulations, and how they're enforced, are not yet clear.
Some are optimistic. In a press release, Vancouver-based psychedelic manufacturer Optimi Health heralded the move by exclaiming: "Alberta Puts Patients First". This is perhaps unsurprising, as a manufacturer like Optimi might do well in a regulated environment, as the company is at pains to explain in its heavily promotional PR.
However, the regulations might also be used as a way to bear down on unlicensed providers. Keep in mind that Alberta is widely considered as one of (if not the) most conservative provinces in the country: the 'Texas of Canada'.
It's also worth noting that shortly after the changes were announced, Alberta's premiership changed hands, with Danielle Smith—leader of the United Conservative Party—becoming its new premier.
And, finally, it's worth remembering that the regulation of drugs and controlled substances falls under the remit of the Government of Canada, not provincial governments. Marc Goldgrub, a lawyer at Green Economy Law, confirmed this point, explaining that doctors and therapists in Alberta (and elsewhere) can only access and/or provide psychedelic-assisted therapy if the federal government permits it. This is happening at a relatively small scale through the Section 56 pathway, as well as the Special Access Program.
It is clear, then, that changes to federal law are a prerequisite for this change in rules to have any significant effect. However, Goldgrub explained that healthcare is largely regulated by the provinces, meaning Alberta's amended rules might represent a proactive move to prepare for medical psychedelics' potential legalisation at the federal level.
In short: while these changes demonstrate awareness of psychedelic therapy, and some level of expectation that PAT is coming down the pike, it's unlikely that they represent any meaningful increase in the accessibility of psychedelic therapy for now.
Australian Capital Territory Decriminalises Small Amounts of Psilocybin, MDMA, LSD, Others
The Australian Capital Territory, which has a population of just under 500,000 and houses the country's capital city (Canberra), has become the first territory Down Under to decriminalise small quantities of illicit drugs.
Those found with small amounts of 9 scheduled drugs will no longer be criminally prosecuted. Rather, they will be cautioned, fined, or required to attend a drug diversion program.
The health minister of the region, Rachel Stephen-Smith, explained that harm-reduction was the way forward, not the punishment of drug users.
Of the 9 drugs, three are 'psychedelic' in nature:
LSD – 0.001 grams (1000 μg)

MDMA – 1.5 grams

Psilocybin – 1.5 grams
The amendments take effect next October.
NIDA Grant Opportunity: Psychedelics for Substance Use Disorders
The National Institute on Drug Abuse (NIDA) is accepting grant applications from small businesses (or their collaborators) looking to develop 'psychoplastogenic compounds' as a therapy for a substance use disorder.
For the purposes of this grant, 'psychoplastogenic compounds' include both psychedelic and non-psychedelic 5-HT2A agonists as well as ketamine and MDMA, among others. It's open to United States-based small business concerns, and would be a non-dilutive grant. Applications are due November 18, 2022.
You can find more information about the grant here, or reply to this email to be connected with NIDA's scientific/research contact for this opportunity.
Two Oregon Counties See Campaigns to Oppose Psilocybin Opt-Out Initiatives
As we move closer to the November elections in the U.S., Psilocybin Services Opt-Out campaigning activity is heating up in Oregon.
Interestingly, there are now two organised campaigns opposing opt-out measures in Deschutes and Jackson County. Both campaigns seek to leverage the growing evidence base surrounding the potential benefits of psychedelic therapies, and the latter campaign focuses heavily on how this might help veterans.
Talking to Psychedelic Alpha, Melissa Sanchez (from Deschutes County's VOTE NO ON 9-152 campaign) said:
Here in Deschutes our community has felt the need to organize in opposition of Measure 9-152 to protect access to psilocybin services. We find ourselves in a mental health crisis. Our country desperately needs more solutions and less barriers to access natural alternative therapies. Oregon is leading the country in adopting this breakthrough therapy, we should not be limiting access with proposed opt outs. Instead, communities and local governments should be working in alliance for our most vulnerable populations that suffer daily with crippling mental health disorders. 
To reflect these efforts we have added a new category to our Oregon Psilocybin Services Act Local Jurisdiction Tracker.
American Psychedelic Practitioners Association (APPA) Launches
APPA officially launched during Horizons in New York City, and is now accepting members via their website (free for 6 months).
The association hopes to establish standards of care and training for the field, as well as advocating, educating and building community.
Miscellany
Right to Try Case Update:

Kathryn Tucker et al.'s Right to Try petition, which requested that the DEA reclassify psilocybin as a Schedule II drug, has received a final decision from the Administration stating that psilocybin will remain in Schedule I. Proponents of the petition appear buoyed by the "clean crisp denial" from DEA (in Kathryn Tucker's

words

), though, as it may allow for a more propitious challenge or review.
New Report from BrainFutures: "Elements of Psychedelic-Assisted Therapy:

The good folks over at BF have

published their latest

in a series of reports on psychedelic therapies. This one focuses on the psychotherapy element.
Matt Zorn and Shane Pennington's

On Drugs

newsletter

is always recommended reading. In the most recent two issues, Pennington has reviewed the

significance of Biden's cannabis scheduling directive

. It may very well have implications beyond cannabis.
According to the Federal Reserve,

the average American household had a median balance of just over $5k in their bank accounts

(checking and savings) just prior to the pandemic. Oregon's psilocybin services are likely going to be reserved for the wealthier Oregonians, then – just like the ketamine spas that have popped up across the country, and the international psilocybin retreat market.
Hour-long documentary on PBS:

Can Psychedelics Cure?

– Some have pointed out that the use of the word

'cure'

in the title of this show is problematic, and is getting ahead of the evidence. We thought this hour-long doc did a good job of providing an overview of psychedelic research, including the foregrounding of a number of patient experiences. The mechanism of action content was a little sparse, but it would be tricky to elucidate much more without monopolising the 53 minutes available. Perhaps it's best if we just wait until the evidence arrives? Anyway, well worth a watch.
Why is the American right suddenly so interested in psychedelic drugs? Ross Ellenhorn and Dimitri Mugianis seek to address this question in

a Guardian Opinion piece

.
Join our newsletter to have our Weekly Bulletin delivered to your inbox every Friday evening. We summarise the week's most important developments and share our Weekend Reading suggestions.