This Week:
📰 COMP360 Psilocybin Therapy Shows Promise in Bipolar Disorder, Largely Neglected by Psychedelic Renaissance
🏦 Gilgamesh Pharmaceuticals Closes $39m Series B
⚖️ California Psychedelic Decrim. Bill Returns
🏥 Canadian Province Covers Cost of Psilocybin-Assisted Psychotherapy
and lots more…
COMP360 Psilocybin Therapy Shows Promise in Bipolar Disorder, Largely Neglected by Psychedelic Renaissance
COMPASS Pathways recently shared that early data from an investigator-initiated trial (IIT) appears to signal that the company's COMP360 psilocybin therapy might be an effective treatment for Bipolar II Disorder (BD-II). In fact, 12 out of 14 participants in the trial met the criteria for response and remission three months after their psilocybin treatment. 
The early results of this Phase 2 open label trial, led by Dr. Scott Aaronson and sponsored by Sheppard Pratt Health System, were presented at the recent Annual Meeting of the American College of Neuropsychopharmacology (ACNP). This trial, financed by COMPASS Pathways, is one of a dozen completed or ongoing IITs that have explored COMP360 psilocybin therapy as a potential treatment for a range of psychiatric and neurological indications. 
Other COMPASS-affiliated IITs look at a number of indications that include body dysmorphic disorder, anorexia nervosa and chronic cluster headaches. COMPASS has shared that these investigator-initiated, "signal-generating" trials may be used to inform future drug development efforts.
A predominant focus of COMPASS' efforts, and clinical psilocybin research more broadly, has been on their apparent antidepressant effects. Accordingly, psilocybin's potential efficacy as treatments for indications such as Major Depressive Disorder (MDD) and Treatment-Resistant Depression (TRD) is one of the most intensely explored areas of the field, with COMPASS' lead program targeting the latter. 
In fact, over 35% of all clinically-focused trials on psychedelics that we monitor have a primary focus on a depressive disorder. However, only a very small portion of these trials investigate psychedelics as potential treatments for bipolar depression (also known as bipolar disorder, formerly known as "manic depression"). 
To understand why this may be the case, we should first look at what differentiates bipolar depression from other more commonly investigated depressive disorders.
What is Bipolar II Disorder (BD-II)?
As aforementioned; to date, the vast majority of drug development efforts have been focused on unipolar depression, which includes Major Depressive Disorder (MDD) and the treatment-resistant population who have not responded to two or more treatment options for their unipolar depression (see our Bulletin on the COMPASS Phase 3 Trial for more). 
However, there is another class of disorders that often share MDD's classic presentation of depressive symptoms, but are differentiated based on the often cyclical presence of manic or hypomanic episodes (McIntyre et al., 2020). 
Manic and hypomanic episodes are diagnosed based on different sets of criteria. However, both types of episodes are characterised by a "distinct period of abnormally and persistently elevated, expansive, or irritable mood and persistently increased goal-directed activity or energy" (American Psychiatric Association, 2013). 
Hypomania has often been described as the "less severe" of the two episodes. Accordingly, unlike manic episodes, hypomanic episodes are considered to be "not severe enough to cause marked impairment in social or occupational functioning or to necessitate hospitalisation" (ibid.). 
Nonetheless, the episode still leads to uncharacteristic and observable changes in functioning for the individual. Individuals who exhibit psychotic features during these periods are classified as experiencing manic episodes (ibid.). 
It is important to note that not all bipolar disorders are the same. In fact, the DSM-5 Diagnostic Criteria distinguishes between a number of different subtypes, two of which are Bipolar I Disorder (BD-I) and Bipolar II Disorder (BD-II). These disorders are delineated based on symptom presentation as outlined in different diagnostic manuals. 
An individual diagnosed with BD-I will have had at least one manic episode that may or may not have occurred before or after a hypomanic or a major depressive episode. Conversely, an individual who had experienced a hypomanic episode along with a major depressive episode, without any manic episodes, would satisfy the diagnostic criteria for BD-II.
As represented in the graph above, the mood instability and 'polarity' caused by bipolar disorders leads people to experience 'switches' between diametric periods of emotional highs (mania/hypomania) and emotional lows (depression). 
However, prior research has found that individuals diagnosed with BDs experience a greater number of days in depressive states than they do in manic or hypomanic episodes (Kupka et al., 2007). As a result, depression is often considered to be one of the more prominent and debilitating aspects of bipolar disorders. 
A bipolar diagnosis has been associated with a loss of between 10 and 20 years of life (McIntyre et al., 2020). This is due, in part, to the fact that individuals with a BD are believed to be 20-30 times more likely to die by suicide compared to the general population. However, a number of other factors contribute, perhaps even to a greater extent, to the disparately high rates of premature death experienced by individuals with bipolar disorders. These include factors related to medical complications such as heart disease, stroke, respiratory diseases, and endocrine disorders.
Nonetheless, individuals with a BD die by suicide at a rate higher than any other psychiatric disorder and an estimated 30-50% of all adults with BDs have previously attempted suicide (McIntyre et al., 2020). However, disparities exist even between different bipolar subtypes, with prior studies demonstrating that individuals with BD-II die of suicide at a higher rate than those with BD-I.  
Treating BDs is widely considered to be challenging due to the cyclic nature of the disorder and its subtypes. In addition to psychotherapy and psychosocial interventions, clinicians currently have a number of pharmaceutical options at their disposal. However, even though depression is one of the more salient features of BDs, much controversy exists over the use of antidepressant SSRIs as a treatment option for depression in these indications (Cascade et al., 2007). 
Some of the controversy stems from the concern that these serotonergic antidepressants may precipitate a switch to mania or hypomania in patients with BD-I or BD-II, respectively. However, this risk has been suggested to be lower in patients with BD-II (Hirschfeld et al., 2010).
Lithium or valproate, and risperidone are often prescribed as first-line pharmacological treatment options to help patients manage acute manic or mixed episodes. To help bipolar patients manage acute depressive episodes, health care providers often prescribe lithium or lamotrigine (ibid.). 
Following remission from these episodes, patients often enter into a maintenance treatment phase. Lithium, valproate, and to a lesser extent, lamotrigine, carbamazepine, or oxcarbazepine are prescribed during this continuation stage of an individual's treatment plan (ibid.).  
Unfortunately, few pharmacological options have demonstrated strong efficacy as maintenance treatment options for BDs. As a consequence, long term treatment outcomes remain suboptimal. As McIntyre et al. (2020) describe, some studies have found that between 40 and 60% of individuals who recover from a first-episode of mania relapse within 1-2 years. Further concerns related to the tolerability of other acute and maintenance treatment options have frequently been reported (See Baldessarini et al., 2020). 
These issues underscore the need to study and develop new treatment options for bipolar disorders.
Bipolar Disorders in Psychedelic Research
Despite the significant health burden related to bipolar disorders, so far very little research has gone into studying the effects of psychedelics for these indications. 
One reason for this exclusion may be the purported risk of psychedelics inducing mania in individuals who suffer from BDs (Bosch et al., 2022). These concerns appear to also mirror the aforementioned controversies related to the potential risk of affective switching brought about by the use of serotonergic antidepressants in the treatment of BDs. 
Accordingly, a history of mania, psychosis, a bipolar disorder, or a family history of disorders such as BD has often been enough to exclude individuals from participating in clinical trials using psychedelics (Gard et al., 2021). 
However, as Morton et al. (2022) and others have explained, much of the evidence used to support the exclusion of individuals with BD from psychedelic research appears to be based largely on anecdotal accounts and individual case studies. 
It's also been suggested that, in addition to the risk of inducing switches to mania, the co-administration of psychedelics with lithium, a treatment of choice for BD, may put patients at a greater risk for some adverse events such as seizures and bad trips (Bosch et al., 2022). 
However, one by-product of this exclusion from clinical research is the prevailing lack of research on the relationships between psychedelics and bipolar disorders. 
What Do Early Results Say?
The COMPASS-funded Phase 2 trial enrolled 14 participants (one short of the 'actual enrollment' listed on its registration) with a prior BD-II diagnosis and no comorbidities. Given the open-label trial design, a single 25 mg dose of COMP360 psilocybin was administered to all participants alongside therapy (note that, while researchers involved in the study describe at least some of the sessions as "therapy", the trial registry entry describes the modality as "psilocybin under supportive conditions"). 
The trial's primary outcome measure, as outlined on its registry entry (NCT04433845), was change in Montgomery-Asberg Depression Rating Scale (MADRS) score from baseline (day -1) to three weeks post-dose. Accordingly, it appears as though the principal focus of the trial was on investigating the efficacy and safety of psilocybin as a treatment for the depressive features of BD-II, and not as a treatment for hypomanic features. 
While the original published primary endpoint was at three weeks post-dose, data shared in the company's press release described changes in MADRS scores at the 12 week mark, presumably due to the stellar results. Even with the extended timeline, 12 out of 14 participants (86%) met the criteria for response and remission. (Note: Response was defined as a MADRS score reduction of ≥50% since baseline and remission as a score of ≤10.)
The early results seem to also, at least for now, quell some concerns related to the safety of psychedelic therapy for individuals with BD-II. As the company shared in its press release last week, "no manic symptoms and no unexpected adverse events or difficulties with the dosing sessions" were reported. Psychedelic Alpha understands that researchers used the Young Mania Rating Scale and the Columbia Suicide Severity Rating Scale to ascertain this safety profile. This is an important early finding given the previously reported risk of psychedelic-induced switches to mania, though the sample size remains small. 
COMPASS also shared that none of the trial participants experienced increases in suicidality scores during this Phase 2 trial, an important finding due to the disproportionately high rates of suicide amongst those diagnosed with BD-II. This is also relevant given the concerns related to suicidal ideation and behaviour seen in COMPASS' Phase 2b trial results. 
These early results certainly provide hope that COMP360 psilocybin therapy could be an efficacious and durable treatment for this patient population, even three months after a single dose.
Given that participation in this trial was restricted to individuals diagnosed with BD-II, individuals with a history of mania or psychosis (both of which are criteria for a BD-I diagnosis) were not included. 
Additionally, the study also listed "comorbidities" as its primary exclusion criteria. It's unclear what might fall under this broader category. For example, patients with high baseline suicidality may have been excluded.
Nonetheless, the signal generated by this open-label trial undoubtedly warrants further, more rigorous investigation. While COMPASS is yet to make any official commitment to sponsoring its own trial for BD-II, principal investigator Dr. Scott Aaronson did share that "these findings now need to be validated in larger studies."
But Wait, There's More…
Shortly before going to press, two related articles were published by DellaCrosse et al., (2022) and Morton et al., (2022) that provided qualitative and quantitative analyses of the benefits and risks associated with self-reported psilocybin use by individuals with bipolar disorders such as BD-I or BD-II. 
The publication by Morton et al., (2022) described the findings of a large-scale international survey completed by 541 individuals with a self-reported BD subtype diagnosis. Within the participant pool, 33.6% (n=182) of respondents reported having a BD-I diagnosis and 45.1% (n=244) reported having BD-II.  Roughly one third (⅓) of survey participants reported experiencing "negative or unwanted outcomes" within a two-week period following their psilocybin experience. The most common of the reported adverse effects were new or worsening manic symptoms (n=77). Other undesirable side effects included sleep disturbances (n=56), symptoms of anxiety (n=51), and depressive symptoms (n=48). 
Interestingly, authors in this study did point out how, amongst individuals who reported adverse effects, no differences were found between respondents with BD-I and BD-II subtype diagnoses. Taken at face value, these findings might suggest that risks are not unique to any particular BD subtype. However, the results of one observational survey are certainly insufficient to draw generalisable conclusions. 
Overall, Morton et al. found that participants reported their psilocybin experiences to be more helpful than harmful, even at times when adverse events occurred. Accordingly, 15.9% of participants (n=86) attributed improvements in their mental health to their experience(s) with psilocybin. 
In order to, amongst other things, explore the impact that psilocybin use had on symptoms of bipolar disorders, DellaCrosse et al., (2022) conducted a thematic analysis using follow-on interview responses from 15 participants of the aforementioned survey. 13 of these interviewees reported a BD-I diagnosis, while only 2 had a diagnosis of BD-II. 
Many participants reported both short and long term decreases in the severity of depressive symptoms following the use of psilocybin. These qualitative reports appear to align well with the remarkable quantitative results reported in the aforementioned Phase 2 trial, though it is unfortunate that the qualitative publications focuses almost entirely on people with BD-I (given that the COMPASS-affiliated trial focused on BD-II). 
The interviews also revealed that many participants reported improved emotional processing and new, more positive perspectives following their psilocybin experiences.
While the use of psilocybin was associated with positive and beneficial reports, a number of adverse or undesirable effects were also documented. Similar to the findings described by Morton et al., (2022), increased mania severity, sleep disruptions, and distressing sensory experiences were all commonly reported by the interviewees.
Unlike the findings described by Morton et al., (2022), in the study by DellaCrosse et al., (2022), increases in mania were only reported by interviewees who had been diagnosed with BD-I (though, as aforementioned, the numbers of BD-II participants and the total n of this interview cohort is so small that no inferences can be made). The prevalence of worsening symptoms of mania is a notable finding given the pre-existing concerns regarding the relationship between psychedelics and induced mania. However, sleep disturbances were another notable adverse effect reported in both publications. As Morton et al. described, a number of researchers have previously drawn attention to the impact that sleep disturbances can have on recurrent mood episodes, which include periods of mania. As such, further research is warranted into the effects of pre- and post-psilocybin sleep disturbances on efficacy and safety outcomes, especially in this population.
Interestingly, from the little that has been reported by COMPASS, it would appear that trial participants in the Phase 2 study did not experience the same level of adverse effects that were reported by survey participants in the Morton et al., (2022) publication. Though, we must remind readers that the trial was very small (n=14).
Might these discrepancies be the products of differences between the controlled contexts of clinical studies and the uncontrolled contexts of naturalistic use? Individuals diagnosed with a bipolar disorder frequently also struggle with comorbid substance use disorders. However, in the COMPASS-affiliated trial, comorbidities were grounds for exclusion from the study. 
The same cannot be said for the type of naturalistic use captured in the survey by Morton et al., (2022). In fact, the authors described how poly-substance was often associated with reports of adverse or worsened outcomes for respondents. Set and setting may also be relevant contextual factors that could have been more well-controlled in a trial environment. 
While the trial and survey results published over the last two weeks certainly add to what has, to-date, been a neglected area of study, much more research is undoubtedly needed. Based on the findings of their qualitative analysis, DellaCrosse et al. put forward a series of recommendations for this future research. 
These recommendations included the need to conduct thorough and timely patient assessments to screen for pre-existing and emergent contraindications such as mania, hypomania, and suicidality. Additionally, the authors echo previous beliefs that dosing should be avoided for individuals who display symptoms of mania or hypomania immediately before dosing (note: one can imagine that this might only further increase the logistical challenges of delivering psychedelic-assisted therapies). Finally, the authors suggest limiting polysubstance use over the course of trial participation.  
Who Else Is Looking at Psychedelics for Bipolar Disorders?
Should the emerging body of evidence prompt COMPASS to move forward with its own trial, the company would join a small cohort of psychedelic drug developers and research institutions focused on developing new treatments for bipolar disorders. 
Towards the end of 2021, the Brain and Cognition Discovery Foundation, in collaboration with Braxia Scientific (coincidentally, results of a real-world analysis of ketamine infusions for treatment-resistant bipolar depression that took place at a Braxia-owned facility were just published) and Usona Institute, began a Phase 2 trial studying psilocybin for "treatment-resistant depression as part of a major depressive disorder or bipolar II disorder" (n=30). Shortly thereafter, researchers at the University of California, San Francisco initiated a Phase 2 trial of psilocybin therapy for depression in individuals with BD-II (n=14). 
More recently, GH Research quietly launched a Phase 2 clinical trial to study its GH001, 5-MeO-DMT candidate as a treatment for BD-II with a current major depressive episode. Additionally, Clexio Biosciences has disclosed its intent to investigate its CLE-100, oral esketamine candidate as a treatment for depression in bipolar disorder. 
***
As findings from these studies roll in, more light will be shed on whether psychedelics such as psilocybin might be safe and effective treatments for this patient population. However, before those conclusions can be drawn, several important questions and new areas of psychedelic research will have to be investigated. This includes developing a better understanding of the interaction between psychedelics and first-line treatment options for mania/hypomania like lithium, given their importance in managing these episodes over the long run. Other areas of interest and potential relevance, some of which we will explore in future articles, include aspects related to the apparent bidirectional impact of psychedelics on sleep (and, vice versa). 
It's also important to reiterate that the COMPASS-affiliated investigator-initiated trial remains unpublished and represents a small sample size. Nonetheless, it's an exciting signal-generating finding, especially given the apparent neglect of people with bipolar disorders from the psychedelic renaissance. We look forward to the full publication of findings, as well as readouts from other studies on this topic.
Gilgamesh Pharmaceuticals Closes $39m Series B
A year and a half after its $27m Series A, the New York biotech has announced the closing of a $39m Series B round. All of the series A investors, other than Noetic Fund, doubled-down in this round, including Prime Movers Lab which again led the financing, with General Partner Amy Kruse providing a little rationale for the fund's continued excitement in the company.
The company is led by Jonathan Sporn, who formerly founded Perception Neuroscience to research and develop R-ketamine, largely based on the work of Chiba University's Kenji Hashimoto et al.. Perception, now part of the atai platform, hopes that this R-ketamine candidate (PCN-101) will prove to be more tolerable (e.g., lacking side effects like dissociation, ataxia, etc.) and have a lower abuse potential than S-ketamine (e.g., Spravato) or racemic ketamine, meaning it could potentially be used as an at-home treatment. Atai is expected to provide topline results of PCN-101 imminently.
As we mentioned in our recent deep dive, atai hopes that PCN-101 will ultimately be delivered via subcutaneous injection. At present, however, R-ketamine has been investigated in humans using IV drug formulations. Sporn's present venture, Gilgamesh, is developing an orally bioavailable NMDAR antagonist, GM-1020. If coupled with comparable, or improved, efficacy and safety to candidates like PCN-101 or products like Spravato, GM-1020's more convenient drug delivery method could make it a promising take-home drug candidate. All of these products and candidates target some form of depression.
GM-2505 is the company's second most mature candidate, which Gilgamesh describes as a "novel, patented […], small molecule, short-acting 5-HT2A receptor agonist/5-HT releaser" that it hopes will exhibit a rapid and durable antidepressant effect. In plain English: it's Gilgamesh's attempt at developing a shorter-acting psychedelic.
Beyond these two candidates, the company has a number of 5-HT2A agonists that it believes are non-hallucinogenic, as well as a series of "Safer Ibogaine Analogs".
According to a report by Business Insider's Yeji Jesse Lee, the company expects to commence its first clinical trials in 2023. This suggests the company is lagging slightly behind earlier plans: as recently as September, Gilgamesh expected to enter clinical trials before year-end. It's all a little confusing, though: according to an ACNP poster seen by Psychedelic Alpha, a Phase 1 trial of GM-1020 was "initiated" last month.
California Psychedelic Decrim. Bill Returns
A California Senate Bill that would decriminalise psychedelics in the golden state has been re-introduced in a slightly modified form as Senate Bill 58.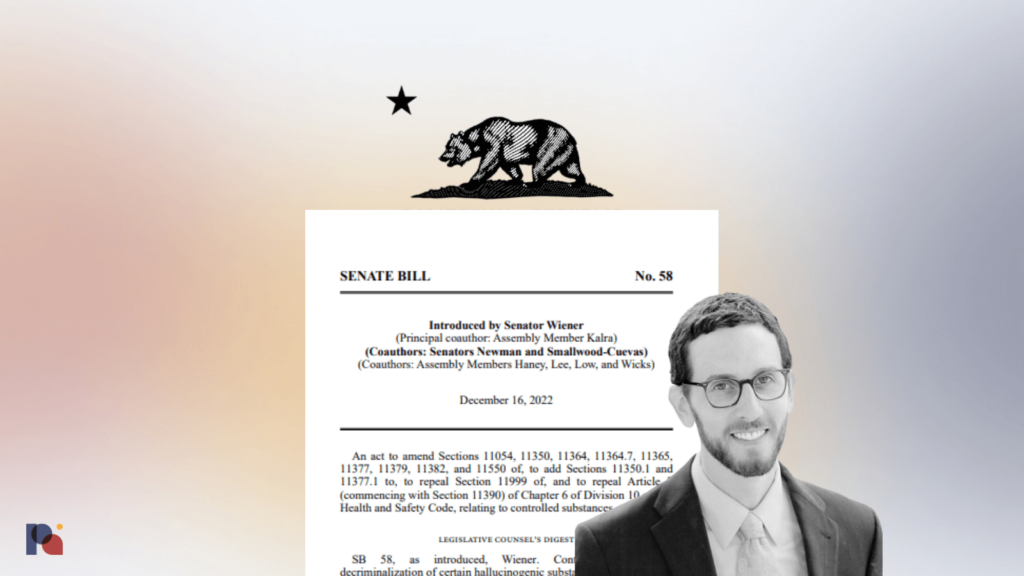 The new Bill, again introduced by Senator Scott Wiener, does not include MDMA or LSD (see our recent Bulletin on Berkeley's inclusion of LSD in a new decrim. push), which were both included in the Senator's earlier attempt under SB519. Now, in a similar manner to the majority of other psychedelics decrim. efforts, the proposal only covers plant-based psychedelics.
From the text of the bill:
"This bill would make lawful the possession, preparation, obtaining, transfer, as specified, or transportation of, specified quantities of psilocybin, psilocyn, dimethyltryptamine (DMT), ibogaine, and mescaline, for personal use or facilitated or supported use, as defined, by and with persons 21 years of age or older. The bill would provide penalties for possession of these substance on school grounds, or possession by, or transferring to, persons under 21 years of age."
This reintroduction comes just a matter of months after SB519 was gutted in the Assembly Appropriations Committee. We will be following the passage of this bill closely.
Featured Psychedelic Jobs
Canadian Province Covers Cost of Psilocybin-Assisted Psychotherapy
According to the non-profit TheraPsil, Quebec has become the first Canadian province to publicly fund psilocybin-assisted psychotherapy. Two doctors, Dr. Houman Farzin & Dr. Jean-François Stephan, were paid by the province after they submitted a bill for psilocybin therapy administered in summer. The patient had received a medical exemption to use psilocybin.
While existing codes do not allow two doctors to bill for services administered to the same patient concurrently (see last week's Bulletin for more on CPT codes), the pair sent the province a letter co-signed by 15 colleagues arguing that both providers should be covered. 
Thereafter, Dr. Stephan successfully encouraged Quebec's governing body for GPs to negotiate with the [provincial] government to amend said codes. "They agreed that psilocybin-assisted psychotherapy is a medically insured service," TheraPsil explains, "which made it possible for the Ministère de la Santé et des Services sociaux (MSSS) to amend the existing codes and charge for the session."
Advocates hope that this might set a precedent that other practitioners and provinces might cite.
Miscellany
Non-hallucinogenic 5-HT2A agonist Ariadne  |  A new research article looks at DOM relative Ariadne, which "has been tested in humans including clinical trials at Bristol-Myers Company that indicate a lack of hallucinogenic effects and remarkable therapeutic effects, such as rapid remission of psychotic symptoms in schizophrenics, relaxation in catatonics, complete remission of symptoms in Parkinson's disease (PD), and improved cognition in geriatric subjects." The authors have filed a related patent, 'Non-hallucinogenic ariadne analogs for treatment of neurological and psychiatric disorders'. But, as Bryan Roth points out, Ariadne has a pretty potent 5-HT2B agonist activity. Figure 1 of the article itself shows this clearly, too.
Roland Griffiths Professorship Fund  |  "The purpose of this endowment is to support a professorship and to establish a world class, rigorous, empirical program of research with psychedelic substances to advance understanding of well-being and spirituality in the service of human flourishing for generations to come. The hallmark of this research shall be the scientific method." Learn more, and support the fund, via its website.
MAPS' Psychedelic Science 2023 Tickets: 'Super Advanced' Pricing Ends Tomorrow (20th Dec)
Join us in Denver, Colorado June 19-23 for MAPS' Psychedelic Science conference, slated to be the largest psychedelic gathering in history. Hear from over 300 speakers across five days of conference and get involved in four days of community events.
An additional 15% off for Psychedelic Alpha readers using code PAL15 (or, this link) will get you the very best price.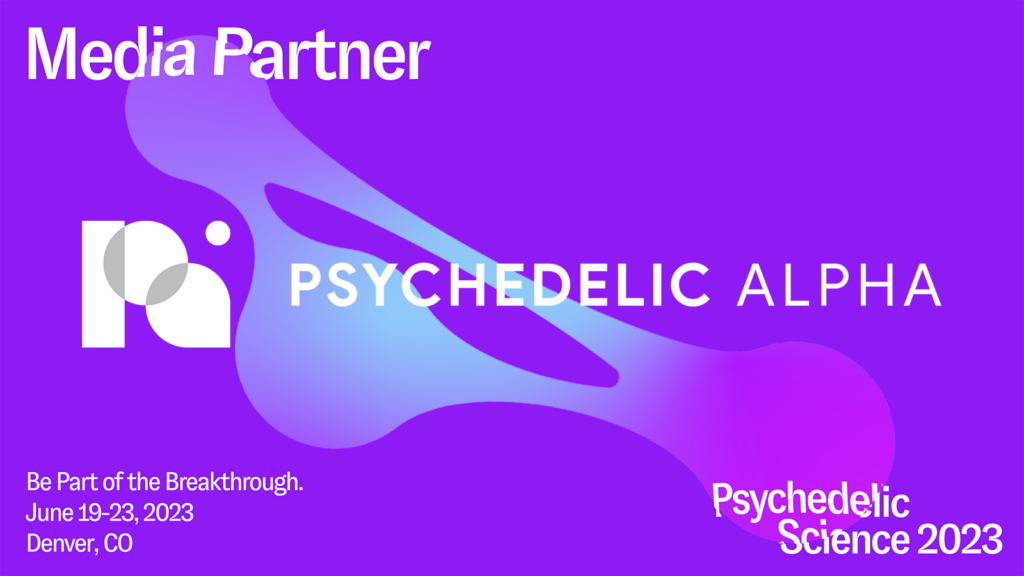 Join our newsletter to have our Weekly Bulletin delivered to your inbox every Friday evening. We summarise the week's most important developments and share our Weekend Reading suggestions.