This Issue:
🥼 Numinus Drops Research Lab, Consolidates Clinics in Efforts to Reduce Burn
💊 Small Pharma's Small Study Suggests DMT Safe and Effective in Those on SSRI
📜 A Cole Memo for Psychedelics? Not Quite, but It Could Be a Start
🐁 New Preprint Suggests Extracellular Theory of Psychedelic-induced Neuroplasticity May Have Been Right After All
📰 And over two dozen more stories…
and lots more…
Numinus Drops Research Lab, Consolidates Clinics in Efforts to Reduce Burn
Last week, Vancouver-based Numinus Wellness announced that it would make a number of changes that represent a broader "focus on positive cash flow generating businesses" and an effort to reduce cash expenses. CEO Payton Nyquvest said his company's focus "on building a sustainable, cash flow positive business is paramount to our long-term success and proving the resiliency and growth potential of our operating model."
Chief among the company's actions is the shuttering of its Bioscience subsidiary along with its "non-revenue producing" research lab. All of the division's operations and supporting functions will be wound down, pronto: the announcement says that this would happen within weeks.
Clinics—already a substantial focus—will be the company's primary focus going forward, it seems, along with training and clinical research sites. Even on that side of the business, Nyquvest's pruning exercise means that a cash-flow negative clinic in Peoria (AZ) will also be shuttered. Numinus hopes to absorb those displaced clients into its Phoenix location, which is just ten miles away. It also hopes to keep on "most" of its practitioners, while improving space utilisation and thus real estate expenses.
Similarly, it's consolidating its Orem location into its American Fork clinic, which was formerly a Cedar Psychiatry facility. The company also announced that it won't renew its leases for research clinics in Montreal and Vancouver.
Taken together, these changes slim down Numinus' footprint of clinics and research sites. When all is said and done, the company will operate 11 clinics and 3 research sites, which are operated by Cedar Clinical Research (which it acquired via its acquisition of Novamind in June last year). That's down from 13 and 5, respectively.
In spite of this reduced footprint, the company promises a "Growth Focused Strategy" in its latest investor presentation, anticipating FDA approval of MDMA-assisted therapy in "the first half of 2024". (It's worth noting that the vast majority of appointments at Numinus' clinics are for conventional talk therapy, with around 16% for ketamine or Spravato-related services.)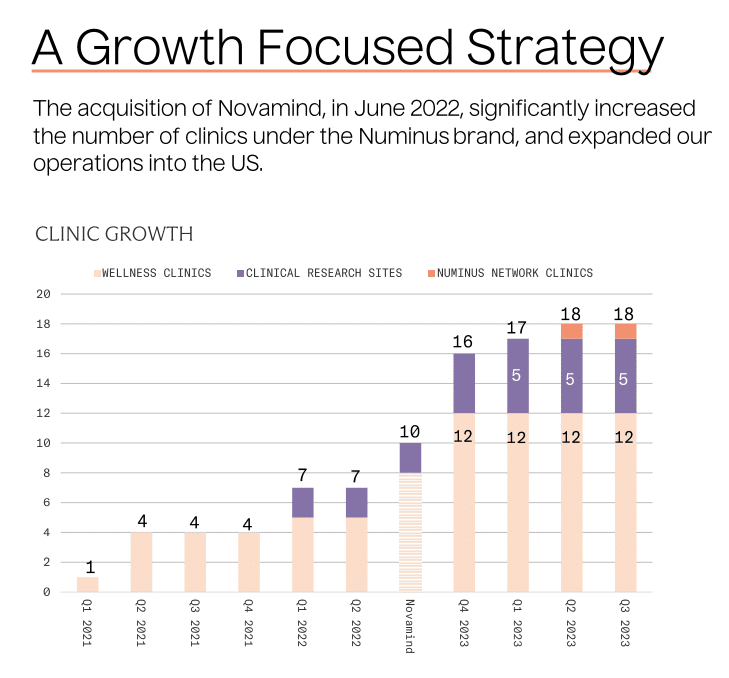 Perhaps the company hopes to realise this growth via its recently launched Numinus Network, a clinic licensing platform that provides "independent practitioners with the opportunity to own and operate a Numinus branded full-service clinic." Under this model, Numinus would provide training and back office support, "among other offerings", to these practitioners, presumably in exchange for a revenue share.
Through this model they might hope to offload real estate costs onto groups like Healing Commercial Real Estate Inc., which invests in 'health-care related real estate'. Numinus signed an agreement with the company on the same day that it announced Numinus Network back in April. Through the agreement, Numinus would offer licensees the option of leasing a "turnkey, fully functioning Numinus Wellness clinic location".
It's not dissimilar to Awakn's recent focus on licensing partnerships, whereby partners get access to the company's ketamine-assisted therapy protocol, support with training, technology systems, clinic design advice, etc. In February—just a couple of months prior to Numinus announcing its own program—the company announced that it had signed its first licensing deal in Europe as well as four in North America (its latest filings made up to July 31, 2023, note that it has signed 8 agreements).
For Numinus' part, it announced its first Network partner in late May with a practitioner in Toronto. It shared the news as part of a broader update on the company's earlier commitment to "cost containment initiatives", which collectively sought to align the business towards preparing for a future approval of MDMA-assisted therapy.
But a look at Awakn's financials suggest that its licensing partners haven't generated significant revenue, bringing in just $24,622 and $36,615 for the 3 and 6 month period ending July 31st, 2023.
These modest revenues, which are presumably losses when weighed against the costs associated with the licensing infrastructure, might lend a pessimistic light to Numinus' plans. However, one could argue that establishing a scalable, turnkey option for practitioners to offer psychedelic-assisted therapies is an attractive offering to have in place ahead of potential FDA approval of MDMA-assisted therapy next year. And, of course, there are important differences between ketamine and MDMA-assisted therapies; perhaps most notably the fact that the former is off-label and thus almost never reimbursable.
Earlier this week, Numinus announced an at-the-market offering to sell up to CAD $10m worth of shares. With a net loss of c.$7m for the past two quarters and a cash balance of $13m, it's clear that the company needed to tighten its belt, fast. Especially given some of its peers have had to take more drastic action or have failed altogether. It will presumably hope that this streamlined footprint, with a focus on profit centres, will re-assure existing investors and entice new ones.
In short, Numinus is pruning its operations and aiming to position itself for success in the event of MDMA-assisted therapy securing FDA approval. If that is the case, one might wonder how long the company might need to bridge the cash burn gap for. Its most recent investor presentation, dated July 2023, anticipated MAPS submitting a New Drug Application in "the first half of 2023", with an approval in H124.
Small Pharma's Small Study Suggests Its DMT Candidate's Safe and Effective in Those on SSRI
Topline results from a Phase 2a trial conducted by London-based Small Pharma suggest that administration of DMT to patients with MDD who are on SSRIs is safe and effective.
The open-label study found that a single 27.5 mg IV dose of SPL026, the company's DMT candidate, was well-tolerated in both an SSRI cohort (N=12) and the control, non-SSRI cohort (N=5). What's more, the trial saw strong efficacy signals, with 100% response in the SSRI cohort and 80% in the control group at week 4. Similarly, the study reported 92% remission in the SSRI cohort at week 4, versus 20% in the non-SSRI cohort.
Such a substantial difference between groups was not expected, Small Pharma CMO Dr. Carol Routledge noted. It's important to remember that this is a small, open-label study. And, these are only top-line results.
We asked Small Pharma to share more information on the length of time patients in the SSRI group had been on those medications. "The criteria was a minimum of 6 weeks," a company representative told us, adding that many participants had been on SSRIs for longer.
The length of time participants have been using SSRIs is an important factor in considering the utility of results from such studies. As we noted back in December 2021, some past studies of psychedelics' interactions with SSRIs have had relatively short pre-treatment periods. Notably, a Liechti Lab study (Becker et al., 2021) that looked at psilocybin-SSRI interactions pretreated participants with escitalopram for just 14 days, which included a taper from 10mg in the first week to 20mg in the second. We, along with others, asked: "Is a 14 day stepped pretreatment representative of real-world SSRI usage and the associated neural changes that might impact the effects of a psychedelic?"
So, the fact that Small Pharma's study appears to have included those that may have used SSRIs more chronically may be a positive signal for external validity. As always, though, it's worth noting that top-line results usually simply don't allow for this level of analysis.
Caveats aside, it's hard not to acknowledge that this is a positive signal for Small Pharma (and its acquiror, Cybin), the psychedelics field more broadly, and potential patients. If psychedelics demonstrate safety and efficacy when administered alongside more conventional antidepressants such as SSRIs it would significantly improve the accessibility of psychedelic therapies, given that weaning off SSRIs is a substantial undertaking for patients.
"The potentially enhanced efficacy effect of a DMT-based treatment when administered with SSRIs could lead to greater therapeutic benefit for patients, and a compelling argument for positioning it earlier in the treatment pathway", Routledge added.
Shares of Small Pharma's acquiror, Cybin, have surged in the past month. The Toronto-based psychedelic drug developer, which announced it would acquire Small Pharma last month (read our coverage), has rallied since then: its stock is up over 70% in the past month at the time of writing. The company has likely benefited from the news that Steven Cohen's Point72 bought around 8% of the company via the purchase of 19 million shares.
Elsewhere, the company announced last week that it has completed enrollment in its Phase 2 trial of CYB003, its deuterated psilocybin analog, for MDD. Final dosing is expected in early Q4'23 with topline results are expected before the end of 2023.
The company hopes to score a breakthrough therapy designation from the FDA in late 2023 (COMPASS Pathways and Usona achieved such designations for their psilocybin candidates in 2018 and 2019, respectively). Cybin also announced an agreement with training provider Fluence geared toward providing facilitators for a forthcoming Phase 3 trial of its CYB003 candidate.
A Cole Memo for Psychedelics? Not Quite, but It Could Be a Start…
Back in the mid-to-late 1990s, a number of states began introducing and passing medical cannabis laws, with the first 'recreational' cannabis laws passed in 2012 (Colorado and Washington). However, the spectre of federal prohibition loomed large, with the question of whether the Justice Department would enforce prohibition in states that chose to liberalise marijuana-related policies very much an open one.
The Cole Memorandum went some way to changing this1. Issued by the Department of Justice (DoJ) and sent to all United States Attorneys, the Obama-era memo stated that federal marijuana prohibition would not be enforced at the state level, where legal reforms had taken place and "strong and effective regulatory and enforcement systems" governed the functions of such systems, such as cultivation, distribution, and possession. Among other situations, the federal government maintained its intent to conduct enforcement where federal priorities might otherwise be undermined, including impaired driving and cartel formation or enrichment, for example.
Despite its limits—perhaps chiefly the fact that it was not a law, but rather a memo—the Cole Memo allayed the fears of many who were participating in state-level legal cannabis markets.
Does the pre-Cole Memo scenario sound familiar? Well, it is very similar to the situation state-level reforms to psychedelic laws find themselves in: incongruent with federal drug laws and enforcement priorities.
For this reason it seemed inevitable that something akin to a Cole Memo would be introduced, given the significant increase in bills and ballot initiatives introduced (and passed) in the pursuit of psychedelic policy reforms at the state level.
Last week, that initiative finally arrived as staunch cannabis reformist and more recent psychedelic policy reformist Earl Blumenauer (D-OR) teamed up with Robert Garcia (D-CA) to introduce the Validating Independence for State Initiatives on Organic Natural Substances Act of 2023. Those with a keen eye for acronyms will notice that the abbreviated version is, VISIONS.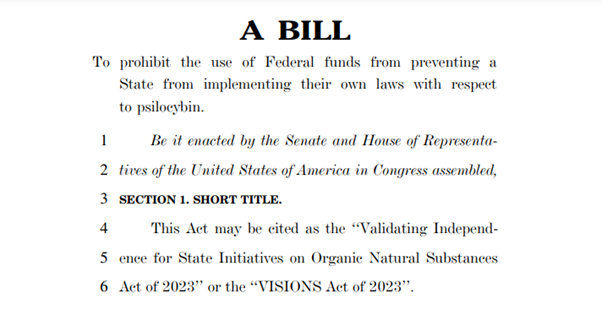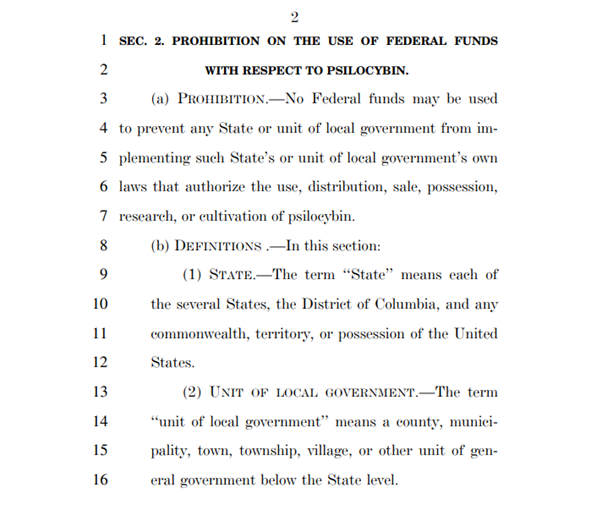 The Act is simple, both in wording and purpose. It would essentially seek to prevent federal intervention in states with liberalised psilocybin laws by prohibiting "the use of Federal funds from preventing a State from implementing their own laws with respect to psilocybin."
If it passes, this would certainly be a start; especially for states like Oregon and Colorado, which are both establishing legal psilocybin programs.
However, there are a number of shortcomings with the VISIONS Act, not least the fact that it only extends to psilocybin. As such, it would not provide relief to broader (psychedelic) drug decriminalisation and reform efforts such as those that happened concurrently with the establishment of legal psilocybin and psychedelic programs in both Oregon and Colorado, but also those that might be signed into law in states like California (SB-58). And what about Colorado's facilitated use model, which could include other drugs beyond psilocybin in years to come?
There are other, more pragmatic, issues with the proposed Act, some of which are summarised in an excellent article by Vince Sliwoski, which published just as this write-up went to press.
But it's certainly a start. We will be following this closely.
Note: In my excitement to share the news last week, I regrettably compromised quality for speed. I initially titled a post on LinkedIn "A Cole Memo for Psychedelics?" before quickly realising that the Act would only cover psilocybin. Feeling equal parts embarrassed at making this mistake but relieved to have caught it, I then updated the title to "A Cole Memo for Psilocybin?". But I had again faltered, or at least lacked precision: as Sliwoski points out in his article on the topic, the VISIONS ACT would be a law, not a policy.
New Preprint Suggests Extracellular Theory of Psychedelic-induced Neuroplasticity May Have Been Right After All
As we reported in Bulletin #131, an 'unexpected finding' by Vargas et al. (2023) threatened to "turn our understanding of psychedelic-induced neuroplasticity inside out". Put simply, the researchers, which include Delix Therapeutics' David Olson, found that psychedelics' activation of intracellular 5-HT2A receptors appeared to be the driving force behind the drugs' promotion of neuroplasticity. This was in spite of the fact that "[e]verybody", according to Cornell neuroscientist Alex Kwan speaking to ScienceNews, "thought that [psychedelics] act on receptors that are on the cell surface."
At the time, Bryan Roth described the paper's findings to Psychedelic Alpha as "very intriguing", adding that the study "requires a close read."
A preprint published this week, on which Roth was a co-author, appears to complicate Vargas et al.'s potentially paradigm-shifting intracellular finding. Among other findings (the preprint presents a number of mouse lines that could improve preclinical psychedelic research), the paper reports that the group's "results are consistent with the hypothesis that the psychedelic actions of HTR2A agonists are mediated by direct actions of pyramidal neuron firing via surface HTR2A receptors."
The authors note that their findings, such as the fact that "HTR2A plays a major role in 5-HT-induced increases in neuronal activity in HTR2A+/L5a pyramidal neurons in the mPFC", are important "because of a recent report suggesting that many HTR2A agonists may exert their actions via intracellular rather than plasma membrane receptors (Vargas et al., 2023)."
Psychedelic researcher Robin Carhart-Harris picked up on the extracellular finding, which is also mentioned in the preprint's abstract, asking Roth on Twitter how to interpret the finding given that it is "inconsistent with the Olson lab findings of key intracellular action, no?" Roth replied 30 minutes later: "The data are clear".
Featured Psychedelic Jobs
💸 GlobalData forecasts $7.2bn psychedelic drug market in 2029. The company shared the projection earlier this week, but it looks a little off. For starters, the three drug candidates they have identified as the leads don't include MAPS PBC's MDMA-AT or COMPASS' psilocybin product… the de facto lead candidates of the segment.
💼 MAPS PBC is hiring for important roles as it gears up for potential approval and commercialisation of MDMA-assisted therapy. Earlier this month we reported on the publication of MAPS' second Phase 3 study of MDMA-assisted therapy for PTSD, which reported positive results and paved the way for a New Drug Application to FDA. Recently, MAPS PBC posted a number of associated job listings, including Brand Lead and Head of Marketing as well as Head of Market Access. (This is a good opportunity to remind you to subscribe to job alerts, or create a profile, on our psychedelic job board.)
📃 Gilgamesh Pharma wraps Phase 1 trials of oral NMDAR antagonist, GM-1020. Last week, New York-based Gilgamesh announced that it has completed its Phase 1 Single Ascending Dose (SAD) and Multiple Ascending Dose (MAD) trials for GM-1020. The company argues that the candidate "distinguishes itself from existing ketamine-based therapies through its convenient oral formulation" as well as "expected efficacy at non-dissociative doses", among other things. The company will share more information at ACNP in December and intends to initiate a Phase 2a study in MDD during H2'23.
🏫 Transcend and Yale score $1m grant from DoD. Yale University has received a three-year, $1m grant from the U.S. Department of Defense to support preclinical research geared towards uncovering the neurobiological mechanism driving MDMA and methylone's apparent therapeutic effects in PTSD. In a press release (which did not mention MDMA), Transcend CEO Blake Mandell said that the research "will provide invaluable data on the neuroplastic effects of methylone on the brain." The company also announced that its UK clinical trial, IMPACT-1, is underway, with topline data from the open-label element (N=15, severe PTSD patients) expected by year end. From there, the company intends to launch a randomised phase, enrolling up to 64 PTSD patients.
🧑‍⚖️ Krystal and Yale settle ketamine patent claims with VA. Yale was also in the news last week as a settlement came to light between the University and its professor John Krystal, and the VA. The Government had accused Yale and Krystal of withholding patent royalties related to the use of ketamine in the treatment of depression, which netted over $3m in royalties since 2015 via agreements with J&J's Janssen (which markets SPRAVATO) as well as the Mount Sinai School of Medicine. Krystal and Yale will pay $1.5m to settle, with Connecticut U.S. Attorney Vanessa Roberts Avery noting that the settlement "shows our commitment to ensuring that the government is fairly compensated for all taxpayer funded inventions." More via Reuters.
📖 BrainFutures publishes guide to reimbursement coding for PATs. Our friends at BrainFuture have published a guide to coding for psychedelic-assisted therapy practitioners. The guide also includes printable 'cheat-sheets', which should help providers "navigate the complex landscape of reimbursement for psychedelic-assisted therapy, regardless of the drug used."
✋ Take Part in a Survey: naturalistic psychedelic use in the U.S. Long-time reader Nicolas Glynos, a postdoctoral researcher at University of Michigan, reached out to us about their survey study that seeks to better understand naturalistic psychedelic use in the U.S. If you have a moment, you can learn more about the survey and participate (anonymously) here.
📜 Tactogen wins its first patent grant for MDMA derivatives. Earlier this week, Palo Alto-based Tactogen announced that the USPTO has granted U.S. patent 11,767,305 covering "novel MDMA derivatives useful for the improvement of mental health". CEO Matthew Baggott said that the company hopes the candidates they're developing will "minimize unwanted effects while fully retaining the unusual therapeutic magic of MDMA". The press release contains some great explainers on the benzofurans the company is working on, including some rationale.
🧮 Some sobering insights from Carbon Health's Chief Product Officer (emphasis ours): "My hypothesis is that innovations in reimbursement, operations, or patient acquisition correlate more highly with success, than clinical innovations do. This is kind of a depressing thought. It means that, even if you discover an approach with better clinical outcomes for patients (and that is all you have), unless you also have figured out the economics in advance, you'll likely be out of business before payors adopt it (because there's no actual urgency for them to adopt it)." More here.
🗳 House Rules Committee advances psychedelic research amendments in appropriations bills. Two Republican-led, psychedelics-related amendments to a DoD funding bill were passed by the committee. One would appropriate $15m for DoD-led clinical trials of psychedelics, while the other would see the Defense Health Agency submit a report to Congress on how to ensure active-duty service members with PTSD and TBI can participate in VA clinical trials of psychedelics. The amendments will now head to the floor. Marijuana Moment has the details. (Update: both amendments were adopted by House votes.)
📆 Waitlist continues to grow at Oregon's first psilocybin service centre. "Despite us being a very small service center, this week we have now served over 25 clients", EPIC Healing Eugene's founder Cathy Rosewell Jonas said in her latest newsletter update. The service centre's waitlist is now over 5,000-long, she added, noting that "[w]e've decided to not go in order, but rather look for those ready to embark on a deep healing journey."
🏫 UW Madison Psychedelic Symposium returns November 2-3. The third annual Symposium will highlight "community engagement approaches, scientific and clinical work being performed in this field at the UW-Madison, as well as featuring nationally renowned keynote speakers." More info and registration.
⚖️ MindMed is suing 21-year-old Jake Freeman et al. over proxy bid. More via Bloomberg Law.
🚓 Detroit 'psychedelic church' raided by police; Shroomyz psychedelic dispensary born again in Kingston, ON. The game of Whac-A-Shroom continues as psychedelic dispensary Shroomyz opened a location in Kingston, Ontario, earlier this month. A 'psychedelic church' in Detroit, meanwhile, was raided by police this week, supposedly because of the use of psilocybin mushrooms.
🧑‍⚕️ Survey shows American psychiatrists increasingly open to psychedelic therapies. A 7-year follow-up survey by Barnett et al. (2023) found that, versus a 2016 survey, American psychiatrist respondents showed "significantly increased optimism regarding the therapeutic promise of hallucinogens and decreased concern about risks, with 50.4% of respondents reporting moderate/strong intentions to incorporate hallucinogen-assisted therapy into their practice." We're working on a longer piece about various groups' perceptions of psychedelics. More to come.
🤕 University of Toronto researchers score $100k grant to study psilocybin for chronic neuropathic pain. The early-career collaborative grant was awarded to Dr. Ishrat Husain and Dr. Karim Ladha for an open-label, proof-of-concept study in 10 adults with chronic neuropathic pain and comorbid MDD.
🏥 UK Drug Policy: first drug consumption room given go-ahead in Glasgow. The pilot scheme will open in Glasgow and hopes to run for an initial period of three years at a cost of £7m ($8.5m), funded by the Scottish government. Indeed, it's not something the current UK government would fund, and the decision by Glasgow authorities to green-light the facility demonstrates a growing rift between Scottish and UK drug policy. The Scottish Nationalist Party earlier called for the decriminalisation of possession of drugs, which was rejected by the UK government. In response to this latest development, the UK Home Office told the BBC that "there is no safe way to take illegal drugs".
Miscellaneous Research Publications:
Harriet de Wit et al. (2023) found that both MDMA and methamphetamine increase feelings of connectedness during controlled dyadic conversations. "Compared to placebo, both MDMA and MA increased feelings of connection with the conversation partners", the authors note. They add that, "[b]oth MDMA and MA increased oxytocin levels, but oxytocin levels were correlated with feeling closer to the partner only after MDMA."
Researchers at the Medical College of Wisconsin (Kelly et al., 2023) found that psilocybin analog 4-OH-DiPT enhances fear extinction, among other things, providing potential impetus for its use in the treatment of disorders like depression and PTSD. 4-OH-DiPT was saved from DEA Schedule I status by a challenge led by a small group of researchers, psychedelic startups and lawyers (read our Special Report). It's also the broad subject of a number of patent claims, with Reunion Neuroscience, Mindset Pharma, Terran Biosciences and CaaMTech all looking for IP rights (see our earlier coverage).
Johns Hopkins researchers (Nayak et al., 2023) published results from a naturalistic study of 2,833 adults who were planning to use psilocybin outside clinical research. The longitudinal study first engaged the respondents two weeks prior to psilocybin use, through to a 2-3 month follow-up survey (which 657 participants completed). According to the authors, their results "support the potential for psilocybin to produce lasting improvements in mental health symptoms and general wellbeing", though "a minority of participants (11% at 2–4 weeks and 7% at 2–3 months) reported persisting negative effects after psilocybin use (e.g., mood fluctuations, depressive symptoms)."
Motivated by a "desire to address" alleged bias in focusing on positive outcomes, Imperial College London researchers published a case analysis of long-term negative psychological responses to psychedelics (Bremler et al., 2023).
Neşe Devenot published a paper characterising both psychedelic and AI hype as "inequality engines". Devenot describes the paper as "possibly my most ambitious work yet" in a Twitter thread summarising her findings.
Alaina Jaster and Javier González-Maeso's review of the mechanisms and molecular targets surrounding the potential therapeutic effects of psychedelics was published this week.
A new study in JAMA Psychiatry asks the question, Were laws that fully or partially decriminalize drug possession in Oregon and Washington associated with fatal drug overdose rates 1 year post implementation? The finding: "This study found no evidence of an association between legal changes that removed or substantially reduced criminal penalties for drug possession in Oregon and Washington and fatal drug overdose rates." (Joshi et al., 2023).
Weekend Reads
WaPo Opinion: Please don't self-medicate with psychedelic drugs. The author, Washington Post columnist Leana S. Wen, worries out loud that "as these substances become increasingly accessible to the public, I fear more people will self-medicate with them in place of evidence-based therapies." This one caused a stir in the broad psychedelics community with Michael Pollan's tweet of the article providing something of an agora for comment (though, many commenters erroneously assumed Pollan himself authored the piece).
NIH: Exploring the Ethical and Practical Considerations of Psychedelics Research. The video recording from NIH's OHRP Exploratory Workshop 2023 is now available.
TIME: What Psychedelic Can Teach Us About Play. Ross Ellenhorn argues that, "as psychedelics come to be seen as treatments for various types of psychological suffering, we are overlooking one of their most precious offerings: the potential for play."
OPB: 88-year-old Oregonian turns to psilocybin to heal from decades-old trauma. In this OPB audio segment (and transcript), we hear from a lady named Vivian Anderson before and after her psilocybin session at EPIC Healing Eugene. When asked how long she has been "looking for this healing, or the wholeness as you described it?" Anderson responded, "since 1960."
Oprah Daily: MDMA-Assisted Therapy Is One Step Closer to FDA Approval. (In case you wanted another article on this!)
VA News: Exploring psychedelics for the treatment of Veterans. 40-minute video of a discussion between VA under secretary for Health and Jonathan Lubecky, Dr. Ilse Weichers, and Dr. Joshua Woolley.
NPR: As psychedelic-assisted therapy grows, so does interest from a new group: chaplains. This story was reported with support from the Ferriss- UC Berkeley Psychedelic Journalism Fellowship.
Morning Consult: U.S. Adults, Especially Millennials, Are Interested in Psychedelics as Mental Health Treatment. The polling shows that 1 in 3 U.S. adults are interested in trying psychedelics for mental health issues, with more than half of millennials saying the same.
NBC Boston: Mass. communities open up to psychedelics as advocates push alternative treatments to stubborn issues. Massachusetts has already seen a number of communities effectively decriminalise certain psychedelics like psilocybin mushrooms. Now, advocates are looking to make these changes statewide.
Saskatoon Star Phoenix: Health professionals, patients challenging rejection to use psilocybin in training. An application for judicial review has been filed after a request to use psilocybin for experiential psychedelic facilitator training was rejected by Health Canada.
San Francisco Chronicle: Gavin Newsom led on legal marijuana. Is he behind the curve on psychedelics? The fate of California's psychedelic (well, psilocybin/psilocin, DMT and mescaline) decriminalisation bill lies in the hands of Governor Newsom, who will decide whether to sign it into law or not. In the meantime, expect a flurry of op-eds, columns and speculation. Here's another pro-SB-58 Opinion in the OC Register.
The i: I went on a £4,000 legal psychedelic retreat in the Netherlands. This is what happened. Journalist Ruby Deevoy heads to Beckley Retreats' Netherlands offering and shares her experience in The i.
Courthouse News Service: 'Shrooms go upscale amid psychedelics craze.
Join our newsletter to have our Weekly Bulletin delivered to your inbox every Friday evening. We summarise the week's most important developments and share our Weekend Reading suggestions.