The Psychedelic News Feed Archive
October 9 - November 5, 2023
Psychedelic Bulletin #148 (Pα+) (Nov 3) ↗ Psychedelic Alpha
This is the first issue of our Psychedelic Bulletin that's exclusively for Pα+ subscribers. Head to our Join page to learn more.
This issue's contents:
Notes from the Conference Call: Cybin's Deuterated Psilocybin Analog Results
Federal Appeals Court Throws Lifeline to Psilocybin Rescheduling Effort
UK Report on Barriers to Research with Controlled Drugs Expected to Publish Soon
Meta Ignores its Oversight Board's Suggestions Regarding Ketamine Ads
'Mushroom Pilot' Case Sparks Soul-Searching
Leading UK Psychedelic Drug Policy Reform Group Rebrands, Founder Mired by Arrest
NIH to Establish and Fund a National Cannabis Research Centre
New NIDA Grant Opportunity for Psychedelics
Ethics Approval for Study of Psychedelics in Romantic Relationships
Other Headlines & Weekend Reads
Cybin Announces Unprecedented Positive Phase 2 Interim Data for CYB003 in Major Depressive Disorder Meeting Primary Efficacy Endpoint with Rapid and Significant Improvements in Depression Symptoms After Single Dose (Oct 31) ↗ Press Release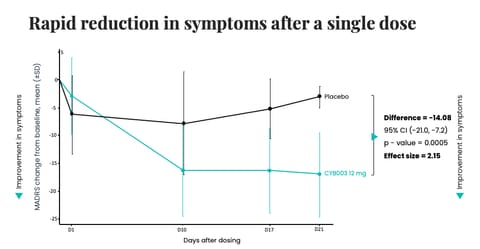 Pα Take: It's worth stressing once again that this is a small N study, and today's interim data reflects a subset of that already-small N. Nonetheless, the data appear positive, with a substantial mean MADRS score reduction and safety profile that gives other psychedelic candidates a real run for their money. It now remains to be seen whether these results are reflected in the full Phase 2a data and ultimately sustained in a larger Phase 3 program. With plans to commence a Phase 3 program as early as Q1 2024, along with a Phase 2 study of its CYB004 deuterated DMT candidate for generalised anxiety disorder, it's going to be a busy couple of quarters for Cybin staff and investigators! ∎  ↗ Psychedelic Alpha
Photo shows vehicle crashed into 'Shroomyz' shop in Toronto… again
There's little information about the Friday morning incident: chiefly, whether it's an accidental car crash or intentional ram-raid (or a pure act of malice, etc.).
Remember that, because they're operating outside of the law, stores like Shroomyz are often relying on cash for transactions.
The neighbouring store, which has been forced to close, wrote on Instagram that "someone drove their truck into [Shroomyz…] for what I'm sure are some pretty nefarious reasons."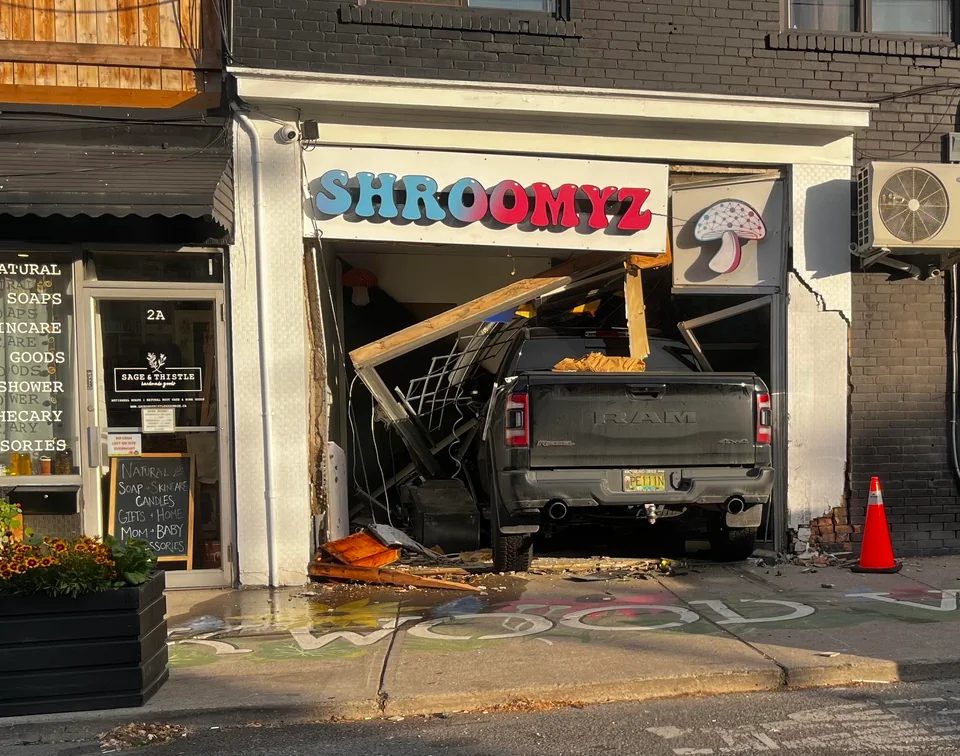 It's not the first time this has happened. Back in September, a car was crashed into another Shroomyz store on Dunlop Street West just after midnight on a Wednesday.
Based on images, the crash wasn't quite as destructive as yesterday's RAM truck.
We Asked: Do you consider ketamine a psychedelic?
You answered:
Yes (43%)

No (36%)

Not sure (21%)
Psychedelic Summer School! (UvA, June 2024) ↗ UvA Summer School
Christian Greer and Erik Davis are running a two-week summer school intensive at University of Amsterdam next year. The Psychedelic Universe: Global Perspectives on Higher Consciousness will provide "an in-depth exploration of psychedelic consciousness across space, time, and culture".
Rapid-Acting Mental Health Treatment Summit Aims to Lead the Conversation on What's Next in Mental Health (Nov 1) ↗ BrainFutures
Our friends at BrainFutures are co-hosting an event in San Francisco on January 7th, 2024.
3 Passengers Sue Alaska Airlines After Off-Duty Pilot Tried to Shut Down Engines Mid-Flight (Nov 3) ↗ Messenger
States are getting $50 billion in opioid cash. And it's an issue in governor's races (Nov 1) ↗ NPR
"The ibogaine announcement caused additional controversy. It's an experimental drug, and, if approved, the $42 million allocation would be the single-largest investment from the commission, which is housed in Cameron's agency."
Reset Pharma Receives Notice of Safe to Proceed from FDA for Investigational New Drug (IND) Application for Oral Psilocybin RSTP1000 (Nov 1) ↗ Press Release
The company will conduct a Ph 2b trial of its psilocybin candidate, RSTP1000, in demoralisation syndrome.
How psychedelic therapy may help with climate change anxiety (Nov 3) ↗ WaPo
"Eco-anxiety and climate grief are unlike other issues in psychiatry because the feelings extend to something greater than ourselves and our personal narrative."
Psychedelics Poised for the Therapeutic Mainstream (Oct 30) ↗ BioSpace
Vancouver police bust three storefronts selling psilocybin and psychedelics (Nov 1) ↗ Vancouver Sun
"Longtime pot activist Dana Larsen opened the stores on East Hastings, West Broadway and Granville street starting in 2019"
"Larsen claims his operations are "under attack by the city," and is urging supporters to attend a public hearing about the business licences on Dec. 6 at city hall."
Over in California, Bakersfield man arrested in illegal marijuana dispensary bust on California Avenue: BPD (Oct 31) ↗ Bakersfield Now
The Heirs to a Vault of Novel Psychedelics Take a Trip Into the Unknown (Nov 1) ↗ Double Blind
Mattha Busby profiles the Alexander Shulgin Research Institute.
Ketamine Therapy Providers Say They're Running Out of the Drug (Oct 30) ↗ VICE
SCHOLARSHIPS
Usona Institute's scholarship program supports practitioners seeking training or certification in psychedelic-assisted therapy and emerging scholars engaged in post-graduate degree programs focusing on psychedelics.
Learn more, and apply by November 30th, at ↗ Usona Institute
Psychedelic treatments are speeding towards approval — but no one knows how they work (Nov 1) ↗ Nature News
Married B.C. therapists face another lawsuit over actions in MDMA therapy trial (Oct 30) ↗ CBC
The Long History of Psychedelic Theft (Nov 1) ↗ Nautilus
How psychedelics can help treat PTSD in veterans (Nov 1) ↗ AXIOS
State police: $8.5 million worth of psychedelic mushrooms reportedly found at CT home; 21-year-old charged (Nov 3) ↗ Hartford Courant
↗ AP News also has the story.
Breakthrough antidepressants with fewer side effects could help millions of Americans. Here's what the future of treatment may look like (Nov 4) ↗ Fortune
"Products in the works at various pharmaceutical companies aim to make ketamine and other dissociative drugs, such as psychedelics like MDMA, even better antidepressants. Some drugs combine ketamine with other medicines to extend its efficacy and reduce the need for such frequent doctor visits. Other research explores ways to cut the hallucinogenic effects from ketamine and psychedelics while holding onto the antidepressant effects."
'Aaron Rodgers Was Right' About Psychedelic Ayahuasca, says Bills Player (Nov 3) ↗ Newsweek
Johns Hopkins Congressional Briefing: What's Next for Psychedelics (Virtual Event: Nov 16) ↗ JHU
Psilocybin and LSD: What I learnt after experiencing 'psychedelic flashbacks' (Nov 2) ↗ BBC
Ed Prideaux investigates HPPD.
BREAKING
TREAT California Withdraws 2024 Ballot Initiative Efforts (Nov 2) ↗ Statement (PDF)
TREAT California, which had hoped to make its way onto the state's 2024 ballot and ultimately convince voters to endorse a $5bn psychedelic R&D institute, has withdrawn the project.
In a statement, the organisation said that while voters "have expressed widespread support for the initiative's objectives", polling "indicates they do not yet believe in creating a state agency to fund the program."
Polling conducted by FM3 Research revealed striking political cleavages (which we discussed in Bulletin 147), with the average Californian independent or Republican opposing the measure.
The group announced a newly-formed nonprofit, TREAT Humanity.
We Asked: When will MDMA-assisted therapy be approved by FDA?
You Answered:
First half of 2024 (11%)
Second half of 2024 (50%)
2025+ (33%)
Not sure (6%)
Alaska Air pilot in aborted flight said he used 'magic' mushrooms, documents show (Oct 24) ↗ Reuters
"The court documents said he also told police that he had taken "magic mushrooms" for the first time, ingesting them about 48 hours before boarding the plane."
The story has caused quite a stir, with mainstream media covering it widely and psychedelic advocates bracing for backlash.
California magic mushroom legalization plan in jeopardy after Alaska Airlines pilot's arrest (Oct 26)  ↗ POLITICO
What do magic mushrooms do to your brain? A midflight crisis raises questions. (Oct 26)  ↗ The Washington Post
Effects of psychedelic drugs can last for days or weeks, research finds (Oct 29) ↗ NBC News
Perhaps relatedly, a union representing many U.S. flight attendants (the Association of Flight Attendants-CWA) issued a 'Know the Facts' piece about microdosing psychedelics. It's strange they chose to focus on microdosing.
Venture Firms Push for FDA Approval of Psychedelic Drugs for Veterans (Oct 29) ↗ WSJ
Inside the movement to legalize magic mushrooms in Massachusetts (Oct 27) ↗ Boston Globe
"Organizers have collected more than 75,000 signatures on a ballot initiative to legalize psychedelic mushrooms."
Federal appeals court rules against DEA's denial of psilocybin rescheduling petition
The DEA failed to provide adequate justification for its denial of a psilocybin rescheduling petition put forth in the AIMS v DEA case, the U.S. Court of Appeals for the Ninth Circuit court has found. The ruling does not send the petition to HHS for review, however. Rather, it orders DEA to provide an adequate justification for its denial.
Oakland activists file statewide ballot initiative seeking safe and legal access to psychedelics for medical and therapeutic uses (Oct 27) ↗ Press Release
Beckey Waves Acquires Nue Life (Oct 26) ↗ Beckley Waves
Beckley Waves co-founder Daniel Love will act as interim CEO of NueCo Holdings PBC, a newly-formed company that will acquire the assets of Nue Life Health Inc.
A New Era of Psychedelics in Oregon (Oct 23) ↗ NYT
"The state has pioneered a therapeutic market for psychedelic mushrooms. Researchers are watching with a mix of excitement and unease."
Harvard Announces Study of Psychedelics in Society and Culture Following $16M Donation (Oct 25) ↗ The Harvard Crimson
As reported last week, a $16m donation from the Gracias Family Foundation has launched a new interdisciplinary program. The Harvard Crimson shares a little more about the initiative.
Tory MP Crispin Blunt arrested on suspicion of rape (Oct 26) ↗ BBC
Blunt is a key proponent of drug policy reform, including psilocybin rescheduling, in the UK.
Why serious players are dosing psychedelics like mushrooms and ayahuasca (Oct 23) ↗ Golf Digest
"Juniper Preserve, a 36-hole resort in Oregon, is applying for permission to conduct research on the performance effects of psilocybin on golfers, which is all to say, the term golf trip could be on the verge of acquiring new meaning."
What to know before you try psychedelic ketamine therapy in New York City (Oct 24) ↗ Gothamist
California Activists Plan To File New Psychedelics Legalization Ballot Initiative This Week (Oct 26) ↗ Marijuana Moment
The proposed ballot measure, the "Psychedelic Wellness and Healing Initiative of 2024", would legalise the production, use and – eventually – sales of psychedelics including psilocybin, MDMA, DMT, ibogaine, mescaline and LSD.
The draft text of the ballot measure can be read here.
First medicinal licence granted for indigenous magic mushrooms: can they help P [(methamphetamine)] addicts?  (Oct 23) ↗ NZ Herald
Psychiatric Pharmacist Dr. Kelan Thomas on Psychedelics: Benefits, Regulation, and Concerns (Oct 23) ↗ Touro University
What's behind ketamine, the drug of the decade (Oct 24) ↗ EL PAÍS
"Consumption of this substance has reached its highest point since 2017 and is leaving a mark on popular culture. Some defend its therapeutic power, but others warn of its destructive potential"
Cybin Completes Acquisition of Small Pharma Inc. to Create International Clinical-stage Leader in Novel Psychedelic Therapeutics (Oct 23) ↗ Press Release
Mindset Pharma Announces Closing of Arrangement (Oct 27) ↗ Press Release
Otsuka has completed its acquisition of Mindset.
America Goes Psychedelic, Again (Oct 28) ↗ Reveal News
50-minute radio segment, including clips from Psychedelic Science 2023.
First FDA-approved psychedelic drug could come as soon as 2024 (Oct 27) ↗ Healthcare Brew
50-minute radio segment, including clips from Psychedelic Science 2023.
First Patient Dosed in Beckley Psytech's International Phase IIb Study of BPL-003, a Novel Synthetic Intranasal Formulation of 5-MeO-DMT, for Treatment Resistant Depression (TRD) (Oct 24) ↗ Press Release
Beckley's Phase 2b trial aims to enrol 225 patients across 40 sites in 6 countries. Initial results are expected toward the end of next year.
David says ketamine was a 'lifesaver' for his depression. So why are many in Australia missing out? (Oct 24) ↗ The Guardian
"A lack of commercial incentives to get the drug approved for treatment-resistant depression means people cannot afford it"
The ACT has today decriminalised small amounts of some illicit drugs. But what does that mean? (Oct 27) ↗ ABC News
The Australian Capital Territory has now decriminalised small quantities of drugs including LSD, MDMA and psilocybin.
(We first reported the decision in October 2022.)
Loyalist becomes first college in Canada to receive licence for psilocybin research (Oct 27) ↗ Global News
Meta decides to Just Say No to Oversight Board requests and allow paid posts for ketamine (Oct 26) ↗ The Register
Psychedelic Bulletin #147 (Oct 17) ↗ Psychedelic Alpha
🚫 Analysis: California Governor Vetoes Psychedelic Decrim. Bill
🚨 At-Home Ketamine Gets Another Lifeline, But FDA Sounds Alarm
⚖️ One to Watch: Challenge to Chevron Could Shatter Federal Agencies' Power
📊 Bionomics' Phase 2b Study of PTSD Treatment Reports Positive Results
🏅 Fabre-Kramer's 5-HT1A Agonist Scores FDA Approval for MDD After Multiple Rejections
📰 Psychedelic Drug Development Updates (GH Research; atai; Cybin)
and lots more.
Dr. Roland Griffiths Passes Away
On Monday evening Roland Griffiths, a pioneer in psychedelic and consciousness research, passed away. 
Professor David Nutt shared:
A sad day: my longtime friend and colleague Roland Griffiths died last night after a long battle with cancer during which he showed the inspiring courage and wisdom that characterised his whole career, especially in resurrecting psychedelic research. A truly great scientist.
An interview between Roland and his wife, Marla, and Manish Agrawal displays the pair's remarkable sense of perspective on Roland's diagnosis and beyond.
Beyond his immense impact on the present field of psychedelic and consciousness research, his legacy includes The Roland R. Griffiths, PhD, Professorship Fund in Psychedelic Research on Secular Spirituality and Well Being. The Fund establishes (and aims to support, in perpetuity) a world-class psychedelic research program to advance human flourishing and wellbeing.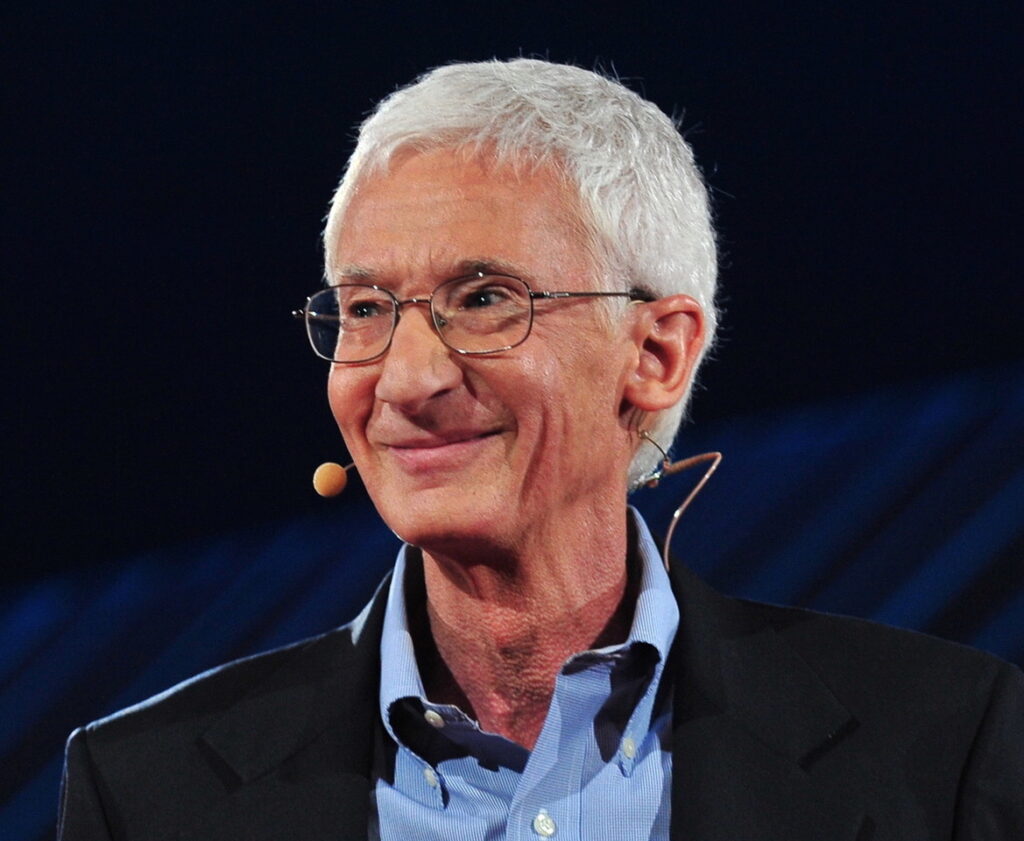 City of Eureka, California, 'Decriminalizes' Psychedelics
More via  ↗ Marijuana Moment  (Oct 19)
Rochester man will represent Dakota Tribes on Minnesota's new psychedelic medicine task force (Oct 21) ↗ Post Bulletin
Sponsor the Psychedelic News Feed.
We will soon be opening a limited number of sponsorship opportunities for the Psychedelic News Feed. Get in touch to discuss.
Diamond Therapeutics Announces First Patient Enrolled in FDA-authorized Study Evaluating Low-Dose Psilocybin in Human Subjects with Demoralization (Oct 17) ↗ Press Release
The trial hopes to enrol 60 patients to evaluate low-dose psilocybin in demoralisation (which includes feelings of hopelessness and meaninglessness). Diamond does not expect the doses to produce subjective effects.
Pα: Given the dearth of clinical trials evaluating 'microdosing', and the equivocal nature of observational studies regarding the practice's effects (or lackthereof), this should be an interesting study to follow (speaking of which, here's the trial registry entry: NCT05227742). However, it is worth pointing out that the trial's dosing protocol – which sees five drug (or placebo) administrations over as many weeks – is dissimilar to popular microdosing regiments. ∎
Do you have questions about psychedelics? The Denver Post wants to hear from you (Oct 18) ↗ The Denver Post
Reporters at The Denver Post want to know what "burning questions" its readers have about psychedelics in Colorado. (You can also let us know, and we will make sure to cover it in our Colorado Natural Medicine Health Act Tracker, in collaboration with Vicente LLP.)
B.C. psychiatrist resigns licence after patient complains of abuse during psychedelic therapy study (Oct 16) ↗ CBC News
"Donna Dryer has admitted to conflict of interest and boundary violations in MDMA-assisted therapy study"
Spravato Sales Reached $183m in Q3 (Oct 17) ↗ J&J
Johnson and Johnson's Q3 2023 results show $183 million in worldwide sales (the vast majority of which were in the U.S.) of Spravato in Q3 2023 vs. $100 million in Q3 2022.
Harvard launches new Study of Psychedelics in Society and Culture (Oct 16) ↗ The Harvard Gazette
A gift from the Gracias Family Foundation supports the launch of an interdisciplinary effort across the Faculty of Arts and Sciences, Harvard Law School, and Harvard Divinity School.
Quartz also covered the news: A former Tesla director is giving Harvard $16 million to study psychedelics in society and culture
One Mind Accelerator Applications Close December 1st ↗ One Mind
The mental health focused accelerator supports companies at varying stages with a $100k investment and 9 weeks of intensive programming. More info and apply.
Inside a Psychedelic Retreat for the Corporate Elite (Oct 17)  ↗ Marie Claire
"Can toxic company culture be cured with mushrooms? A growing movement of leaders in the business world are willing to give it a shot."
Detroit officials close former psychedelic church building after operations suspended (Oct 20)  ↗ Detroit Free Press
2023 Laird Lecture to explore psychedelic medicine, mental health, and social justice (Oct 20)  ↗ University of Winnipeg
Can psilocybin help ease existential despair in patients with advanced cancer? CU researchers hope to find out. (Oct 20)  ↗ The Denver Post
Congress Postpones First-Ever Hearing On Psychedelics And Veterans Mental Health Care (Oct 18)  ↗ Marijuana Moment
Can Psychedelic-Assisted Therapy Be Used for Prevention? (Oct 17)  ↗ MedCityNews
Senators head off push to overturn ACT drug laws (Oct 18)  ↗ The West Australian
An attempt to roll back Australia Capital Territory's decrim. law has been defeated 33-27.
I spent my morning in a psychedelic library in midtown Manhattan and I can't stop thinking about it (Oct 19)  ↗ Time Out NY
"You can't take drugs at Athenaeum—but you can talk all about them."
Mario Can't Be Super Without Psychedelic Power-Ups (Oct 17)  ↗ NY Times
"Now there's Super Mario Bros. Wonder, which turns the franchise into a carnival of bizarre delights. Each level includes a wonder flower, a new mechanic that sends Mario on something like a psychedelic trip, reconfiguring the world around him — warp pipes start crawling like caterpillars, rhinos begin a stampede and some mountains gain a set of googly eyes."
Q: Should Governor Newsom have signed SB-58 to decriminalise certain psychedelics in California?
A: Unsurprisingly, the ayes have it! 80% of you voted yes, with just 5% voting no. 15% of you sat on the fence, answering not sure.
FDA Warns About Potential Risks of Using Ketamine for Psychiatric Disorders (Oct 10) ↗ FDA
More to come in our next Bulletin.
This Senator Wants to Legalize Magic Mushrooms in Mexico (Oct 12) ↗ Vice
"Alejandra Lagunes says that psilocybin mushrooms could be a benefit to the country's mental health crisis."
'Psychedelic Capitalism' Journal Issue Published ↗ History of Pharmacy and Pharmaceuticals
The latest issue of History of Pharmacy and Pharmaceuticals revolves around the broad topic of 'psychedelic capitalism', and is edited by Neşe Devenot and Brian Pace.
Open Access articles include Matthew Baggott's rich review of the STP crisis and Shams et al.'s look at the role prior art libraries (in this case, Porta Sophia) can play in the psychedelic patent landscape.
Andy Mitchell on the Future of Psychedelics (Oct 11) ↗ Literary Hub
A 30-minute interview with Andy Mitchell, who just published Ten Trips.
HLTH 2023: Education is "ultimate end game" in tackling taboo of psychedelic medicine (Oct 10) ↗ Medical Device Network
This piece provides a summary of a (well, the) psychedelics panel at HLTH in Las Vegas.
Natural Medicine Advisory Bulletin #4: September 2023 (Oct 11) ↗ Pα X Vicente LLP
"Coming into the sixth month of work, Colorado's regulated natural medicine program is starting to take shape", writes Jeff Fitzgerald of Vicente LLP for the latest update from the state's Natural Medicine Advisory Board. 
MDMA-assisted psychotherapy for PTSD in adolescents: rationale, potential, risks, and considerations (Oct 10) ↗ European Child & Adolescent Psychiatry
While comments on 'giving MDMA to kids' have caused some hoopla on the conference circuit, if MDMA-assisted therapy is approved in adults then exploring it in adolescents may be the next step on the clinical research agenda. Two researchers published a review article on the topic today, Tuesday 10th (they published a preprint in the Summer).
See our earlier coverage of MDMA-AT's potential pediatric studies.
How 'nones' − the religiously unaffiliated − are finding meaning, purpose and spirituality in psychedelic churches (Oct 10) ↗ The Conversation
"While abandoning mainstream religious affiliation, many turn to alternative expressions, including secular, atheist and psychedelic churches."
Johns Hopkins Group Eyes TV Reboot to Capture the Wonder of Science (Oct 10) ↗ JHU Hub
JHU is exploring a reboot of its postwar science TV show, "The Johns Hopkins Science Review", on a platform like Netflix, and psychedelic research could get airtime: "Psilocybin research and the groundbreaking work of the School of Medicine's Center for Psychedelic and Consciousness Research is another topic of interest", the article notes.
God, Magic Mushrooms, and Me (Oct 10) ↗ Esquire
"There's a growing movement among religious leaders to use psychedelics like psilocybin to deepen their faith. The author attended a secret ceremony to find out whether it works."
CA DECRIM.
California Gov. Gavin Newsom vetoes bill that would have decriminalized psychedelic mushrooms (Oct 7) ↗ AP News
Pα: (We will be covering this more extensively in a forthcoming Bulletin – sign up today.) The Governor's veto is not entirely surprising, given Newsom's rumoured national political ambitions. Newsom's associated letter (which is not something a Governor has to accompany a veto with) doesn't slam the door closed on psychedelic policy reform, either. But it's clear Newsom would like to see something more closely focused on 'therapeutic use', though the term is admittedly vague. Expect to see Sen. Wiener return next year with a new Bill. Our Editor-at-Large Graham Pechenik and I (Josh Hardman) spoke to Wired about the news. ∎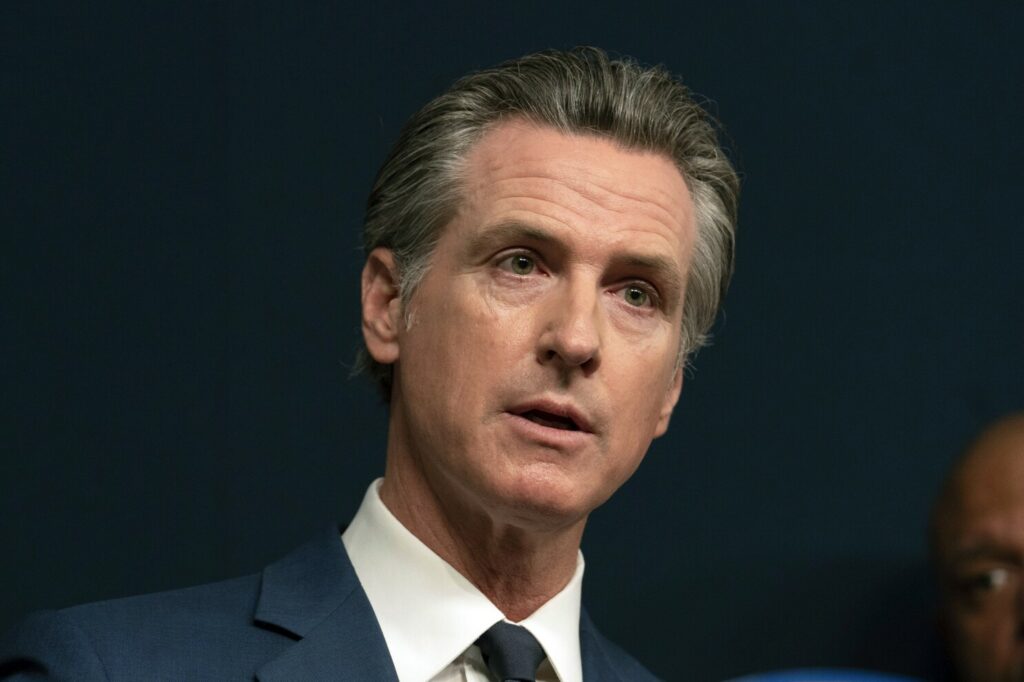 Zero Shares of Mydecine Traded in First Two Days on Aquis (Oct 12)
Pα: 3 years ago, Mydecine Innovations Group appointed advisors for a 'planned listing' on the London Stock Exchange. That never happened, but earlier this week the company was admitted to the AQSE growth market. Since then, not a single share has been traded. ∎
Psychedelics Prove Popular at ECNP (Oct 8) ↗ ECNP's Tweet
"Psychedelics are hot in the field of mental health!", Tweeted the European College of Neuropsychopharmacology alongside a photo of a packed conference hall.
Pα: Our own Josh Hardman attended ECNP's New Frontiers meeting in France earlier this year, which was entirely dedicated to psychedelics (read our write-up). It's great to see this interest borne out at the main conference, too. ∎
'THE VIRTUAL TRIP'
Recordings from Psychedelic Science 2023 are available   ↗ PS23: The Virtual Trip
Videos of presentations at MAPS' Psychedelic Science 2023 conference are being made available via a dedicated website. Josh's State of the Psychedelic Sector presentation is among the available recordings.
'Filled with promise': UC Berkeley academic center promotes use of psychedelics in therapy (Oct 13) ↗ The Daily Californian
'Ingrained in the fabric of British society': the iconic lava lamp turns 60 (Oct 15) ↗ The Guardian
"Back then, they were associated with a hippy, psychedelic counterculture, and their popularity was given a boost not only by Starr but also Paul McCartney, who had lava lamps on stage with his band Wings, and David Bowie, who was photographed with one in his recording studio."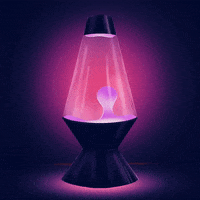 Event: EMCDD Director on Psychedelics ('Conference' on Oct 24) ↗ U Lisboa
Alexis Goosdeel, Director of the European Monitoring Centre for Drugs and Addiction, will present a talk titled, "From entertainment to therapeutic use: effectiveness of psychedelics and cannabis for healthcare".
Psychedelic health claims may be promoting risky self-medication (Oct 7) ↗ New Scientist
"Drugs such as psilocybin can trigger dangerous psychotic experiences and should only be used with medical supervision, warns psychiatrist Jonathan Iliff at New Scientist Live"
Pα: A number of researchers that work with psychedelics have shared concerns around topics like decriminalisation and 'self-medication' of late. In response to a WaPo Opinion piece titled "Self-medication with psychedelic drugs is a dangerous plan", Robin Carhart-Harris said, "I tend to agree". Jennifer Mitchell, meanwhile, told the LA Times she was against California's decrim. bill. ∎
The Big Money Behind Kentucky AG Daniel Cameron's Bizarre Psychedelic Drug Crusade (Oct 9) ↗ Daily Beast
Is ibogaine R&D an appropriate use of the state's Opioid Abatement Advisory Commission funds? A $42m grant would be its biggest to date, by a long shot.
Cameron's ibogaine initiative "came out of the blue" and "caught everybody off-guard", according to a source in a Daily Beast exclusive, which alleges conflicts of interest.
Pα: Just as psychedelic advocates question Newsom's motives for vetoing SB 58, this reporting questions the motives behind KY's potential ibogaine funding. Opposition researchers have requested ibogaine program-related records from Cameron's office, so there may be more to come. ∎
Filament Health Receives Health Canada Authorisation for Ph 2 Psilocybin Trial (Oct 10) ↗ Press Release
Health Canada has given the go-ahead for a Filament-sponsored study of psilocybin for the treatment of opioid use disorder. The Phase 2 trial will take place at University of British Columbia
Pα: In a crowded synthetic psilocybin drug development space, Filament is looking to differentiate itself by using a 'botanical' psilocybin candidate. ∎
Case Report: Fungal Infection in Lungs Following Psilocybin Use (Oct 9) ↗ Chest Journal
The case report details how a 49 year old immunocompromised male ended up with a fungal infection in his lungs.
The patient explained that he had cultivated his own psilocybin mushrooms and turned them into a powder using an electric coffee grinder.
NYT profiles the Athenaeum (Oct 7) ↗ NY Times
"…just three blocks from Grand Central Terminal, tucked within the sprawl of advertising offices, finance firms and chain stores, a community center dedicated to consciousness-altering substances has taken root."