This Week:
🦫Oregon Approves First Psilocybin Service Centre
🥼 AMA Approves Psychedeic Therapy CPT Code
🧑‍💼️ MindMed Seeks to Fend Off Proxy Contest
💉 Ketamine Administered Under Anaesthesia Has No Short-term Effect on Depression Vs. Placebo
⚖️ Psychedelic Policy Reform Updates
and lots more…
Oregon Approves First Psilocybin Service Centre
Late last week, Oregon Health Authority announced that it has issued the first psilocybin service centre licence, just over two-and-a-half years since Oregonians passed Measure 109 which mandated the creation of Oregon Psilocybin Services. For campaigners, policymakers and hopeful psilocybin business operators, it's taken a great deal of effort to get to this point.
The first service centre licence has been awarded to EPIC Healing Eugene. Here, we piece together the path to licensure by speaking to the owner, Cathy Rosewell Jonas.
Cathy Rosewell Jonas had a "powerful and life changing psychedelic experience" on her 18th birthday, which she says ignited her own "personal and spiritual growth path".
A licensed clinical social worker, Cathy has been practising for 35 years, and started her own counselling and coaching practice nine years ago in 2014. She provides a variety of offerings out of a leased unit on Willamette Street in Eugene, Oregon, with a practice that revolves around neurofeedback, with ancillary services ranging from hypnotherapy to Eye-Movement Desensitization and Reprocessing (EMDR).
It seems, however, that Jonas' early psychedelic experience led to an interest she struggled to shake: she has authored two books on the psychedelic experience and benefits of plant medicine, with her most recent tome published in 2021.
It's not surprising, then, that Jonas wanted to get involved in Oregon's new psilocybin services program.
But, it hasn't been easy. Myriad hurdles and challenges associated with Oregon's program (many of which are documented in a recent report from reMind, written by Josh Hardman) have led to a slow and expensive licensing process.
Jonas has provided a first-hand look at these challenges, documenting "the ups and downs" of trying to establish a licensed service centre and becoming a licensed psilocybin facilitator in the Beaver State via a YouTube channel for the last six months.
A Challenging and Expensive Path to Licensure
"There is literally like a zillion steps to go through", Jonas told viewers of a video she posted in late January. She's addressing viewers from Eugene City's Planning office, having submitted a Land Use Compatibility Statement (LUCS) for the modest psilocybin service centre she hopes to open.
A LUCS must be reviewed and signed by City officials before a service centre licence can be submitted. As its name suggests, the purpose is to make sure that a service centre is compatible with land use regulations, which have already tanked other service centre plans (most prominently those of Synthesis).
Unlike other hopeful service centre operators, Jonas isn't (for now, at least) looking to open up a large retreat-style operation, or even a standalone facility: she's looking to offer psilocybin services in a unit she rents for her existing counselling practice, which consists of two counselling rooms separated by a hallway and a bathroom.
A fortnight later, the City signed her LUCS, allowing Jonas to continue with her service centre plans. Shortly thereafter, she ordered a 375-pound (170 kg) safe and arranged for a security company to fit out her rented unit with a new security system.
The costs didn't stop there: "It just goes on and on", she said.
Prior to site inspection, Oregon Psilocybin Services (OPS) notified her that the security camera system she had installed was not set up correctly, meaning cables and equipment had to be ripped out and re-routed.
Then, the matter of insurance arose. Given that psilocybin remains on Schedule I, it's tricky to find an insurance policy. Jonas said that her annual policy ended up costing around $10,000.
Prior to beginning the process, Jonas had hoped that, if she "really splurged", she might spend a maximum of $30,000 to open up a psilocybin service centre in her existing space. In reality, it's cost her somewhere between $55,000 and $60,000, she told us.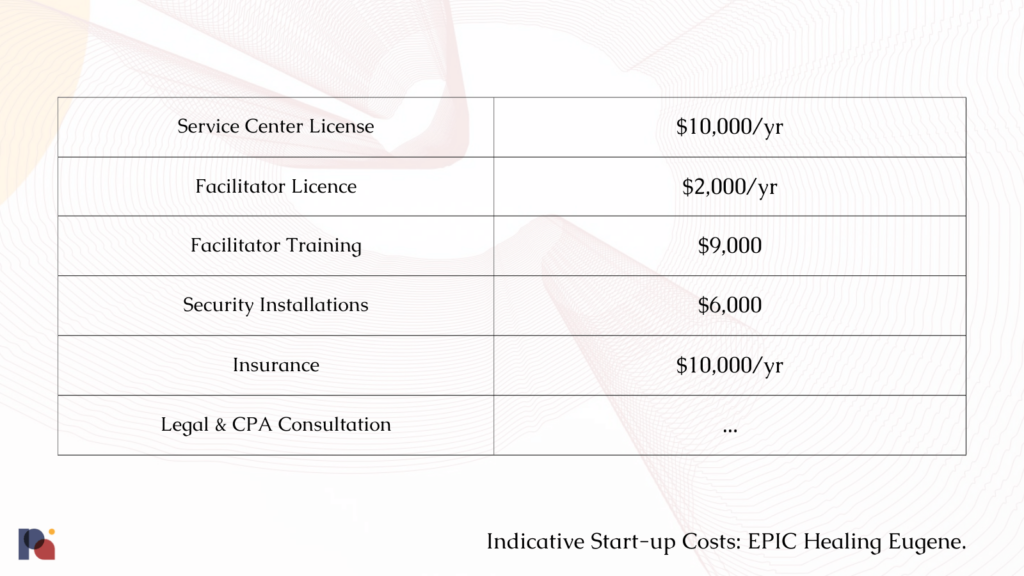 And, this is all before staff costs. Despite the fact that Jonas' service centre was intended to be very small (a "boutique style service center", in her own words), and operated only a couple of days out of her existing counselling space, many of these costs are fixed.
In order to break even after six months of operating, Jonas said that she would need to charge "probably around $3,500 a session". This is, indeed, the pricing the centre ended up landing on for 1:1 high dose psilocybin sessions, though group sessions and lower doses do bring the price down slightly (but, not within the reach of the average Oregonian):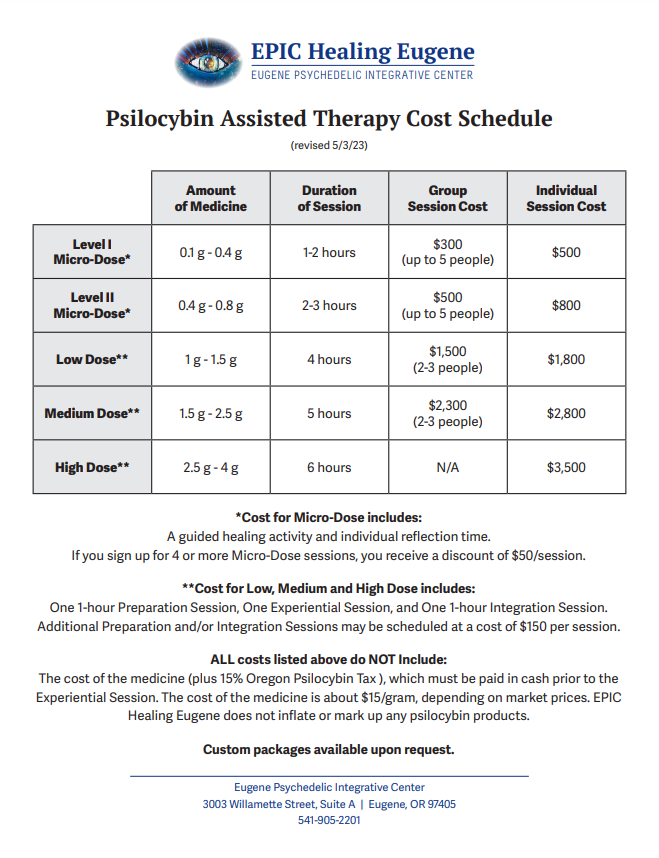 "It's not a pretty picture right now", she said.
Her plans to open the service centre for two days a week and maintain her neurofeedback business ("our bread and butter") on the other days were dashed when Jonas learned that she cannot serve minors at all at her location; even when the service centre side of the business is closed.
This fact, coupled with the significant early demand for psilocybin services, according to EPIC's waitlist, might encourage Jonas to open the service centre more than a couple of days per week, potentially cannibalising her existing practice.
"Incredible" Demand
"The demand for psilocybin services has been incredible", Jonas told Psychedelic Alpha. "We had 55 on our waitlist before May 5th", which is when the news broke that EPIC would be the first service centre in Oregon. Now, there are well over 300 potential clients on the centre's waitlist.
It's a fairly even split between in-state and out-of-state enquiries, with inbounds coming "from all walks of life", she told us.
Despite the fact that Oregon's psilocybin program is explicitly non-medical (meaning, among other things, Jonas cannot practise under her licensed clinical social worker status), most of the enquiries EPIC has received thus far have been from people "who have PTSD and trauma", with around one third describing depression as their primary reason for seeking EPIC's services, she told us.
EPIC has also lined up potential psilocybin suppliers. Jonas explained that one of their suppliers will be Tori Armbrust's Satori Farms PDX, who received the first licence to manufacture psilocybin in the state. "She puts motherly love into her mushrooms", Jonas said.
Jonas told us that EPIC hopes to begin delivering psilocybin services in the third week of May, but "we are still pulling together many logistics", she said.
How Many Service Centres Can the Market Sustain?
EPIC told us that they expect to see around two-hundred clients in the remainder of 2023 in its small service centre. If EPIC is able to offer larger sessions, in a different location, that number could grow significantly.
"What's happened to me, after receiving so many referrals, is that it's inspired me to start thinking bigger about this", she said, adding that during a psilocybin experience two years ago she "was 'told' by the mushrooms that this was going to be 'Big, Big, Big'".
But, the question on the minds of many is, just how many psilocybin service centres can this demand support, given the high costs and prices associated with these offerings? This question will be top of mind for the growing pool of psilocybin facilitators who have shelled out thousands of dollars on training programs, with virtually nowhere to practise their skills and recoup their costs (as we covered in our most recent Bulletin).
Despite the fact that prices will be out of reach for most Oregonians, out of state interest might drive some demand. In a recent video Jonas and her colleague, Heather Shelton, explained that they're "really actively seeking out some sweet Airbnbs and other spaces for folks when they come to town, so that they can feel comfortable".
But, if psychedelic policy reforms continue apace, might this demand dry up when individuals are able to access legal psilocybin (or, psychedelic) services closer to home, or in a decriminalised setting they feel comfortable with?
Jonas didn't sound too worried about the coming competition when she spoke with us. It's natural, she told us, "that it will become more competitive between the manufactures, service centers, psilocybin training programs, as more come on line, but I feel there is more of a feeling of cooperation than competition in Oregon's roll out of psilocybin".
"That's how I want to operate. This is heart work and many have felt a calling to this sort of work. I trust in that."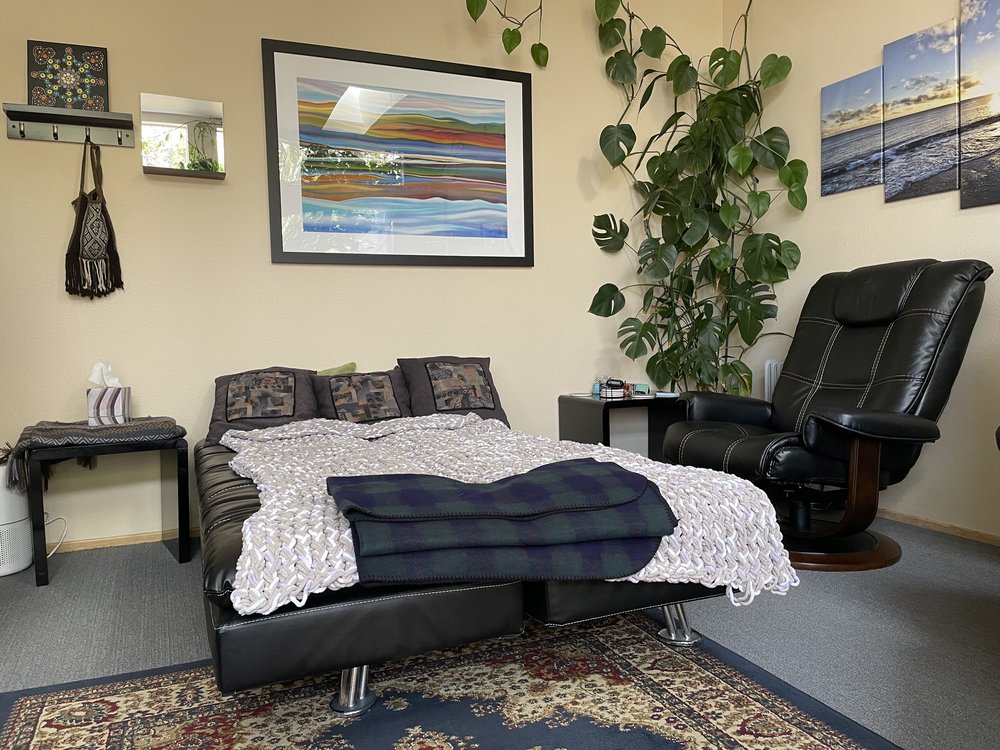 AMA Approves Psychedelic Therapy CPT Code
Last Tuesday, COMPASS Pathways and MAPS PBC announced that the American Medical Association (AMA) has approved a CPT III code for psychedelic therapies.
As explained in our earlier coverage (December 2022, Bulletin #126), CPT codes are a central part of the U.S. medical infrastructure, allowing healthcare professionals to record and seek reimbursement for the delivery of various services and procedures. As such, they provide a shared language for medical coding and billing.
This new code, then, seeks to recognise the unique role a healthcare professional might play in the delivery of psychedelic therapy. The application for the code was titled "Continuous In-Person Monitoring and Intervention during Psychedelic Medication Therapy".
It's important to note that it's a CPT III code that's been issued. This type of CPT code is temporary; designed to allow for data to be collected on emerging technologies, services and procedures. This data might be used to justify more widespread usage and can provide documentation for the FDA approval process.
But, interventions recorded via CPT III codes are generally not reimbursed. To get to a point where widespread reimbursement might be considered by payors, a CPT I code is needed (Carlene MacMillan at Osmind provided a concise explainer on how a CPT III code might become a CPT I code).
Full details of the code are expected in July, with the code coming into effect on January 1st, 2024.
Details aside, it's promising to see collaboration between two of the leading companies in psychedelic drug development.
As Josh noted on LinkedIn: While it's much too early to be thinking about such things (and, there are important differences between MAPS' entactogen-assisted therapy and COMPASS' synthetic psilocybin 'with psychological support'), might this bode well for future collaboration on things like shared training programs, or even shared psychedelic REMS?
Another note: three Category III CPT codes were added, according to AMA's Summary of Panel Actions, though MAPS PBC and COMPASS Pathways' press release talks about a code, singular.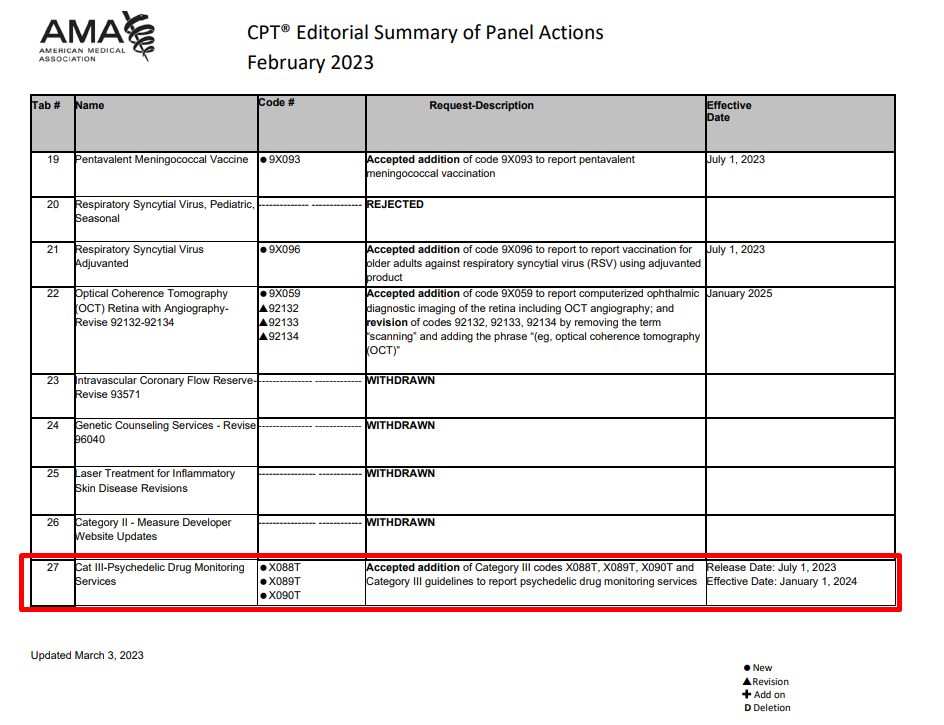 MindMed Seeks to Fend Off Proxy Contest
In a bulletin published in August of last year, we covered early efforts by a small group of activist investors to pursue a "value enhancement plan" for MindMed. While publicised activist efforts appeared to fade over subsequent months, in a recent press release, MindMed disclosed that it has met with FCM representatives "numerous times since August 2022 to evaluate FCM's perspectives on the company and its strategic direction."
However, based on a letter to company shareholders published by MindMed early last week, it appears that the group has recently renewed its less amicable efforts to "restore shareholder value".
In its letter, MindMed states that the group, which goes by the abbreviated name FCM, "is waging a proxy contest to take control of the Company despite only owning a small percentage of [MindMed's] outstanding shares and failing to provide any realistic strategic plan for MindMed."
In order to "execute" on its plan, FCM has nominated four individuals for MindMed's board of directors. Nominees include former CMO Dr. Scott Freeman, who was the first senior member out of the door at MindMed, leaving not long after the company was founded. If successful, FCM looks bent on replacing current MindMed CEO, Robert Barrow, and company CMO, Dr. Dan Karlin, in order to build what it describes as a "Qualified Management Team".
Additionally, the group stated that MindMed's clinical development efforts have been "plagued by delays and failure." Accordingly, one of FCM's more dubious prescriptions includes the initiation of a Phase III study of LSD in Generalised Anxiety Disorder (GAD) in 2023, using data produced through previously-completed investigator-initiated studies. MindMed has since responded, stating that "there is no credible basis for FCM's misplaced claim that MindMed could skip its Phase 2 study for MM-120 [LSD] and go directly to Phase 3." (Editor's note: we covered this general topic last week.)
MindMed has shared publicly that through discussions with FCM, "it became abundantly clear that FCM does not understand MindMed's business—which has significantly evolved since Scott Freeman left the Company in 2020—or the associated regulatory processes."
Despite FCM owning roughly 3.5% of the company's outstanding common shares, MindMed appears to be taking the threat of a proxy contest seriously. Last week the company published a new website, www.protectmindmed.com, dedicated to instructing shareholders on the voting process.
The company's 2023 Annual General Meeting of Shareholders is slated to take place on June 15, 2023.
Featured Psychedelic Jobs
Ketamine Administered Under Anaesthesia Has No Short-term Effect on Depression Vs. Placebo
We have been waiting for the publication of this study for some time, so we were excited to get our hands on the preprint last week. Boris Heifets' group administered placebo or ketamine to participants (n=40) with moderate-to-severe depression undergoing surgical anaesthesia, which successfully masked treatment allocation (maintaining blinding is, notoriously, one of the trickiest elements of psychedelic trial design).
The results: there was a large antidepressant effect of >50% in both groups and remission rates of between 35 and 50%.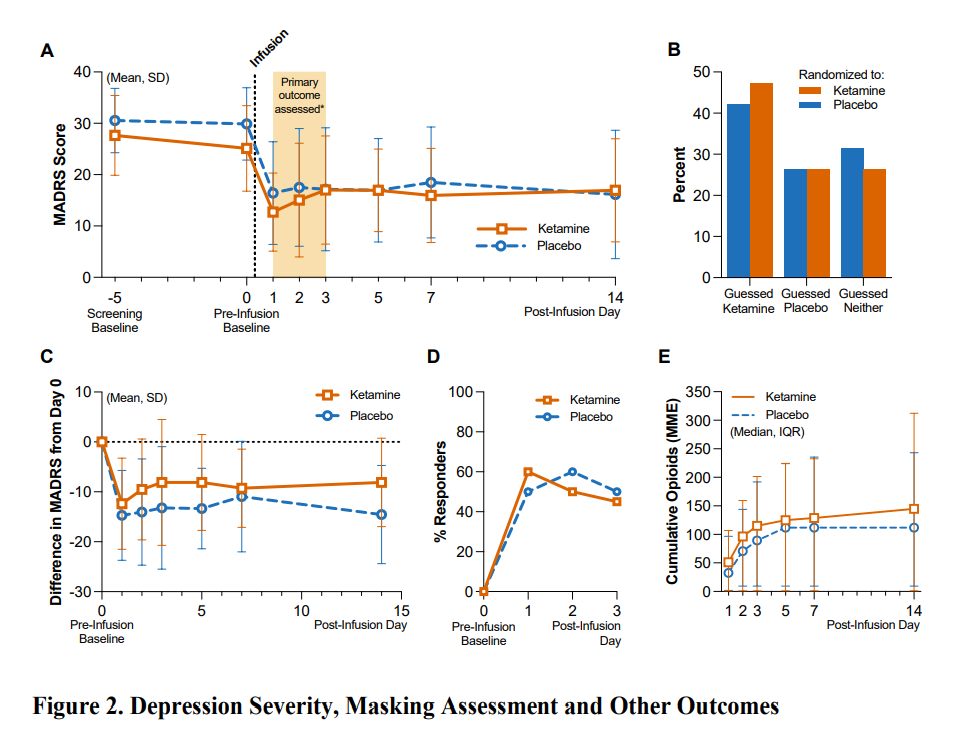 If we assume that the antidepressant effect is not driven by the other surgical anaesthetics (e.g., propofol) involved or related to postoperative relief, the two most obvious potential conclusions are: a) expectancy drives ketamine's apparent antidepressant effects, or b) the subjective effects of ketamine are necessary to realise its apparent antidepressant effects.
Writing on Twitter, Heifets explained that some might read these findings and suggest that, "we could dispense with the drug altogether and keep the therapy… but having a focal event may be important… like every ritual ever!"
It will be interesting to see this study design replicated with psilocybin, which Heifets says he is preparing for.
(Note: There are many caveats and limitations to the study design, some of which are mentioned in the Discussion section of the preprint. We don't have space to cover these this week, but they include the fact that the study did not measure treatment expectancy prior to randomisation. Future studies might include this element in order to better understand the role of expectancy effects.)
(When discussing the results and making associated proclamations about wether 'ketamine' does or doesn't 'work', it's worth remembering that ketamine therapy is not a standardised intervention: some incarnations see ketamine delivered alongside psychotherapy (as in ketamine-assisted psychotherapy, or KAP) while others see ketamine administered without psychotherapy (as in the case of many ketamine clinics, take-home ketamine offerings, and Spravato)).
More: As part of a panel on psychedelic research methods in our 2022 Year in Review, we asked Heifets, as well as Hailey Gilmore and Balázs Szigeti, what they thought of these results when they were first at a Symposium at Stanford, where a slide showed MADRS scores grouped by patient guess (which didn't make it into the paper in question). At the time, Heifets joked that "one thing we most definitely did achieve is to drive a placebo effect that could probably get FDA breakthrough status."
Matt Zorn Explores Bifurcated (Re)Scheduling
Matt Zorn's latest On Drugs issue explores the ins and outs of bifurcated scheduling. Zorn is keen to point out that bifurcated scheduling of psychedelic drug products is not predestined, however likely it may be. He also points out a number of issues that bifurcated scheduling might pose.
In terms of reducing barriers to research, bifurcated scheduling would only make life easier for researchers working with the approved drug product, which would likely only increase the relative costs for those looking to research other formulations of drugs like MDMA and psilocybin. We have previously identified this as a potential issue with the Breakthrough Therapies Act (which we analysed in December 2022, Bulletin #125).
Another interesting point revolves around Section 280E of the Internal Revenue Code, which forbids businesses from deducting expenses from activities associated with the 'trafficking' of Schedule I or II substances. This has been a major issue for cannabis businesses, and will likely be a significant burden for those operating in local or state-level psychedelics commerce (such as Oregon psilocybin service centres like EPIC, described above). Given that 280E only pertains to Schedule I and II drugs, any rescheduling—and whether that rescheduling is bifurcated or applies to all incarnations of the drug in question—could have significant implications for the commercial viability of state-level and local psychedelics business.
NIDA Director Talks Psychedelics at Senate Appropriations Subcommittee
"Can you provide us an update of where we are on psychedelics research", asked Sen. Brian Schatz.
Nora Volkow, NIDA's Director, said that:
"as the evidence is starting to emerge that shows significant potential in terms of therapeutics for certain conditions like severe depression or PTSD and also preliminary research showing benefit for the treatment of addiction, we're actually engaging the scientific community to try to understand how psychedelic drugs can be potentially utilised for treatment, how they affect the brain, and how to deploy them in ways that are going to be safe and very effective. This is an area of great interest, and both NIMH and NIDA are partnering to expand and accelerate."
Updates From a Land Down Under
Australian MDMA and Psilocybin Drug Developer, Emyria, Raises $2.5m. The round comes as Australia's Therapeutic Goods Administration (TGA) is set to permit the prescribing of MDMA and psilocybin in certain circumstances starting July 1st. (Peter Hunt, the Founder of Mind Medicine Australia which lobbied extensively for the rescheduling, owns shares in the company.)
"Why didn't the TGA consult with Australian researchers and clinicians"? A brief report in the Australian & New Zealand Journal of Psychiatry asks why the TGA didn't consult with local practitioners with experience in psilocybin-assisted therapy for treatment-resistant depression when coming to its aforementioned decision.
And, will Australians be able to afford PATs? "The upshot of all this means, in practice, Australia is still a way off from offering a public subsidy for these psychedelic treatments. Which means, come July 1, the number of Australians able to afford these treatments will be small", conclude a trio of researchers.
Other Stories
Jefferson County, Washington, Decriminalises Psychedelics. Jefferson is a small County in the state of Washington, with a population of around 35,000 and a staunchly Democratic bent. Last week, all three members of the County Board of Commissioners voted to make the enforcement of 'entheogen-related activities' among the lowest law enforcement priority.
Dr. Phil Looks at "Moms on Mushrooms". This twenty-minute segment in a recent Dr. Phil show explores the growing trend of 'microdosing moms'.
California Psychedelics Decrim. Bill Heads to Senate Floor. An accelerated process allows SB-58 to skip committees and head straight to the senate floor.
Psychedelic Policy Reform Updates
The below updates are more granular than those in our Psychedelic Legalization & Decriminalization Tracker, which is produced with the support of experts at Calyx Law and Emerge Law Group.
These updates reflect the period April 29 to May 5, 2023.
SB 303 – Oregon
Relating to Psilocybin Services; Prescribing and Effective Date
Introduced: January 6, 2023
Latest Action Date: May 3, 2023
Latest Action: Public Hearing
Next Action: Work Session Schedule for May 8, 2023
On May 3, 2023 a public hearing was held for Oregon's SB 303. A work session will take place early next week on May 8, 2023 where the bill will undergo further review before being brought back in the house for its second reading. If passed into law, SB 303 would require psilocybin service centres and facilitators to collect and report data on client details, adverse events, and other related information.
SB 23-290 – Colorado
Natural Medicine Regulation and Legalization
Introduced: April 18, 2023
Latest Action Date: May 2, 2023
Latest Action: Second Reading
Next Action: Governor's final action
On April 29, 2023, Colorado's SB 23-290 was passed by the House. The Senate subsequently considered and concurred with amendments made to the bill on May 2, 2023. SB 23-290 will now be sent to Colorado's governor for final action. If passed into law, SB 23-290 would clarify and modify parts of Colorado's Natural Medicine Health Act which was passed in November 2022.
SB 58 – California
Controlled Substances: Decriminalization of Certain Hallucinogenic Substances
Introduced: December 16, 2022
Latest Action Date: May 2, 2023
Latest Action: Second reading
Next Action: Third reading 
On May 2, 2023, California's SB 58 was read for the second time. The bill will now advance to its third reading before being voted on. If approved, the bill will then proceed into the House for further consideration. If enacted, SB 58 would, amongst other things, "make lawful the possession, preparation, obtaining, transfer, as specified, or transportation of, specified quantities of psilocybin, psilocyn, dimethyltryptamine (DMT) , ibogaine, and mescaline, for personal use or facilitated or supported use, as defined, by and with persons 21 years of age or older."
The Top 5 Psychedelic Clinical Trials of 2022
In this final piece of our Year in Review, our Medical Advisor Michael Haichin, PharmD looks back at five of the most impressive psychedelic clinical trials of 2022.
For each trial, Haichin looks at the current knowledge on the topic, the question the study sought to address, and what the study adds to our knowledge. He then shares 'a few thoughts', with many more ideas found in the seventy-nine(!) footnotes.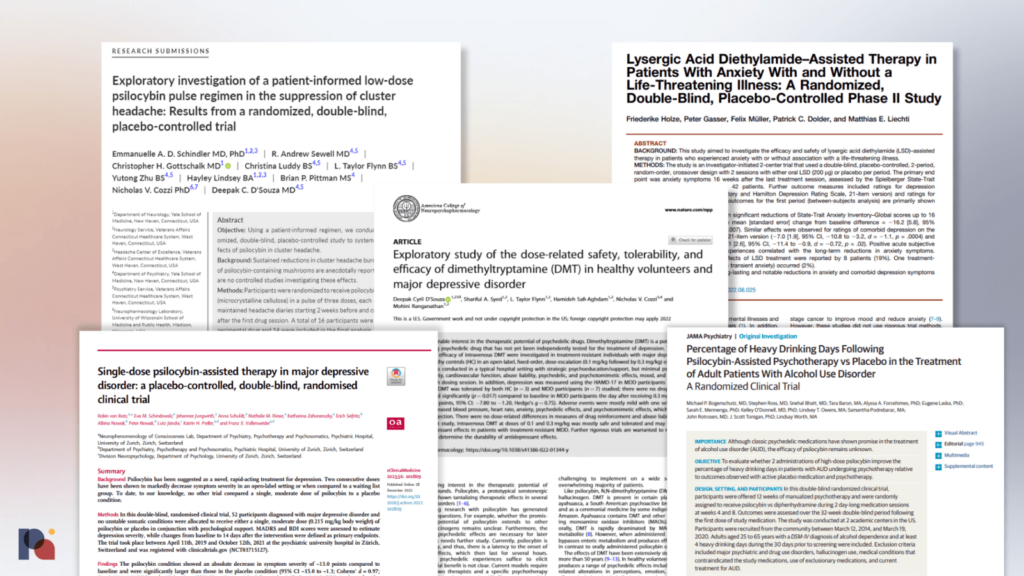 Join our newsletter to have our Weekly Bulletin delivered to your inbox every Friday evening. We summarise the week's most important developments and share our Weekend Reading suggestions.