This Week:
📛 Trademark Filing Reveals Potential Brand Name for MDMA: RENSANSE
🚫 Sage's Zuranolone Suffers Major Blow as FDA Rejects MDD Approval
⚖️ DEA "Open to Considering" Special Registration Program Allowing for Telemedicine Prescription of Controlled Substances
🏥 Enthea Reports on First Year of Ketamine-Assisted Therapy Benefit Program with Dr. Bronner's
📄 atai's Q2 2023 Earnings and Ibogaine Phase 1 Update
📊 COMPASS Pathways' Q2 2023 Earnings
🎰 Imperial College London to Trial Psilocybin for Gambling Addiction
📜 APPA and BrainFutures Publish Professional Practice Guidelines for Psychedelic-Assisted Therapy
and lots more…
Trademark Filing Reveals Potential Brand Name for MDMA: RENSANSE
As many of you will know, we have made something of a name for ourselves by tracking psychedelic patents for almost three years, thanks to our collaborators over at Calyx Law.
But patents aren't the only type of Intellectual Property. There are also trade secrets (such as the 'Psilocybin Trade Secrets' that are the subject of Terran Biosciences' lawsuit against COMPASS Pathways), copyrights (which protect what you're reading right now) and trademarks (such as 'Zappy' Zapolin's psychedelic concierge to the stars, which is now 'dead'), for example.
Trade secrets are, obviously, off the table for the pages of this publication. Trademarks, however, are something that we keep an eye on from time to time.
When we checked on MAPS PBC's trademark filings, we realised a couple had slipped through our net. One of these was RENSANSE.
The company filed the trademark application on January 19, 2023 with the primary class being Pharmaceuticals (5). MAPS PBC seeks to register the trademark for use in the following realms:
"Pharmaceutical preparations; Psychotherapeutic preparations; Pharmaceutical preparations for the treatment and management of psychiatric, psychological, and neurological disorders; Therapeutic agents for treating and managing PTSD, eating disorders, postpartum depression, alcohol use disorder, opioid and substance use disorder, generalized anxiety disorder, social anxiety disorder, major depressive disorder, and traumatic brain injury; Medicaments to help assist with treatment and management of psychiatric, psychological, and neurological disorders"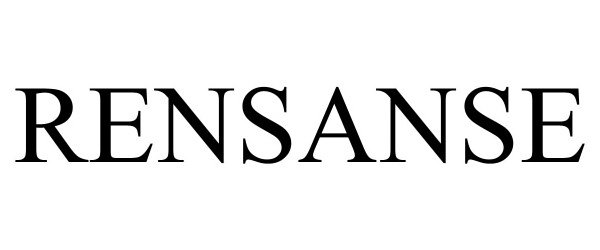 One speculates, naturally: might this be the brand name of MAPS PBC's MDMA drug product, if approved?
We asked the company, who were unsurprisingly vague in telling us that they're "in the process of securing a trade name for the commercialization of our lead asset, MDMA-assisted therapy."
"As a part of that process, we will be looking to secure trademarks on numerous trade name candidates that we are evaluating for potential submission to the FDA", the company representative continued.
The reason this is unsurprising is that it's not kosher for a sponsor to attach a brand name to an investigational drug; rather, they should wait for it to receive approval. Otherwise, regulators like the FDA would likely see this as marketing of an unapproved drug—a big no-no!
As MAPS PBC told us, the company is looking at "numerous trade name candidates", so RENSANSE may not be the one they land on. Instead, it's common practice to file trademarks on a number of names. Sage Therapeutics, which we discuss below, filed a spate of trademarks in 2022 including Zuthymia, Odawnly, Yuquistro, Blumvivo, Eunuvy, and Zurzuvae. Of course, they ultimately adopted Zurzuvae as the brand name for the company's approved PPD drug.
But MAPS PBC doesn't seem to have filed on too many, for now at least. A closer look at its trademark filings show that it filed on VIVIPHI just one month prior to RENSANSE, in December 2022. It also has Pharmaceutical as its primary class. A half-decade ago, a Denver-based company by the same name (which now goes by VieCure) was working on "precision medicine solutions for cancer therapy". The related trademarks are dead, though.
So, our hunch is that—out of these two—the best bet might be on RENSANSE, given that there appear to be no corporate precedents for the use of the name. (There are some examples of it being used, especially in Croatian and Serbian where it appears in many search results—e.g., this title of a National Geographic piece—as a translation of "renaissance", despite the fact that the true translation appears to be "renesanse". In that case, you could say that renaissance has lost an E!)
This leads nicely into the obvious fact that the name itself appears to be a play on "renaissance". That's surely a nod to the psychedelic renaissance that MAPS and its Public Benefit Corporation have been at the forefront of. Remember, MAPS has been at it since 1986, and MAPS PBC wrapped its first Phase 3 trial of MDMA-AT for PTSD before the next psychedelic drug developer (COMPASS Pathways) started theirs. By most estimates, MDMA-AT, if approved, will be the only psychedelic1on the market for a few years.
The name is certainly a bold choice, and only time will tell if our hunch is correct.
Sage's Zuranolone Suffers Major Blow as FDA Rejects MDD Approval
In an earlier Bulletin (#132), we shared a piece of analysis titled Learning from Zuranolone. There, we explored Sage Therapeutics' major depressive disorder (MDD) and postpartum depression (PPD) drug candidate, zuranolone. Our analysis ended:
"If Sage and Biogen are able to change the way prescribers and payors think about the treatment of depression, they may lay some of the conceptual groundwork for future psychedelic therapies. With zuranolone expected to come to market in late 2023, we will be watching closely to see how it fares."
Psychedelic drug developers were, of course, paying attention. Last week, on COMPASS Pathways' Q2 2023 earnings call (more on this below), a Canaccord Genuity analyst asked CEO Kabir Nath how closely he was following the potential approval of zuranolone. "We're asking because there could be some relevance to the use of psychedelic therapeutics in depression as an approval there could pave the way for more episodic treatments for the depression versus chronic treatment", the analyst added.
"I completely agree with you", Nath said, before hedging: "there's a lot of debate in the community around how likely [the approval for MDD] is." He continued, "it is an interesting paradigm of a rapid acting with episodic retreatment on demand, as it were, on relapse," adding that, "we would absolutely be observing that with interest to see what sort of acceptance that has, how Sage ends up positioning here. So yes, we are well aware of that."
Many of you know what happened next: last Friday (the day after the COMPASS earnings call), Sage announced that the drug had been approved by the FDA for PPD, simultaneously announcing the drug's brand name: Zurzuvae. However, Sage missed out on the much larger indication: major depressive disorder (MDD).
The company said it had received a complete response letter (CRL) from the FDA for the MDD New Drug Application (NDA), which stated that "the application did not provide substantial evidence of effectiveness to support the approval of zuranolone for the treatment of MDD and that an additional study or studies will be needed." Sage saw a relatively small effect size in its pivotal Phase 3 study, and also had a failed Phase 3 trial. Evidently, this data package did not convince the FDA.
Sage's stock price was cut in half on the news, reminiscent of an early stock price shock following the company's topline results from its first Phase 3 trial of zuranolone in MDD back in December 2019. Back then, the company reported that the drug failed to meet its primary endpoint, which was a statistically significant reduction from baseline compared to placebo in HAM-D total score at Day 15. The stock price dropped by more than 50% following that news. Neither of these dips are too dissimilar from what happened to COMPASS back in 2021 when it released its Phase 2b topline results… which weren't nearly as poor as Sage's first Phase 3 or its MDD CRL, one could say.
We tuned in to Sage's business update, where CEO Barry Greene said that his team is "devastated for patients and deeply disappointed with the FDA's position". Greene explained that, after submitting its NDA, the FDA had told Sage that there would be no requirement for an Advisory Committee which, "at the time, obviously, we took as a good, positive sign". Of course, that inference turned out to be incorrect.
The failure to secure an approval for MDD will likely lead to a major corporate restructuring that will seek to pare back resources and workforce. The company will be making "smart, disciplined decisions" to maintain a "robust balance sheet", execs said on the call.
It's also likely to impact how the company approaches pricing Zurzuvae for PPD, given that Sage and its partner, Biogen, were planning for a PPD and MDD launch. PPD alone is a much smaller patient population, with a different commercial profile in terms of how many courses of Zurzuvae the average patient might be prescribed. On the business update call, execs admitted that pricing would need to be reworked given the single-indication launch.
Speaking to CNN, Wall Street analyst Salim Syed shared his expectation that Sage will "push it closer to Zulresso pricing". Zulresso is another of Sage's PPD drugs which is delivered via infusion and priced at around $35,000. Another analyst that spoke to CNN, Uy Ear, further explained that Sage "had said it would keep the pricing of Zurzuvae below $10,000 if it were cleared in major depressive disorder as well, a threshold important for coverage through Medicare". Given these realities, it may be PPD patients that end up short-changed.
Given that Sage's partner, Biogen, is also tightening its belt (the company has announced various rounds of layoffs for over a year), it's unclear whether anyone will foot the bill for another run at an MDD approval.
As our Medical Advisor Michael Haichin pointed out, Sage had already tweaked its dosing regime in attempts to improve efficacy. Following the first failed Phase 3 trial (MOUNTAIN), the sponsor upped the dose but only saw a moderate increase in efficacy. However, this mild efficacy bump was accompanied by a worsening of the safety profile, especially with regards to rates of central nervous system depressant effects such as somnolence, dizziness, and sedation. As such, it's not clear there's much room for further optimisation without potential risk for an unacceptable safety profile (or requiring continuous monitoring, as seen with Zulresso), Haichin notes.
DEA "Open to Considering" Special Registration Program Allowing for Telemedicine Prescription of Controlled Substances
We have been covering the expiration of a COVID-era waiver to the Ryan Haight Act and its potential repercussions for companies that rely on it to prescribe scheduled substances via telemedicine since early 2022. For a refresher, see Bulletin #131 and #133. From #131:
"Presumably, regulators will look to find a middle ground between permitting the maintenance and expansion of certain telehealth services that improved access to healthcare during the public health emergency, while tightening up its somewhat laissez faire approach that led to perceived externalities, such as capitalising on perverse incentives to prescribe scheduled substances at significant rates (à la Cerebral).

Whether at-home ketamine will satisfy Goldilocks—or, DEA's Anne Milgram—is yet to be seen."
Since that reporting, DEA extended COVID-era telemedicine flexibilities temporarily in May, largely in response to 38,369 public comments it received after publishing two proposed rules in the Federal Register.
On Monday, a notice published by the DEA in the Federal Register announced that it is "conducting public listening sessions to receive additional input concerning the practice of telemedicine with regards to controlled substances and potential safeguards that could effectively prevent and detect diversion of controlled substances prescribed via telemedicine."
Importantly, the notice explains that:
"DEA is open to considering—for some controlled substances—implementation of a separate Special Registration for telemedicine prescribing for patients without requiring the patient to ever have had an in-person medical evaluation at all."
The notice goes on to explain that the agency is particularly interested in two questions, one of which being the following:
"If telemedicine prescribing of schedule III–V medications were permitted in the absence of an in-person medical evaluation, what framework, including safeguards and data, with respect to telemedicine prescribing of schedule III–V medications do you recommend to help DEA ensure patient safety and prevent diversion of controlled substances?"
Given that ketamine is a Schedule III substance in the U.S., it's possible that it would benefit from such a Special Registration program, meaning that at-home ketamine companies may have been thrown a lifeline.
Enthea Reports on First Year of Ketamine-Assisted Therapy Benefit Program with Dr. Bronner's
Enthea, which describes itself as "the first and only licensed provider of health insurance benefits to cover psychedelic-assisted therapies", has shared results from its first 12 months of Dr. Bronner's ketamine-assisted therapy (KAT) benefit program.
Essentially, Enthea allows Dr. Bronner's to offer KAT as an employee benefit to its team. The Enthea-Bronner's program launched in January 2022.
Enthea reports a utilisation rate of 7% across "overall health plan members", which "includes medical and psychiatric intake, preparatory sessions, ketamine medicine sessions, and therapy sessions to integrate the experiences into their daily lives", according to the press release.
The release goes on to share some eye-popping symptom score reductions. Those with PTSD symptoms saw an 86% improvement, while major depressive disorder and anxiety disorder symptoms saw a 67% and 65% improvement, respectively. Of course, caveats abound here: we're not sure how this is measured, or what those percentages refer to.
We reached out to the company to clarify some of the numbers. While Enthea currently has two-thousand plan members, the representative explained, the 7% utilisation rate refers to Dr. Bronner's employees of which 29 "participated in the program". So, while the stats in the press release are glossy, this is a very small N.
We also asked the company whether any data around absenteeism or other cost-effectiveness-relevant data or analysis is available. "We're currently working on cost-effectiveness analysis", the company explained. We very much look forward to seeing it.
A Fast Company article provided some added colour, explaining that Enthea "says at least 50 companies have signed letters of interest to offer psychedelic therapy to employees as a benefit." (The original sub-heading of the article claimed that these 50+ companies "now offer psychedelic therapy", but was swiftly updated to clarify that this figure refers to signed LOIs.)
A few hours after the press release, Miami-based at-home ketamine provider Nue Life Health announced that the pair have entered into a partnership "to increase access to at-home ketamine-assisted therapy services". This is a departure from the set-up for the Dr. Bronner's program, which saw all employees that accessed KAT via the program do so at the Flow Integrative ketamine clinic in Encinitas, San Diego: just a twenty-minute drive from the company's HQ in Vista.
Other Business Headlines
atai Reports Q2 2023 Earnings and Provides Ibogaine Phase 1 Update
Yesterday, atai Life Sciences reported Q2 2023 financial results along with the first clinical data from DemeRx's ibogaine (DMX-1002) candidate.
On the corporate side, atai had a cash position of $227.5 million as of June 30, 2023. When combined with a term loan facility, the company expects to be able to fund its operations through 1H 2026.
Contained within the business update were results from DemeRx's Phase 1 study of DMX-1002 (N=20), its ibogaine candidate being developed for the treatment of opioid use disorder (OUD). Interestingly, the clinical trial registry entry explained that the single-ascending dose design would include four potential doses: 3, 6, 9, and 12 mg/kg. However, atai did not mention the 12 mg/kg dose in the present results, suggesting that it was not evaluated. One practitioner told Psychedelic Alpha that doses of >10 mg/kg are regularly given to individuals with substance use disorders in the unregulated space.
The company reports that treatment-related adverse events "were similar to those observed in prior trials of [ibogaine]"2, adding that "nearly all (>94%) were rated mild-to-moderate in severity". No serious adverse events were reported.
According to the press release, one of the two participants that received 9 mg/kg experienced QTc prolongation seen in other studies of ibogaine, though the company notes the patient "was asymptomatic, with no cardiac arrhythmias". DemeRx worked "closely" with "cardiology experts" during the study. Those experts "concluded that while QT prolongation of this order is a clinical risk, monitoring can help mitigate the risk to ensure the safety of patients, especially in a medical setting."
DemeRx "plans to engage regulatory authorities to assess progressing DMX-1002 into an efficacy study in patients with OUD." It will be interesting to see whether the 9 mg/kg dose represents an upper limit for DemeRx in later-stage (efficacy-oriented) trials, at least until further safety testing is done in humans.
***
COMPASS Pathways' Q2 2023 Earnings
Last week, COMPASS Pathways announced its Q2 2023 financial results and hosted a conference call, as is customary. At June 30, 2023, the company had a cash position of $148.2 million.
COMPASS' Form 8-K also revealed that on July 26, 2023, atai Life Sciences exercised its right to demand registration rights for nearly 8 million CMPS shares. This type of registration rights allow an investor (in this case atai) to compel the company (in this case COMPASS) to file a registration statement, which would allow the investor to sell the shares into the public market. According to the Shareholder's Agreement, COMPASS is required to file a resale registration statement within 45 days of that exercise.
Now, turning to the conference call. Commenting on the FDA's draft guidance on clinical trials with psychedelic drugs (see Bulletin #140), COMPASS CMO Guy Goodwin said: "A particular note in the FDA guidance is the use of psychotherapy where the agency cautions such interventions may complicate the assessment of clinical trials." He went on:
"I will note that COMP360 treatment is not designed to utilise psychotherapy but instead, psychological support, which primarily focuses on safeguarding patients", he explained. "In fact, we think it is inappropriate to refer to psilocybin treatment as psychedelic-assisted psychotherapy as commonly occurs."

"Regulators generally evaluate and approve investigational drug candidates based on quality, safety and efficacy. They have not historically evaluated or regulated psychotherapy. Our approach is clear to achieve regulatory approval, the drug effect needs to be established unambiguously in clinical trials, which is only possible with any psychological support is applied in a consistent way and is not an alternative treatment itself."
As we noted in Bulletin #141 (and our 2022 Year in Review), COMPASS has sought—via a Commentary piece in the American Journal of Psychiatry and an associated press release—to further distance its self-described "psilocybin treatment" from "psilocybin-assisted psychotherapy".
"Why might the use of the terms 'psilocybin-assisted therapy' or 'psychedelic-assisted therapy' move the authors to pen this article? …"

"COMPASS is gunning for FDA approval, but FDA's remit doesn't conventionally extend to psychotherapy. What's more, FDA expects to see a submission that's formed of 'adequate and well-controlled' studies. Given the much-discussed difficulties of expectancy effects and blinding challenges in psychedelic studies, it's in COMPASS' interest to present as if they are able to disaggregate or isolate the pharmacological effect as much as possible."
As such, it wasn't surprising to hear Goodwin toeing this particular line on the call, tying it in with the FDA's draft guidance for good measure.
***
atai Announces PCN-101 IV-to-Subcutaneous Bridging Results
This week Perception Neuroscience, an atai subsidiary, announced results from its Phase 1 IV-to-subcutaneous (SQ) bridging study of its R-ketamine candidate, PCN-101.
The study, which enrolled 16 healthy participants, found that PCN-101 was generally well-tolerated via this administration route with no serious adverse events reported. "Encouragingly," the company writes, "at the highest SQ dose of 120mg, rates of sedation … and dissociation … were each 14%."
atai was keen to point out that the safety and tolerability profile "compares favorably to that of Spravato, for which rates of sedation and dissociation have been reported to be in the ranges of 50-61% and 61-69%".
It's not surprising that atai is looking to present its R-ketamine product as a potential alternative to Janssen's esketamine product, Spravato. The product's recent success was mentioned on COMPASS' earnings call, too, when CEO Kabir Nath noted in his opening remarks that the esketamine product has "now achieved sales of $255 million for the first half of the year in the U.S. with quarter-over-quarter growth of roughly 30%". atai will hope that SQ PCN-101 will be able to be taken at home, versus Spravato which is self-administered by the patient under the supervision of a healthcare provider.
But, it's unlikely to be atai or Perception pushing things forward from here on out. The pair continue to work on exploring "strategic options", the press release ends. (See our January analysis for a refresher on PCN-101's ill-fated Phase 2a study.)
Featured Psychedelic Jobs
APPA and BrainFutures Publish Professional Practice Guidelines for Psychedelic-Assisted Therapy
Earlier this week, BrainFutures and the American Psychedelic Practitioners Association co-published "the first comprehensive guidelines for mental health providers practicing psychedelic-assisted therapy."
There are 12 guidelines in this first iteration, which range from patient screening and monitoring through to informed consent practices.
The pair say the 'living document' will be updated as-and-when the field's consensus on best practices evolves. A copy of the guidelines can be accessed here.
Imperial College London to Trial Psilocybin for Gambling Addiction
A group of researchers at Imperial College London are set to investigate psilocybin-assisted therapy in gambling addiction. Rayyan Zafar, a Medical Research Council PhD student at the University, told the Mirror that this "is a world first."
Zafar told us that funding was secured by Imperial via UK Research and Innovation's impact acceleration accounts (IAAs). From there, Imperial chooses how to divvy up any cash, awarding it to a wide range of translational research.
The study will initially enrol five patients with hopes to ramp up enrollment thereafter.
UK's Parliamentary Office of Science and Technology (POST) Publishes Note on Psychedelics for Depression
POST, which acts as Parliament's source for analysis of science and technology public policy matters, has published a rapid response note titled 'psychedelic drugs to treat depression'. It aims to serve as an introduction to the potential of psychedelics as a treatment for depression, "given recent parliamentary interest." (See, for example, Bulletin #136.)
A large portion of the note reviews depression and the standard of care for addressing it in the UK. But, a more detailed review is forthcoming: "later in 2023", the authors write. This will look at the use of psychedelics "for a wider range of mental health conditions, its role in elucidating other aspects of brain function, and stakeholder perspectives on their use".
So, nothing special for now, but it is a good proxy for what's on the radar of Parliament and its members, at least.
Complicating 'The Body Keeps the Score'
Aside from being a best-selling author, van der Kolk is a MAPS ally who is bullish on MDMA-assisted therapy (he was a co-author on MAPS' first Phase 3 study of MDMA-assisted therapy for PTSD).
In the space of a few days, two articles were published on the topic of van der Kolk's popular science of trauma, epitomised in his magnum opus: The Body Keeps the Score. These articles both sought to challenge and contextualise the psychiatrist and author's conceptualisation of trauma and its role in how we make sense of our lives.
The first, and lengthiest, piece was penned by Danielle Carr for Intelligencer. It provides an interesting history of the internal politics of PTSD and 'trauma'. A short excerpt:
"Widening trauma to include both acute and developmental stressors transformed it from a "you have it or you don't" binary into a spectrum. The result is if everyone's body is keeping the score, what that score actually adds up to starts to get less clear. Decades of research and millions of dollars later, the heft of neuroscientific findings remains descriptive. Thousands of fMRI imaging studies have shown that traumatized brains tend to activate in certain patterns (for example, with a hyperactive amygdala). But crucial theoretical questions remain. Maybe some people are helped by somatic therapy (as opposed to cognitive behavioral or talk therapy) because of an as yet to be elucidated biological mechanism. But which type of therapy works could also be an effect of how much the patient believes in it, or how healthy the therapeutic relationship is, or how skilled the therapist is. In other words, the van der Kolkian theories may not tell us very much more than what we already knew: that external circumstances and interactions change our bodies, that it's better to have a community to support you during hard times, that fewer people would be miserable if they were less exposed to poverty and violence, and that it's better to try to chill out."
Writing for the Washington Post, Kristen Martin situates van der Kolk's book alongside another sciencey self-help type book, The Grieving Brain. Martin dives into how van der Kolk lends credibility to a number of largely outmoded theories. An excerpt:
"Van der Kolk must be aware that his peers have long discredited the idea of the "reptilian brain," but he continues to give it the sheen of scientific credibility in his work, perhaps because it speaks to something a large audience wants to hear: If some of our worst reactions stem from a primitive, animalistic part of our brains, we are not really responsible for them."
Weekend Reads
Psychedelic Alpha – Colorado Natural Medicine Health Act Tracker: Our latest resource, produced with Vicente LLP, tracks the implementation of Colorado's groundbreaking legal psychedelic services program. Regular Bulletins will provide updates from the Natural Medicine Advisory Board and its subcommittees.
Boston Globe – Eliza Dushku Palandjian and Peter Palandjian donate $7.5 million to Brigham and Women's Hospital: The donation will (in part) help to "develop safe and effective approaches" for psychedelic therapies used to treat addiction. Dushku Palandjian, who famously played Faith in Buffy the Vampire Slayer, is also completing a master's in counselling and clinical mental health with a focus on psychedelic-assisted therapy.
Press Release – Psyence Resurrects SPAC Deal: A SPAC between Psyence and Newcourt Acquisition Corp. first described in a January press release has been amended and restated. The deal would ascribe a pre-money equity value of $50m to Psyence, with the closing subject to a number of conditions including the SPAC having at least $20m of cash upon closing.
SFGATE – Magic mushrooms are for sale in SF, and the city government has no idea what to do: Just as Mafia dons were toppled on tax evasion charges, mushroom churches might be tripped up by building code violations. SFGATE has the story.
KPBS – Psychedelic drugs may be helpful in addressing anorexia: UCSD study: This coverage of UCSD's psilocybin for anorexia nervosa study contained an interesting titbit: "Nine out of 10 people said they felt one dose was not enough. Researchers are currently part of a larger trial to find some of those answers, and they are looking for more participants."
The Trip Report Podcast – Zach Haigney's The Trip Report has launched a podcast. His first three guests are Dr. Amy Kruse (Satori Neuro); Dr. Manish Agrawal (Sunstone Therapies); and our very own Josh Hardman.
American Journal on Addictions – Addiction specialists' attitudes toward psychedelics: A National Survey: A survey of 145 addiction specialists found that "most respondents expressed positive attitudes to the therapeutic use of psychedelics, but a sizeable minority expressed concern for their addictive potential."
New Yorker – In this piece, singer-songwriter Margo Price 'explains how a psilocybin-induced revelation prompted her to go secretly sober."
Survey – Technology and Mental Health: Please consider filling out this short, anonymous survey conducted by GIMBHI and ScreenFree Health.
HHS Workshop – Old Trips, New Destinations: Exploring the Ethical and Practical Considerations of Psychedelics Research: Livestreaming on Thursday, September 14, 2023.
BBC Sounds (podcast episode) – Dua Lipa Interviews Amanda Feilding.
Cosmos Magazine – Lifting depression: Are hallucinations compulsory?
The Brom Podcast – Elliot Marseille – UC Berkeley Healthcare Economist on the Economic Viability of Psychedelic Therapy
The Times – Hamptons elite de-stress with ketamine therapy and scream booths
Michigan Medicine – Serious about psychedelics
Join our newsletter to have our Weekly Bulletin delivered to your inbox every Friday evening. We summarise the week's most important developments and share our Weekend Reading suggestions.
This author acknowledges the definition of 'psychedelic' is contentious and that MDMA is an empathogen, or entactogen. We're not counting ketamine here, either.