Psychedelic Company Highlights in 2021
Part of our Psychedelics 2021: A Year in Review Series
If public company valuations are anything to go by, it's been a difficult year for the psychedelics sector. Many companies in the space have seen their share prices slashed, with ETFs like PSYK down over 50% since inception.
But, a focus on public companies (of which there are now around fifty) and their share prices alone obscures a great deal of successes that have occurred in 2021 for psychedelics companies: from promising data readouts to significant private financing rounds.
Here are some of the year's most notable financings and public markets moments…
A Basket of Psychedelics: New Psychedelics-Focused ETFs
The past year saw the creation of three ETFs focused on tracking the performance of companies operating in the psychedelics space. 
On January 26, Horizons launched the world's first psychedelic-focused ETF in Canada under the ticker symbol PSYK. Subsequently, Defiance would move to establish its US-listed PSY ETF to track companies operating in the psychedelic, cannabis, and ketamine spaces. Finally, in September AdvisorShares established its US-listed actively managed PSIL ETF.
Representative of the psychedelics market in general these ETFs have performed poorly this year, underperforming the broader stock market significantly, and seeing greater downside than the biotech sector.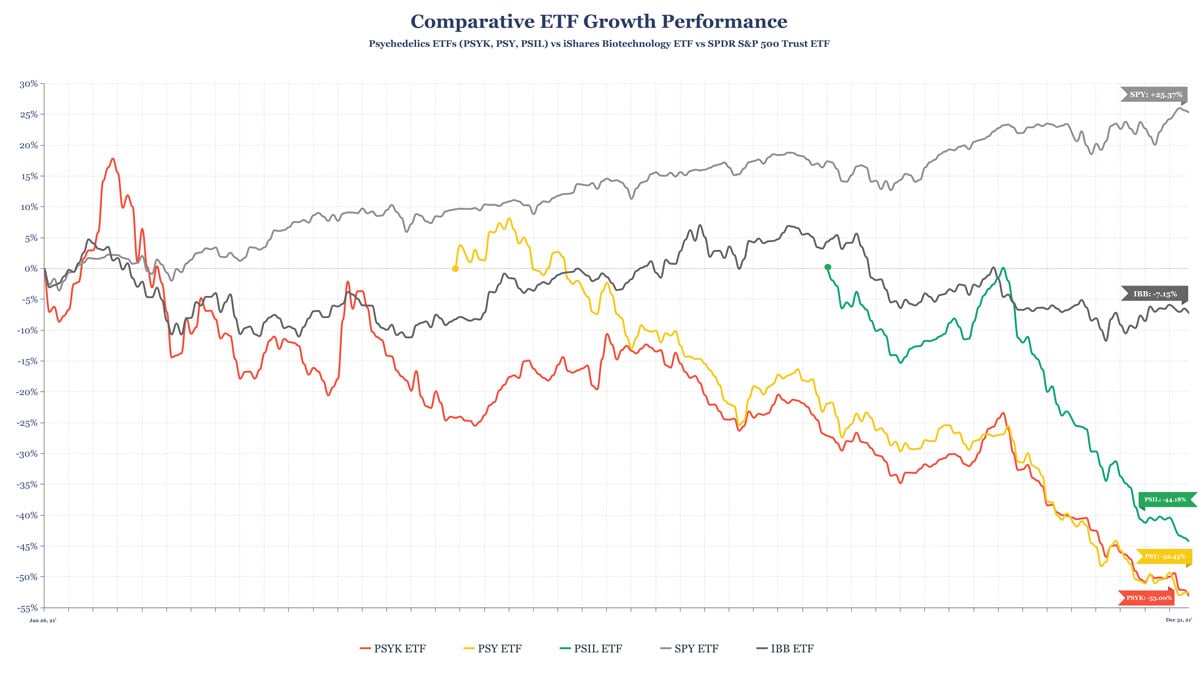 Overview of Capital Flows Into the Sector
"Nearly $2 billion was invested in the psychedelics sector in 2021 across more than 60 financing events."
According to our data, which tracks around 100 of the leading public and private psychedelics companies, nearly $2 billion was invested in the psychedelics sector in 2021 across more than 60 financing events.
This remarkable volume of capital continued to disproportionately accrue to companies engaging in drug discovery and development, with atai Life Sciences' Series D ($157m) and GH Research's Series B ($125m) representing the sheer scale of financings in this segment of the value chain.
However, we are seeing investment in other areas of the emergent psychedelics value chain begin to tick upward, with digital therapeutics and adjunct technologies of increasing interest to investors (e.g., MINDCURE's $23m bought deal; Osmind's $15m Series A).
In this section, we outline some of the trends that contoured these capital inflows.
Note: Due to the fragmented (and, occasionally entirely private) nature of financing data across psychedelics companies these numbers are, necessarily, approximate. Should you wish to learn more, please contact us.
Capital Allocation and Company Trends
Increasingly Crowded Drug Development Pipelines: Certain Molecules Attract More Capital than Others
At the molecular level, it's clear that certain psychedelics are attracting more funding than others. Investment in companies developing 5-MeO-DMT was strong in 2021, with the Irish company GH Research securing a $125m Series B in April. The round was led by two U.S.-based pharmaceutical investment firms: RA Capital and RTW Investments. The company has kept its cards close to its chest, but we know that its three drug candidates are all 5-MeO-DMT based.
In August, UK-based Beckley Psytech announced the closing of its own Series B, bringing in c.$80m to accelerate its drug development pipeline. 5-MeO-DMT features again, with the company hoping to harness it in the treatment of undisclosed neuropsychiatric indications.
Take a look at our Psychedelics Drug Development Tracker to see other molecules and indications that are receiving outsized attention from drug developers.
We're also seeing a clear trend in the move beyond 'known' psychedelics, and toward a plethora of analogs, derivatives, and new chemical entities. These include the so-called 'non-hallucinogenic psychedelics,' which are discussed in more detail later in this section.
Collaborations With National Institutes Boost Investor Confidence
As we mentioned in our Psychedelic Research and Clinical Trials in 2021 section, the National Institute on Drug Abuse (NIDA) has partnered with a number of psychedelics companies. NIDA has also hosted virtual events showcasing research into psychedelics, further demonstrating its interest and active involvement in the space.
Two such companies were Delix Therapeutics and CaaMTech, both of which closed significant rounds in 2021. The former closed a $70m Series A, while the latter raised $22m via its own Series A.
Are such collaborations with National Institutes fueling investor confidence in psychedelics companies? 
Emerging from the Psychedelic 'Underground'
As the 'psychedelic renaissance' reaches a fever pitch, many individuals and organisations who have been involved in psychedelics for a long time are now considering whether, or how, to benefit from this recent influx of interest and investment. Despite some hesitancy, a number of groups from what may be characterised as the psychedelic 'underground' have now forayed into the commercial side of today's psychedelics space.
The Alexander Shulgin Research Institute (ASRI) is a fine example of this trend. The Institute was founded, albeit informally, by legendary chemist and psychedelics enthusiast Alexander ("Sasha") Shulgin in the 1980s. 
Shulgin was known for his hands-on research methodology, which involved self-experimentation with psychoactives, after which he tested them with small groups of friends. Two years after publishing PiHKAL (now canonical, alongside TiHKAL) the DEA raided Shulgin's lab and forced him to give up his licence. A DEA spokesperson characterised the tomes as "pretty much cookbooks on how to make illegal drugs."
After Shulgin passed in 2014, his research colleagues Paul Daley and Nicholas Cozzi helmed the Institute, which has now synthesised and supplied compounds for psychedelics research across the globe. ASRI was formally incorporated in April 2021 by Shulgin's widow, Ann, and recently raised a $6.95m Seed Round to continue its work in developing the legacy of Sasha's work.
Growth of Digital Therapeutics, Delivery Technologies & Drug Discovery Tech
Innovative technologies have become an increasingly interwoven element of drug development and treatment delivery more broadly. Over the course of 2021, many companies operating in the psychedelic space took steps to incorporate and leverage new technological tools with a wide range of scientific and therapeutic applications. 
Augmenting Drug Discovery with Tech
These tools aren't just on the patient-facing side. In 2021, companies committed substantial resources to the acquisition and development of technologies to support novel drug discovery efforts, for example. Supported by AI-powered drug discovery platforms, drug developers in the space are creating catalogues of novel derivatives and analogues based on many classical psychedelic compounds and therapeutic targets. 
While companies such as Mydecine announced (further explained in a buzzword-heavy press release) new technology-driven drug discovery programs in 2021, others such as Cybin, Enveric, CaaMTech, and Delix continued to leverage existing discovery technologies to identify the next generation of psychedelic compounds. 
Drug Discovery Technology-Related Press Releases from 2021:
Drug Delivery Technologies
In 2021, many drug developers began investigating new drug delivery technologies that might one day be paired with approved psychedelic drugs. The use of different drug delivery technologies is expected to allow companies to overcome many challenges related to drug bioavailability, time to onset of effects, drug metabolism, duration of effects, and more. 
Companies are looking to leverage, among others, nasal, intravenous, sublingual, subcutaneous, and oral drug delivery technologies for a variety of psychedelic candidates. A 2021 collaboration between MindMedicine and Nextage, for example, will see the two companies focusing on delivering ibogaine derivatives using a brain targeting liposome technology.
Drug Delivery Technology-Related Press Releases from 2021:
The unique nature of psychedelic-assisted psychotherapy will foreseeably create a demand for assistive technologies that can support patient preparation, monitoring, treatment integration, and more. 
As the first generation of drugs move closer to approvals, many companies have begun to develop new digital therapeutics platforms that will be used to support future psychedelic therapies. While some drug development companies intend to build new in-house digital technologies, others have acquired or partnered with technology-focused companies that are already creating digital therapeutics tailored for these emerging treatments. 
Digital Therapeutics-Related (loosely defined) Press Releases from 2021:
Expanding Networks of Treatment Clinics, Therapist Training & Patient Access
Over the course of 2021, for-profits and nonprofits alike were hard at work setting the foundation for the delivery of future psychedelic therapies. Many companies continued to create or expand networks of specialized clinics that may be used for psychedelic-assisted psychotherapies if and when approved.
To address the growing demand for therapists equipped to deliver these unique treatments, many new training programs for prospective therapists are proliferating across the world. Over the past year, we have also seen nonprofits such as TheraPsil continue to successfully advocate for greater patient access to psychedelics (read more in our Psychedelic Drug Policy Reform in 2021 section). These efforts are central for the realization of accessible and impactful psychedelic therapies. 
Here are some notable developments on this front from 2021: 
More Collaboration Between Companies and Academic Institutions
Over the last year, we have seen a number of organisations engaging in collaborations, including company-company partnerships and academic partnerships.
Here are some of 2021's most notable partnerships and collaborations.
Company - Company Partnerships & Collaborations
atai Partners With CB Therapeutics to Launch TryptageniX (December 9, 2021)
In December, atai announced that it had launched a new platform company focused on discovering and synthesising new drug candidates in partnership with CB Therapeutics. The platform, named TryptageniX, hopes to leverage bioprospecting for the discovery of novel compounds and biosynthesis as a means of production.  
COMPASS Pathways Acquires MiHKAL GmbH, a Portfolio of Novel Psychedelic Compounds (September 14, 2021)
In September, COMPASS Pathways announced that it had entered into an agreement with Matthias Grill Ph.D. and MiHKAL GmbH to acquire MiHKAL's catalogue of purportedly novel psychedelic and empathogenic compounds. In addition to the IP acquisition, COMPASS and Matthias Grill will continue to work together in an effort to develop new psychedelic drug candidates. 
Clerkenwell Health and Octarine Bio Ink Partnership (September 8, 2021)
In September, Clerkenwell Health, a contract research organisation (CRO), and Octarine Bio, a drug manufacturer, announced a partnership focused on delivering and supporting psychedelic clinical trials in Europe. The companies hope that this partnership will allow contracting investigators to conduct clinical trials with access to both a reliable supply of psilocybin (via Octarine's biosynthesis process) and specialised CRO resources.
Some Other Notable 2021 Company-Company Partnerships & Collaborations:
Company - Academic Partnerships & Collaborations
Mydecine Signs Five-Year Research Collaboration Agreement With Johns Hopkins (August 18, 2021)
In August of 2021, Mydecine announced that it had entered into a 5-year collaborative research agreement with Johns Hopkins. The research will initially focus on using psilocybin as a potential treatment for smoking cessation before expanding to other therapeutic areas. Mydecine subsequently announced a Phase 2/3 trial in partnership with Johns Hopkins researcher Dr. Matthew Johnson evaluating its MYCO-001 psilocybin candidate as a treatment for nicotine addiction. 
COMPASS Pathways Partners With King's College London & South London and Maudsley NHS Foundation Trust (SLaM) (July 5, 2021)
In July of 2021, COMPASS Pathways announced that it had partnered with King's College London and SLaM to advance research on COMPASS's psychedelic therapies for treating indications such as post-traumatic stress disorder (PTSD) and anorexia nervosa. The partnership will also focus on training therapists to deliver psychedelic-assisted psychotherapies, integrate digital therapeutics, and developing "new models of care for mental health in the UK."
Other Notable 2021 Company-Academic Partnerships & Collaborations:
A Focus on Reciprocity and Philanthropy?
Throughout 2021 questions of ethics, reciprocity and philanthropy continued to be pointed at for-profit psychedelics companies, with many arguing that as a sector we should aspire to do better than the conventional biotech and pharmaceutical playbook.
A number of psychedelics companies and investors actioned this call, but whether or not these moves were tokenistic or genuine and substantial is up to the reader to decide.
atai Life Sciences announced the launch of atai Impact in October, which is "committed to advancing education, expanding access and supporting the wider ecosystem of mental health care." The program announced its first major initiative two months later, establishing a Fellowship Fund in Psychedelic Neuroscience with Massachusetts General Hospital's Center for the Neuroscience of Psychedelics.
Other companies have sought to bake reciprocity and equity into their cap tables. Panacea Plant Sciences, for example, has reserved 32% of its equity for Indigenous Groups and related 401(c)3 organisations, with these preferred shares benefitting from a 10x dividend rate over common shares. This affords the aforementioned cohorts a potential source of revenue, as well as voting rights.
Other companies and funds have made similar commitments, such as Woven Science which is dedicating 10% of its equity to El Puente, "a foundation for access and benefit-sharing," and Journey Colab which dedicates 10% of its founding equity to the Journey Reciprocity Trust.
Note: the above are just a selection of trends from 2021, it wouldn't be possible to catalogue them all here.
Your Favourite Psilocybin Alpha Bulletins
We covered many of the above trends via our weekly Bulletins throughout 2021. Here's some of your favourite segments from our 2021 catalogue…
Deconstructing COMPASS Pathways' Phase 2b Results
This deep dive was, by a wide margin, our most popular Bulletin of the year. Following the publication of COMPASS Pathways' Phase 2b topline data, there was a great deal of confusion around their interpretation (we covered this in the preceding section). 
Here, we sought to begin contextualising the preliminary safety and efficacy data from this influential trial, and ended by summarising the next steps for COMPASS.
Dispatch from Horizons: Perspectives on Psychedelics
Horizons conference in New York City, which also featured a Business Forum, was an agora for healthy debate, discussion, and reflection. Following our return, we shared a summary of some of the key topics covered, which included: funding and business models for psychedelic ventures; legal and regulatory matters, including IP; accountability and ethics; the scale-up and roll-out of psychedelics; research and science; and much more.
No Data Protection in Canada for Ketamine's Chemical Cousin, Esketamine (Spravato)
In this Bulletin, we covered Canada's Federal Court of Appeals' decision to uphold a refusal to grant data protection for Janssen's Spravato (esketamine) product. 
While this is, on the surface, a very 'in the weeds' topic, we used it as an opportunity to discuss enantiomers, cost-effectiveness, and data exclusivity more generally, as well as making some broad comments regarding implications for psychedelics companies.
MindMed Initiates Phase I Trial of IV DMT
In late July we reported on MindMed's Phase I trial of intravenous DMT, using it as an opportunity to explore the other DMT drug development efforts that were underway at the time, notably Small Pharma's pipeline.
"As we have commented before, there is increasing competition across molecules, indications, and value chain segments. As such, we should expect to continue seeing smaller companies pivot accordingly."
Pivot or perish will likely be a theme in 2022.
REMS Patents: the Next Frontier in the Psychedelics Patent Skirmish?
This deep dive on REMS Patents was one of our most technical (and speculative) pieces of the year, which presented an overview of Risk Evaluation and Mitigations Strategies (REMS) programs, the potential for elements of them to be patented, and the implications that both of these facts may have on psychedelics.
In short, we asked: "could the patenting of REMS programs be the next frontier in the apparent psychedelics IP skirmish?"
Was it all Leary's Fault? Thalidomide, RCTs, Sandoz and 'the End' of Psychedelic Research
Here, we covered a journal article by Wayne Hall that complicated a common narrative: one which suggests the passage of the Controlled Substances Act (CSA) in 1970, and the resultant scheduling of psychedelics alongside heroin and cocaine, singularly marked the end of any meaningful clinical research into psychedelics.
Hall foregrounds a confluence of factors that contributed to the abandonment of psychedelic research in psychiatry, which may be parsed out into three (interrelated) strands: a tightening of controls on pharmaceutical research; the ascendant primacy of the Randomised Control Trial; and, Sandoz cutting the supply of psychedelics like LSD.
We ended by asking whether lessons from the past have been learned and assimilated into the psychedelic renaissance. 
Many of the contributing factors to this 'first' demise in psychedelic research are still present today, including difficulties surrounding the blinding of participants or the availability of effective placebos. We also see much of the same (over-)exuberance among advocates of psychedelic medicine, which Hall is clearly concerned about.

He is also keen to warn against psychedelics following the same path as medical cannabis, arguing that such policies "would enable the medical use of psychedelics to get well ahead of any evidence on their efficacy and safety for common psychiatric indications." Others might argue that Hall is minimising existing evidence from Phase II and III trials, which many advocates believe should be sufficient for their inclusion in compassionate access programmes, at the least.

Hall's article might also encourage us to remember that expectancy effects and small-study effects tend to dampen the efficacy of new drugs when they transition from clinic to the real world.
Major IPOs and Uplistings
MindMed's NASDAQ Uplisting
In September 2020, then-CEO JR Rahn disclosed that the company had applied to uplist on the NASDAQ stock exchange. On April 23rd, 2021, following many months of anticipation, MindMed announced that its listing application had been approved. 
On April 27th, the company's shares began trading on the NASDAQ under the ticker MNMD, with the company's share price reaching $6.97 before falling to $4.92 at close, up over 180% compared to just a few days prior. 
MindMed's successful uplisting made it the second publicly-traded psychedelic drug developer to achieve this milestone. 
On April 20th, 2021, after more than 2 years as a private company, atai set the stage for its eventual IPO with the filing of a preliminary prospectus. 
The registration statement outlined the company's goal of raising $100 million through its initial public offering. The company's subsequent prospectus amendment would reveal a target valuation of roughly $2.3 billion. 
On June 18th, 2021, the company began trading under the ticker "ATAI" and became the third psychedelic drug developer to list on the NASDAQ. atai's share price reached a high of $22.91 and closed out its first day of trading at $19.45, with the IPO raising roughly $231.6 million.
Many investors hoped that this high-profile IPO would buoy the broader sector, but this failed to be the case as most psychedelics traded lower throughout the month.
Note: We appeared on the Business Trip podcast to discuss atai's IPO in June 2021.
In 2021 Field Trip Health successfully uplisted to both a major Canadian and American exchange. Field Trip had previously traded on the Canadian Securities Exchange (CSE) since going public in October of 2020. In late May, the company announced that it had gained approval to list on the Toronto Stock Exchange (TSX). Field Trip would subsequently achieve its first uplisting milestone of the year at market-open on June 7, 2021. 
A little over a month later, the company would announce that it had received conditional approval to graduate from the OTC markets onto the NASDAQ Global Select Market, listing on July 29th.
Like many other companies in the sector, Cybin underwent an exchange uplisting of its own in 2021. However, unlike the companies before it, on July 22 Cybin announced that it had received conditional approval to uplist onto the New York Stock Exchange (NYSE) as opposed to the NASDAQ. As of market open on August 5, 2021, Cybin would become the first psychedelic-focused company to list on the NYSE.
On April 20th, 2021, the Irish drug development company GH Research filed a draft registration statement confirming its intent to IPO. The company would subsequently announce the pricing of its estimated $160 million initial public offering, and on June 25th GH Research would begin trading on the NASDAQ. 
The company's share price would climb to a high of $24.19 before settling at $19.25 by market close. GH Research announced that it had raised roughly $184 million through its IPO.
Psychedelic Companies Included in Major Indices
As a result of some of the past year's high-profile IPOs and exchange graduations, many companies became eligible for inclusion in major indices. 
NASDAQ and NEO-listed MindMed announced on March 19th, 2021, that the company had been included in both the FTSE Russell Global Micro-Cap and FTSE Total-Cap indices. On June 25th, 2021, MindMed would be included in the FTSE Russell 3000 index. At the same time, NASDAQ-listed Seelos Therapeutics announced that it had been included in the Russell 2000, Russell 3000, and Russell Microcap indices. In December 2021, both atai Life Sciences and COMPASS Pathways were selected to be included in the NASDAQ Biotechnology Index. 
Institutions and investment managers often create index funds and ETFs that track the performance of major indices such as those previously mentioned. As a result, many prominent investment management corporations such as Blackrock's iShares and ProFunds Group's ProShares have since included atai, COMPASS, MindMed, and Seelos in various related funds. 
A considerable amount of the capital that flowed into psychedelics companies last year did so via private financings. As a result, many of these companies have secured the capital needed to support and expand their drug discovery, development, and delivery efforts for the foreseeable future. 
We recap some of 2021's most notable private financings below…
Notable Private Rounds in 2021
Case Study: Investors Back Delix Therapeutics' Attempts to Skip the Trip
Boston-based Delix Therapeutics closed a $70m Series A financing in September 2021, with the aim of advancing 'non-hallucinogenic' psychedelics.
The company's thesis, which is largely borne out of co-founder David Olson's research, hinges on the idea that many psychedelics promote neuroplasticity. Olson believes that these neuroplasticity-promoting properties (which we discussed in more detail in the previous section of this Review) may be isolated from psychedelic properties of a molecule, leaving a non-hallucinogenic 'psychoplastogen'.
Delix is not alone in seeking to develop non-hallucinogenic psychedelics. MindMed has a program around 18-MC, and appointed Bryan Roth to its Scientific Advisory Board in the same week that Delix announced their Series A. Roth's research focuses on engineering drugs that are, "maximally helpful to patients while minimizing discomfort in the treatment process," explaining that "not all patients are comfortable with their treatment program requiring hallucinatory trips."
If these researchers and companies are able to corroborate preclinical signals of efficacy in using non-hallucinogenic psychedelics to provide therapeutic benefits, the impact could be enormous. Imagine if a cheaper, non-hallucinogenic product approximates the benefit of a 'true' psychedelic-assisted therapy: surely payers would prefer it. And, surely it would be easier to scale, with a take-home drug representing significantly reduced labour intensity versus classic psychedelic-assisted therapy?
This potential is captured in the below table, which appears in a journal article co-authored by Olson.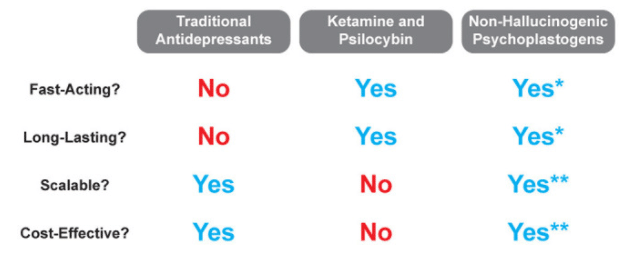 It was certainly promising enough to convince the investors in Delix's Series A, which included ARTIS Ventures, RA Capital and, OMX Ventures, a founding investor. It also earned the company a place in Fierce Biotech's 2021 Fierce 15 list.
But, the non-hallucinatory nature of these molecules, and their efficacy in treating a range of diseases, is yet to be borne out in human trials, and is situated within a much broader debate of whether the subjective effects of a psychedelic are necessary to derive therapeutic benefits. Indeed, not a single clinical trial has been conducted with non-hallucinogenic psychoplastogens as of today.
Yaden and Griffiths, for example, contend that "underlying neurobiological-based mechanisms are undoubtedly necessary but likely not sufficient to confer full beneficial effects." It also gets at a more philosophical question as to whether non-hallucinogenic psychedelics ignore the broader social or spiritual 'purpose' of psychedelics that at least some folks ascribe.
Case Study: Vine Ventures Creates SPV to Help Fund MAPS' Final Push Toward MDMA-AT Approval and Roll-out
In December, Vine Ventures' Ryan Zurrer announced The Regenerative Financing Vine, a $70m Special Purpose Vehicle (SPV) that intends to fund patient access infrastructure and research for MAPS' MDMA-assisted therapy (MDMA-AT) for PTSD.
According to details released by MAPS and Vine Ventures (who have pledged a minimum of $13m to the SPV), this model "fully maintains both MAPS' nonprofit mission and governance and MAPS Public Benefit Corporation's (MAPS PBC) public benefit drug development and post-approval activities."
Thus far, MAPS' research has been funded via $130m in philanthropic donations over its 35-year history. This SPV represents a shift away from this donation-only approach, funding the next stretch of MAPS MDMA-AT for PTSD work via an investment vehicle.
Speaking to Lucid News, Doblin expressed feeling, "in some ways a sense of massive failure in that I hoped we would have this bridge to sustainability come through philanthropy." But, as more for-profit entities have entered the space – no doubt benefitting from and to some extent relying on the clinical, political and cultural work that MAPS has trailblazed in the field – many former -donors are now asking themselves "Why should I donate? Let me just invest," explained Doblin.
Doblin's preference for donations over investment is, according to the founder, related to his broader plans to focus on "mass mental health." This might include providing MDMA-AT to places around the world where "there's a lot of trauma," and he worries that having to return money to investors might change decision-making around the loftier goals.
Details on the SPV:
Target size: $70m.
The SPV receives 6.1% of North America MDMA revenue for 7 years following initial drug sales.
'Reciprocity payment mechanism': after paying back the principal, the SPV returns 15% of the revenue share back to MAPS. After hitting a 3x payback, the SPV returns 50% of the revenue share back to MAPS.
Vine will not take any carry or fees on the SPV.
This is somewhat akin to project financing: i.e., investments are structured and appraised on the basis of projected future cash flows, as opposed to the current balance sheet of the project's sponsors. Investors do not gain equity in MAPS PBC, but rather a share of future revenues, as explained above. See McKinsey's New frontiers in pharma R&D investment (PDF) for more on these types of models.
This $70m represents a portion of MAPS' $150m fundraising target for the next three years. MAPS will hope to raise the remainder through non-investment means, such as via philanthropy but also partnerships and joint ventures.
Recommended reading: Lucid News spoke with Doblin shortly after the announcement. Read the interview here, where Doblin shares his thoughts on the new funding model, some further specifics on the mechanisms baked-in to the SPV, the uses of the funds, and more.
Investor Case Study: PsyMed Ventures
We spoke to Matias Serebrinsky, one of the three founding partners of PsyMed Ventures. PsyMed began as a syndicate investing in psychedelics companies, and recently announced the launch of a $25m fund to support companies operating in psychedelic medicine, precision psychiatry, and neurotechnology.
Serebrinsky, along with co-founders Dina Burkitbayeva and Greg Kubin, will continue to operate their syndicate—which has around 750 members—alongside the new venture fund. "There are valuable synergies between both," Serebrinsky told Psilocybin Alpha.
Explaining the difference between the two vehicles, Serebrinsky noted:
We first started the syndicate because it allowed therapists, psychiatrists, practitioners, mental health entrepreneurs, and anyone else that is an accredited investor who wanted to invest in expanding access to psychedelic medicine. We have 750 members, and the syndicate has allowed them to invest starting with $1,000 check sizes. It makes investing way more accessible.

From the fund, we invest in earlier-stage companies (pre-seed to Series A) since it can be difficult to raise large amounts ($250k+) for early-stage businesses through the syndicate. The fund allows for more nimble, faster decisions.

Going forward, we will also invest from the syndicate in follow ons (Series B to pre-IPO) from both the syndicate and our fund.
PsyMed launched its fund in November 2021 and has raised over $8m to date, aiming for a final close of the $25m fund in Q1 2022. 
The trio have raised and deployed $6.5m through their syndicate, which has supported the following companies: atai Life Sciences, Beckley Psytech, Bexson Biomedical, Delix Therapeutics, Journey Clinical, Mindstate Design Labs, Reset Pharmaceuticals, Tactogen, Terran Biosciences, and TRIPP.
The fund has made investments in Delix Therapeutics and Freedom Bioscience.
When we asked Serebrinsky about the types of psychedelics companies the trio are most interested in, he explained that, "there are venture-backable opportunities in every part of the ecosystem, it's all about the right team working on the right approach and business model," adding that, "the space is still in its very early stages."
In line with the broader trend identified earlier in this section, PsyMed's focus on drug development companies is set to continue. But, Serebrinsky noted that, "as new psychedelic therapeutics are getting closer to market authorization, we're excited to meet more entrepreneurs working on solutions to reduce friction and improve outcomes."
Overview of Analyst Ratings
Despite a terrible year in terms of stock price performance across the psychedelics sector, analysts remain bullish on many of the largest psychedelics stocks.
Here, we present data on 2021 analyst ratings for a number of psychedelics companies and compare them with their stock prices.
For the six companies we profiled above, they're trading 70% below their average analyst targets. Should the analysts be on the money, this implies an average 357% upside from their year-end stock prices.
Read the Rest Of Our Year in Review
Join Our Newsletter
Have our multi-part Year in Review, plus our 2022 predictions, delivered to your inbox.